Nathaniel Rateliff & the Night Sweats' incredible journey to sophomore album
The Nightsweats discuss their approach to making music.
Nathaniel Rateliff & the Night Sweats' "Hey Mama," a song on the band's compelling sophomore album, "Tearing at the Seams," gets at the idea of never giving up — physically, emotionally or spiritually — before putting everything you've got into the goal at hand.
That appears to be a cornerstone principle for the Denver-based musician and his seven hard-working, hard-playing band mates.
Whether it's being expressed by a parent to a child, a romantic partner or one friend to another, the song that channels both the Band and Van Morrison circa "Astral Weeks" is intended as a wake-up call to the recipient: "You ain't gone far enough to say 'At least I tried' / You ain't worked hard enough to say, 'Well, I've done mine' / You ain't run far enough to say, 'My legs have failed'…You ain't run far enough to say, 'It ain't gonna get any better.'"
The soul-R&B-rock collective, which scored nationwide success three years ago with rave-up hit single "S.O.B.," ranks as one of the most thrilling arrivals of recent years, its reputation stoked considerably by the group's incendiary live shows.
But Rateliff and company, as suggested by those words from "Hey Mama," aren't about to settle easily into self-satisfaction over their ability to move bodies onto a dance floor and put feet in motion.
"With everything that's happening nowadays in our country and in our culture and in the culture worldwide, I think we need to strive and struggle to be more than the devices in our hands," Rateliff, 39, said during a recent swing through L.A. that included two nights of shows at the venerable Troubadour club in West Hollywood.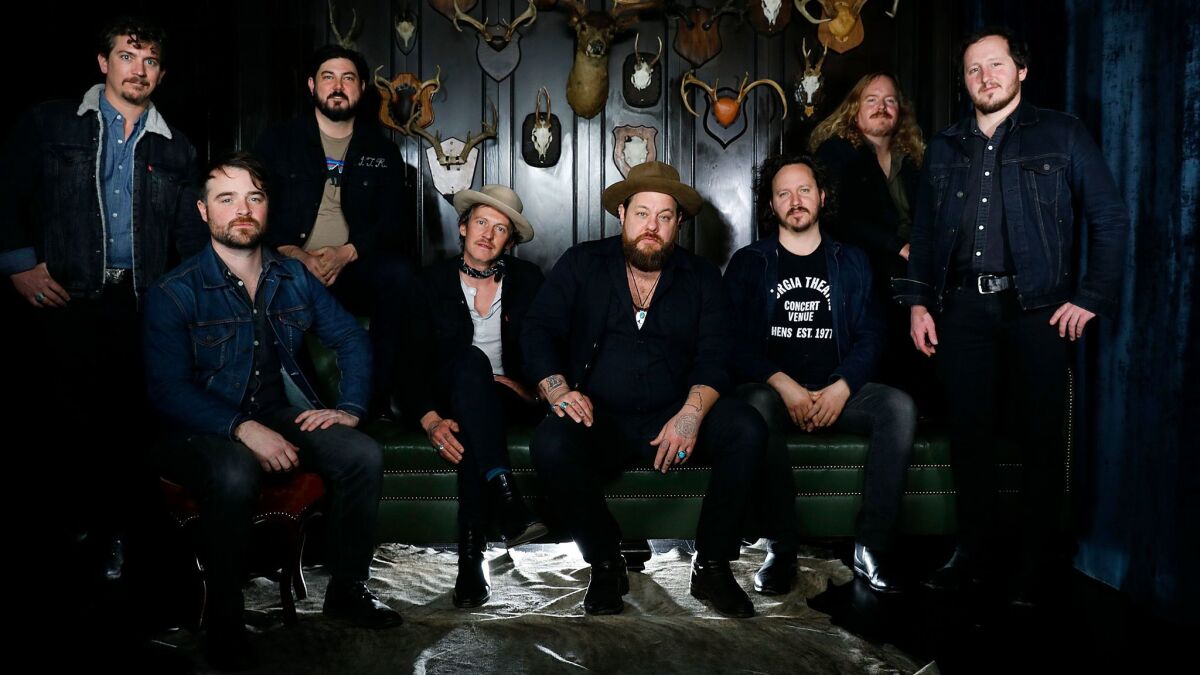 Those "underplay" shows anticipated a spring-summer headlining tour at larger facilities, among them an Aug. 15 show in L.A. at the Greek Theatre.
"Besides playing music, I want to build a sense of community," Rateliff said, sipping his Paloma, a concoction of tequila and grapefruit, and seated at the Hollywood Roosevelt Hotel in a dark booth next to the band's bassist, his longtime friend Joseph Pope III.
The music on "Tearing at the Seams," as it was on its predecessor, "Nathaniel Rateliff & the Night Sweats," is an invigorating latter-day incarnation of vintage soul and R&B music that was the stock-in-trade at Memphis' Stax Records label, not coincidentally the reactivated imprint that signed Rateliff three years ago.
"I don't want to alienate people about what they believe in and what their political views are," Rateliff said, "but actually make people feel it's important for us to come together — and that the person next to you is just as important as yourself, if not more important."
It's a tall order, something that Rateliff, Pope and fellow band members Luke Mossman (guitar), keyboardist Mark Shusterman, drummer Patrick Meese, trumpeter Scott Frock and saxophonists Jeff Dazey and Andreas Wild take to heart, on stage and in the recording studio.
If their talk seems to echo the Blues Brothers' signature claim to be on "a mission from God" with their music, it is.
Rateliff and his cohorts have noted the deaths in recent years of many of their musical heroes, a fact of life, however sad, that they've taken as a clarion call for a new generation to step up to the plate and at least attempt to fill their shoes.
"Who's going to take over for them?" Rateliff asked. "There's a Kevin Morby song called 'Beautiful Stranger,'" at which point Pope interjects in one of many exchanges in which one of them often finishes, or extends, the other's thoughts, "He wrote it in response to the Bataclan attack" in 2015 in which terrorists killed more than 100 people in Paris.
"That's the premise," Pope said, "'You're a beautiful stranger and I'm going to be your cover' — as opposed to responding in a violent way. It's an incredible song."
Added Rateliff: "He says at one point: 'Pray for Paris, they're not going to scare us or stop the music.' I want to be part of that. I'm not living my life in fear. I want to be the thing — we want to be the thing — that we need to be a community. A community of lovers and a community of friends is much better than a community of warriors."
Their conversation took place barely a week before a 19-year-old gunman in Parkland, Fla., entered his former high school and killed 17 students and faculty members, and before President Trump began lobbying to arm school teachers as a deterrent against similar attacks.
"I feel like we have fans on all sides of political issues," Pope said. "Recognizing that we have a bit of a platform we've never had before, you start to think about, 'What should the message be?' Or should there be a message? I think generally what we want people to get from us is everything that Nathaniel just said. I think for this album I hope you can hear it."
Lyrically, Rateliff often employs more poetically inclined, often-impressionistic lyrics that reflect his years plying the boards as a folk-informed singer-songwriter. In many of his songs, people are seeking understanding about relationships that have failed, yearning for connection or railing against self-deception.
He had released several well-regarded solo albums — former Led Zeppelin singer Robert Plant is among his admirers — but none connected commercially. As he told The Times three years ago, he decided he was ready to quit music and return to his previous career as a gardener, but before throwing in the towel decided to make one more record tapping the classic soul sound that he loved growing up.
Something of a musical Hail Mary pass, the album became a surprise hit, thanks in no small part to some serious cheerleading on the band's behalf by host and namesake of the "The Tonight Show Starring Jimmy Fallon."
"The night we first performed there, I remember being with one of the people from [his indie PR company] and looking at them and the makeup people while Jimmy kept interrupting the show to play the ['S.O.B.'] song," said Rateliff, a man with the physique of a longshoreman and free-flowing beard of a lumberjack who often surprises first-time audiences with nimble dance moves that would make James Brown proud.
"I didn't know if he was making a joke of us, or if he was actually that enthusiastic about the material," he said. "At one point I just looked at them and said, 'Is this good?'" he recalled. They said, 'This is great. We've never seen him do this.' "
In a matter of weeks, Rateliff & the Night Sweats leapfrogged from scarcely attended club shows to sold-out theaters of 1,000 and 1,500 seats and more.
For close to three years, the group maintained a daunting schedule of concerts — 175 to 200 shows a year — during which Rateliff's marriage collapsed while his professional career was exploding.
Last year they started work on a follow-up album, this time working in a fully collaborative fashion. For their debut album, Rateliff wrote most of the songs in isolation, at home in Denver, and recorded basic tracks with musician-producer Richard Swift at his studio in Cottage Grove, Ore. The album's coup de grace horn parts were added after the fact.
"As much as it seemed like that record came out of nowhere," Pope said, "I told Nathaniel and I've said it before: When he played those demos for me from his attic, I felt like I've been hearing this guy singing my whole life, from the time he started writing songs until now, and this feels to me like the most guttural, most transparent and natural thing I've ever heard him do."
This time, all the band members spent about a week working at a studio in New Mexico, and then another nine days back in Cottage Grove at Swift's facility — exchanging ideas, all contributing parts to various songs.
"I hope you can hear a difference from that first record," Pope said, "and then you're like, 'Wow, that's a band that's been on the road for three years. That's a band that's grown together. That's a band that contributes to this process collectively.'"
Don't, however, expect anything remotely resembling a son of "S.O.B." this time out.
"I liked the whole [debut] record, and I thought that 'S.O.B.' was the weakest track on the whole thing," Rateliff said with a husky laugh. "But what do I know?
"With 'S.O.B.' doing so well," he said, "I knew I certainly wasn't going to write another one of those. And Chris [Tetzeli], our manager, even before I started to write for this new record, he said, 'You know, you don't have to write another radio hit. You don't need to write another 'S.O.B.' You just need to make a record you like.' That's kind of what we've always tried to do."
Follow @RandyLewis2 on Twitter.com
For Classic Rock coverage, join us on Facebook
---
Get our L.A. Goes Out newsletter, with the week's best events, to help you explore and experience our city.
You may occasionally receive promotional content from the Los Angeles Times.