Review: Nathaniel Rateliff & the Night Sweats bring vibrant neo-soul music to the Greek Theatre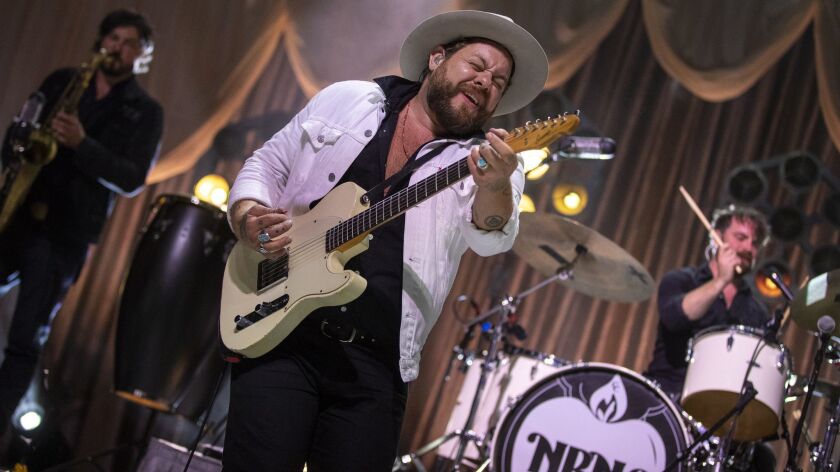 Some musicians are content to entertain an audience, others seek to illuminate issues or themes close to their hearts, and some are in it chiefly for fame and/or fortune. A precious few see music as a way to channel and disseminate nothing less than a life force through music, a mission that appears to be the raison d'être of Nathaniel Rateliff & the Night Sweats.
The Denver-based neo-soul collective returned to the Greek Theatre on Wednesday and put forth another evening bursting with joie de vivre, even in songs addressing such challenges as the struggle with addiction or feelings of despair, heartbreak and loss.
Rateliff channels something universal and timeless in the brand of soul music that came to international prominence in the '60s chiefly from Memphis' Stax Records and Alabama's Muscle Shoals FAME Studio through the explosive recordings of Aretha Franklin, Otis Redding, Wilson Pickett, Sam & Dave and so many others.
The beefy singer and songwriter with the Smith Bros. beard may look like he should be loading cargo ships at the docks or felling trees in a forest somewhere, but onstage he comes off as a man possessed, in the best possible way.
He — and the members of his seven-piece Night Sweats band — projected a fire from within as they delivered nearly 90 minutes of material drawn chiefly from their two albums, the breakthrough 2015 set "Nathaniel Rateliff & the Night Sweats," propelled by the runaway hit single "S.O.B.," and this year's sophomore outing, "Tearing at the Seams."
Songs from the newer album constituted a majority of the set, demonstrating this band has its gaze set firmly ahead, rather than stuck in the rear view mirror.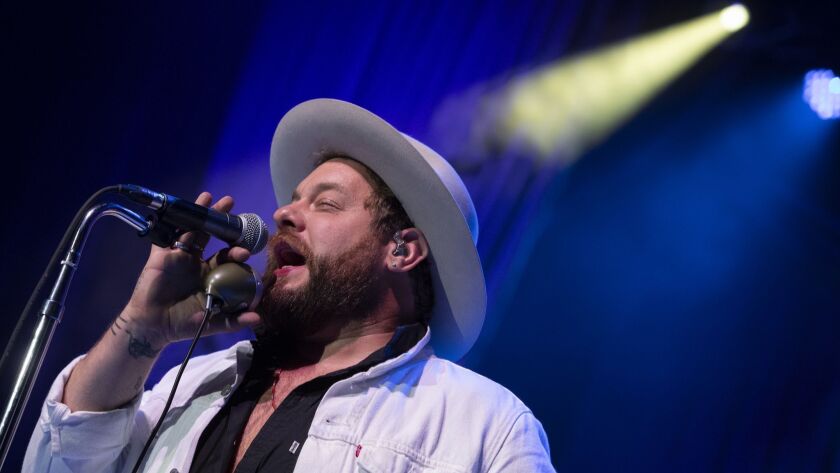 The merging of Rateliff's lyrical explorations of complex emotional territory with such uplifting music gives tangible manifestation to the notion that no situation is ever truly hopeless.
With a voice that can yearn with crystalline purity or howl with guttural anguish, Rateliff is a captivating front man, a commanding presence who nonetheless also is an egalitarian collaborator. He organically shared the spotlight throughout the show with keyboardist Mark Shusterman, guitarist Luke Mossman, bassist Joseph Pope III, drummer Patrick Meese and his powerhouse three-man horn section: trumpeter Scott Frock and saxophonists Andreas Wild and Jeff Dazey.
A highlight of Wednesday's set came midway through with "Hey Mama," a tough-love sentiment directed at anyone who has felt like throwing in the towel on some difficult circumstance of life:
You ain't gone far enough to say 'At least I tried'
You ain't worked hard enough to say, 'Well, I've done mine'
You ain't run far enough to say, 'My legs have failed' …
You ain't run far enough to say, 'It ain't gonna get any better.'
With its regal rock lope evoking both the Band and Van Morrison in their prime — two key influences on Rateliff's music — the song delivers both a reality check and genuine empathy for another's struggles.
He sent out a plea for romantic and spiritual solidarity with a loved one in "Be There," and expressed a message of hope and support for a friend in crisis in "You Worry Me."
Far from simply regurgitating the sounds of half-century old soul and R&B, Rateliff and his band mates bring the musical conversation forward, marrying that vibrant tradition with the drive for self-reflection of the world by the singer-songwriter, a world Rateliff plied admirably in several solo albums, but without much commercial success, before turning his attention to big-band R&B in recent years.
He told The Times earlier this year that the band's career-launching hit "S.O.B." was his least favorite song on the group's debut album, but turning to it near the end of Wednesday's show, he and the Night Sweats proved it was anything but a here today, gone tomorrow novelty.
Its infectious refrain, voicing the resignation of a man who can't seem to escape the drives of inner demons, echoed throughout the amphitheater as the near-sellout crowd gleefully shouted it with him. They continued repeating its irresistible "oh-oh-oh" melodic hook well after the band set down their instruments and left the stage.
Upon returning for an encore, Rateliff referenced the death in July, at age 41, of his collaborator Richard Swift, a member of the Black Keys who had co-produced both of Rateliff's albums, portions of which also were recorded at Swift's studio in Oregon.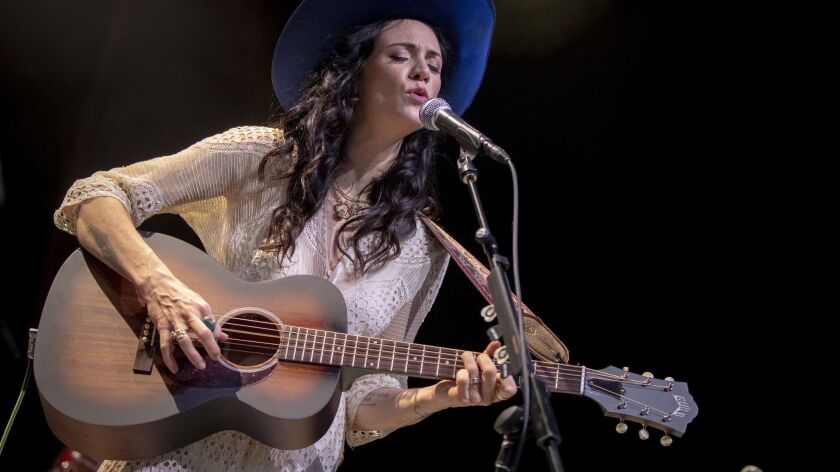 In Swift's memory, Rateliff and the band played "I'll Be Damned," a song included on the deluxe edition of "Tearing at the Seams," one that he said they've recently added to their set. It's an explosion of pop piano and more fat horn support, its oblique lyrics something to do with accepting one's fate: "It's good to be out/And alone in the world/'Cause nobody cares/And they never did anyways."
As put across by Rateliff & the Night Sweats, that admission didn't come with dour resignation, but with an unexpected joy in the knowledge that with such acceptance comes a certain freedom — a feat of no less than real musical magic.
Rising neo-western singer-songwriter Nikki Lane opened with an atmospheric 40-minute set pushed along by a skilled six-man band, with extra vocal help from Lane's friend Erika Wolf Orbison, but which suffered from a sound mix that under-emphasized and often buried Lane's vocals. The songs the Nashville-based artist put forth from her engaging 2017 album "Highway Queen" deserve better.
Follow @RandyLewis2 on Twitter.com
For Classic Rock coverage, join us on Facebook
---
The complete guide to home viewing
Get Screen Gab for weekly recommendations, analysis, interviews and irreverent discussion of the TV and streaming movies everyone's talking about.
You may occasionally receive promotional content from the Los Angeles Times.