Interpreter of pain: How Andrew Dominik relays Nick Cave's trauma in 'One More Time With Feeling'
The new album by Nick Cave & the Bad Seeds stems from a tragic event the Australian singer-songwriter will likely never stop experiencing. On July 14, 2015, Cave's 15-year-old son Arthur died after falling from a cliff near the family's home in Brighton, England, while under the influence of LSD.
"With my voice, I am calling you," Cave moans, again and again, to open "Skeleton Tree," and that's the way the rest of this gorgeous but harrowing record plays out: as though the artist — known for an unflinching Gothic sensibility as dark as his ink-black hair — is using his music to combat the terrible irreversibility of what happened just over a year ago.
Yet permanence wasn't what filmmaker Andrew Dominik had in mind for "One More Time With Feeling," a remarkable 3-D black-and-white documentary about the creation of "Skeleton Tree" that premiered last week at the Venice Film Festival and played in theaters around the world last Thursday night, hours before Cave's album was released.
In fact, the New Zealand-born director said he made the movie expecting viewers to see it only once, and not many viewers at that. Though one imagines the film will eventually see a digital release, no one is yet discussing upcoming release plans beyond the initial round of screenings. An encore presentation is scheduled for Wednesday night at the Art Theatre in Long Beach.
"It wasn't made for history, or for a wide audience," Dominik explained Friday over coffee in Los Angeles. "I made it specifically for Nick Cave fans to see last night." The director, a bit bleary from travel, laughed wearily when asked if that plan was out of step with traditional Hollywood marketing.
"Well, it's certainly perverse to make a one-time-only movie," he said. "I found that appealing."
That attraction to perversity helps explain Dominik's bond with Cave, a longtime friend whom he hired along with another Bad Seed, Warren Ellis, to score his Oscar-nominated 2007 picture, "The Assassination of Jesse James by the Coward Robert Ford."
In that slow, cerebral film, Dominik's goal seemed to be using the familiar elements of a western to tell a far less action-oriented story — an inversion of Cave's use of literary and biblical themes as grist for an often-grimy rock and roll band.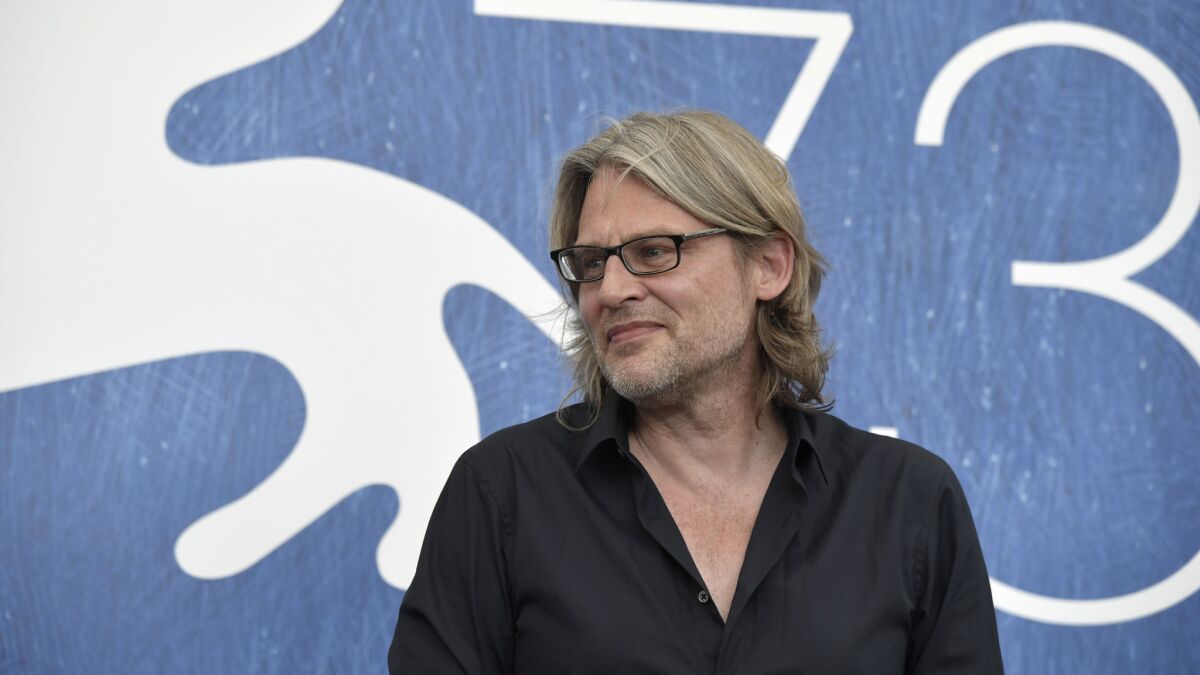 But if the director was determined this time to shoot something "disposable," as he put it, the movie he ended up with actually carries an impressive weight.
"One More Time With Feeling" — which Cave funded himself as a way to avoid having to do painful interviews about "Skeleton Tree" — is a deeply moving portrait of how grief can shake the ground beneath even the sturdiest of people.
Assembled from interviews (with Cave; his wife, Susie Bick; Ellis; and others), performances of the new album's songs and meandering voice-over narration from Cave, the film puts you inside the singer's struggle to regain his balance following Arthur's death, even as it generally forgoes the kind of who-what-where-when we expect from a documentary.
"That's a vérité thing," Dominik said, referring to the cinematic style pioneered by filmmakers like D.A. Pennebaker. "If you look at 'Don't Look Back,' it doesn't say, 'This is Donovan,' you know? You've got to kind of work it out for yourself."
Much of the immersive quality of "One More Time With Feeling" is driven by Dominik's inventive use of 3-D. It's a technology, he said, that is mostly misapplied in hectic, fast-paced "fantasy films and children's movies with a thousand cuts."
Inspired by the long shots in Alfonso Cuarón's "Gravity," Dominik here moves his camera with surprising elegance through cars, recording studios and the Cave home in Brighton, drawing the viewer into the spaces so as to feel like an unseen observer.
"The movie's essentially a piece of voyeurism," the director said, "and I think 3-D increases your sense of voyeurism."
In the way that Dominik is acting as a sort of interpreter for Cave, "One More Time With Feeling" shares something with "Montage of Heck," the recent Kurt Cobain documentary that filmmaker Brett Morgen made using tapes and journals left behind by the late Nirvana frontman and entrusted to him by Cobain's survivors.
"It's my film, but the raw material is his experience," Dominik said. "It's his trauma, not mine." As such, the director promised Cave and Bick approval over the finished movie, something he said he would never have done with a feature. (Indeed, he recalled brutal fights with second-guessing executives over "Jesse James.")
"I just saw Nick's feelings as being more important than mine in this particular instance," he said.
When he showed them his cut, they both liked the first half of the film, which deals more with creative process than with Arthur's death.
"Then once it hit Brighton" — in which the interviews turn more personal, including one devastating scene in which the two hold a painting their son had made — "Susie didn't like any of the stuff of her and Nick didn't like any of the stuff of him," Dominik said. "But they liked each other."
The couple asked for advice from Ellis, Cave's closest collaborator, who assured them the film was good. That was enough, and they signed off.
Asked if he was surprised by Cave's willingness to display such vulnerability — and so soon after Arthur's death — Dominik said his friend looked at the album and the film as "a one-foot-in-front-of-the-other-type thing."
"He can stay in the house and feel sad, or he can get on with things. It's not like they're dealing with the grief in a way where they're trying to avoid it, trying to jump over it.
"But life goes on. I think it's an attempt to live."
Twitter: @mikaelwood
ALSO
Started from the bottom, now he's here: Drake takes over Staples Center
Lady Gaga is back: 'Perfect Illusion' shows the singer has rediscovered her mojo
'A hug for your soul': Babyface, Common and others celebrate black movie music at the Hollywood Bowl
---
Your essential guide to the arts in L.A.
Get Carolina A. Miranda's weekly newsletter for what's happening, plus openings, critics' picks and more.
You may occasionally receive promotional content from the Los Angeles Times.