Review: Started from the bottom, now he's here: Drake takes over Staples Center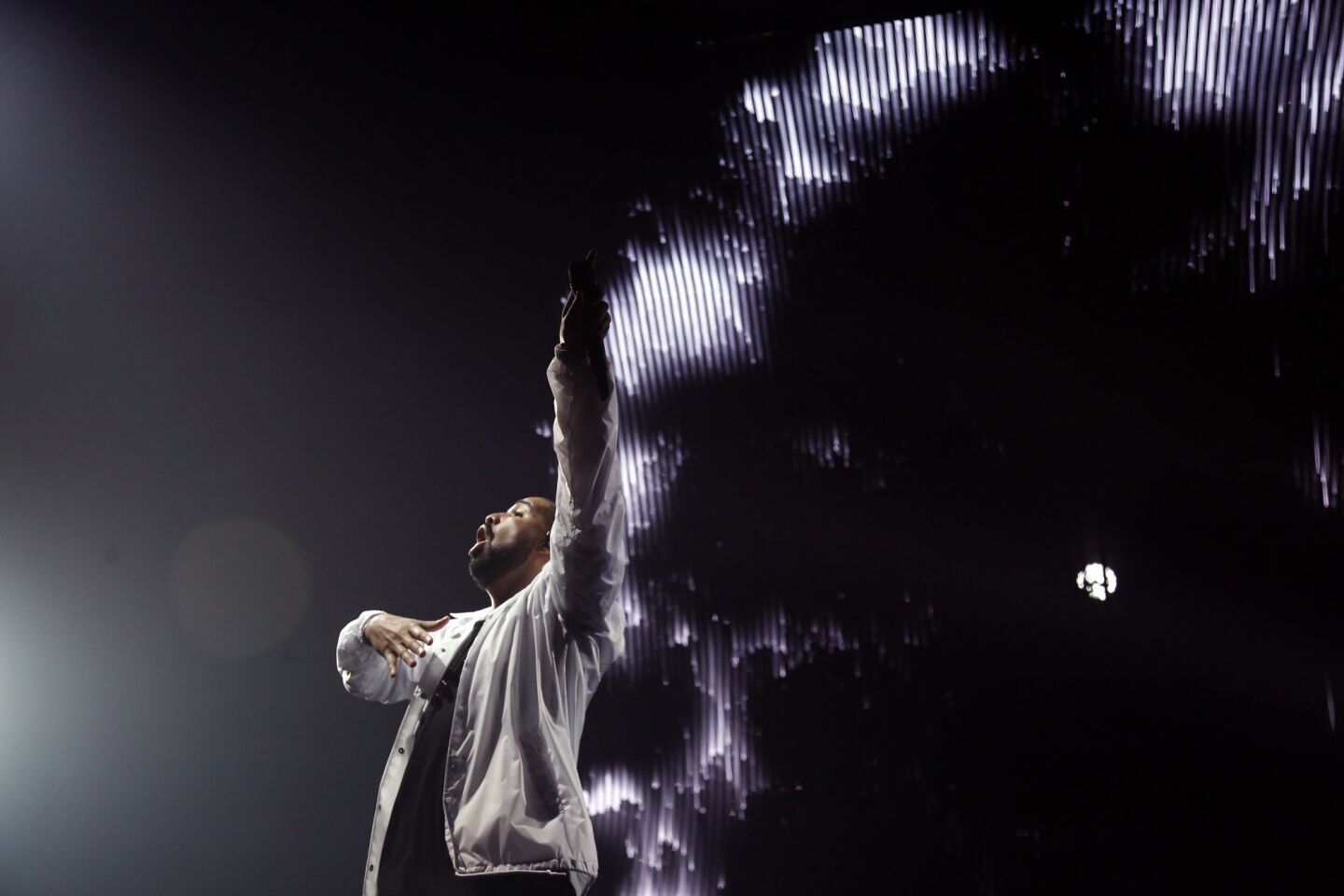 Drake performs at Staples Center on Sept. 7.
(Genaro Molina / Los Angeles Times)
Drake performs during the first of three nights at Staples Center.
(Genaro Molina / Los Angeles Times)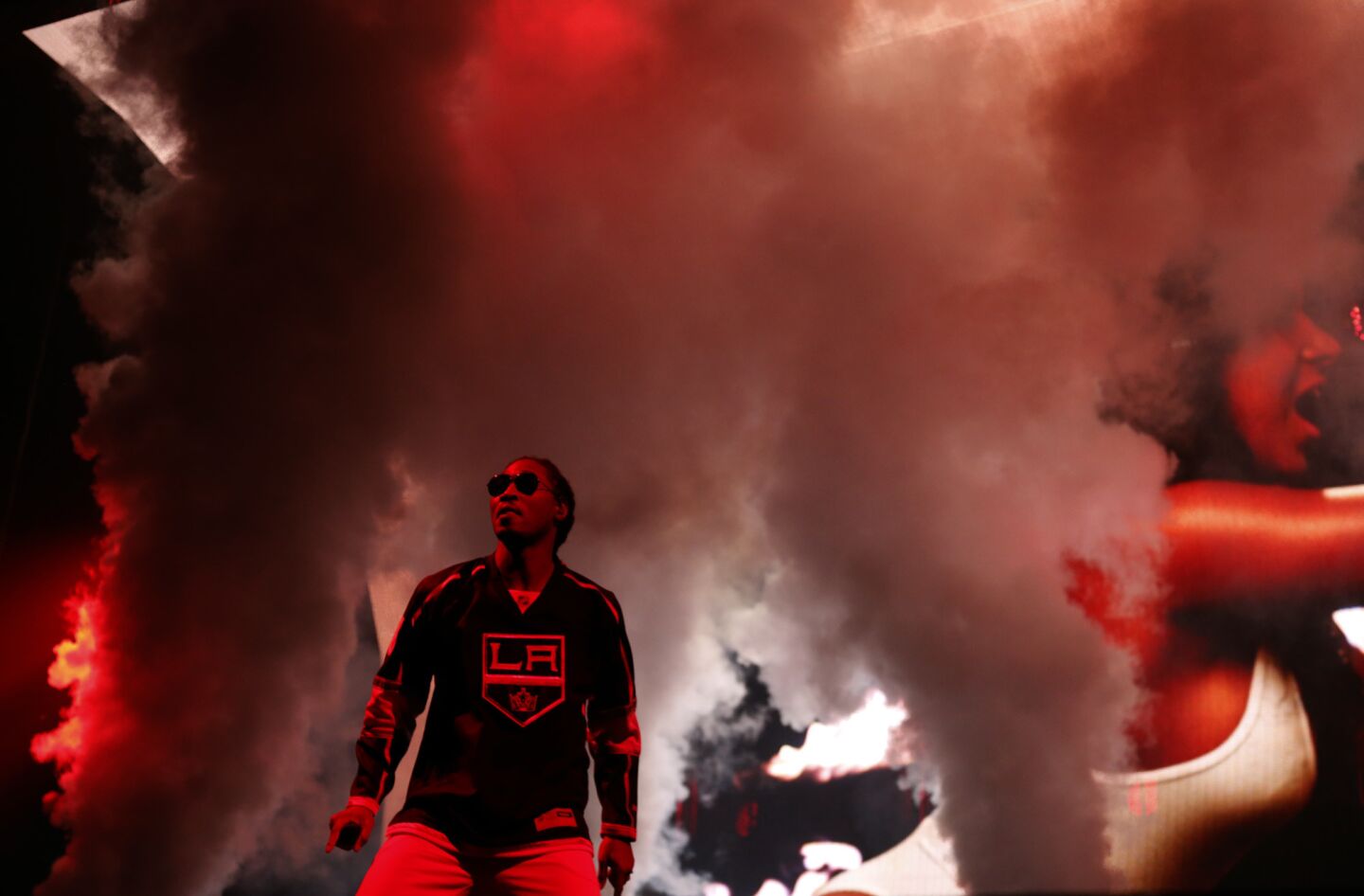 Future performs at Staples Center on Sept. 7.
(Genaro Molina / Los Angeles Times)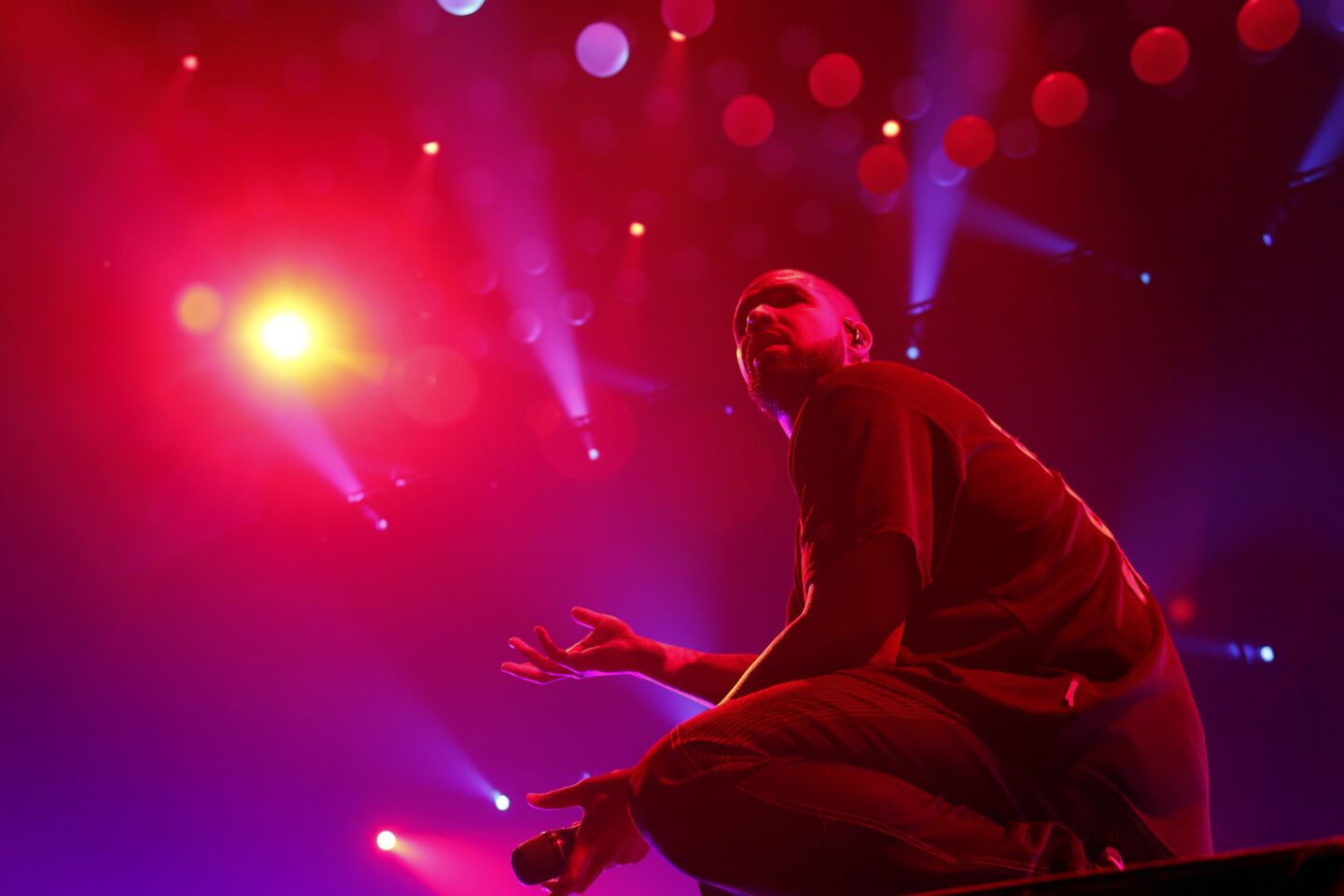 Drake at Staples Center.
(Genaro Molina / Los Angeles Times)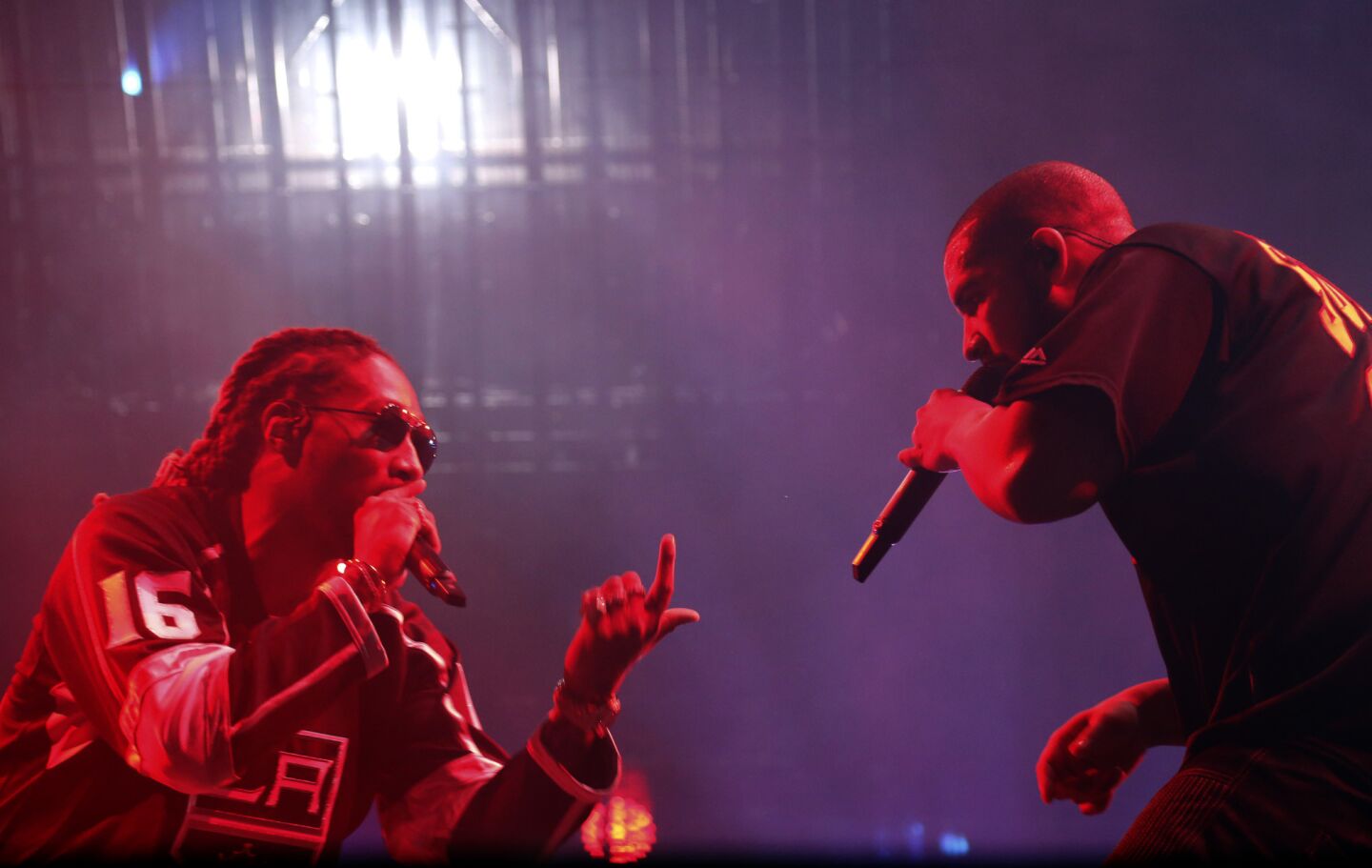 Drake, right, and Future rap during the "Summer Sixteen" show at Staples Center.
(Genaro Molina / Los Angeles Times)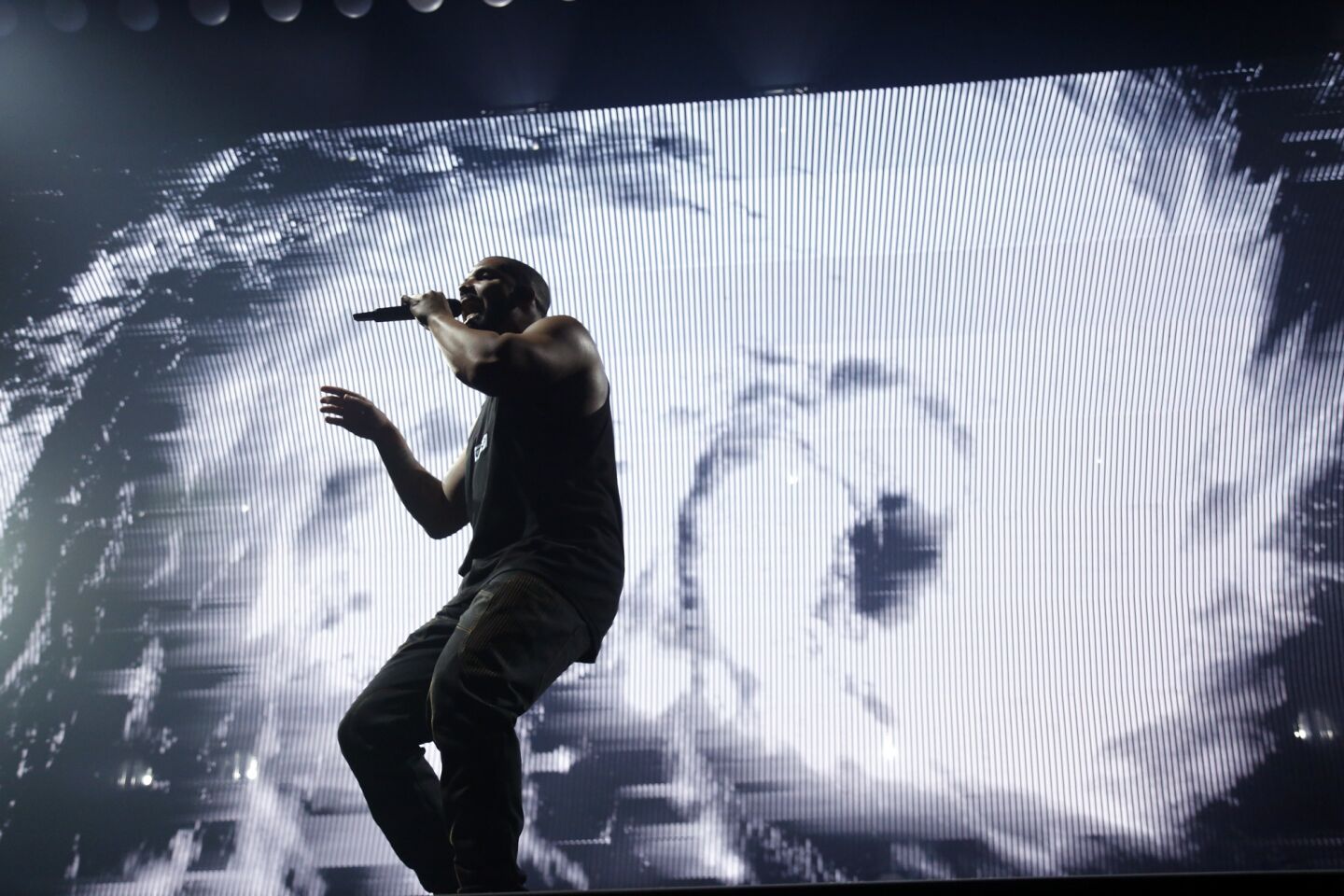 Drake performs at Staples Center.
(Genaro Molina / Los Angeles Times)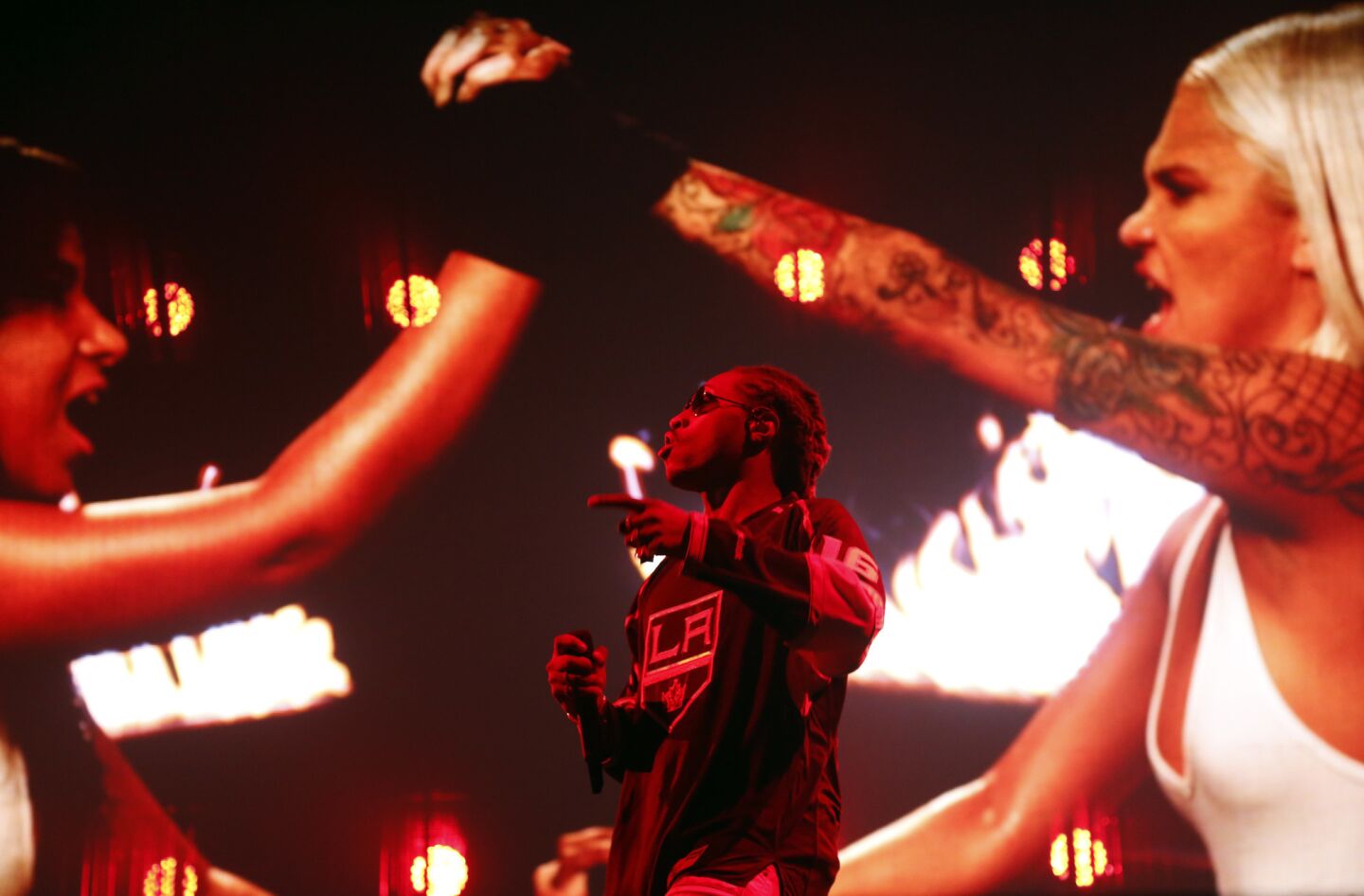 Future performs at Staples Center.
(Genaro Molina / Los Angeles Times)
At least one bar at Staples Center was offering a specialty cocktail Wednesday called the Hotline Bling.
Described as a jalapeño-watermelon margarita, this rather iffy concoction was designed, of course, to honor the evening's headlining performer, Drake, whose recent hit single by that title helped propel him and his collaborator Future to a sold-out three-night stand at the downtown arena.
But if the existence of the drink illustrated the scale of Drake's success, it also served as a reminder of how adaptable his stardom is to different ends.
The Toronto native entered show business as a teen actor, then made his name as a rapper by bringing melody and emotion into the generally macho world of hip-hop. Now, a decade after he started releasing mixtapes, he's a one-man empire with a record label, a pop-up apparel shop on La Brea Avenue, even a branded whiskey for those wisely un-enticed by the Hotline Bling.
His music too has broadened to meet all kinds of needs; he does slick pop songs, sumptuous R&B ballads and the type of sneering tough talk to which he once seemed morally opposed. On his latest album, this year's chart-topping "Views," he contrasts some remarkably callous ideas about women against luscious production that makes him sound like the most attentive lover on Earth.
The point is that, for all he's done to project a one-of-a-kind personality, Drake contains multitudes. You see in him what you want to see.
He certainly provided enough evidence to support any conclusion Wednesday, the first local date on his and Future's joint "Summer Sixteen" tour. (Following replays Friday and Saturday at Staples, the production will return to Southern California later this month for three additional concerts at the Forum in Inglewood.)
Drake began the show in chest-beating mode, snarling through aggressive tracks like "Summer Sixteen," "Started From the Bottom" and "9," in which he presents himself, not unreasonably, as a hero to his hometown.
"I'm not here to talk your ear off," he promised a crowd peppered with celebrities including LeBron James and Rihanna (who may or may not be the rapper's girlfriend), and the suggestion seemed to be that Drake the Philosopher had taken the night off.
Within minutes, though, he was crooning "Feel No Ways," one of the more introspective numbers on "Views." Not only that, but he had his band slow the song to a crawl so he could do impressive vocal runs over the delicate groove, a stunt he pulled several times during the gig.
But then suddenly he'd had enough of that. Turning to his keyboardist, Drake told the guy he was transforming the show into "a B2K reunion concert," referring to the early-'00s boy band, and instructed him to play something livelier.
That was the cue for more rough-edged boasting, which lasted until Drake said it was time for "a little set for the ladies." For this sequence, he mounted a moving platform that carried him over the audience as he sang "Hold on, We're Going Home," perhaps his softest hit, and greeted various fans with a politician's gift for gab.
"You three with the coordinated outfits — you know I love that," he said, endearingly.
The back-and-forth continued through an unannounced appearance by YG, the hard-nosed Compton rapper with whom Drake performed a merry "Why You Always Hatin?," and several songs with Future, whose woozy strip-club rap embodies its own contradictions.
After the pair did their song "Grammys," Drake left the Atlanta MC to lead his own brief set, which included a cameo by L.A.'s Ty Dolla Sign in "Blasé" and a rendition of "March Madness" accompanied by tense police imagery on a large video screen.
When Drake returned, he emphasized his newest identity — globe-trotting pop star — with polished versions of catchy but rhythmically sophisticated cuts like "One Dance," "Controlla" and "Work," his shimmering duet with Rihanna. Overhead, a few hundred illuminated orbs moved in mechanized patterns, a tasteful concession to the pop star's need for spectacle.
To end the show, Drake brought out Snoop Dogg, who rapped two reliable oldies — "The Next Episode" and "Drop It Like It's Hot" — with his usual charm. And he told the crowd how proud he was to have his mom in the house. And finally, he remade his song "Legend," an unfiltered blast of alpha-male braggadocio, as a long, moody quiet-storm slow jam.
As the band vamped on that one, Drake talked a bit more with the crowd, singling out a couple near the stage.
"I hope y'all stay together," he said. "Seems like a good mix right there."
Twitter: @mikaelwood
---
Get our L.A. Goes Out newsletter, with the week's best events, to help you explore and experience our city.
You may occasionally receive promotional content from the Los Angeles Times.