Nonplussed Fest to celebrate underground art spaces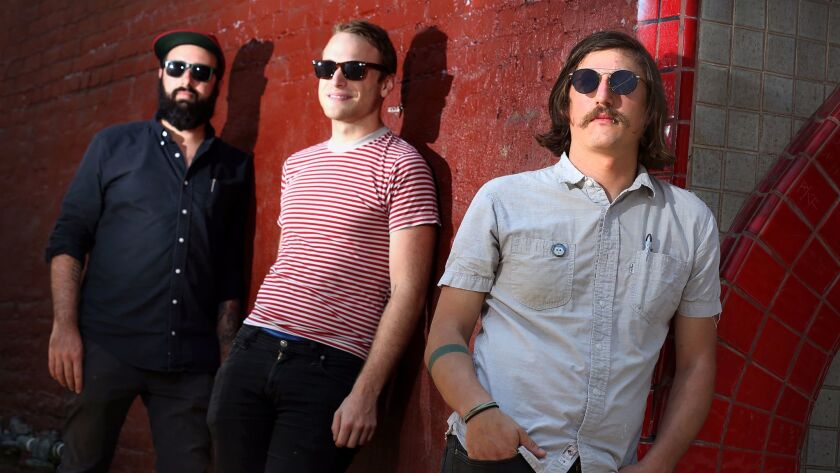 The East Hollywood do-it-yourself music venue Non Plus Ultra closed to the public in March. The shuttering came at a time when underground art spaces were facing tighter scrutiny as local governments feared another incident like the one that claimed dozens of lives at the Oakland venue known as Ghost Ship.
Yet Non Plus Ultra was as known for low-key gallery shows and movie screenings as it was for live music. The space wasn't open after 2 a.m., and its founders had been working with the city to secure proper permits.
"Even with a helpful landlord, it really just comes down to the city," said Paul McCaffrey, 29, one of the venue's founders. Partner Jerry DeFazio, 27, agreed: "There's no guarantees. It all just depends on who you talk to. If they could give us the information we needed, we'd use it, but if you can't find it, it's harder."
Now, as the debate continues as to how off-the-grid art spaces can move forward, a fundraising festival might give the venue a lift and help its organizers set the record straight.
This weekend, the second installment of the Nonplussed Fest will showcase the range of interests held by Non Plus Ultra's founders and illustrate the venue's effect on fans. From a spate of experimental bands to short film screenings, virtual-reality installations and boundary-pushing visual art, the fest won't just raise money to plan for the venue's future but it'll also try to restate what it does, and why it's valuable.
The first move, however, was to relocate the show from its longtime East Hollywood home to Zebulon, a new cafe and live venue in Frogtown that has already become sort of an emissary between DIY artistic sensibilities and aboveground legitimacy.
"It's been helpful for us to see what they did to get on the books," McCaffrey said.
Perhaps it's no coincidence that the fest also catches several of the city's most influential underground rock acts in a state of flux. Longtime L.A. noise-rocker Joe Cardamone recently retired his staple act the Icarus Line and turned to harsh samples and beatmaking for his "Holy War" project. He'll perform a double bill: first, alongside his close friend Annie Hardy, whose own new album, "Rules," is a document of profound personal tragedy (she lost her young son and partner in recent years).
Second, he plays the lead character in the fictional but true-to-life film "The Icarus Line Must Die," tracking the band's life in the contemporary L.A. rock scene, with cameos from Keith Morris, Ariel Pink and writer Jerry Stahl, among others.
The rest of the weekend will have sets from Pink Mountaintops, Hott MT, Vinyl Williams plus VR stations, photo installations and a long bill of short films.
In booking such a wide array of material, Non Plus Ultra's owners want to emphasize that DIY is not synonymous with the misleading stereotypes of after-hours bacchanals that got whipped up in the wake of Ghost Ship. A long-planned panel talk late last year on the future of DIY, with the founders of venues like the Smell and Pehrspace, attracted outsize media attention and initially made the Non Plus Ultra team skittish.
"It's hard, because Ghost Ship was a lot of [mainstream] people's introduction to DIY, and it sounds like 'Oh, my kids are going to these deathtraps,'" said Non Plus Ultra co-founder David Boe, 30. "We didn't want to be a part of that narrative at all."
Ideally, they'd love to take any money raised from the festival and someday revisit their venue with all permits and inspections in hand. Yet they're open to other options, as gentrification remains another force threatening art spaces in L.A. right now.
But if the Nonplussed Fest can persuade fans to keep championing their work even after the venue's public closure, perhaps the city someday can too.
"The films, the games, the photography — it all shows why we need more of these spaces," McCaffrey said.
Boe agreed: "The community was hungry for this kind of spot. So in a way, the gauntlet's been thrown down. It's our chance to say we want to take this to the next level."
For breaking music news, follow @augustbrown on Twitter.
ALSO:
---
The complete guide to home viewing
Get Screen Gab for weekly recommendations, analysis, interviews and irreverent discussion of the TV and streaming movies everyone's talking about.
You may occasionally receive promotional content from the Los Angeles Times.