Exclusive: The moment N.W.A changed the music world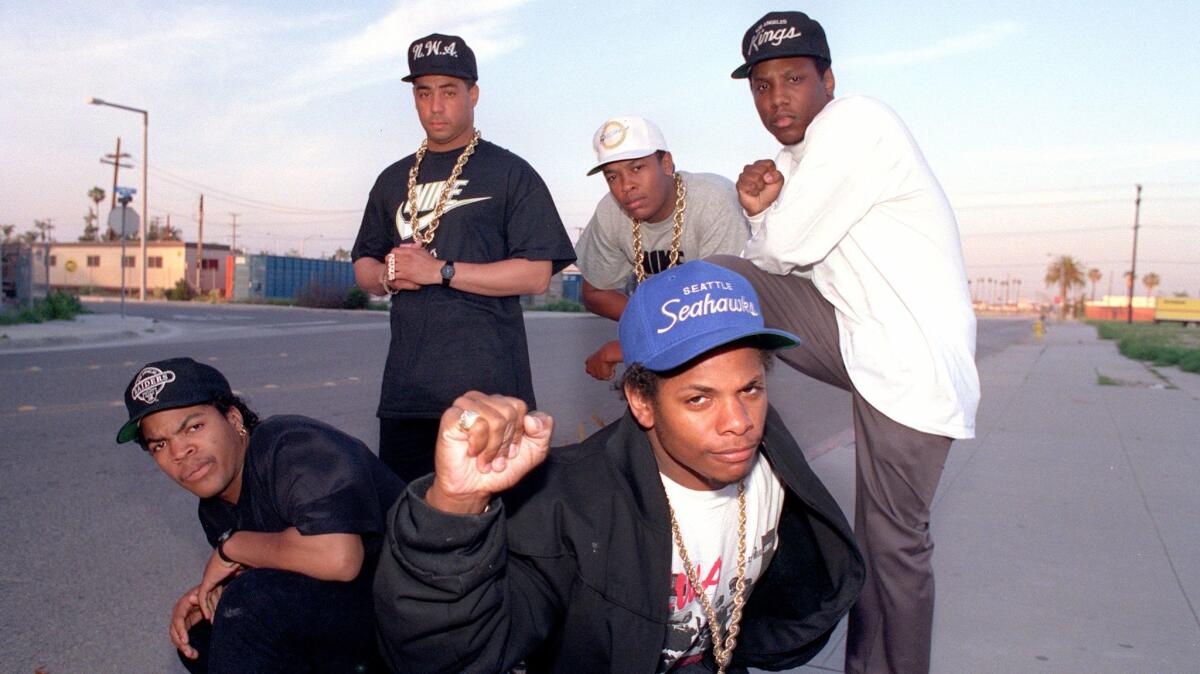 The moment N.W.A changed the music world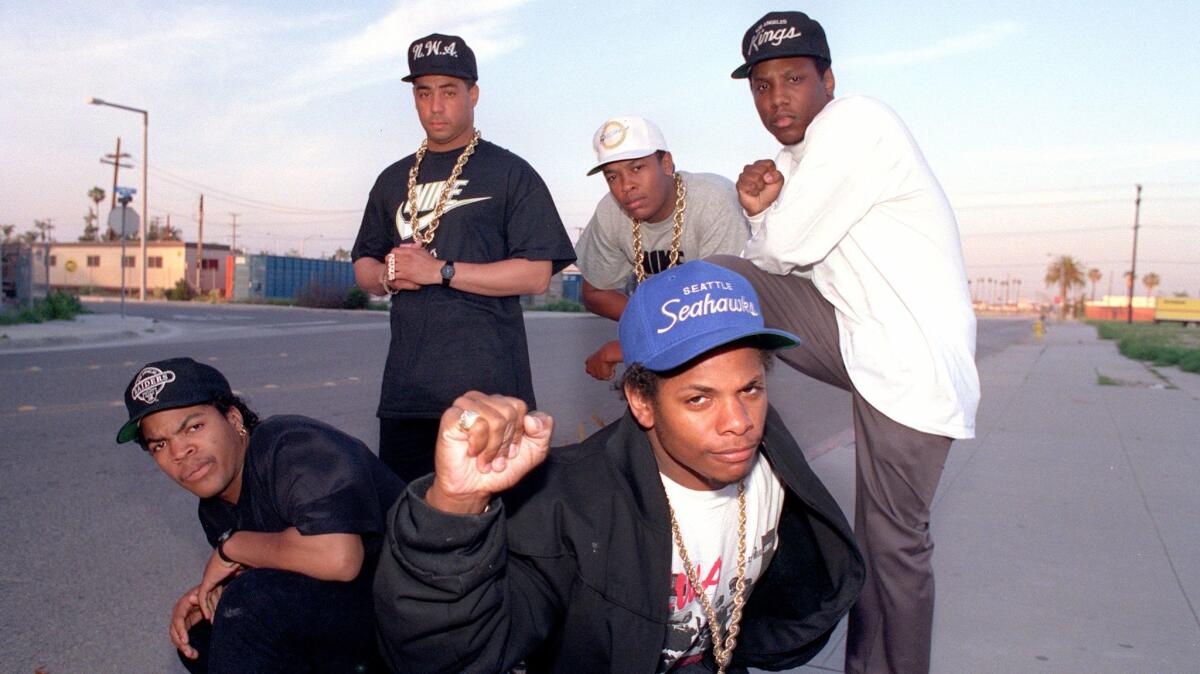 Eazy-E, Dr. Dre, Ice Cube, MC Ren and DJ Yella caused a seismic shift in hip-hop when they formed N.W.A in 1986. With its hard-core image, bombastic sound and lyrics that were equal parts poetic, lascivious, conscious and downright in-your-face, N.W.A spoke the truth about life on the streets of Compton, then a hotbed of poverty, drugs, gangs and unemployment. In "Parental Discretion Is Advised: The Rise of N.W.A and the Dawn of Gangsta Rap" (Atria: 288 pp., $26), Times music reporter Gerrick D. Kennedy traces the origins of the group that birthed the first major disruption of hip-hop during the genre's infancy. Ice Cube once said, "Everything in the world came after this group." In this exclusive excerpt, Kennedy details the brash arrival of N.W.A.
---
OF THE MANY BIG BANGS that have transformed rap over the decades, N.W.A's "Straight Outta Compton" is one of the loudest.
It was a sonic Molotov cocktail that ignited a firestorm when it debuted in the summer of 1988. Steered by Dr. Dre and DJ Yella's dark production and Ice Cube and MC Ren's striking rhymes, then brought to life by Eazy-E's wicked charm, the record fused the bombastic sonics of Public Enemy's production with vicious lyrics that were revolutionary or perverse, depending on whom you asked.
The world hadn't heard anything like it before. Radio stations and MTV refused to add the title song to their playlists. Critics didn't get it, couldn't see past the language, or, worse, refused to acknowledge it as music. Politicians even launched attacks, working to great lengths to condemn the music and its creators.
N.W.A were to hip-hop what the Sex Pistols were to rock — and really, what's more punk than having a name that dared to be spoken or written in full, and music that incensed a nation?
Red-faced and outraged Americans protested the group, police officers refused to provide security for its shows, and the FBI got involved, but that didn't stop "Straight Outta Compton," N.W.A's debut album, from selling three million records without a radio single.
With "Straight Outta Compton," N.W.A didn't just manage to put its hood on the map, the group forced the world to pay attention to the rap sounds coming out of the West Coast. It's an album that provided the soundtrack for agitated and restless black youth across America with its rough and raunchy tales of violent life in the inner city, expressed through razor-sharp lyrics.
"It was good music," LA rap-radio pioneer Greg Mack said. "And the lyrics, they meant something."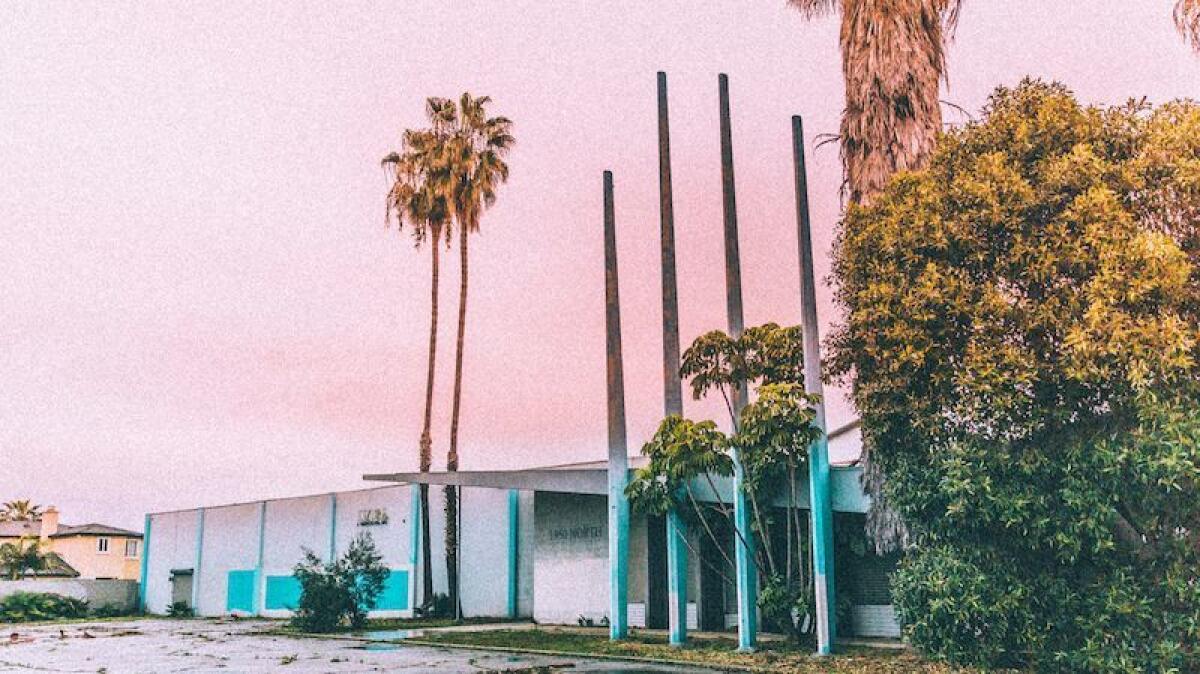 Everything in the world came after this group. ... We changed pop culture on all levels. Not just music. We changed it on TV. In movies. On radio. Everything.

— Ice Cube on N.W.A's influence
The emergence of N.W.A — who billed itself as the World's Most Dangerous Group — in the late eighties provided a jolt to the rap industry. Public Enemy had already helped redefine the genre by ushering in aggressively pro-Black raps that were intelligent, socially aware and politically charged. But N.W.A opted for an angrier approach.
The group celebrated the hedonism and violence of gangs and drugs that turned neighborhoods into war zones, capturing it in brazen language soaked in explicitness. "Street reporters" is what they called themselves, and their dispatches were raw and unhinged — no matter how ugly the stories were.
Like the Beatles, N.W.A's lineup was stacked with all-stars: Eazy-E, Ice Cube, Dr. Dre, and MC Ren would become platinum-selling solo rappers, while DJ Yella helped Dre break ground on a new sound in hip-hop.
They were the living embodiment of the streets where they were raised, and there was zero pretense about it. And when it came to subject matter, with N.W.A, politics took a backseat. Instead, frustrations about growing up young and black on the streets of South Central Los Angeles became the driving force behind their music.
Gangs, violence, poverty, and the ravishing eighties crack epidemic swept through black neighborhoods like F5 tornadoes. People were angry and restless, and without a flinch N.W.A documented its dark and grim realities like urban newsmen.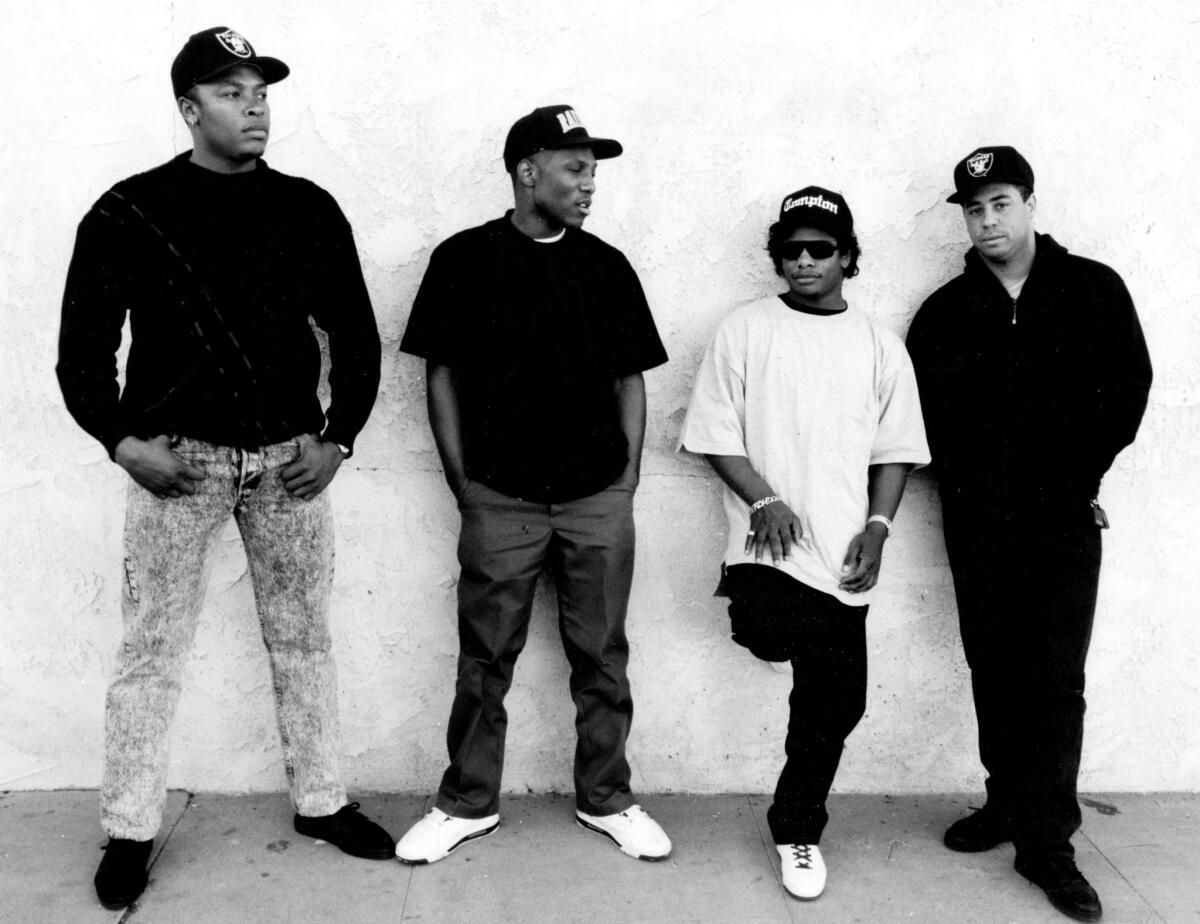 "Straight Outta Compton" was a flash point that spoke for a disenfranchised community and disrupted the order of those who were confronted with the voices and images of a community they'd much rather ignore. Black teens and young adults immersed in street life, yet looking for something to hold on to, flocked to the album. And so did white, suburban, middle-class teens who knew nothing about the "hood" or a life inside it, but looked to rap as an outlet for rebellion in the same way their parents gravitated toward the angsty countercultural attitudes percolating in rock music during the 1960s.
As unapologetically violent, misogynist, and problematic as their lyrics often were, the group's harrowing depictions of urban nightmares provided a vital response to the growing disenfranchisement from the Reagan-era politics that had transformed the nation and created an economic catastrophe for metropolitan Los Angeles. N.W.A introduced an antihero. The way Melvin Van Peebles's groundbreaking 1971 film "Sweet Sweetback's Baadasssss Song" used America's longstanding perception of black men as seething, violent hunks to politicize the image, N.W.A brought it to life by mixing reality with fantasy through its music — and the result was as terrifying as it was successful.
At its peak, Eazy's Ruthless Records — a label he started strictly as a means to get off the streets — was the number-one independent label in the industry and the largest black-owned indie since Berry Gordy's legendary Motown empire. Without Eazy laying down the foundation for hustlers-turned-record-executives, who knows if Death Row, Bad Boy, No Limit, or Cash Money could have existed. How would Jay-Z ever have known he could go from slinging crack cocaine to creating Roc-A- Fella had Eazy not done it less than a decade before?
Ice Cube once said the music took off because it was a moment in time bottled up and shaken until it burst. It's no surprise then that the group's most insidious track, "... tha Police," became a rallying cry in L.A. after a group of white police officers were acquitted in the savage beating of unarmed black motorist Rodney King. Those three words became a mantra, shouted and painted on walls by those who pilfered and torched the city in the days after the acquittal, in what remains one of the deadliest, most destructive uprisings in American history.
More than a quarter of a century before the Black Lives Matter movement and a new generation of youth turned to social-media activism as a means of protest against police brutality, N.W.A were screaming "... tha police." Their lyrics were purposely confrontational. They shouted furiously to push back against racial profiling and offered insight into the daily turmoil of inner-city youth through visceral storytelling, but they just as well promoted misogyny, homophobia, and sexual violence without abandon.
"We had lyrics. That's what we used to combat all the forces that were pushing us from all angles: Whether it was money, gang-banging, crack, LAPD," Cube said. "Everything in the world came after this group.
"N.W.A was the World's Most Dangerous Group. We changed pop culture on all levels. Not just music.We changed it on TV. In movies. On radio. Everything. Everybody could be themselves. Before N.W.A . . . you had to pretend to be a good guy."
N.W.A shocked middle America, scared the government, and sparked conflict with law enforcement. Although their run together was short, N.W.A's music encouraged a generation of young, black emcees to explore their rawest thoughts, no matter how obscene or radical. Today, hip-hop is seen far differently than it was during N.W.A's rise. Hip-hop is credited as the single most influential genre in American pop music over the last half century, as its artists have long gone from persona non grata to pop stars, corporate pitchmen, actors, fashion designers, tech moguls, and executives — and it wouldn't have happened if a group of men from Compton and South Central didn't light the fire.
From "Parental Discretion Is Advised: The Rise of N.W.A and the Dawn of Gangsta Rap" by Gerrick D. Kennedy. Copyright © 2017 by Kennedy. Reprinted by permission of Atria Books, a division of Simon & Schuster Inc.
ALSO
Chronicling the ascent and downfall of N.W.A — iconic, contradictory — in 'Parental Discretion Is Advised'
Allen Hughes got Dr. Dre and Jimmy Iovine to open up — and now he's up for his first Grammy
Mariah Carey, N.W.A, Tom Waits nominated for Songwriters Hall of Fame
Get our L.A. Goes Out newsletter, with the week's best events, to help you explore and experience our city.
You may occasionally receive promotional content from the Los Angeles Times.