Retire 2018 with Ozzy Osbourne, the rocker who just won't retire. Or hit a rave or rooftop celebration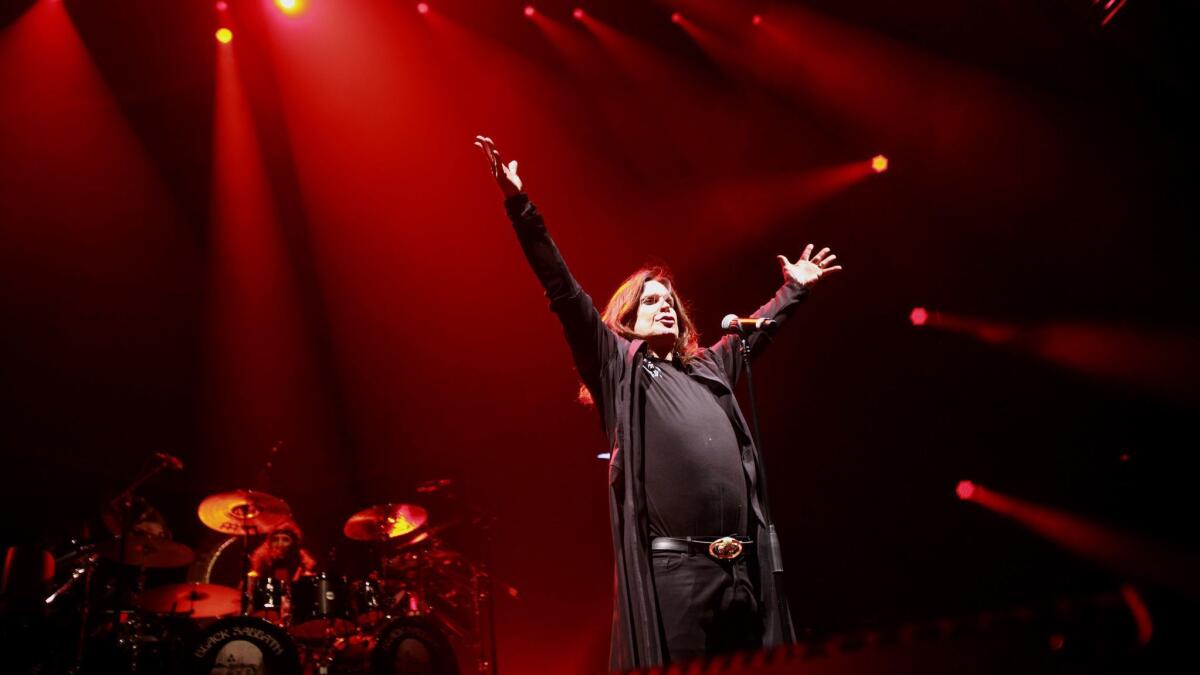 It would be hard to find many Angelenos who are not eager to bring 2018 and its litany of anxieties to a permanent close. Don't worry, everyone, it's just a few days away.
Going clubbing on NYE is, of course, usually an exercise in dashed expectations and $100 Uber Pools. But after this awful annum, we say: Treat yourself. Go do it up at a show, any show, from metal festivals to minimal raves.
Here's our guide to the best of the lot.
Rock 'n' roll
Ozzy Osbourne, like 2018 in general, has to quit sometime, but the day never seems to actually arrive. After retiring Black Sabbath, and swearing that he'll soon quit touring as a solo act, he instead booked a blowout return for Ozzfest at Inglewood's Forum (3900 W. Manchester Blvd.) with himself as the headliner. Marilyn Manson, Rob Zombie and Body Count support. To quote an Ozzy classic, start 2019 conceived in the eye of a secret. Tickets range from $20.19 to $170.50.
Still want guitars but prefer a slightly less brutal set? Fair enough, all considered.
Over its two LPs, indie staple DIIV has honed a chilly, romantic post-punk that always sets a reflective mood. They play a one-off at the very fetching Highland Park Ebell (131 S. Ave. 57, Los Angeles). Tickets can be had for $33.87.
At the Regent, the dance-punk band !!! is well into its second decade of churning crowds with upbeat floor-fillers. (448 S. Main St., Los Angeles. Tickets are $32.50)
On the dance floor
Dance music usually lords over this night, however, and there's plenty of it in any flavor.
Cling to the big-rave dream at Insomniac's Countdown, where Zedd, Tiesto, Dillon Francis and the like will bring EDC Las Vegas teenage flashbacks to the NOS Events center in San Bernardino (689 S. E St). Admission starts at $99. Meanwhile at Avalon, German trance mainstay Markus Schulz will lead the way for the bottle service set (1735 N. Vine St., tickets $70-$150). Get the jump on the 2010s' EDM revival. You know it's coming sooner or later.
If you're feeling pop-nostalgic but want to stay closer to home, Dance Yourself Clean revives the indie-dance and blog-house era at the Teragram (1234 W. 7th St., $25), while Candi Pop at the Satellite (1717 Silver Lake Blvd., $15) goes ultra populist with TRL-era hits and contemporary Gen Z pop (and the older millennials trying to reach them on streaming services). Go ahead and count on a Soundcloud rap retro revival for NYE 2027 somewhere.
Sex Cells (the outre party series from Lethal Amounts gallerist Danny Fuentes) is always a hot mess of goth decadence and brings My Life With The Thrill Kill Kult and Egyptian Lover to Echoplex (1154 Glendale Blvd.), while the Bay Area hyphy party Hypothesis take the Echo (1822 W. Sunset Blvd.) upstairs (you can get a combo ticket in advance for $30 if you feel wanderlusty). The Pandemonium party will whip up Afrobeat, dancehall and similar diaspora sounds over at Catch One (4067 W. Pico Blvd., $15 in advance).
Maybe best bets for avoiding the NYE riffraff are downtown and more or less underground, and there's plenty to pick from. Minimal Effort brings Sasha, Skream and Justin Jay to the Belasco (1050 S. Hill St., $59-$159) for rangy deep house. The Standard Rooftop (550 S. Flower St. tickets start at $100) locks in a savvy vintage bill with '90s diva Crystal Waters and Chicago house legend Robert Owens.
These may take a little more sleuthing, but Lights Down Low has a fine bill of left-field club music with Ben UFO and Interstellar Funk (location TBA, $39.40); Prototype takes Lot 613 (613 Imperial St., limited tickets at the door) with its gay-and-very-friendly Bears In Space party crew with scene hero DJ Harvey; Midnight Lovers rounds up fan favorite Eddie C and beloved locals Masha and Magic Touch (location also TBA, $45).
Keep it old school
Of course, if you'd rather reflect on a martini and hold someone you love close (and who wouldn't at this point), Motown legend Brenda Holloway plays with Brenton Wood at the Rose in Pasadena (245 E. Green St., $50-$120).
Here's to a new light at the end of the tunnel that was 2018.
Get our L.A. Goes Out newsletter, with the week's best events, to help you explore and experience our city.
You may occasionally receive promotional content from the Los Angeles Times.