Death of an Echo Park record store: What happens when vinyl goes mainstream
The black-and-white paper-crane-shaped sign has come down for good at Origami Vinyl. The Echo Park record store abruptly closed this month after seven years of pushing against the streaming revolution by selling vinyl LPs, hosting live bands in its loft and serving as a focal point for the neighborhood's independent music culture.
See more of Entertainment's top stories on Facebook >>
The store had seemed particularly primed to capitalize on the recent vinyl LP resurgence. It had a perfect location next door to the popular music venue the Echo, waves of media attention and deep relationships with festivals like FYF and big acts like Sleater-Kinney and Sigur Ros, who brought lines around the block for in-store appearances.
But Origami's closing may have less to do with a weakening in the vinyl revival and more to do with the mainstreaming of the trend.
"I was at the Americana in Glendale," said owner Neil Schield, "and the Barnes & Noble there had a huge sign advertising its vinyl section."
It's easy to see why major chains would want in on the vinyl revival. In 2015, sales of new LPs were up 30% over the prior year, the 10th consecutive year of growth for the format in the U.S. Vinyl sales brought in more revenue than the billions of plays on all ad-supported streaming services combined, according to the Recording Industry Assn. of America.
The prospect of stores like Amazon squashing plucky local record stores sounds disheartening. The online mega-retailer recently ran a promotion in which it gave away free vinyl to advertise its expanding selection. According to a 2014 Billboard study, Amazon and the clothing retailer Urban Outfitters sold 12.3% and 8.1%, respectively, of all new LPs in the U.S.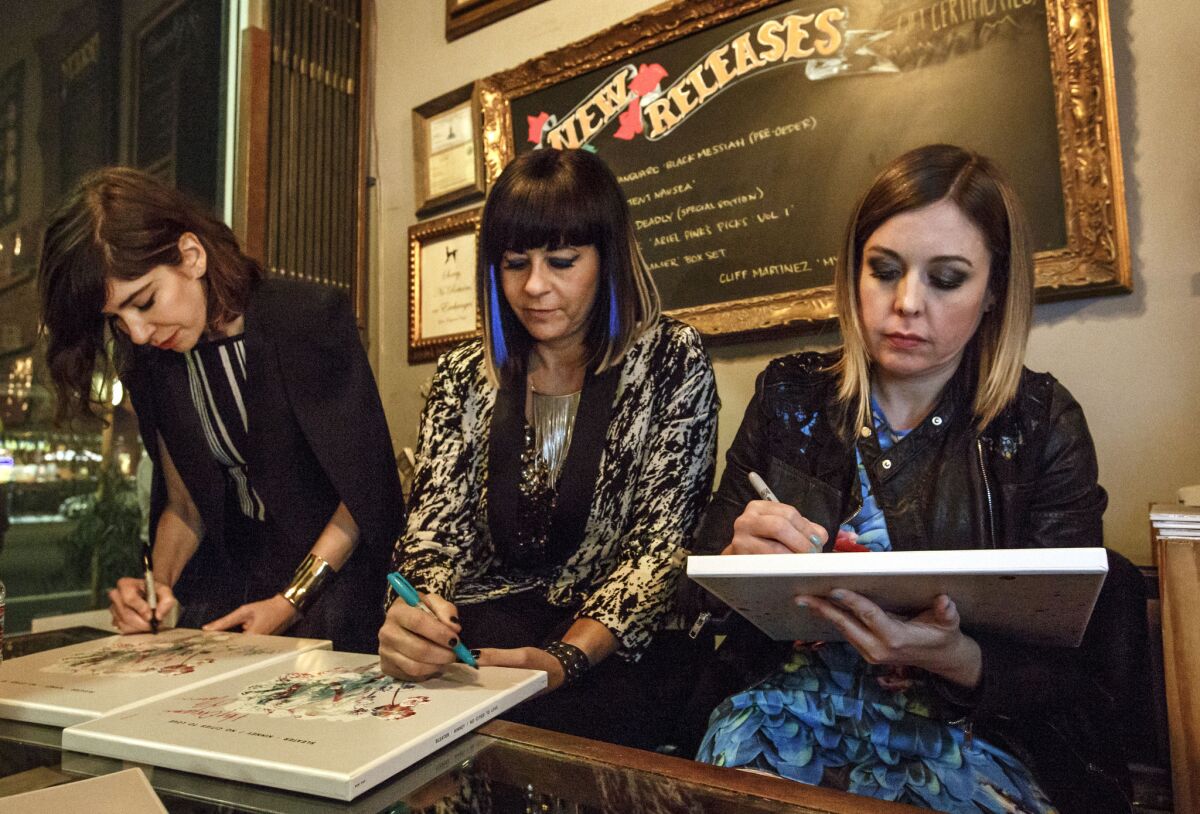 But independent stores still account for "the lion's share" of the vinyl market in the U.S., said Dean Tabaac, the head of Amped Distribution, which distributes about half of the vinyl LPs sold in the U.S. "Much of the country doesn't have the luxury of an Amoeba or Waterloo Records [in Austin, Texas], and more nontraditional accounts are getting into the game. But it's actually harder for chains because vinyl is nonreturnable to the distributor. Independent stores know their customers, and they've done a good job keeping prices as low as they can."
"Origami Vinyl started as a childhood dream for me," Schield wrote in an email to patrons the day his store closed. "I feel so fortunate to have lived out that dream."
Schield had been quietly planning for a year to wind down Origami Vinyl. There were personal reasons: He recently got married and wanted to devote more time to his new record label, Fairfax Recordings. But in the end, he said, "The shop's been losing money."
The store's end suggests that vinyl's exploding popularity of late may come with troubles for some small shops.
"It was a labor of love, but it wasn't sustainable," he added. "The last few Record Store Days were really bad for us, and the holidays were slow. It was one thing to compete with the shop down the street, but it's another thing when big-box stores like Amazon and Urban Outfitters have gotten into vinyl and offer free shipping."
Origami's business — selling new LPs from of-the-moment indie bands — started as a way to differentiate it from stores like the Bay Area-based Amoeba in Hollywood, which stock a vast library of used records and other merchandise. But for new records, rising demand coupled with the current dearth of vinyl presses (it takes about four months to press a batch of LPs today, Tabaac said) means prices are likely only going up. Standard new LPs now list for $18 to $25.
But given so much competition in L.A., perhaps the novelty of local vinyl stores has worn off. Stores such as Permanent Records, Mount Analog, Vacation and others now give vinyl fans plenty of neighborhood options. Some cater to specific tastes like heavy metal or dance music, or sell other ephemera like art prints and home goods that help make up ground lost on new LPs.
"We know firsthand exactly how difficult it is to yield a profit from selling primarily new records," said Lance Barresi, who co-owns Permanent Records, the Chicago-based store with an outlet in Highland Park that's taking over the Origami space, with his longtime girlfriend Liz Tooley. "Running [that] type of record shop can be super fun and rewarding, always turning people on to new music and giving bands much needed exposure early on, but it's a constant battle acting as a 'tastemaker.'
"It took us a long time to comfortably switch our focus from new to used, which is what we needed to do to keep our growing store viable," Barresi said.
It's understandable why broke music fans — or even the better-heeled population that has moved into Echo Park over the last decade — might be happier combing used bins or ordering an LP on the Internet with free shipping, instead of paying full price at a local store with a limited selection.
The online marketplace for vinyl, once defined by to the wilds of EBay or the impersonal infinity of Amazon Marketplace, is getting more navigable.
"Seventy-five percent of our sales are in vinyl," said Chad Dahlstrom, the chief operating officer of Discogs, a database and peer-to-peer online marketplace for records that facilitated more than $100 million in sales in 2015.
Online sales and physical retail don't have to be opposed, he said. But a store's wares have to be especially distinct to stand out.
"The direct connect of retail is great. People love to dig and talk music," Dahlstrom said. "The local audience for niche shops is so important. But I talk to buyers all the time, and some of them say they stay in business because of [sites like] Discogs that have an EBay-like model."
Schield is happy that Permanent Records is taking over the Origami space and its stock and that Echo Park vinyl fans still have an outlet there.
"It was really serendipitous how it went down, that we could transfer the lease instead of just closing," Schield said. "I wouldn't have entertained that idea with any other store in L.A. It really felt like passing the torch onto another family."
The sudden closure of Origami came as a surprise to many Echo Park music fans.
"Origami Vinyl meant a lot to us," said Heather Heywood, who co-runs the L.A. vinyl label Chain Letter and played in Summer Darling, a band on Origami's in-house record label. "Places like Origami fill a much-needed role as curators, helping independent bands find their audience. In a time where there is more disposable music than ever, we hope [small stores] survive the intrusion of big business into the resurgent vinyl market."
Perhaps another model of record store will prove more sustainable. But Origami — long the bellwether for the vinyl revival in L.A. — also proved that the last corner of growth in the music industry's physical music business may have challenges of its own.
"It was always less about commerce than about community. L.A. is now rich in record stores, and I love that people are paying for music. There is room here for stores to survive and thrive," Schield said. "But maybe even I was naive about what it took."
---
Get our L.A. Goes Out newsletter, with the week's best events, to help you explore and experience our city.
You may occasionally receive promotional content from the Los Angeles Times.