Origami Vinyl's Neil Schield on his Echo Park record store's closing: 'It wasn't sustainable'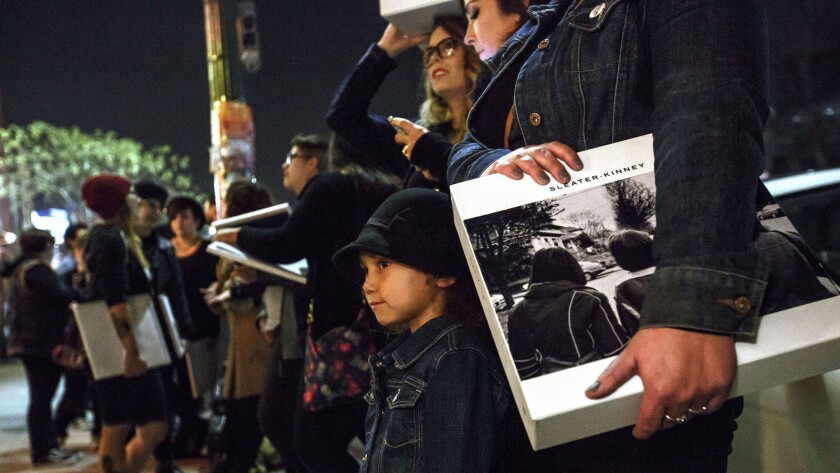 The black-and-white paper crane-shaped sign is, for now, still up at Origami Vinyl. But the beloved Echo Park record store abruptly closed on Saturday after seven years of slinging LPs, hosting live bands in its loft and serving as a focal point for the neighborhood's independent music culture.
"Origami Vinyl started as a childhood dream for me," owner Neil Schield wrote in an email to patrons on Saturday. "I feel so fortunate to have lived out that dream."
See more of Entertainment's top stories on Facebook >>
If any record store could have survived in the ongoing vinyl resurgence, Origami seemed like a contender. It had a perfect location — right next to popular nightclub and music venue the Echo — waves of media attention and goodwill upon opening and deep relationships with festivals like FYF and larger touring acts who brought lines around the block for intimate in-store performances.
The vinyl revival is, in some ways, healthier than ever: Sales are up 30% over last year, the 10th consecutive year of growth for the format in the U.S. But Origami's closure proves that vinyl's expanding popularity may come with troubles of its own for small stores.
Schield had been planning to wind down Origami Vinyl for a year. There were personal reasons; he recently got married and wanted to devote more time to his new record label, Fairfax Recordings. But in the end, he said, "The shop's been losing money."
"It was a labor of love, but it wasn't sustainable," he added. "The last few Record Store Days were really bad for us, and the holidays were slow. It was one thing to compete with the shop down the street, but it's another thing when big-box stores like Amazon and Urban Outfitters have gotten into vinyl and offer free shipping. I was at the Americana in Glendale and the Barnes & Noble there had a huge sign advertising its vinyl section."
The specifics of Origami's model — almost exclusively selling new LPs from of-the-moment bands — started as a way to differentiate it from stores like Amoeba, which stocks a vast library of used records (something not possible in Origami's tiny square footage).
But that choice left little room on the margins. Unlike CDs, vinyl LPs aren't usually returnable to a distributor, Schield said, and stocking all the latest Pitchfork-approved acts left the store with no-longer-trendy stock it couldn't sell once a band slipped off the radar. Schield said new records have only a 30% to 35% markup, while used records have better margins, sometimes much better for collectors' items.
A dearth of new vinyl presses means prices and timelines for printing new vinyl are only going up (new LPs routinely list for more than $20). And given so much expanded competition, the novelty of local vinyl stores has worn off. L.A. stores such as Permanent Records, Mount Analog, Vacation and others now give vinyl fans plenty of options. Many also sell other ephemera like art prints and home goods that help make up ground lost on new LPs.
It's perhaps understandable that broke musicians and young people — or even the better-heeled population that has moved into Echo park over the past decade — might be tempted to get that same LP, discounted with free shipping on Amazon, instead of paying full list at a local store, even a much-loved one.
A branch of the Highland Park store Permanent Records take over the Origami space and its stock, so Echo Park vinyl fans still will have a nearby outlet. "It was really serendipitous how it went down, that we could transfer the lease instead of just closing," Schield said. "I wouldn't have entertained that idea with any other store in L.A. It really felt like passing the torch onto another family."
Perhaps another model of record store will prove more sustainable. But Origami — long the bellwether for the vinyl-revival in L.A. — also proved that the last corner of growth in the physical-music industry may have challenges of its own ahead.
"It was always less about commerce than about community. L.A. is now rich in record stores, and I love that people are paying for music. There is room here for stores to survive and thrive," Schield said. "But maybe even I was naïve about what it took."
Follow @AugustBrown for breaking music news.
---
Your essential guide to the arts in L.A.
Get Carolina A. Miranda's weekly newsletter for what's happening, plus openings, critics' picks and more.
You may occasionally receive promotional content from the Los Angeles Times.