Review: Review: Paramore has grown up, but it has never stopped reflecting the current moment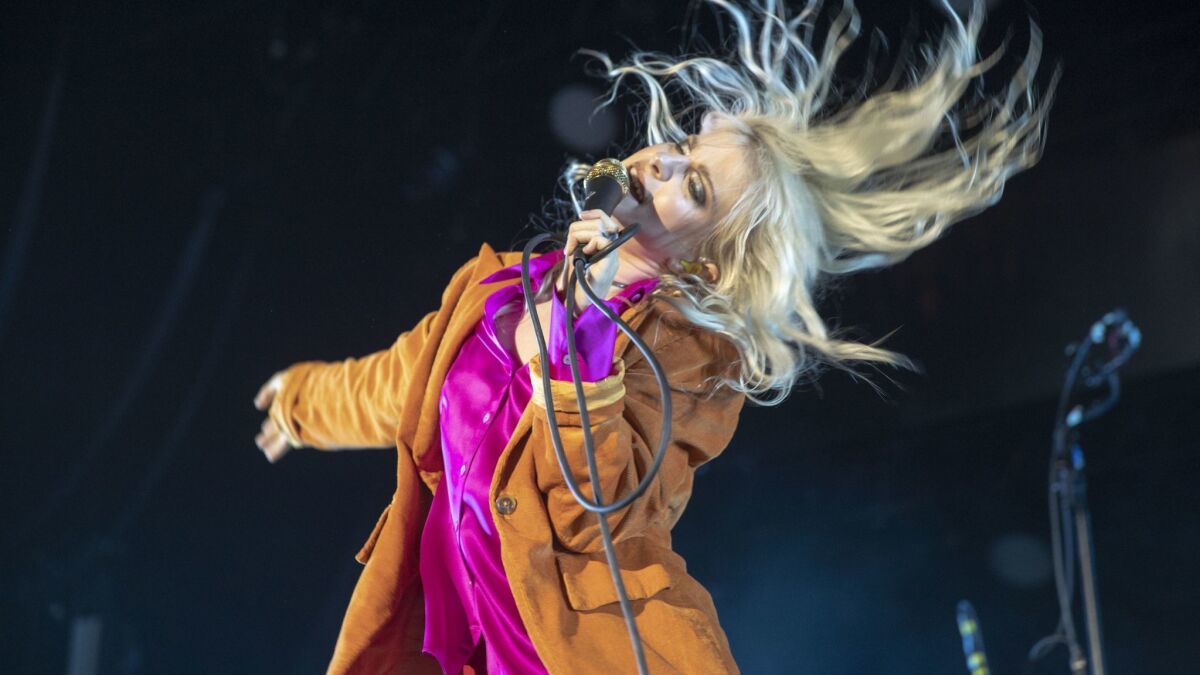 It's reassuring that even a band like Paramore — well over a decade into its career, with a praised new album that radically reset its sound — still feels the same anxieties that the rest of us do.
"Things keep falling apart faster than we can put them together," singer Hayley Williams told a sold-out Forum crowd Wednesday night. "I'm struggling with every possible anxiety there is. But thanks for grace and the opportunity to grow up with you."
That's a remarkably candid thing for a rock star to say. Paramore's never been especially political on record, but the act does give fans a sense that everyone is indeed growing up together, feeling all the same joys and worries. Lord knows we have plenty of the latter today.
But luckily on Wednesday, Paramore took all that apprehension about the future and used it to reinvent itself.
The night began with opening sets from the incisive indie rocker Jay Som and L.A. synth-pop veterans Foster the People, who helped set the template for the '80s revival that Paramore is now thoroughly exploring. That sound was all over Paramore's 2017 LP "After Laughter," which shed any last pop-punk roots in favor of a retro-futurist funk.
That's such not a radical move today: Bands such as Haim and the 1975 use scratchy guitar licks and spacey synth pads, too. But what Paramore does best is preserve a sense of excitement about change — that even hardship can sharpen and redefine your identity.
The band's been through enough lineup rejiggers, romantic entanglements and crises of conscience that Stevie Nicks might offer them a sympathetic hug. But each time, Paramore has come out with a new record that reflected all of it.
With this new music, the band is juxtaposing contemporary bleakness with zesty musicianship. Out with the lip rings and ear gauges; in with Tom Tom Club, Nile Rodgers, INXS and even some Lionel Richie.
Set opener "Grudges" stared down the recent tumult, including the departure of longtime bassist Jeremy Davis and the return of drummer Zac Farro (who in this new era is crucial to the group's percussive swing). "Rose-Colored Boy" and "Told You So" would have been unimaginable in their catalog a few years ago. Now they're gears in a well-oiled punk-funk machine, one with enough range to cover Drake's "Passionfruit" as well as play a few lovely ballads such as "Misguided Ghosts" and "26."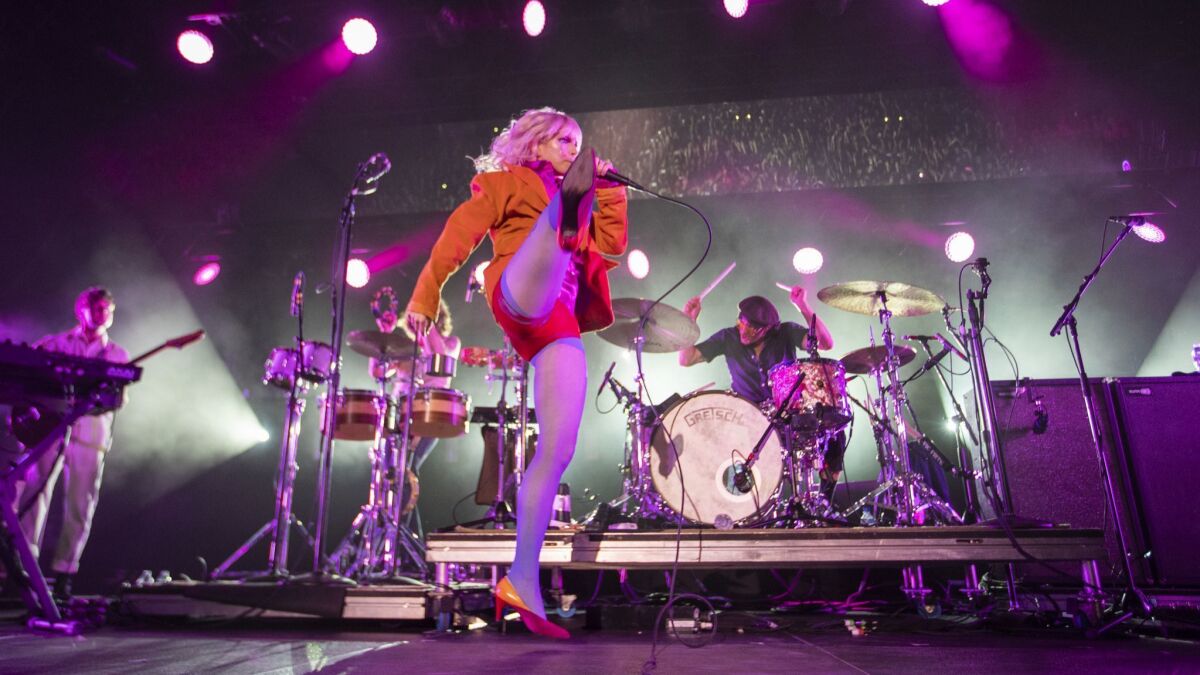 But Paramore also retroactively applied that sensibility to its catalog. Fan favorites including "Crushcrushcrush," "Ignorance" and "Playing God" — built around big power chords and rowdy teenage energy — were revamped as prickly disco. The hooks were always there, but now the band had a whole new palette for them.
That was most true on "Misery Business," the 2007 single that broke the act from Warped Tour grommets into arena-rock headliners. Williams wrote the song as a teen, about competition for a guy she wanted to date. Since then, she's changed a lot in her thinking about relationships, jealousy and how men and women understand each other.
"This song was just a page in my journal," she said, in a mea culpa about its snippy lyrics. "It was about a girl I got in a fight with over a guy. Ladies, guys aren't worth fighting over. But we decided to look [the song] in the face and decide we've grown up."
Then Paramore played the song and Williams let the fans sing most of it, to live out their fond memories without revisiting those immature, toxic feelings. It was the perfect 2018 frame for a song from a very different time and place.
Of course, these days the band members (and everyone) have a whole new set of things to worry about. They closed with "Hard Times," one of the best new wave-y singles on their record. Read it on paper and it sure sounds bleak: "All that I want is to wake up fine / Tell me that I'm alright, that I ain't gonna die," Williams sang.
But those who stopped by one of the venue's bars might have seen that a vodka-cranberry-pineapple cocktail called "Hard Times" was the night's drink special. Who knows if the band signed off on that or not, but it was a funny reminder that even in a truly bad era, there is something sweet to help take the edge off.
Twitter: @augustbrown
---
Your essential guide to the arts in L.A.
Get Carolina A. Miranda's weekly newsletter for what's happening, plus openings, critics' picks and more.
You may occasionally receive promotional content from the Los Angeles Times.