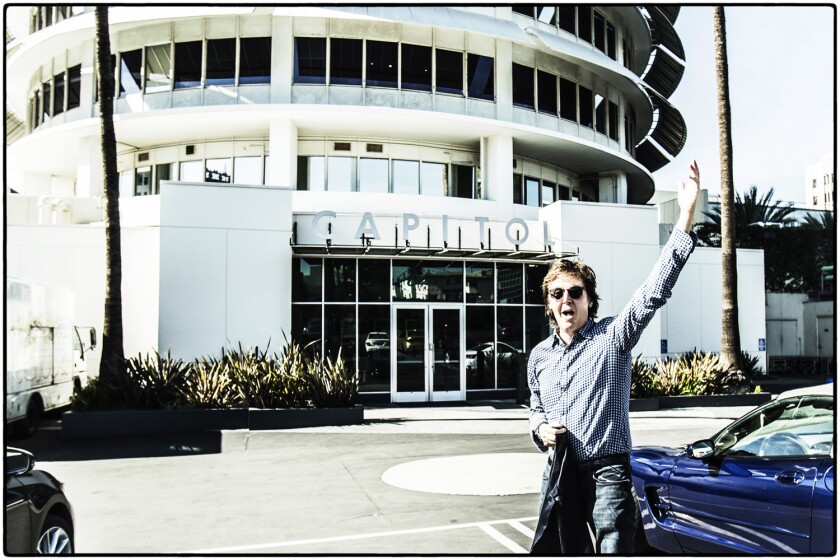 Paul McCartney is getting back to where he once belonged, renewing his relationship with Capitol Records, the label that ushered him and the rest of the Beatles to household name status in the U.S. in the 1960s.
The new contract, announced Wednesday by Capitol, will cover his complete solo catalog of some three dozen albums as well as new recordings he plans to release.
"This is genuinely exciting for me," McCartney, 74, said in a statement, which also revealed that he was at work on a new album, though no release date was specified. "Not only was Capitol my first U.S. record label, but the first record I ever bought was Gene Vincent's 'Be-Bop-A-Lula' on the Capitol label," referring to Vincent's 1956 proto-rock hit.
See the most-read stories in Entertainment this hour »
McCartney launched his solo career in 1970 upon the breakup of the Fab Four, with Capitol handling U.S. distribution of his solo albums released on the Beatles' London-based Apple label. He continued with the company through most of the '70s before making a high-profile defection to competitor Columbia Records in 1979.
Following five albums for Columbia, he returned to Capitol with 1986's "Flowers in the Dirt," and issued five more solo albums, as well as his classically oriented "Liverpool Oratorio" and "Standing Stone" compositions on Capitol's sibling label EMI Classics.
In the new millennium, however, he put out albums on his own MPL Communications imprint that were distributed stateside by Starbucks' Hear Music label and then the Concord Music Group.
About three dozen albums will be under the Capitol umbrella under terms of the new contract, monetary details of which were not disclosed.
"Paul McCartney's association with Capitol has long defined so much of our historic legacy, and all of us here are extremely proud and honored that he has chosen to come back home," Capitol Music Group Chairman and Chief Executive Steve Barnett said in the statement.
"Paul's indelible contributions to our culture are second to none, and his constant evolution as an artist and performer continues to inspire and enrich the lives of countless millions of people," Barnett said. "We are overjoyed that Paul will be creating new music for years to come, and that Capitol will be helping to present it to the world."
Lucian Grainge, chairman and CEO of CMG's parent company, Universal Music Group, added, "It would be simply impossible to overstate what an honor it is to welcome Paul back to Capitol. It's a homecoming of one of the greatest musical artists of all time to the label that first helped bring his incredible music to the world.
"Paul's astonishing career has shown no limits — in creativity, in commercial longevity, and in its impact on people and cultures in every corner of the globe," Grainge said. "We are thrilled at both Capitol and UMG to be able to contribute to the next chapter in Paul's extraordinary career."
randy.lewis@latimes.com
Follow @RandyLewis2 on Twitter.com
For Classic Rock coverage, join us on Facebook
ALSO
'The Beatles: Live at the Hollywood Bowl' album upgraded for Sept. 9 reissue
Beatles family reunites at revamped 10th anniversary of 'Love' show in Las Vegas
1966 could be rock 'n' roll's most revolutionary year, thanks to the Beatles, Dylan and the Beach Boys
---