How Phoenix managed to stay joyful in troubled times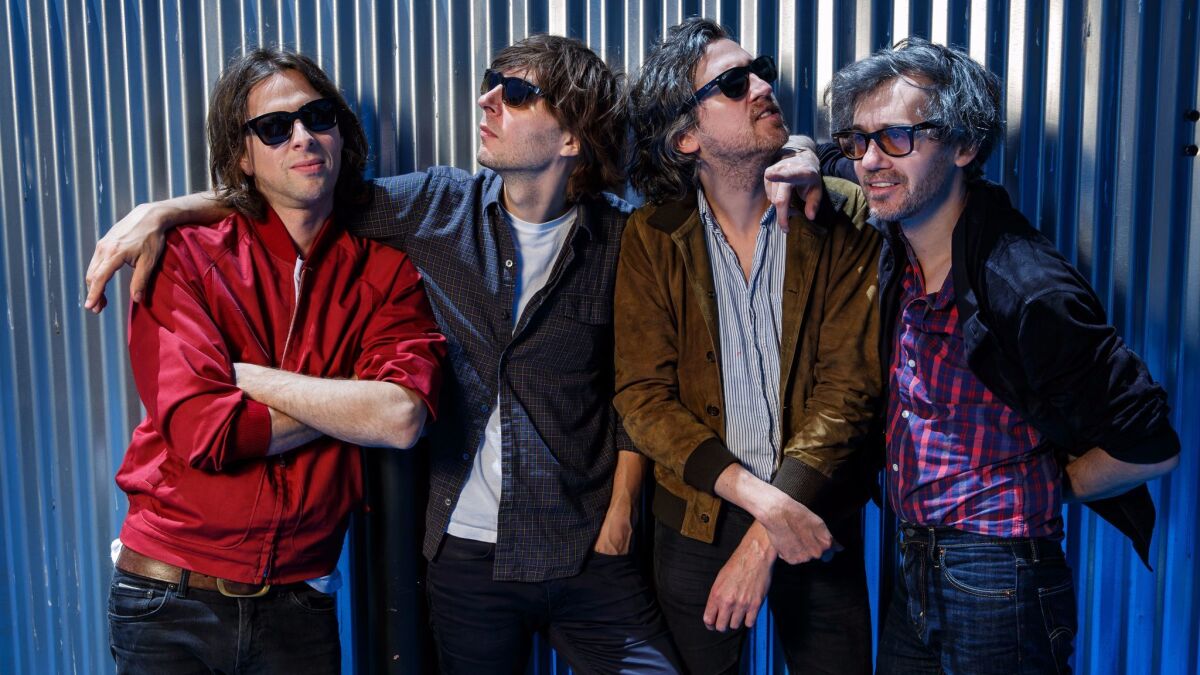 On the night of the terrorist attacks that roiled Paris in November 2015, the French rock band Phoenix's guitarist, Christian Mazzalai, was recording in a studio. The facility went on lockdown after news broke that gunmen had stormed the Bataclan, a beloved neighborhood concert hall. By the end of the night, 130 people had been killed by attackers in the venue and around the city.
Phoenix fans won't immediately hear an undercurrent of that tragedy in the album that eventually came out — the effervescent, disco-driven "Ti Amo." But the band sees its love-struck, optimistic new LP as a small act of rebellion against the wave of terror and dread that swept through France — and much of the world — over the last few years.
"At first, we thought that maybe something was wrong with us, that it was the wrong time to make hedonistic, joyful songs," said singer Thomas Mars. "But making any record is a leap of faith, and we always have seen music as a well of possibility."
With its danceable ode to long nights, sparkling wine and falling in love, Phoenix did more than write a perfect summery synth-rock album. The act made fans feel like that kind of summer was possible again, for the first time in a long time.
"With all the high tension in Paris, [the record] was a way for us to survive and find something brighter," Mazzalai said.
The band — which headlined the Coachella Valley Music and Arts Festival in 2013 — will perform at the Hollywood Bowl on Thursday. A lot has happened in the years since its last tour cycle, and much of it could be seen as grim or foreboding to a progressive band and its audience.
In Europe, there were multiple terror attacks in France and elsewhere, not to mention the rise of far-right nationalism, Brexit and a refugee crisis. (Tensions also remain high in America, as the front page of this newspaper often makes clear).
Phoenix would certainly be pleased if its new album is some kind of balm for those wounds in the minds of its fans.
"Ti Amo," its first record since 2013's relatively knotty, droll "Bankrupt!," purposefully alludes to its breakthrough, 2009's "Wolfgang Amadeus Phoenix." With concise, hooky singles and a retro-futurist glamour, the album is unabashed about pleasure.
On "Ti Amo," the band revels in its particular affection for Italy, the country where Mars and film director Sofia Coppola were married and where Phoenix's members often vacationed as youths. In a short film previewing the album, the band (which also includes bassist Deck d'Arcy and guitarist Laurent Brancowitz) appears on a loving mock-up of a low-rent Italian talk show, bathed in Moroder-era neon.
One thing the record is not, however, is purely escapist fun.
"I'm convinced that there is also gravitas to it. You can tell it was made in troubled times," Mars said. "There are a lot of mixed emotions blended together."
Those mixed emotions are clear on the lead single "J-Boy," a fizzy, sci-fi-inspired disco ballad in which Mars sings in rapid-fire patter about "shiny bangles on your wrists … at the masquerade ball," but also a planet with "No more coral on the atoll" and a "Kamikaze in a hopeless world…. Do you remember the last time you laughed?"
"I'm always inspired by things that are not perfect, that you want to try to make better," Mars said.
For Phoenix, part of that search for improvement meant returning to some of the core things they're good at.
The veteran band was an unlikely candidate to become one of the breakout rock acts of the last decade — four guys from Versailles who loved soft rock and French touch electronic music. But it hit a sweet spot with "Wolfgang," which won the band a Grammy for alternative music album, a "Saturday Night Live" slot and festival headline dates.
"Bankrupt!" was something of a reaction against that newfound super fame, with intentionally long, winding songs and a bit of a sneer at all the attention.
With "Ti Amo," however, Phoenix recognized that pleasure doesn't have to be so complicated.
"Fleur de Lys," "Tuttifrutti" and the title track nail a hot-nights, Mediterranean club floor fantasy. Even the ballads "Goodbye Soleil" and "Via Veneto" evoke the glazed, hungover melancholy of getting on the plane back home.
"On the last album, every song was complex. This time, we knew we wanted to do very simple songs and express candid emotions," Mazzalai said. "We wanted to make our wives and girlfriends dance. If they were dancing, then maybe other people would follow."
As the band preps for its Bowl date, Phoenix makes no pretense that this album is any more (or less) than what it is — a defining French rock act finding its way out of a dark couple of years. For its members on "Ti Amo," Italy was an idea of a better world, something no endless stream of bad news could ever sully.
In Phoenix's hands, it sounds like an exceptionally lovely place to visit.
"When you put on an album, it shows you all the things you thought you weren't able to do," Mars said. "You have to be defiant just to exist."
----------
Who: Phoenix with Mac DeMarco and the Lemon Twigs
Where: Hollywood Bowl, 2301 N. Highland Ave, Los Angeles
When: 8 p.m. Thursday
Tickets: $28-$50
Info: hollywoodbowl.com
For breaking music news, follow @augustbrown on Twitter.
ALSO:
---
Your essential guide to the arts in L.A.
Get Carolina A. Miranda's weekly newsletter for what's happening, plus openings, critics' picks and more.
You may occasionally receive promotional content from the Los Angeles Times.