Special to the Times
Editor's note: Prince, one of the bestselling pop artists of all time, died April 21, 2016, in his recording studio in Chanhassen, Minn., the Associated Press reported.
Hold that champagne.
Prince and his advisers may be toasting their new multimillion-dollar contract with Warner Bros. Records, but some executives at the record label are not exactly ecstatic.
Not only were key officers at Warner Bros. surprised when Prince's publicists issued a press release Thursday announcing the pact, but they were "dismayed"--in the words of one Warner official--by the claim that it was the biggest deal in record industry history.
Without denying the Prince deal is one of the "four or five biggest" in the record industry, insiders claim the total figure is based largely on projected revenue--not guaranteed income.
"Can you believe what Madonna, who just finished negotiating a $60-million contract with Warners, is going to say when she hears about the Prince deal?" asked one industry observer.
While company executives declined to discuss the new pact, other industry insiders were quick to challenge the accuracy of the deal's reported $100-million figure.
To earn $100 million, each of Prince's next six albums will have to sell at least 5 million copies, a level that he has rarely matched despite his high international visibility. The music publishing and other joint ventures also depend on projected sales performance.
If Prince's sales fall short in any of these areas, the amount due him under the contract could be greatly reduced.
So how much cash did the 34-year-old Minneapolis recording artist, whose real name is Prince Roger Nelson, get for signing his name on the dotted line?
Approximately $30 million.
"This $100-million figure is so ridiculous," said one industry insider. "No company could afford to pay Prince that. Based on what he has sold recently, they'd go broke."
"His representatives are just playing the big numbers up for the media," said another prominent record company executive. "These huge numbers get leaked to the press to puff up artists' egos and to promote the people who negotiate the deals. It's free advertising so that his representatives can lure other artists into their camp."
Gary Stiffelman, an entertainment attorney at the Los Angeles firm Ziffren, Brittenham and Branca, declined to discuss details of the contract, but dismissed allegations of self-promotion. Stiffelman negotiated the contract for Prince along with Gilbert Davison, president of Paisley Park Enterprises, Prince's Minneapolis record company.
"We don't comment on the value of the deals we make," said Stiffelman, whose firm has also negotiated deals for the Rolling Stones, Aerosmith and ZZ Top.
"We leave that speculation to the press and the music community."
Prince's contract is the latest in a string of mega-bucks superstar signings triggered by Janet Jackson's estimated $40-million, three-album deal with Virgin Records last year.
Just where does the deal place Prince in this high-visibility, high-ego sweepstakes?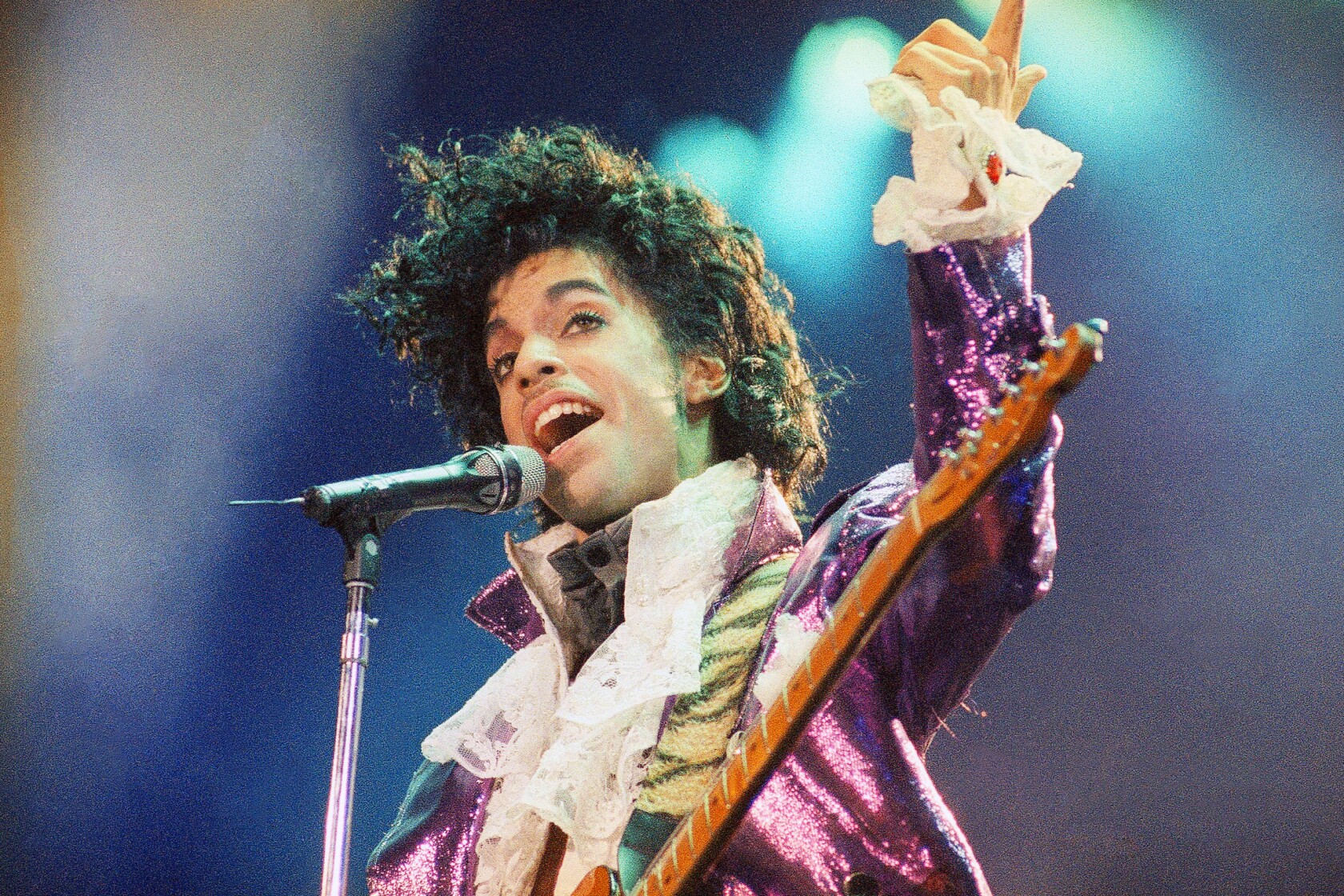 Prince performs at the Forum in Inglewood on Feb. 18, 1985.
(Liu Heung Shing / Associated Press )
Prince performs in Los Angeles in 1986.
(Los Angeles Times)
Prince performs his last concert April 14th at the Fox Theatre in Atlanta.
(Amiee Stubbs )
People get emotional while talking about Prince at a memorial for the artist in Leimert Park.
(Barbara Davidson / Los Angeles Times)
A rainbow appears over Paisley Park near a memorial for Prince in Chanhassen, Minn. Prince, widely acclaimed as one of the most inventive and influential musicians of his era with hits including "Little Red Corvette," ''Let's Go Crazy" and "When Doves Cry," was found dead at his home at Paisley Park on Thursday.
(Carlos Gonzalez / Star Tribune via AP)
Prince performs at the St. Paul Civic Center in St. Paul, Minn. on Dec. 25, 1984.
(David Brewster / AP)
Prince performs on stage on the Hit N Run-Parade Tour at Wembley Arena in London in August 1986.
(Michael Putland / Getty Images)
Prince performs at the Sziget Festival in Budapest, Hungary, on Aug. 9, 2011.
(Balazs Mohai / EPA)
Prince performs at the Nokia Theater in New York in 2006.
(Noa Daniel/Zuma Press/TNS)
Prince performing at the 47th Montreux Jazz Festival, in Montreux, Switzerland, on July 14, 2013.
(Marc Ducrest / Montreux Jazz Festival / 2013 FFJM)
Prince at the Sportpaleis in Antwerp, Belgium, on Nov. 8, 2010.
(Dirk Waem / EPA)
Prince presents an award at the American Music Awards in Los Angeles on Nov. 22, 2015.
(Matt Sayles / Invision / Associated Press)
Prince performs at Coachella Valley Music & Arts Festival in 2008.
(Spencer Weiner / Los Angeles Times)
A shirtless Prince performs in 1986.
(Mario Suriani / Associated Press)
Prince and Manuela Testolini arrive at the 2005 Academy Awards.
(Robert Gauthier / Los Angeles Times)
Prince and Manuela Testolini arrive at the 2005 Annual Academy Awards.
(Al Seib / Los Angeles Times)
Prince performs at the Super Bowl in 2007.
(Evan Agostini / Getty Images)
Prince in 2008.
(Spencer Weiner / Los Angeles Times)
Prince performs "Purple Rain" at the 46th Annual Grammy Awards in 2004.
(Richard Hartog / Los Angeles Times)
Prince performs at the Super Bowl in 2007.
(Chris O'Meara / Associated Press)
Prince with Beyonce at the 2004 Grammy Awards.
(Richard Hartog / Los Angeles Times)
Prince performs on ABC's "Good Morning America" in 2006.
(Peter Kramer / Getty Images)
The crowd at the Roosevelt Hotel in Hollywood before a Prince concert in 2007.
(Lori Shepler / Los Angeles Times)
Prince performs in France in 2011.
(Bertrand Guay / AFP/Getty Images)
Prince made a special appearance in 2014 on "New Girl" with Zooey Deschanel.
(Fox)
Prince.
(Afshin Shahidi / Universal Music)
Prince crossed from records to movies with "Purple Rain" in 1984.
()
Most industry observers contacted Friday put it in the top 5. Some believe that Janet Jackson's pact is still the most valuable because she becomes a "free agent" after three albums--thus enabling her to sign an even bigger contract if she remains a hot artist.
Others pointed to the Michael Jackson/Sony and Madonna/Warner Bros. arrangements, both of which were estimated at $60 million each. These contracts, however, bind the artists to the labels for between six and seven albums. They also include lucrative film/TV/video/merchandisng provisions.
Sources close to the Prince/Warner Bros. talks said the entertainer is guaranteed up to an estimated $10-million advance per album--three times his previous fee and twice as much as Jackson or Madonna receives. The six-album deal reportedly also includes a blue-chip 25% royalty rate on every record he sells.
Under the agreement, Warner Bros., which is owned by Time Warner, will eventually pay about $20 million to restructure Prince's existing record label, Paisley Park Records, and establish an additional joint venture record label. Prince will also reportedly be paid an additional $20-million advance by Warner/Chappel music publishers to establish two other co-venture companies.
If Prince's next album--due Oct. 20--does not sell enough units to turn a profit for the company, sources say, his advance for successive albums will be reduced significantly to compensate for their losses.
In the pop world, a "guaranteed" cash advance is like a separate interest-free loan that the company deducts from the entertainer's share of the profits every time one of his or her albums sells.
The advance for each album is deducted from an artist's royalties on the album until he or she sells enough records to pay back the $10 million, which means about 5 million copies in Prince's case--given his estimated 25% royalty rate.
If the album doesn't sell the 5 million copies, Time Warner reportedly has the right to deduct the difference from royalties generated by all of his previous albums.
So far, Prince has a very uneven commercial track record. He has never repeated the success of his 10 million-selling 1984 smash, "Purple Rain." Indeed, U.S. sales from his last three albums total approximately only 5 million units. "Diamonds and Pearls," Prince's 1991 release, sold about 2.5 million.
Sources say Prince is likely to walk away with no more than a total $20-million advance to underwrite four new companies. However, according to several industry sources, Prince, like Madonna and Jackson, has about two years to test his strengths in the joint-venture recording and publishing companies.
If Warner fails to turn a profit on the new co-ventures with Prince by 1995, the speculation is that the firm reserves the right to retrieve its losses from money generated by Prince's personal record sales.
Among other acts which have signed "mega-deal" contracts in the last two years: Aerosmith, a reported $35-million, four-album deal with Columbia; Motley Crue, a reported $35-million, five-album deal with Elektra, and the Rolling Stones, a $42-million, three-album deal with Virgin. In addition, Lionel Richie and ZZ Top signed smaller pacts with PolyGram and RCA Records respectively.
---