Compton-raised artist Problem looks inward on 'Selfish'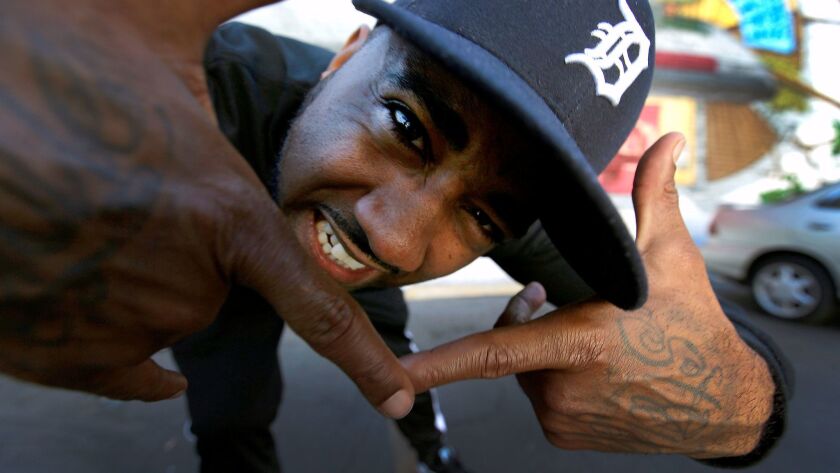 On a breezy fall night in North Hollywood, Problem and his friends stood in the parking lot outside a studio, sipping wine. They were locked out, but Problem, wearing sweats and a Detroit Tigers baseball cap, was laughing and smiling. One could barely tell that he was about to share his most serious, personal and heartfelt music yet.
"Selfish," the title track off his long-gestating debut album, released this month, tells a harrowing story of the man, born Jason Martin, reflecting on the multiple times he's taken women to get abortions. Lyrics are laced with regret.
"Should I swallow my pride and make my peace with the lord now?" he raps over an eerie production that features babies crying, looming violin strings and an enchanting melodic piano.
"This is the soundtrack for the people that's been through it or about to go through it," Problem said after he settled into the studio. "That story's never been told from the male perspective, that honest. So I just feel like it's important just as a musician to do timeless things."
Problem recorded the song about eight years ago, in a reflective mood after his son was born with lymphatic malformations and had to have a tracheotomy. It was after a short-lived deal with Universal Music Group, and it was the start of a journey of maturation for the rapper-producer-writer.
He longed to show off his more experimental side, but with a budding local fan base, he chose not to. He was also growing as a man, but the music didn't necessarily follow suit — until now.
"Being selfless, I wanted to keep giving to my fans what they liked, then it was feeding my family, it was making sure everybody was taken care of," he said. "So this project, I wanted to be very selfish with the music that I make."
Problem called his son a "blessing." The child has continued to defy doctors' expectations.
"Crazy thing is, they told him he wasn't going to talk," the father of six said while popping pomegranate vanilla-flavored cashews into his mouth. "They said all these things and he learned how to talk, he goes to regular school, he does everything."
Problem kept his most personal music hidden. It was finally during a studio session with his manager, Melissa Keklak, that he felt the push to make "Selfish" public.
"As soon as I heard it, I asked him what it was and he told me it was a song he has had for years but was waiting for the right time to put it out," Keklak said. "After that day, I wouldn't let the song go because not only was it special and a relatable track but it was a story I felt Problem needed to tell."
Another cut, "Man Enough," is 3 years old and questions the definition of manhood. The album includes a clip of Problem's 2-year-old daughter saying that life's not fair, as well as a recording of his ex-girlfriend singing along with a homeless man. The ex, Jennifer Martin, was one of Problem's earliest and fiercest supporters, but she died this summer in a boating accident.
"I had to include [the recording] on this project, with this project being so vulnerable, and it's so different than what I've done," he said. "I got to carry her with me on this ride."
The journey to "Selfish" included numerous flirts with the mainstream. Problem wrote the hook for E-40's hit "Function," which cracked Billboard's Hot 100, he's worked with Snoop Dogg and last year, he recorded a theme song for the Los Angeles Rams in "My Squad."
Before "Selfish," the themes of his music consisted mostly of partying, getting money and wooing women.
It's a lifestyle that contrasts with his humble beginnings. He started as a producer at age 20, which he said made him a "late bloomer," and his first major project was 2006's "Round 2 Knockout Punch!" — a lengthy 32-track mixtape (Problem declined to give his age). He further honed his craft with 2012's mixtape "Welcome to Mollywood" on his own Diamond Lane Music Group.
Yet the party music — see 2013's breakout "Like Whaaat" — had run its course. Today, Problem references timeless albums such as Lauryn Hill's "The Miseducation of Lauryn Hill" and Michael Jackson's "Thriller" and "Off the Wall" as the bar he wants to reach.
To further expand his range, Problem worked closely with a friend, jazz saxophonist and hip-hop-R&B producer Terrace Martin, on the latter's Pollyseeds project, which showed the Kendrick Lamar producer slipping into a bandleader role. Martin, who's been working with Problem since 2004, co-produced a pair of tracks on "Selfish."
"I love how he followed his heart more than following trend," Martin said, adding that he'd much rather call the record "Self-Love." "Everybody needs to do something for themselves. You can't help nobody else unless you help yourself. You can't love anybody else unless, really, you love yourself. … The best art comes from the heart, not from the brain."
Yet even with newfound emotional weight, Problem's latest isn't devoid of fun. There is a tribute to 2 Live Crew in "Get on It," and "Top Off," produced by North Carolina vet 9th Wonder, feels like a made-for-summer single, even if was released in October.
"But in L.A. it's always summer, and in Australia it's summer too. It's worldly," Problem laughed. "I just made that up."
Problem was raised in Compton, which he refers to as "a real heralded city" and possessing "a musical background that's kind of unmatched in hip-hop," and he hopes "Selfish" can further establish his place on the city's "Mt. Rushmore." Following in the footsteps of N.W.A's Dr. Dre, Ice Cube and the late Eazy-E, not to mention the Game and Lamar, Problem admits he isn't there yet.
"From what I hear, I'm stitched on it from what I've done," he said. "But I need to get a little closer to the top."
---
Inside the business of entertainment
The Wide Shot brings you news, analysis and insights on everything from streaming wars to production — and what it all means for the future.
You may occasionally receive promotional content from the Los Angeles Times.