Quincy Jones and Broad Museum kick off concert series celebrating summer of 'Black Power'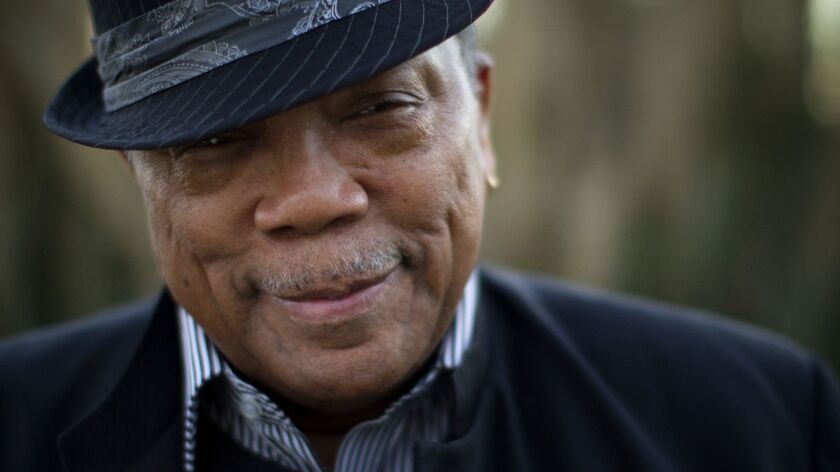 A viewer can't stroll more than a few steps at the Broad Museum's current exhibition "Soul of a Nation: Art in the Age of Black Power 1963-1983" without encountering a painting, photo or sculpture that doesn't include an image of, or allusion to, music.
Take L.A. assemblage specialist Betye Saar's compact but explosive "I've Got Rhythm," for which she transformed a simple metronome into a meditation on lynching. Or John T. Riddle's sculpture "Bird and Diz: Spirit versus Technology Series 1973," a title referencing jazz titans Charlie "Bird" Parker and Dizzy Gillespie and fashioned out of the charred remains of a trumpet and saxophone that Riddle fished out of the wreckage of the Watts Riots in 1965. Then there's "Trane," William T. Williams' 1969 abstract canvas bursting with bright primary colors and sharp geometric shapes paying homage to tenor saxophone great John Coltrane.
The two-way street of art influenced by music and vice-versa during the turbulent two-decade scope of the exhibition is an important element of the touring show, which was organized by London's Tate Museum and will be at the Broad until Sept. 1.
"As a larger contemporary movement," Times art critic Christopher Knight wrote in his recent review of the show, "black art has languished in an institutional blind spot. … Given a sprawling history seen from far afield, Tate curators Mark Godfrey and Zoe Whitley found a useful contextual framework that illuminates a subject both broad and complex."
The second half of the show's title is intentional: The art does not exclusively address the theme of black power. Instead, it embodies a panoply of topics and ideas that were being explored by artists, predominantly African American, during the flowering of new attitudes about black identity.
The exhibition also is the inspiration for a series of three concerts over the summer at the Broad that organizers hope will give additional testament to the powerful visual art on display.
The first arrives Saturday with a performance curated by jazz-pop musician, producer, songwriter, arranger and 28-time Grammy Award winner Quincy Jones, who will be on hand at the Broad to introduce the music. Performers include producer-musician Terrace Martin, gospel-jazz-soul musician Cory Henry, R&B singer-songwriter Arin Ray, Detroit singer-producer-actress Eryn Allen Kane and Isley family scion, singer Alex Isley.
In an email interview, Jones illustrated the connection between visual art and music in his life with a story about a sculpture by a South African artist he bought at a gallery on Wilshire Boulevard. "It just called out to me. It said, 'Hey man, take me home. I want to be an album. I want to be a tune.' " The artwork got its wish: Jones put it on the cover of his 1981 album, "The Dude."
Beyond that, he said visual art and music are inextricably linked in his music-making process. "I have synesthesia, which means I see music before I hear it. When I'm writing music, I construct it like a painting. I do charcoal sketches first, then watercolors, and then I go to oil because that is permanent.
"So music and the visual arts are the same thing to me," he said. "And it is reciprocal. Music taps into your emotions. I think that is why visual artists listen to music when they are creating."
Saturday's concert, which is sold out, will be followed by two Black Fire Sessions performances in July and August: a July 17 evening will be spearheaded by Art Ensemble of Chicago co-founder Roscoe Mitchell, and the Aug. 14 lineup will be topped by composer and multi-instrumentalist Anthony Braxton.
The goal, says Ed Patuto, the Broad's director of audience engagement, is to allow the art and music to illuminate one another.
"When you put a piece of art into a museum, it can remove it from the context in which it was created," Patuto said during a lunch interview for which he was joined by Adam Fell, president of Quincy Jones Productions, and Alyssa Smith, Jones' chief of staff and media manager.
"From the inception of this museum it's been a part of our DNA to put art in context," Patuto said. "We want people to know that these artists are part of a community along with musicians, playwrights and dancers."
Jones, 86, was a natural choice to curate the opening performance because his career developed simultaneously with the period covered by "Soul of a Nation."
Indeed, Jones has been stretching boundaries for decades. He was the first African American promoted to vice president of a major record label. He also was the first to score an Academy Award best picture nomination as a film producer [for "The Color Purple"] and helped Michael Jackson bridge the then-considerable gulf between contemporary pop-R&B music and hard rock when guitarist Eddie Van Halen joined Jackson on the song "Beat It" on "Thriller," which Jones produced.
Added Patuto, "Quincy has been a tireless advocate for really making sure that a younger generation knows how they got to be where they are."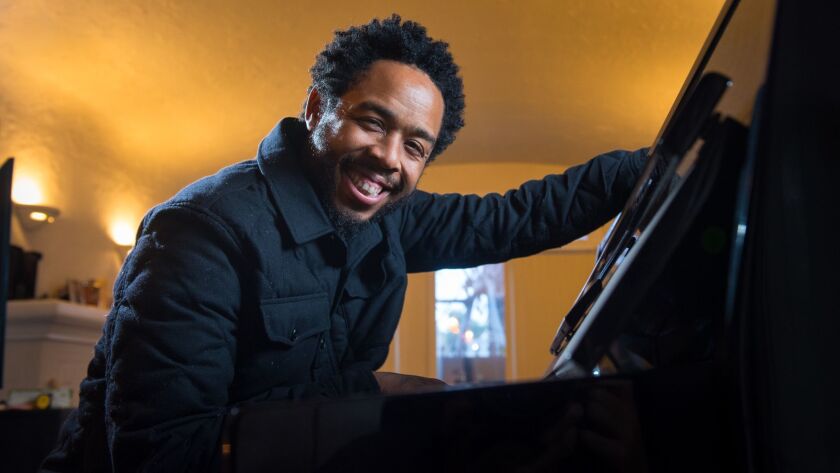 One example is his collaborations with Terrace Martin, a 40-year-old L.A. artist who has moved between jazz, soul, funk and classical music.
"Quincy felt was that the younger generation didn't recognize the influence [jazz trumpeter, fluegelhornist and composer] Clark Terry had on hip-hop," Fell said. "So he asked our team to pursue a record where Clark Terry did [his scat-heavy song] 'Mumbles,' with Snoop Dogg doing rapping."
The Long Beach-based rapper had worked with Martin and suggested to Jones that he would be an ideal participant, and the two became collaborators.
Jones also has contributed a 30-song "Soul of a Nation" playlist for Apple Music that coincides with the exhibition, spanning artists from the Art Ensemble of Chicago and the Watts Prophets to funk pioneers James Brown and Funkadelic to jazz poet/spoken-word artist Gil Scott-Heron and singer-activist Nina Simone.
Much of the art produced during that two-decade span, Patuto noted, was inspired by African American musical collectives such as the Assn. for the Advancement of Creative Musicians [AACM], out of which emerged the avant-garde jazz group the Art Ensemble of Chicago in the late '60s.
At a time when musicians such as the Art Ensemble, Ornette Coleman and Sun Ra were discarding established traditions to create what came to be called "free jazz," many visual artists found the movement appealingly liberating, carrying its spirit into their works.
"That was the norm," said Mitchell, 78, from his home in Fitchburn, Wisc. "At some of the early concerts with the AACM, because many of the members were painters, we would have exhibitions of paintings. There would also be poets, dancers — there were all sorts of collaborations."
Jones is scheduled to introduce the series on Saturday, but Patuto said there won't be a lot of talk during the three concerts.
"We like to let the music, and the art, speak for themselves."
====
Black Fire Sessions concert series
Where: Broad Museum, 221 S. Grand Ave., Los Angeles
Who: Roscoe Mitchell + Brett Carson, Busdriver, Georgia Anne Muldrow, Teebs, and Mecca Vazie Andrews (July 17); Anthony Braxton + Jacqueline Kerrod, Kelsey Lu, Beans, Jimetta Rose, and Maurice Harris (Aug. 14)
When: 8:30 p.m. on July 17 and Aug. 14
Tickets: $25
Info: ticketing.thebroad.org/events or (213) 232-6250
Follow @RandyLewis2 on Twitter.com
For Classic Rock coverage, join us on Facebook
---
Inside the business of entertainment
The Wide Shot brings you news, analysis and insights on everything from streaming wars to production — and what it all means for the future.
You may occasionally receive promotional content from the Los Angeles Times.