Rhiannon Giddens channels 'voices that need to be heard' on 'Freedom Highway'
Singer Rhiannon Giddens was perplexed last week when she picked up the phone and was congratulated for her role in a song that picked up a major award nomination.
It was several days after the 2017 Grammy Awards ceremony, where she was nominated twice but failed to take home a trophy.
Yet the Academy of Country Music just unveiled a song of the year nomination for Eric Church's current top-10 country hit, "Kill A Word," which prominently features Giddens voice. Those awards will be handed out April 2 in Las Vegas.
"Oh!" she said with surprise, "I didn't know that. I'm just happy to have been able to put my voice on it. They were very gracious to put my name in the title, but it's his song, and it's cool to watch it go.
See the most-read stories in Entertainment this hour »
"This is probably as close as I'll ever come to any mainstream country success," she added with a laugh.
Perhaps not.
She'll get further exposure before a sizable country audience when she launches off her spring-summer solo tour with an April 28 performance at the Stagecoach Country Music Festival in Indio.
Her 2015 debut solo album, "Tomorrow Is My Turn," was a vocal tour de force in which she put her voice to work on songs closely associated with female musicians who had influenced her: Edith Piaf, Nina Simone, Sister Rosetta Tharpe, Odetta, Dolly Parton and several others.
She boldly ignored the lines that sometimes separate country from soul, pop from gospel, bluegrass from cabaret, blues from art songs.
On the new "Freedom Highway," her second solo album apart from the Chocolate Drops, she's written most of the songs herself, and chosen three by other writers, all toward the aim of providing a platform for "voices that need to be heard; to be heard by people who otherwise wouldn't have heard them."
That means the perspective of a young slave seeking the blessings of her mistress in "Julie," a young boy struggling not to make the smallest mistake that might cost him his life in "Better Get It Right the First Time," and another slave who fears that her child may be ripped away from her "At the Purchaser's Option."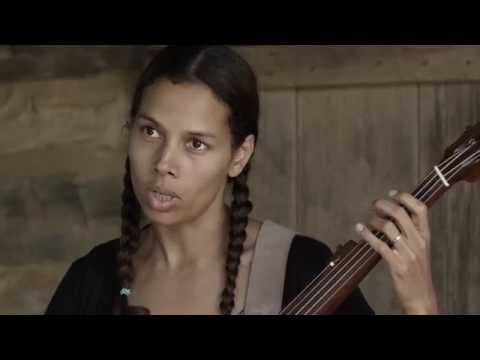 It's a powerful collection made all the more visceral by the stripped-down instrumental accompaniment around full-force-gale vocals in big moments, and delicate pleadings when songs are at their most intimate.
That's given her yet another hat to wear: co-producer of the album with Dirk Powell, who also plays on the album and co-wrote two of its songs with her.
Giddens had no idea what the political environment would be for the album's release last week when she was recording, but feels that her mission couldn't be more timely — not that she's about to get up on a pulpit and start making stump speeches.
"I don't want to go on a talk show and talk about stuff I don't know about," she said from her home in Nashville, where she lives part-time to facilitate her recurring role on the CMT revival of the "Nashville" TV series.
"I'll talk about the banjo all day long," she said of one of her many musical passions, "and the history of minstrel shows. But a lot of people talk about things they don't know enough about."
She's not, however, siding with those who have criticized Meryl Streep for her politically directed speech at the Golden Globe Awards, or fellow musicians who spoke politics at the Grammy awards show.
"I know there's a big contingent of people who say 'Shut up and sing!' But they are conflating two things: art and commercialism. When you are a commercial music artist, your music depends on your popularity.
"There is music out there that is commercially driven, whether you like it or not," she said. "That's a peculiarly American innovation. We innovated the commercial music business. I could talk for hours about the rise of minstrelsy [in the 19th century], and how that became an industry that led to the songwriters working in Tin Pan Alley.
"The longer history of musicians and artists and human society is that the artist has always been the observer and commentator, whether it was a bard who had the ear of a king, or the griots of West Africa, or folk singers who sing about the downtrodden and people who don't have a voice," she said. "There's a very long history for the exact opposite of 'Shut up and sing.'"
Among the songs from other writers on "Freedom Highway" is '60s folk singer-songwriter Richard Farina's "Birmingham Sunday," which sounds as if it might have been written about Dylann Roof's 2015 attack on the Emanuel African Methodist Episcopal Church in Charleston, S.C., in which he killed nine worshipers. Sample lyric: "On Birmingham Sunday the blood ran like wine/And the choir kept singing of Freedom."
"Many of these songs were written about a specific time, and yet you see these things coming around and happening again," she said. "I think the best songs do that."
Giddens spent more than a decade with the Carolina Chocolate Drops unearthing, recording and performing live music from African American string bands of the 19th and early 20th century. The act's 2010 album, "Genuine Negro Jig," took the traditional folk album Grammy Award for that year.
This followed her formal training as an opera singer at the Oberlin Music Conservatory in Ohio. After collaborating with producer T Bone Burnett and singer-songwriters Elvis Costello, as well as My Morning Jacket's Jim James, Mumford & Sons' Marcus Mumford and Dawes' Taylor Goldsmith in setting long-ago shelved Bob Dylan lyrics to music for "The New Basement Tapes" album in 2014, she's kept her own pen busy.
"I'm definitely writing more," she said. "I've been in an input stage for a long time. When I started in music, it was opera and classical, and it's all input — taking it in and putting it out in your way.
"Then I got involved in folk music, and that's also input, input, input. Now after 20 years of input, I'm putting out now. I'm really enjoying writing songs, but I still don't make my identity by that. I don't consider myself a songwriter first and foremost, I consider myself an interpreter."
Follow @RandyLewis2 on Twitter.com
For Classic Rock coverage, join us on Facebook
Get our L.A. Goes Out newsletter, with the week's best events, to help you explore and experience our city.
You may occasionally receive promotional content from the Los Angeles Times.