Rich Brian and the Double Happiness tour brings rising Asian rap to L.A.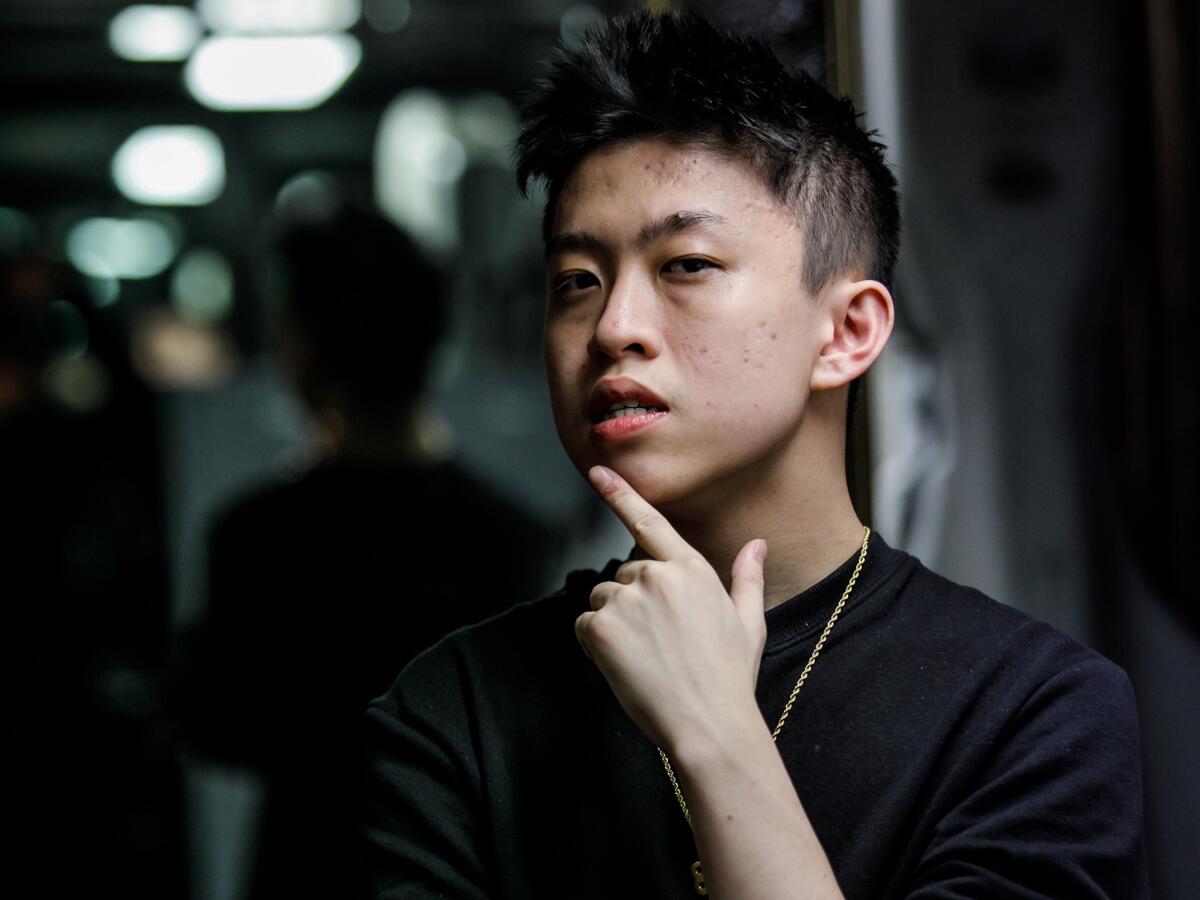 In a smoky room atop Park's BBQ in Koreatown, a half-dozen of the fastest-rising rap artists and industry moguls in the world grill slices of steak, tear through mounds of kimchi and plot their next moves.
At one end of the long dining able, Brian Imanuel, the slightly-built but booming-voiced 18-year-old Indonesian phenom who now performs as Rich Brian, trades rehearsal notes with labelmates about their "Double Happiness" tour of the West Coast and New York. At the other end, Sean Miyashiro, the 37-year-old founder of the record label, media portal and catchall entertainment firm 88Rising, dishes with the Chengdu, China-based rap quartet Higher Brothers — here in the U.S. for the first time — about video ideas.
"I truly believe we make the best video content in the world," Miyashiro says, batting around treatments and K-Pop allusions as a server cuts up glistening slabs of chicken with a pair of scissors. "Not just in Asia but the world. I mean, did you see that video of Lil Yachty freestyling for 30 minutes over nothing but Big Bang beats?"
Right now, the dominant culture of hip-hop comes out of Atlanta home studios or Compton rehearsal rooms. But part of its future is perhaps being made around this long tabletop grill, where a new wave of Asia-based rap music is meeting and collaborating with America's top talent on its own terms.
The scene around 88Rising is also transforming the countries where these artists originate. Huge crowds used to lighter pop music are discovering the subversive potency of this era of hip-hop, and leery government officials have noticed.
A few days before the sold-out Double Happiness hits the Shrine Expo Hall on Saturday, Miyashrio and his cohort took a bit of a victory lap. This week saw Imanuel's debut album "Amen" hit No. 1 on the iTunes hip-hop chart (a first for a solo Asian act) after two years of viral hits that racked up hundreds of millions of plays.
He's the most recognizable face of the label, a gifted MC and producer who first turned ears two years ago for "Dat Stick," an endearingly silly clip from an earnest Indonesian teenager trying on hip-hop tropes and discovering that he can rap with verve and poise (a follow-up video showed MC's like Ghostface Killah, Tory Lanez and Desiigner giving their approval).
But for many people, the name he performed under at the time — Rich Chigga — was a sour note. Perhaps it was the honest mistake of a rap-loving kid from Jakarta who didn't quite get the fraught history of allusions like that. But in the ramp-up to "Amen," he finally dropped that moniker for Rich Brian, a gesture that atoned for the misstep and asserted that he and 88Rising are finally ready for lasting spotlights.
Was it long overdue? "Yeah. But people's reactions have been only supportive of it," he said of the name change. "I read comments on my phone all the time. I still remember the first time I saw someone say 'Yo, he's surpassed meme status.' "
Over the last two years, 88 Rising has, indeed, surpassed skepticism to forge a one-of-a-kind global scene. But even Miyashiro — a Bay Area native always ready with a hundred ideas for beats, stage plots and photo shoots — isn't entirely sure what the company is.
"Originally, we wanted to be a media brand doing cool stuff to celebrate Asian culture because that space didn't really exist. Many had tried, but they had a really narrow-minded definition of what it meant to be Asian American," he said.
But as Rich Brian caught on, he knew there was a deeper wave building around contemporary Asian rap music, which had long informed genres such as K-Pop but was finally coming into its own.
"The music was so strong, and there's a law of attraction," he said. "For a lot of people. This was the first time they'd heard Chinese rap sound good."
Miyashiro began a slow but purposeful signing spree, enlisting rising acts such as the noisy South Korean rap phenom Keith Ape and Higher Brothers, the latter of whom is arguably the most talked-about rap group in the world's most populous country.
He also roped in savvy collaborators like the former EXO member Kris Wu, who performed at a Super Bowl event this year and who collaborated with Travis Scott and Baauer. Ape's hit "It G Ma" got a remix treatment from ASAP Ferg, Father, Dumbfoundead & Waka Flocka Flame. Their records are hyper-modern, nimble and beautifully shot on video.
Higher Brothers may be the label's most interesting challenge. The four members — Masiwei, DZknow, Psy.P and Melo — made Chengdu a sort of Chinese Miami in the SoundCloud rap era: the flashpoint for a rowdy, transgressive new world of Chinese hip-hop. Cuts like "Made In China" and "Flo Rida" don't bite from U.S. hip-hop so much as celebrate their own weird, wild take on it. One hook from "Made In China" sums it up:" "My chains, my new gold watch / Made in China."
"We're the first hip-hop group a lot of people there have seen," Melo said. "We kind of have to teach them how to turn up."
But the Chinese government is decidedly not going to make that easy for the four dreadlocked, insouciant young men with such command over crowds and deep American connections. Last month, the Chinese government banned many depictions of hip-hop culture on television, a startling about-face in the wake of such popular shows as "The Rap of China."
Back at Park's BBQ, the quartet is nonchalant about their culture's survival in China, even as they look to America and elsewhere for new opportunities.
"We're changing, but it'll take some time," Masiwei said, of the recent censorship push.
88Rising, however, isn't waiting around for change. Miyashiro has already signed his next wave of acts, including the Japanese-Australian producer Joji (whose slow, textural R&B earned Frank Ocean comparisons) and August 08, the label's first African-American signing.
"There's so much diversity in what they're doing," August 08 said. "Who wouldn't want to be part of a family like that?"
After Double Happiness, Miyashiro already has his eye on a standalone 88Rising festival in L.A., and he's drafting script treatments for feature-film and episodic dives into the larger scene and aesthetic around the label.
"A lot of K-Pop and and Chinese pop stars have asked us to manage their careers. We just don't. I don't take a lot of meetings," Miyashiro said. "We want to do more provocative things as a label."
The music speaks for itself — Rich Brian's album and sinlges have cameos from Migos' Offset and 21 Savage. But his introspective, authoritative voice is front and center, with candid lyrics about family expectations, lost loves and his unusual path to global fame.
He's not out to make an overt case for Asian hip-hop, but he recognizes the potency of what they're up to.
"All I have to do is to do my thing. I don't have to talk about it like 'Oh, I'm representing for Asians'," Imanuel said. "I'm just…doing it. But yeah, seeing someone who looks like you doing this, you know it's possible. I never thought I'd see an Indonesian in Hollywood until the Fast & Furious movie [the actor Joe Taslim] , and it was so motivating."
The thousands who will see the crew take the stage at Double Happiness may walk out with similar feelings.
"We never wanted to, like, 'change perceptions of Asian people' or anything. We're not trying to wave a flag per se, and we never want anyone to feel like they don't belong here," Miyashiro said. "But there is responsibility in this opportunity. We can't say we don't feel proud."
Double Happiness with Rich Brian, Keith Ape, Higher Brothers and Joji.
Shrine Expo Hall, 665 W. Jefferson Blvd., L.A.
9 p.m. Sat.
$39.50-$50. (Sold out).
https://www.shrineauditorium.com/events/detail/347018
For breaking music news, follow @augustbrown on Twitter.
ALSO:
Get our L.A. Goes Out newsletter, with the week's best events, to help you explore and experience our city.
You may occasionally receive promotional content from the Los Angeles Times.