Rodney Bingenheimer says farewell to 'Rodney on the ROQ' after 40 years — but he certainly isn't retiring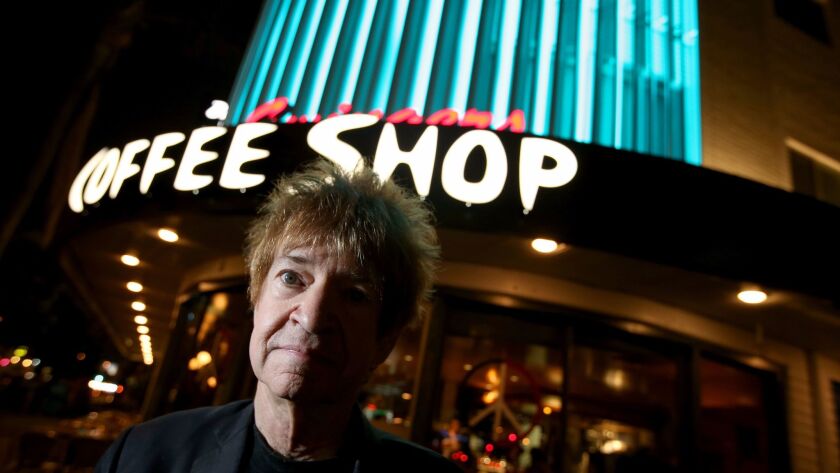 First off, longtime Los Angeles disc jockey, scenester and rock 'n' roll influencer Rodney Bingenheimer wants you to understand something.
When Sunday night shifts into Monday morning, he will begin the final installment of "Rodney on the Roq," the so-called Mayor of the Sunset Strip's long-running radio show on KROQ-FM (106.7), the rock powerhouse he helped build.
But he's not retiring.
Bingenheimer announced May 25 via his Facebook page that his late-night show, which debuted in 1977, had been cancelled. He'll be doing the last episode beginning at midnight on Sunday.
The Los Angeles fixture, who in a phone call this week politely requested that we not publish his age, says he will still eat at Canters Deli most nights. He intends to get up with music on his mind, work on his playlist and cap the week with a show that celebrates rock 'n' roll in all its raucous glory.
It just may not be on the FM dial.
Over the years his musical fetes have featured then-unknown acts such as the Sex Pistols, the Runaways, Blondie, the Ramones, X, the Go-Go's, Black Flag, the Bangles, the Smiths and hundreds of others. For many musicians, spins during "Rodney on the ROQ" offered first glimpses of stardom that eventually came to pass.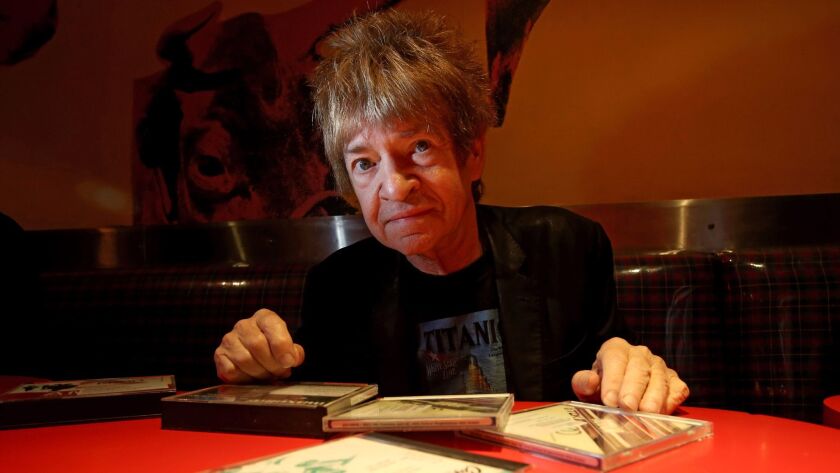 Bingenheimer said that he was caught off-guard at KROQ's West L.A. headquarters when he arrived for a meeting with Kevin Weatherly, senior VP of programming for CBS Radio and program director of KROQ, and operations manager Gene Sandbloom.
"I did my normal show the week before. Everything was fine," Bingenheimer said. "But I get there and there are no other DJs there."
Saying that the two executives "seemed really sad," Bingenheimer recalled Weatherly explaining that "he got a letter from the higher-ups at CBS in New York, said they're doing a cutback and they're going to have to let me go."
Longtime fans have criticized the station, but Bingenheimer doesn't seem to hold grudges. He thanked the people at KROQ for their support.
Weatherly and Sandbloom declined interview requests, although Weatherly did issue a statement to The Times on the show's cancellation.
Rodney helped shape KROQ into the great station it is today and we wish him nothing but great success in the future.
Kevin Weatherly of KROQ
"We will forever be grateful for the indelible mark that 'Rodney on the ROQ' has left on this station, our listeners, and the alt-rock music scene," wrote Weatherly.
"For 40 years, Rodney has been one of the most influential voices on the radio and has helped discover and promote so many great musicians. Rodney helped shape KROQ into the great station it is today and we wish him nothing but great success in the future."
The station will give "Rodney on the Roq" a proper farewell with a four-hour slot that will run until 4 a.m. on Monday, a not-terribly small gesture in an industry known for firing unaware talent immediately after what ends up being their final show.
Given his on-air timidity, it's a wonder Bingenheimer ever landed his first show. His whispered, slight voice has long stood in stark contrast to other, more commanding on-air professionals.
But Bingenheimer isn't shy about his show's influence over the years: "There's even kids who said they were 11- or 12-year-olds and they were going to kill themselves and they turned on the radio and heard me play my music, and it saved them," he said.
He may not be far off.
Open most books involving rock in Los Angeles over the last four decades and Bingenheimer's name will no doubt be indexed. His Los Angeles club Rodney Bingenheimer's English Disco helped bring to prominence superstars including David Bowie and Iggy Pop, and was infamous as a center of rock star excess in the 1970s.
After it closed, Bingenheimer landed a spot on KROQ, which was then an upstart rock station in Pasadena.
Writer and historian Barney Hoskyns, whose definitive book on Los Angeles music, "Waiting for the Sun," documents the landscape that helped define popular music, calls "Rodney on the Roq" "part of a general revolt against what one might call the bloated Eagles-style superstar bands of the mid-'70s."
"The timing was perfect," Hoskyns added on the phone from England. "Here was this little station in Pasadena. Sunday nights, Rodney becomes a real kind of flag-bearer, a really, really important part all of that [do-it-yourself], indie 7-inch resistance to stadium superstardom."
The result was appointment radio in the days before on-demand listening: Every Sunday night, music obsessives across the Southland would find a way to listen to "Rodney on the Roq," even if it meant driving to a nearby ridge to get decent reception.
"That is the magic of radio," says Hoskyns. "However high up you have to go on the hill, you make sure to tune in to those vibrations that tell you you're not alone."
As his influence spread, Bingenheimer found himself less and less alone, and became a kind of fanboy to the stars. Take this snippet from a 1996 profile in The Times: "Last year, when the eccentric and reclusive [Phil] Spector invited him to attend a recording session the producer was conducting with singer Cline Dion, Bingenheimer brought along some of his friends, including Bob Dylan, Brian Wilson and Kato Kaelin."
Bingenheimer will have company for his final KROQ show on Sunday, promising that "it's going to be a party."
If all goes as planned, among those he expects to hear from include Nick Rhodes from Duran Duran, Blondie drummer Clem Burke, former Runaways guitarist and platinum solo artist Joan Jett, members of the Bangles and a member of one of his new favorite bands, the teenage rockers the Regrettes.
When the show ends, the DJ will find himself without a radio home, but he hopes not for long. Though he hasn't made any decisions, he said that "there's been a couple offers from various stations and stuff. I have a manager now, so he's taking care of that."
Also in the mix is a possible Amazon documentary with Blondie drummer Burke, a Christmas compilation of hot garage bands and a coffee-table book of photos from his collection documenting the English Disco.
He's certainly not starved for songs that deserve airplay: "It's really easy, because so much great music is now coming back."
For tips, records, snapshots and stories on Los Angeles music culture, follow Randall Roberts on Twitter and Instagram: @liledit. Email: randall.roberts@latimes.com.
---
The complete guide to home viewing
Get Screen Gab for weekly recommendations, analysis, interviews and irreverent discussion of the TV and streaming movies everyone's talking about.
You may occasionally receive promotional content from the Los Angeles Times.