Rising rapper Saweetie is one to watch this year
Diamonté Harper was feeling low when she wrote a song that would change her life.
In between odd jobs and constantly moving around the city, the USC grad had reached a breaking point.
"I had $40 to my name," she said, wincing at the memory over dinner in a dimly lighted West Hollywood eatery. "I was disgusted with myself. I went from being a hustler, working different jobs to renting rooms off Craigslist, and I just wasn't happy."
Sitting in a bedroom that had nothing but a mattress on the floor, the Bay Area native penned a freestyle over the beat of Khia's ribald classic, "My Neck, My Back." Harper wanted to remind herself to stay focused and envision the life she'd rather be living. The lyrics came quickly.
"Can't stop won't stop get guap, 10 white toes in them Tory flip flops / Manicures and pedicures I'm always tip top / When they say I'm not hot all these lies need to stop, 'Cause I'm icy, wifey, haters wanna fight me."
Harper's aspirational decree, eventually titled "Icy Grl," become a viral sensation on Instagram and turned the rapper, who performs as Saweetie (a pet name bestowed by her grandmother), into an overnight sensation.
The music video she made for the record late last year is approaching 29 million views on YouTube and has been streamed nearly 6 million times on Soundcloud. Rihanna handpicked her to star in a Super Bowl ad earlier this year, and she scored a record deal with Artistry/Warner Bros. Records ahead of her debut EP, "High Maintenance" (it arrived last month).
Harper's age — 24 — places her among a generation that came of age as social media and streaming services disrupted traditional gatekeepers like radio, something she would later lean on when it was time for her to put out her own music.
At 14, she began writing her own lyrics after a friend introduced her to Nicki Minaj's music.
Minaj's ascent as the unrivaled queen of rap after years of female MCs not having much of a presence on the charts or on the radio ignited a spark for Harper. She raided her mom's CD collection and crashed the family computer downloading albums from Foxy Brown, Lil Kim, Eve, Missy Elliott and Trina — rappers whose finest work came when Harper was a first-grader.
"It was dope to see such a variety of females doing their thing," she said. "And I loved how much confidence they exuded."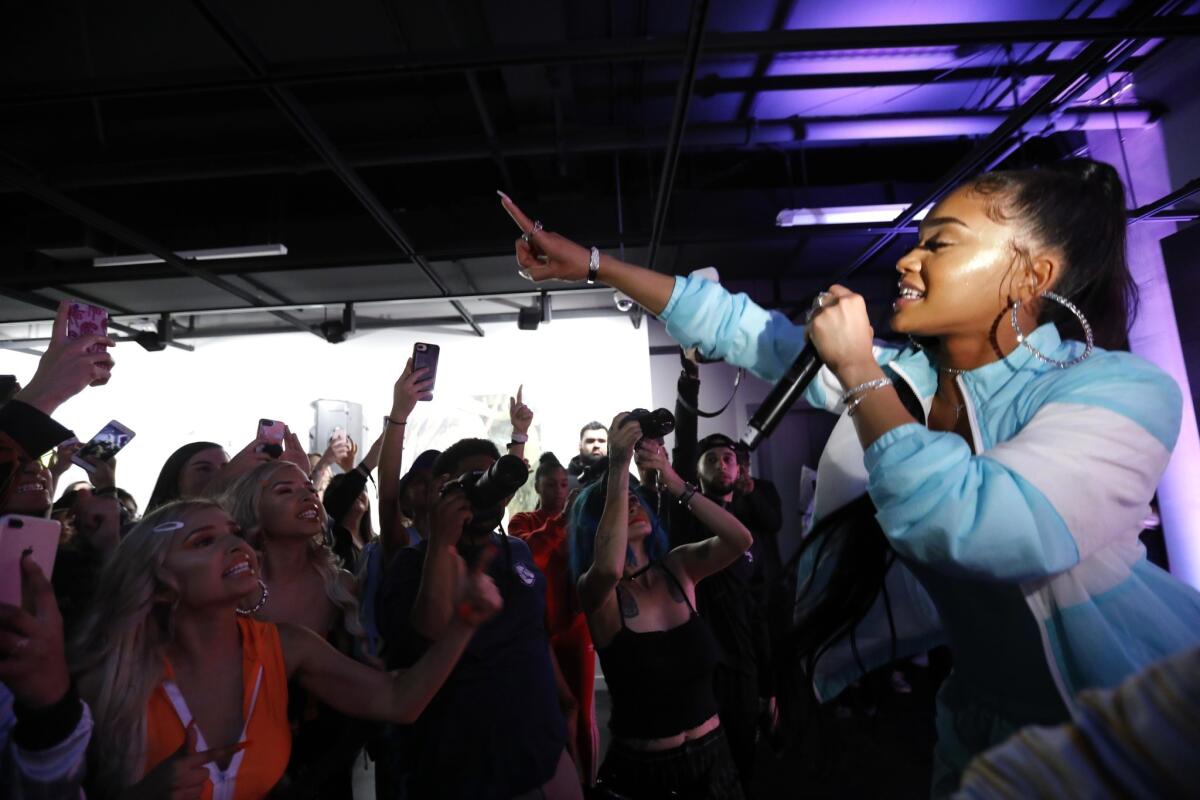 Before Harper decided to pursue music, she was on a far more traditional life path.
She graduated from USC with a degree in communications and business in 2016, figuring she'd become a speechwriter or a newscaster — careers she wasn't passionate about.
Insecurities kept Harper from pursuing rap until she decided to stop putting her dreams aside.
"I knew it was a risk, but my spirit felt so much better once I started focusing on music," she says.
Without the resources to get to a real studio, Harper improvised by recording herself rapping into her phone. She soon started filming herself rapping quick freestyles over popular songs and posting the clips to her Instagram. Those "car raps," as she called them, grew her following and Harper continued to lean on social media to build and engage with her fan base.
"As a digital native, Saweetie understands social media better than most seasoned marketing executives," noted her manager Max Gousse. "She's very in tune to what her supporters like or dislike about her and works hard at building that trust."
When Harper sashayed into the rooftop bar of a swanky Hollywood hotel on a recent evening, all eyes were on her.
She arrived dressed in a silver leotard and a sheer robe that sparkled in the light. Her eyes were hidden behind retro pink sunglasses, and her long black tresses often blocked much of her face.
The bar is packed with industry tastemakers and music executives. She's headed on the road in the morning, but tonight she's previewing her first full-length body of work to a crowded room. She greets people before slinking onstage, mike in hand, to rap along to her music.
"I've had this dream since I was 14, I'm 24 — and that's not my industry age," she jokingly tells the audience. "That's my real age."
"High Maintenance" is packed with bold, confident anthems that offer a brief introduction to the assured style Harper has spent the last year honing. She zaps a trifling ex on the brazen "B.A.N.," waxes poetic about the finer things on "Agua," makes her play for a guy on "23" and the EP's title track finds its inspiration from Too Short's "Shake That Monkey."
"When Saweetie walked into my office … I felt she had all the makings of a true star — the voice, the musicality, the charisma, the confidence," recalled Warner head Tom Corson, who made Harper one of his first signings when he joined the company earlier this year.
"What really sealed it for me was the fire in her eyes and her sheer force of will. I just know she won't stop until she reaches the top."
And Harper is only getting started. She's in the studio working on her debut album, with plans for a summer release, and is working to build her label.
She is most excited that she's not the only female rapper getting major buzz at the moment. Molly Brazy, Princess Nokia and Megan Thee Stallion are among her favorites, and as this story went to print, Cardi B is likely to make history as the first female rapper to have a No. 1 album since Minaj did in 2014. It's quite a difference from when Harper was growing up.
"There's a lot of popping female rappers, and I'm super happy that we are all prospering. Because there has been such an imbalance. With a lot of men in hip-hop, our stories weren't getting across," she said. "Women have so many different facets, and you're getting to see that right now."
At her listening party, Harper fell into tears recounting the struggle she endured before her big break came. She scans the room for her family, delivering individual thanks to those who helped push her, before introducing the song that launched her into one of the year's breakout rap acts.
"Here's a song that went viral overnight. Can everybody get their cameras out for this one? This is what brought me here. I want to encourage the artists that haven't made it that social media is the truth. I made it from Instagram to having a most-added song to radio."
See the most-read stories in Entertainment this hour »
For more music news follow me on Twitter:@GerrickKennedy
Get our L.A. Goes Out newsletter, with the week's best events, to help you explore and experience our city.
You may occasionally receive promotional content from the Los Angeles Times.