A new star on the Hollywood Walk of Fame proves Selena's legacy is alive and well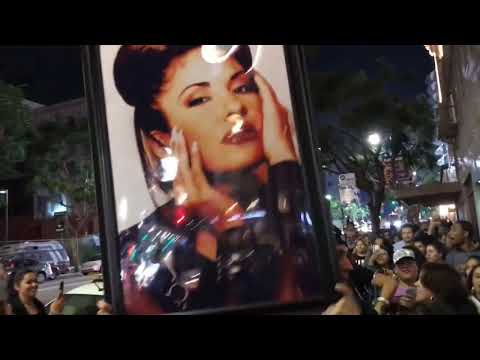 Selena finally gets her star on the Hollywood Walk of Fame
"She was Beyoncé before Beyoncé."
That's how actress America Ferrera's character described Selena in a recent episode of NBC's "Superstore" to someone who hadn't heard of the singer. She was almost offended, but she was right.
Selena Quintanilla, the larger-than-life Tejano star known simply as Selena, is instantly recognized by most Latinos and fellow Texans. But in the 22 years since she was murdered by the president of her fan club, Selena's fame has rippled well beyond her original fanbase and into the mainstream.
This year in particular, her legacy has resonated yet again in pop culture. There's a MAC Cosmetics line inspired by her signature looks. Urban Outfitters and Target carry T-shirts with her face on them, and celebrities such as Kim Kardashian have dressed up as the singer in her iconic purple pantsuit. R&B artist Solange has even performed her hit "I Could Fall in Love" over the years.
Twitter hadn't even hatched when she was alive, but Selena's name was a trending topic on the social media platform when Google created a Doodle on its search bar in her honor a couple of weeks ago. And wax replicas of her stand in Madame Tussauds in Hollywood and New York.
At long last she received a star on the Hollywood Walk of Fame, a fabled distinction that had somehow eluded Selena until now.
She was celebrated with a posthumous star in the recording category on Friday evening outside Capitol Records, where she once signed a contract to EMI Latin.
Selena is now among 89 Latino artists who have received the honor, according to a list compiled by the Hollywood Chamber of Commerce, which oversees the Walk of Fame. (She joined the likes of Celia Cruz, Ritchie Valens and Jennifer Lopez, the singer-actress whose career took off after portraying Selena in a 1997 biopic.)
Selena's husband, Chris Perez, and family attended the ceremony, along with Otto Padrón, who nominated Selena for the star, and actress Eva Longoria, who said the Tejano icon gave her an identity as a Mexican American.
"This star isn't just for Selena but for all Latinas," Longoria said.
Los Angeles will now be remembering the singer every year too. At Friday's ceremony, Mayor Eric Garcetti proclaimed Nov. 3 "Selena Day." Los Angeles is not the first, and probably not the last, city to do so.
For Suzette Quintanilla, Selena's sister, the timing is just right.
"This is a perfect moment," she told The Times. "There are so many more people who are embracing her and who she is and what she represents. She will forever be remembered; her legacy and what she represents for Latinos."
Selena is known for her Spanish-language music hits such as "Como la Flor" and "Bidi Bidi Bom Bom." Her family's band, Los Dinos — with Suzette on drums and brother A.B. Quintanilla rocking bass guitar — were instrumental to that sound.
Before Selena was gunned down at 23 by Yolanda Saldívar on March 31, 1995, the Grammy-winning artist was already heading for crossover success with her first English-language album. Some thought she could be the next Gloria Estefan.
Her posthumously released fifth album, "Dreaming of You," which featured four English-language songs (including the hit "I Could Fall in Love"), showcased her talent beyond Tejano, cumbias and ballads.
She transcended the music world, tapping into other opportunities too. Selena opened boutiques in San Antonio and Corpus Christi, Texas, where she grew up. She designed her stage costumes and had a fashion line. She also made an appearance in the film "Don Juan DeMarco," starring Johnny Depp and Marlon Brando.
"I'm telling you this not from a father's point of view, but from a musician's viewpoint, that she had it," Abraham Quintanilla, her father, told The Times in 1995. "With Selena, I always felt she had it. She was just a well-rounded package, with the voice, the looks, the moves, the instincts. I knew she could do it."
To this day, Selena's admirers have kept her flame alive through Facebook groups, fan sites, murals, tribute performances and parties to both celebrate her birthday and remember her death.
"She accomplished so much for such a young age," said Roger Gómez, a fan from Santa Ana who manages Love Selena, a website that's been around since 1995. "She represents the whole American dream. She made it, and we could too."
Discovering Selena is sort of a rite of passage for some families.
"Our parents showed us Selena. Now we're showing our kids Selena," Gómez said, adding that her new Walk of Fame star is another accolade to cement her legacy. "In a way it's a stamp of approval. It's another place I could say, 'Selena is here.'"
"The Hollywood Walk of Fame is the key mother of all those beautiful stars in different cities," Suzette Quintanilla said. "The walk is prestigious; it marks you as a very important artist."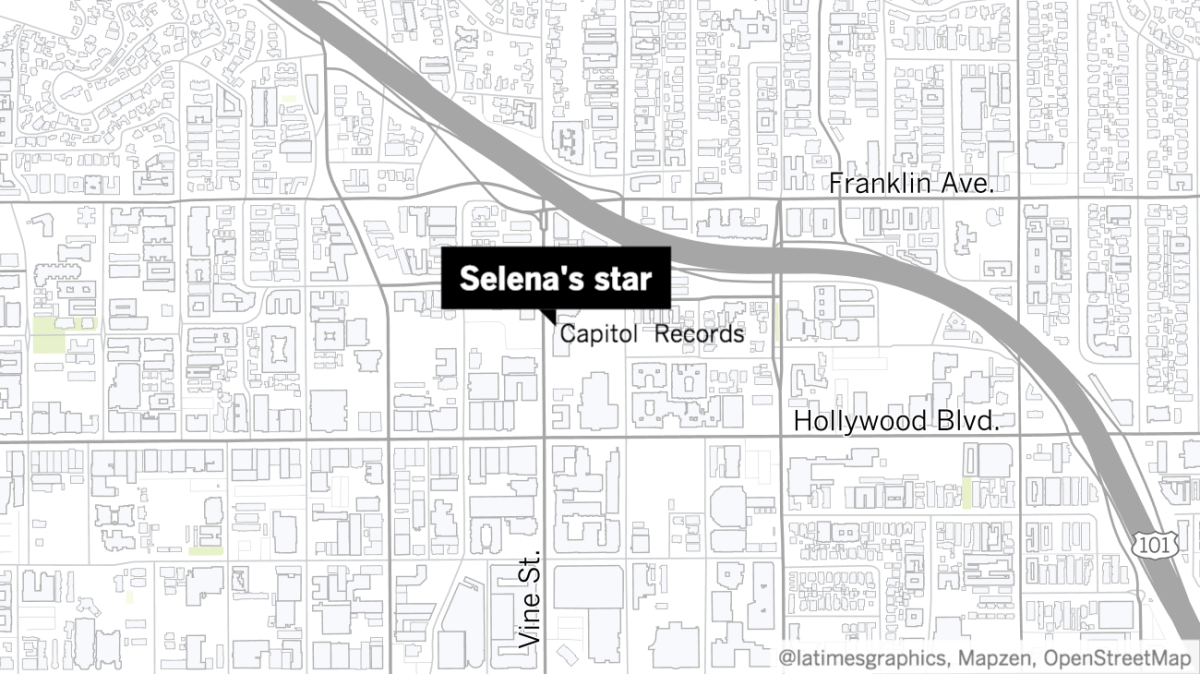 ---
UPDATES:
8:35 p.m.: This article was updated with the star's unveiling.
This article was originally published at 4:15 p.m.
Get our L.A. Goes Out newsletter, with the week's best events, to help you explore and experience our city.
You may occasionally receive promotional content from the Los Angeles Times.