With 'Girl Disrupted,' Sevyn Streeter's been waiting 15 years for this moment
Sevyn Streeter felt defeated. She was nearly 15 years into a career that included stints in two (albeit short-lived) singing groups and writing credits for Ariana Grande, Chris Brown, Brandy, Kelly Rowland, Alicia Keys, Tamar Braxton and Fantasia Barrino.
She had the backing of a major label, a loyal fan base, industry co-signs, a platinum radio hit and her songwriting had earned her a Grammy.
Yet she had struggled to get her debut album off the ground five years after releasing her first single.
Feeling frustrated and perpetually stalled at the age of 29, the R&B singer-songwriter found herself in a dark place.
"I was going through the craziest bout of depression," she said, taking a brief moment to exhale.
"My fans were like, 'Where is the album? Where is the music?' — and I was having thoughts of taking my own life," she continued. "I've never said that before, but it's just the truth. To not be able to see the fruits of your labor come to fruition — when you work tirelessly — is incredibly depressing."
But even in the midst of depression Streeter did what she always does when things got tough: She started writing.
And it's those challenges, both personal and professional, that frame her long-gestating debut, "Girl Disrupted," which is out Friday.
The release of her album — on Streeter's 31st birthday — is a high point on the "emotional roller coaster" that has been her life in the music industry.
"Obviously when people hear the title, they think of the Angelina Jolie movie," Streeter said, referencing the 1999 psychological drama "Girl, Interrupted." "I love that movie and always watch it in bed. But one night, for some reason, the story connected to me in a different way. It was like, 'God, that's me and this crazy music industry.' I'm not interrupted — just 'disrupted.'"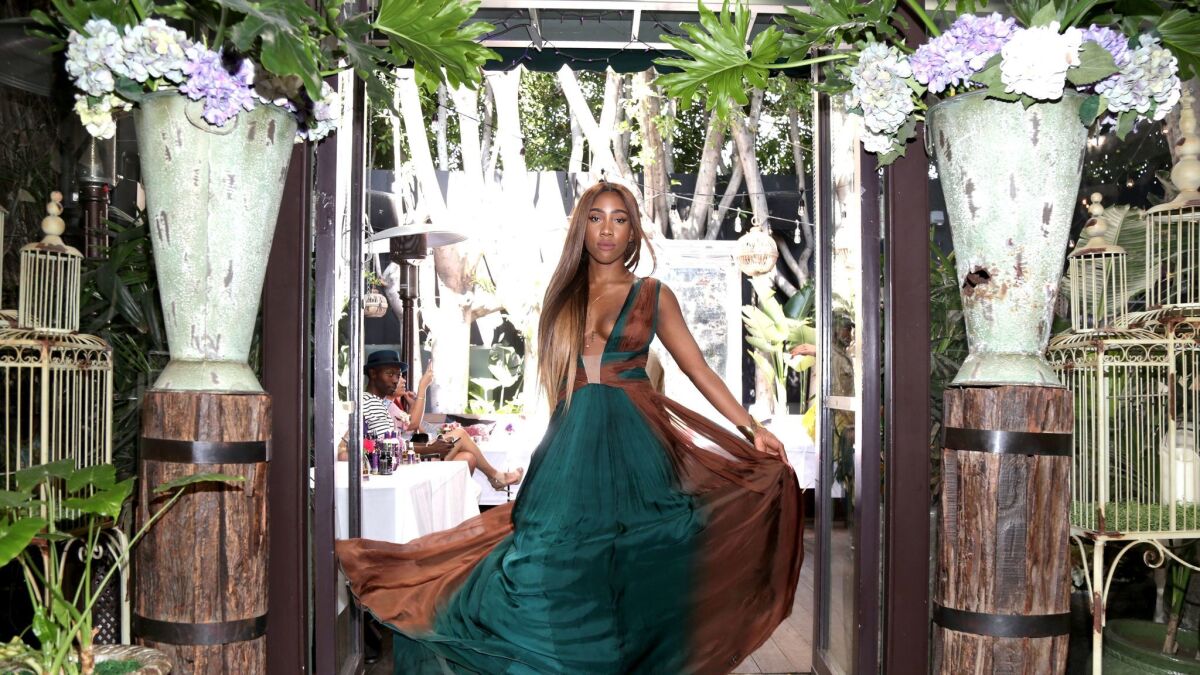 My fans were like, 'Where is the album? Where is the music?' — and I was having thoughts of taking my own life.
— Sevyn Streeter
Raised outside of Orlando in the close-knit city of Haines City, the singer (born Amber Denise Streeter) cultivated her voice in church, finding inspiration from gospel acts like Yolanda Adams, the Clark Sisters, Kim Burrell and pop stars like Michael Jackson, Celine Dion, Brandy and Whitney Houston.
By the time she was a child, she knew she wanted to sing for a living. When Streeter was 10, she competed on "Showtime at the Apollo" and tied. But her real break came as a teen after she inked a deal with an Orlando production company and landed a spot in TG4, the all-girl answer to R&B boy band B2K. Though the girls opened for Bow Wow and landed a single on the charts, they fell apart the way many manufactured groups do when solo interests take over.
After being persuaded by her cousin to upload the music she was writing and recording to her MySpace page, Streeter heard from Grammy-winning producer Rich Harrison about a girl group he was putting together in 2007.
Harrison christened the outfit RichGirl and crafted records that recalled the harmonies of Destiny's Child, TLC's street edge and the sultriness of En Vogue. The group earned a following with a handful of singles and the blessing of Beyoncé (who featured them on her 2009 arena tour) before getting lost in the shuffle of their label's restructuring and amicably parting ways. Although both of her groups fizzled just as quickly as they began, it gave Streeter a taste of the industry — even if it was an often bitter one.
RichGirl had shared management with Chris Brown and done some work with him. Streeter continued collaborating with Brown; demoing records for Brown and other artists turned her into an in-demand songwriter.
Eventually she wanted to step into the forefront, and after landing a deal with Atlantic Records she started working on her debut album.
In 2012, she released her first single, "I Like It," but it was 2013's "It Won't Stop" — one of her numerous collaborations with Brown — that really took off, peaking in the Top 5 on the R&B chart and becoming her biggest hit to date (it was certified platinum this spring). That same year she issued "Call Me Crazy, But…," her debut EP.
When subsequent records didn't stick, Streeter and her label opted to put out another EP, 2015's "Shoulda Been There, Pt. 1," to tease her album, the aptly titled "On the Verge," which was set for a summer 2015 release. But without a hit it didn't make sense to launch the record, and she spent the next year tossing out buzz singles instead.
The constant pivoting left her discouraged. Streeter felt like things would have taken off after the success of "It Won't Stop" and her debut EP if she were not a woman of color.
"Had that record been another artist that did not look like me, more mainstream stations would have played it and there would have been a much bigger platform to display the rest of the music," Streeter said. "Had 'It Won't Stop' been an Ariana Grande record or a Taylor Swift record it would've crossed over."
A string of personal tribulations only added to the stress.
She lost her grandfather, found out she wasn't biologically related to her half sister and watched her breakup with rapper B.o.B. play out over social media.
"I'm a little country girl from Florida, and here I am with all these things happening. My rose-colored glasses [got] knocked off of my face," Streeter said. "I started to see the world in a more realistic way. It was tough to go through, but it really made me such a stronger, wiser woman. And I wrote about it all."
Like her earlier EPs, "Girl Disrupted" updates the sweet era of '90s R&B when strong female voices like TLC, Mary J. Blige, Mariah Carey, SWV and Brandy — whom Streeter jokingly refers to as a "God" — balanced lush, soulful harmonies with swaggering, hip-hop-dipped edge.
The album features guest appearances from The-Dream, Wiz Khalifa, Jeremih, Dej Loaf, August Alsina, Ty Dolla Sign and production work from Tricky Stewart.
Bedroom grooves like "My Love for You" and the risque "Peace Sign" see her in seduction mode, while "Before I Do" and "Been a Minute" show her tender side. She flips hits from Faith Evans, SWV and New Edition into sexy bangers and moves between delivering tongue lashings to an ex and revealing her deepest insecurities.
Now that her album is out, Streeter is breathing a little easier — and she's ready to keep going.
"I know it took a long time, but I would not have it any other way," she said. "Dealing with what I've dealt with in the past … I'm going to approach this the same way I have with all of my releases. I'll work as hard as I can — and rub [something] for luck because I know the album is amazing."
See the most-read stories in Entertainment this hour »
For more music news follow me on Twitter:@GerrickKennedy
---
Get our L.A. Goes Out newsletter, with the week's best events, to help you explore and experience our city.
You may occasionally receive promotional content from the Los Angeles Times.