Can the music world learn from Hollywood?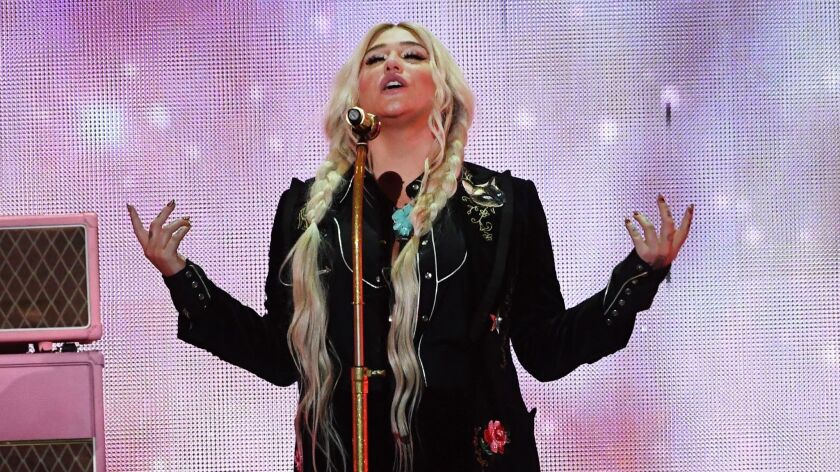 Pop Music Critic
Last month, before stories of Harvey Weinstein's long history of alleged sexual misconduct triggered an unprecedented outpouring in Hollywood, the disgraced movie mogul responded to accusations against him by invoking the words of Jay-Z.
"'I'm not the man I thought I was and I better be that man for my children,'" Weinstein quoted the rapper as saying in his song "4:44," in which Jay-Z alludes to cheating. Weinstein added, "The same is true for me."
With its flippant tone and its defensive reference to the 1960s and '70s — "when all the rules about behavior and workplaces were different" — Weinstein's written statement displayed a stunning misapprehension of alleged behavior that now has been described by more than 50 women. (The statement also got Jay-Z's lyrics completely wrong, clumsily paraphrasing a few lines from "4:44.")
But it's not hard to understand why Weinstein looked to a musician in his bid for absolution. For decades, singers, rappers and guitar players have weathered accusations of misconduct — from infidelity to far, far worse — with little or sometimes no discernible damage to their careers.
The explanations are as numerous as they are dissatisfying, from the prevalence of shadowy workplaces like recording studios and tour buses to the lack of even the meager protections some film and TV performers say they receive from the actors' guild.
And an operating credo of "sex, drugs and rock 'n' roll" probably hasn't helped.
Still, in the weeks since the Weinstein story broke in the New York Times and the New Yorker — and quickly inspired hundreds of women to come forward with stories of alleged harassment by other Hollywood types such as director James Toback (who has denied initial allegations and declined to comment on additional ones) and former Amazon executive Roy Price — the question of why so many well-known musicians have survived these types of accusations relatively easily has been hard for me to shake.
One possible answer? Call it guilt laundering: that privileged process by which an artist washes his wrongdoing and thereby rids himself of its stink.
As a film producer and studio boss, Weinstein played an important role in putting movies together and shepherding them to completion. But the films he's best known for — "Pulp Fiction," "Good Will Hunting," "Shakespeare in Love" — aren't widely regarded as expressions of his creativity.
Even many of those with acknowledged creative control wouldn't say their movies necessarily reflect their lives in any direct way. Sometimes a director or an actor simply wants to tell a story.
Music is different. Rightly or wrongly, listeners often perceive songs and albums as essential truths imparted by artists determined to bare their souls. What's more, that presumption establishes a built-in sympathy for the singer; it puts the listener on the singer's side.
And that gives musicians a powerful opportunity unavailable to someone like Weinstein.
Take Chris Brown. Not long after the R&B singer was sentenced to multiple years' probation for assaulting his then-girlfriend, Rihanna, Brown released the album "Graffiti," on which he admitted to being "dead wrong" and sang, "If you see her soon, ask her will she forgive me?'"
Whether Rihanna did is between the two of them. But fans gave Brown another chance: Since 2009, he's released five major-label albums, including a 45-song set that came out Tuesday with the cuddly title "Heartbreak on a Full Moon."
Another recent example is the 19-year-old Florida rapper XXXTentacion, whose first studio album debuted at No. 2 on the Billboard 200 in September — months after word got out that he'd been arrested on suspicion of punching and kicking his pregnant girlfriend.
On his album, "17," XXXTentacion hardly tries to make himself look like a good guy; the record begins with a chilling spoken intro in which he describes a life of "nightmares" and warns away listeners "not willing to accept my emotion."
But by framing the acts he's accused of as a product of his environment, XXXTentacion is following the path of Weinstein, only here an audience appears willing to listen. He's making himself more palatable to people open to the insights of a damaged young man.
Plenty of older guys used their music to repair their reputations, from Frank Sinatra (who every few years would record an album of sensitive ballads to counteract his perception as a womanizer) to John Mayer (who after attracting criticism with a callous Playboy interview moved to Montana and cut an earnest folk-rock record).
In the early 2010s, following R. Kelly's acquittal on child-pornography charges, that veteran R&B star turned from his trademark sex songs to make a pair of old-fashioned soul discs modeled on stuff by Sam Cooke and the O'Jays.
Did the gambit work? I remember going to a Kelly show a few years later and talking to a woman who told me we must always find forgiveness in our hearts.
It might even be that we as audience members long for that experience of forgiving.
By many accounts, Justin Bieber had little that was serious to atone for when he began work on his most recent album, 2015's "Purpose"; the pop singer's tabloid shenanigans included urinating in a restaurant mop bucket and egging a neighbor's home in Calabasas.
Yet Bieber built the entire record around the concept of apology — and it paid off handily. "Purpose" was nominated for a Grammy Award for album of the year, while one of its singles, "Sorry," spent three weeks at No. 1.
For Bieber, addressing his guilt actually improved his career, and it gave this former teen sensation the standing of a grown-up artist.
Of course, that move relied on Bieber's preexisting star power, a valuable quality not possessed by any number of behind-the-scenes operators with allegations against them.
Perhaps that's why it's trickier to imagine a comeback by Dr. Luke, the once-dominant producer and songwriter who's been involved for years in an ugly legal battle with Kesha.
He's not in a position to rebut claims of harassment in a way that might have kept the public on his side — not with a statement or even a softball television interview, that is, but by releasing an emotional (if vaguely worded) ballad about going through hell and finally seeing the light.
As it happens, there is just such a ballad on the pop chart right now, and that's "Praying" by Kesha, whose ordeal illustrates the perverse flip side of guilt laundering.
Yes, the singer used her hit album "Rainbow" as a means of processing the trauma she describes as an encounter with "a bogeyman under my bed." And yes, her courage has been commercially rewarded — a clear sign that her fans are with her.
But built into that success is the troubling notion that, as with songwriters dispensing hollow (or even sincere) apologies, the problem has been solved and so everybody should just move on.
Twitter: @mikaelwood
ALSO
Jay-Z goes to war with himself on tour behind '4:44'
Pink on her new album, Billy Joel and why she's over pop-star feuds
Why Rivers Cuomo wanted to make 'the most different-sounding Weezer record ever'
---
The complete guide to home viewing
Get Screen Gab for weekly recommendations, analysis, interviews and irreverent discussion of the TV and streaming movies everyone's talking about.
You may occasionally receive promotional content from the Los Angeles Times.