'Life's About to Get Good' for Shania Twain with new album, Stagecoach appearance
The name Vincent Van Gogh probably isn't one that springs to mind in connection with pop-country superstar Shania Twain.
But the Canadian singer and songwriter feels a special connection with the 19th century post-Impressionist painter, especially in terms of how she's gone about writing the songs for her first new album in more than a dozen years. She'll preview the work this weekend during her headlining set Saturday at the 2017 edition of the Stagecoach Country Music Festival in Indio.
Relaxing on the sofa in her Beverly Hills hotel room last week during downtime between rehearsals — the Stagecoach appearance will serve a key role in the rollout of her return to the pop spotlight this year —Twain alluded to Van Gogh's methodology in his famous "Wheat Fields" series of dozens of paintings of haystacks.
See the most-read stories in Entertainment this hour »
"Look at how many of those there are," she said with a combination of excitement and curiosity. "There are all these different lights — some are dark, some are bright, some show different times of day, some are foggy. Why would somebody paint the same painting over and over and over again?…
"Some paintings are just not done until they're done," she said. "They've got to paint that subject out of their system. And that's what I had to do. "
Twain's new as-yet-untitled album won't surface until the fall.
The album will test to what extent she retains the commercial power she held as the biggest female country star of the 1990s and early 2000s, and who was rivaled for a time perhaps only by Garth Brooks as the most potent pop star in the world.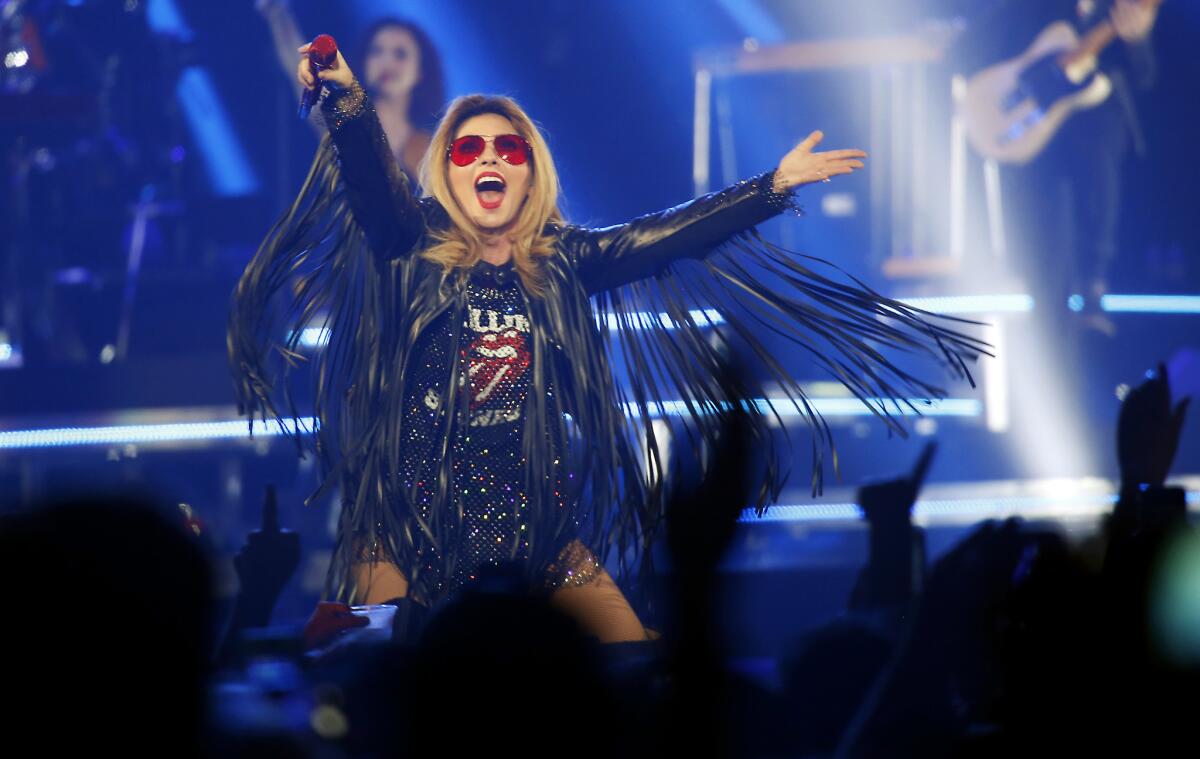 The Recording Industry Assn. of America has certified her album sales at 48 million in the U.S. alone, and her biggest seller, 1997's "Come On Over," has logged nearly half that figure: 20 million copies, placing it among the Top 10 biggest selling albums of all time.
Stagecoach organizers say they've had their sights on her since the event began a decade ago.
"The fact that she was offered it [a headlining slot] says a lot in itself," said Gary Bongiovanni, editor of Pollstar, the concert-industry-tracking publication. "It's a good move for Stagecoach. It adds a little freshness, and that's what they need for shows like that. … There are a lot of people who haven't seen her for a long time."
Twain stepped out of the limelight when Stagecoach was born in 2007. Having survived the tragedy of her parents' death in an automobile accident when she was a young adult, Twain, who was born Eilleen Regina Edwards on Aug. 28, 1965, in Windsor, Ontario, suffered another round of personal and professional setbacks in the new millennium.
Her high-profile marriage to longtime producer and frequent songwriting partner Robert John "Mutt" Lange disintegrated after he allegedly had an affair with her best friend, and they divorced in 2010 after 17 years together. She told Billboard at the time she didn't know whether she'd ever be able to perform again, so closely was Lange involved with her music career.
She also developed problems with her voice, a condition known as dysphonia that can be brought on by stress, but which she attributed to contracting Lyme disease.
Whatever the cause, for a time it left her unable to sing. She went through extensive physical therapy for her voice. She continues an intense regimen of warmup and other voice-strengthening exercises that allowed her to perform a Las Vegas residency from 2012 to 2014.
"A singer's typical problem is nodules on the vocal cords from overuse or poor technique," she said. "That was not my problem. My problem isn't unique, or rare, but the exercises are very different than for nodules, and I can't get an operation for mine. …
"With nodules, you can't speak; you've got to rest, rest, rest," she said. "With mine, you've got to work, work, work." Then she laughed again. "I know, I know."
Of the Las Vegas residency, she said, "I learned a lot about myself, and my voice, both because I'd been having a lot of problems with my voice prior and because this was a real plunge into the unknown."
The big question?
"Was I going to be able to hold up?" she said. "The environment is very dry there, and it's very, very hard on a voice. A lot of singers have problems there. And there's the discipline required for doing a show like that every night.
"This is why I ended up going on a tour [the "Rock This Country" tour from 2015 to 2016] after that, because I thought, 'Wow, I can do this!' If I can do it here, I can do it anywhere," she said, bursting into laughter at her spontaneous allusion to the Frank Sinatra late-career anthem "New York, New York."
The tour brought her back to the Top 10 of Pollstar's ranking of the highest-grossing North American concert tours of the year. In 2015, she grossed $69 million from 72 shows in 56 cities, including dates at Staples Center in L.A. and the Honda Center in Anaheim.
"Her business was generally very good," Bongiovanni said, "although not all her shows were sellouts…. At one time she was one of the top acts in country music, and then she went away for a while. Now a whole other groups of acts have come along."
Having passed the test of whether she could still endure the rigors of touring, and having stabilized her personal life and remarrying in 2011 — to Frederic Thiebaud, the ex-husband of her former best friend — Twain gave herself another challenge: to write all the songs for her next album on her own. After the soul-searching she did while writing her 2012 autobiography, "From This Moment On," she had no shortage of raw material to draw from.
"Right from the beginning, I was not going to collaborate with anybody for this one," she said. "This needed to be an independent experience.
"I hadn't written by myself for a long time," she said. "I was married for 14 years to my collaborator, and I really just needed to do that again. I needed to go back and do that by myself and have an uninterrupted flow of creativity that was insular, to see what I was made of, to see what I have there."
What she found translates as painfully vulnerable in places, commandingly resilient in others, happily grateful elsewhere. ("You let me go/You had to have her/You told me so/I died faster," she sings in "I'm Alright.")
The solo approach was limited, however, to her songwriting. In place of Lange's production, which had also played a key role in her commercial success by bringing a sonic edge from his hard rock background into the world of country music, she has teamed with a variety of different co-producers for most of the new tracks.
The new songs largely extend the sound and style that kept her atop the charts with a string of No. 1 country hits including "Any Man of Mine," "You Win My Love," "Honey, I'm Home" and "You're Still the One."
She hadn't settled firmly on which new songs she'll unveil this weekend at Stagecoach, but said the prime contenders are "Swingin'" and "Life's About to Get Good," both of which are full of lyrical and melodic hooks.
She said that "Life's About To Get Good" was a textbook example of the reward she gets out of writing songs.
"I was thinking, 'OK, what is life about?' I was being kind of serious; I was reflecting: Life's about joy, life's about pain, life's about this, life's about that," she said. "Then all of a sudden: 'Life's about to get good.' And I thought, 'What a great play on words! How fun is that? Who uses 'about' as a play on words? I'm sure no one's ever written that before and I was all excited. ...
"When those things come together, it's all very satisfying. That is where the craft of writing comes in, the more soulful purpose of the meaning of the song comes out."
Follow @RandyLewis2 on Twitter.com
For Classic Rock coverage, join us on Facebook
ALSO
Sheryl Crow talks music, compassion and being the 'dorky mom' performing in a worn Mickey Mouse T-shirt
Coachella's on-site record store maintains an old-school vibe
Get our L.A. Goes Out newsletter, with the week's best events, to help you explore and experience our city.
You may occasionally receive promotional content from the Los Angeles Times.