Review: Shania Twain goes off-script in an arena spectacle at Staples Center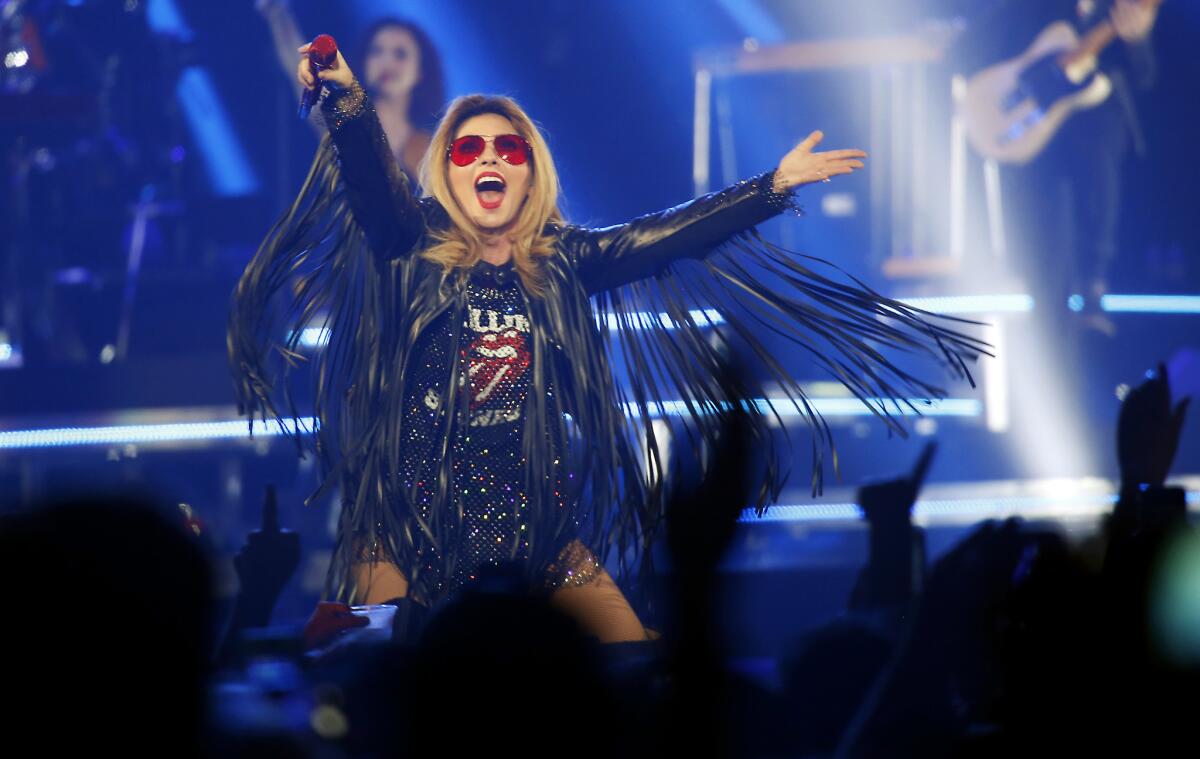 "There's something really cool in the air tonight," Shania Twain said near the end of her concert Thursday night at Staples Center, and that was certainly one way to put it.
Another might have been, "What the heck is going on here?"
Things began to go sideways right from the start of this glittery two-hour show, part of Twain's first tour in over a decade. In the 1990s, the singer was one of country's biggest acts; hits like "You're Still the One" and the title track from her most recent studio album, 2002's "Up!," made her a pop star across all genres: an approachable glamazon dispensing cheerful pragmatism in tunes that weren't afraid of club beats or hard-rock guitars.
SIGN UP for the free Essential Arts & Culture newsletter >>
Despite her success, Twain retreated from the road in 2004, a withdrawal she attributed Thursday to somehow losing her "courage." (She's also described experiencing troubles with her voice.) In 2010 she divorced Robert "Mutt" Lange, the songwriter and producer who'd helped create most of her music, after he allegedly had an affair with her best friend. Two years later she reemerged in Las Vegas, where she recently completed a lengthy run at Caesars Palace.
The show-biz retraining she received there was readily apparent at Staples Center, as when she moved breezily past an enormous lighting rig that failed to move during her entrance to the stage. But you also felt the glazing effect that Sin City can have on a performer, thanks to its numbing routine and its easily amused audiences.
For much of Thursday's gig – which combined pumped-up versions of old favorites such as "Come on Over" and "Whose Bed Have Your Boots Been Under?" with sparkly costumes and dramatic pyrotechnics -- Twain failed to muster an intensity to equal the flashy arena-concert spectacle. (One mildly amusing bit I've never seen from another artist: a ride around the venue floor in a motorized vehicle that resembled her own Popemobile.)
Lucky for us, though, there were more technical difficulties in store, beginning with Twain's decision to bring a young girl in the crowd onstage to sing with her. The problem? "I don't know any of your songs," the girl told Twain, news she took with remarkable grace. Then the girl's mother, apparently determined to get her moment of vicarious glory, hoisted her older daughter onstage even though that daughter was protesting insistently.
This could've been – no, this was – a deeply uncomfortable development, one you can imagine many entertainers firing some team member over. Yet as Twain dealt with the pushy mom and finally coaxed the older girl to sing, she also seemed to come alive for the first time in the show: a real person who's been through much tougher stuff before.
The same thing happened later, when what turned out to be a subterranean explosion in a high-rise building several blocks from Staples Center caused a brief power outage just as Twain was launching into her song "That Don't Impress Me Much." Her initial reaction was to dash offstage, leaving her band to vamp while the venue's power came back up.
But then she returned and had an endearing chat with a man in the front row who said he was a rocket scientist – just like the guy in Twain's song. He and his companion then posed for a photo with Twain, who seemed perfectly willing to extend the oddly appealing interlude.
"All bad things happen for a good reason," she said as the band revved up the music again. On Thursday, at least, she was right.
Twitter: @mikaelwood
MORE:
Shania Twain at Staples Center: 5 quick thoughts on the show
Taylor Swift set to strut into Staples Center on top of the world
Joss Stone explains the worldly influences on 'Water for Your Soul,' her new album
Get our L.A. Goes Out newsletter, with the week's best events, to help you explore and experience our city.
You may occasionally receive promotional content from the Los Angeles Times.