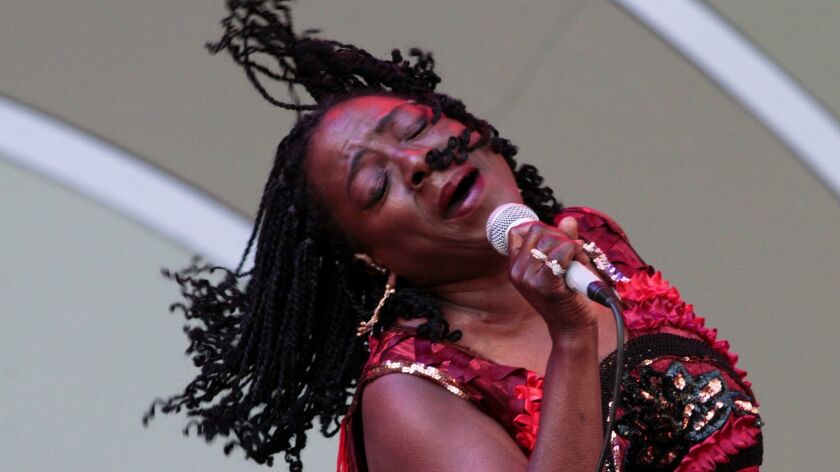 Pop Music Critic
Sharon Jones struggled as a singer for too long to let anything interfere with her success when it finally arrived. That's the impression you get from "Soul of a Woman," the final album this tough, leather-lunged R&B belter made before she died in 2016 of pancreatic cancer.
Due Friday, nearly a year to the date after her death, the 11-track set was recorded in the wake of some serious professional accomplishments, including Jones' first Grammy nomination and an acclaimed documentary that examined her unlikely breakthrough at age 40 following years of unnoticed labor in gospel choirs and wedding bands around New York.
At the same time, Jones' body was slowly failing her. Bosco Mann, who produced "Soul of a Woman" and plays bass in the singer's longtime backing band, the Dap-Kings, says they scheduled their studio sessions around her treatment plan.
And yet you don't hear weakness or even vulnerability on this record; it's not self-eulogizing in the manner of David Bowie's "Blackstar" or Leonard Cohen's "You Want It Darker," to name two recent (and deeply haunting) albums by artists who knew they were dying as they worked.
Instead, "Soul of a Woman" catches Jones at her liveliest and most defiant as she lets her powerful voice loose in catchy, funky songs about overcoming hardships and dealing with fickle lovers.
"Oh, no!" she wails several times to start "Sail On," each with a different shade of loathing for the no-good guy knocking on her door. In the swinging "Rumors," she confronts another man — or maybe it's the same one? — with some of what she's heard about him; her piercing tone demands honesty, or else.
"Soul of a Woman" was originally conceived as a collection of ballads, Mann says, with an eye toward a tour in which Jones and the Dap-Kings would be joined by an orchestra.
That idea changed when her health took a turn for the worse, but several tunes still point in that direction, including the very pretty "These Tears (No Longer for You)" and "Pass Me By," a strolling, organ-fueled number that suggests a womanly version of Al Green's classic early-'70s stuff. (In addition to backing Jones, the Dap-Kings have played with Green himself, as well as other acts as varied as Kesha and Sturgill Simpson.)
Yet even when Jones is softening her voice to suit those delicate arrangements, her singing exudes an unflagging determination to get her point across; you're always sensing her impatience for any nonsense that might slow her down.
Indeed, one reason to lament Jones' death — which was precipitated by a stroke that the Dap-Kings' Gabriel Roth told The Times may have been triggered by last year's presidential election — is that we'll never get to hear her sing about all the no-good guys that have turned 2017 into such a mess.
Lucky for them, I guess, but a real bummer for the rest of us.
Twitter: @mikaelwood
ALSO
How Morrissey made the most of Morrissey Day
'It's all gone haywire': Mavis Staples on her 'angry' new album
Tim McGraw and Faith Hill on their quietly subversive new album
---