SheSaid.So wants to make sure music isn't just a boys' club anymore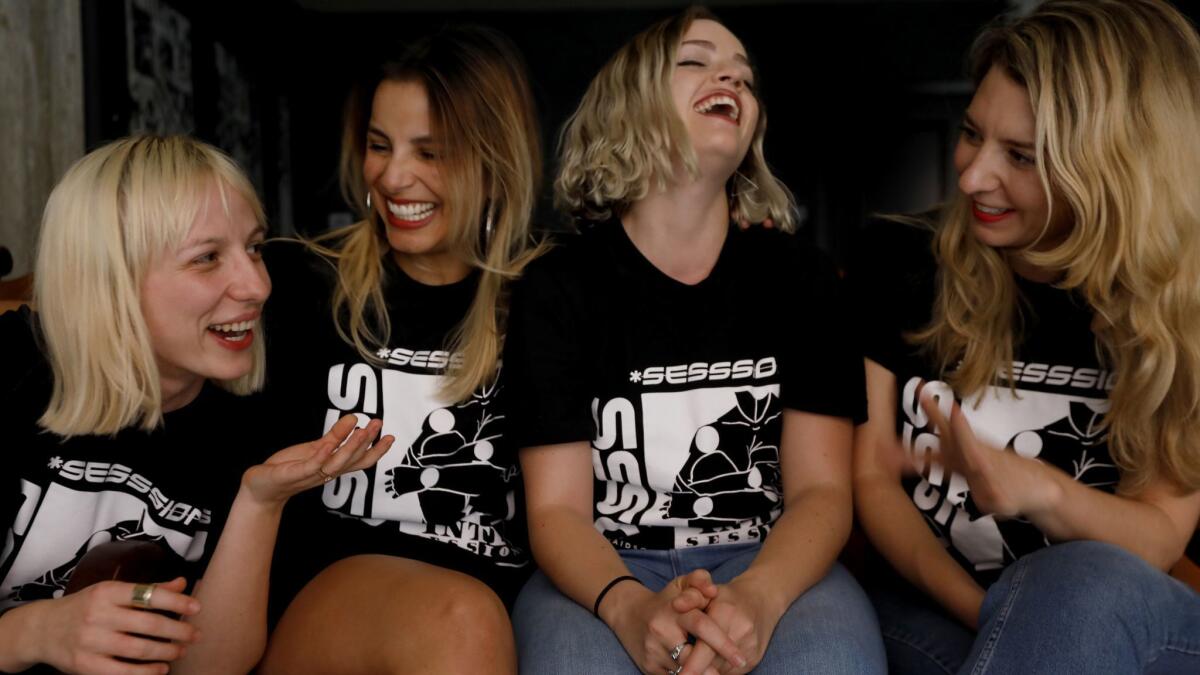 Chi Chi Nwakodo was thrilled when she landed her first job in music last year — a three-month internship at Black Sheep, the in-house agency of the global marketing firm Bartle Bogle Hegarty.
But she knew it was temporary.
The now-23-year-old Londoner wanted some guidance in navigating an often nontransparent music business, which, like much of entertainment, politics and media, has been shaken by widespread (and longstanding) accusations of sexual harassment and workplace misogyny.
In September, one of her bosses passed along an application for a private group, SheSaid.So, an organization that uses some of the same so-called "whisper network" mechanisms that have recently brought down workplace abusers. But SheSaid.So instead employs such peer-drive and largely-online-based communities to give women an inside track to connections in the music business.
"When I found that they were offering a mentoring scheme for women in music I jumped at the chance, as these opportunities are rare," Nwakodo said. With SheSaid.So, she found an experienced peer, Sharon Dean, who taught her about music supervision, sync and licensing, and helped her land her current job at the music publisher Sony ATV this year.
"I believe that the opportunity was always there for me, however without Sharon's help I doubt I would have been perceived in the same way," she added. "Sharon helped me to assert myself with confidence and justification in my value. Having a community of women I could share my experiences with allowed me to not become disheartened at rejection or disappointment."
SheSaid.So, now based in L.A. and London, is part job board, part activist forum and part mentorship program. In the wake of all the recent furor around sexual harassment and gender equality in entertainment, SheSaid.So is briskly expanding its roster of events and workshops in L.A. The organization will host a day of panels and workshops at downtown's Ace Hotel on Saturday.
It might be one practical model for enacting the change that activists have long demanded.
"We wanted to replicate the spaces where men do business — the strip club, the golf course, the whiskey bar. Guys get together and do big deals there, so we wanted to create that space digitally," said Andreea Magdalina, the founder of SheSaid.So. "This is a solution for women's barriers to entry."
Magdalina founded the group in 2014 — perhaps a lifetime ago compared to the fast-roiling conversations around inclusion today. The group — about 2,500 members now – requires applications for membership to screen for music-biz bonafides and to ensure they fit the group's criteria (it's open to women and trans and gender-nonbinary people).
SheSaid.So's practical work to change the music industry's hiring and workplace cultures is more relevant now than ever. Recently, a USC study found vast gender disparities in pop music writing and production, a conversation that's picked up steam after Recording Academy head Neil Portnow clumsily commented at this year's Grammys that women in music needed to "step up."
Porntow has apologized for his "poor choice of words," and the Recording Academy has since called upon Tina Tchen,a former chief of staff to First Lady Michelle Obama, to lead a new task force to explore the charges of gender and racial bias that erupted after this year's ceremony.
"There's a disparity between what you see in pop culture and what's behind the scenes," said Melina Powell, the director of SheSaid.So's L.A. chapter.
"Sure, the Grammys created a diversity task force, but [Portnow's] ignorant comments weren't true at all. Women have been stepping up, but there's a lack of visibility, and visibility is subtle but important. When you see women who are experts, you get to see that 'I can do this' and it fights those stereotypes."
"It's difficult," Magdalina said, "to be aware of all the power players and unwritten rules. There are things that are opaque even once you've got your foot in the door. This is a very practical way for people who want to step up and help women to get higher on the ladder."
Saturday's event will undoubtedly touch on the issues raised by the recent movements around inclusion and harassment. But SheSaid.So's production workshops, business coaching and panel talks from L.A. club music figures like Rail Up's Samantha Goodman and Kim Anh (whose club night YOWSAH closes the day on the Ace's roof), are much more focused on the practical tools of writing and performing and managing a career in music.
They focus on the sorts of things that an old-boys network teaches implicitly, and on making industry connections that, for young women, can sometimes come with harassment from male colleagues.
"I met a girl at one of our workshops who had gone to audio engineering school, she'd wanted to do that her whole life. She was there for a year but she quit because of all the harassment. It was heartbreaking," said Kathy Suarez, who heads the L.A. edition of Intersessions, a DJ collective collaborating with SheSaid.So on production classes aimed at women (but which also welcome men).
After that Intersessions class, Suarez said, the young woman decided to pick it back up.
"To think that white and male means better music is just what society has taught us. I look at my own playlists and I realize I have to change my own mindset too," Suarez added.
Part of the group's work is proposing an alternative career ladder for the music industry. They've kicked off a new four-month-long mentorship program that pairs young women at the beginning of their music careers with more experienced partners.
Beyond just professional contacts and tips, the sessions will address little-discussed aspects of the work, like maintaining mental health and fighting "imposter syndrome" in professional settings.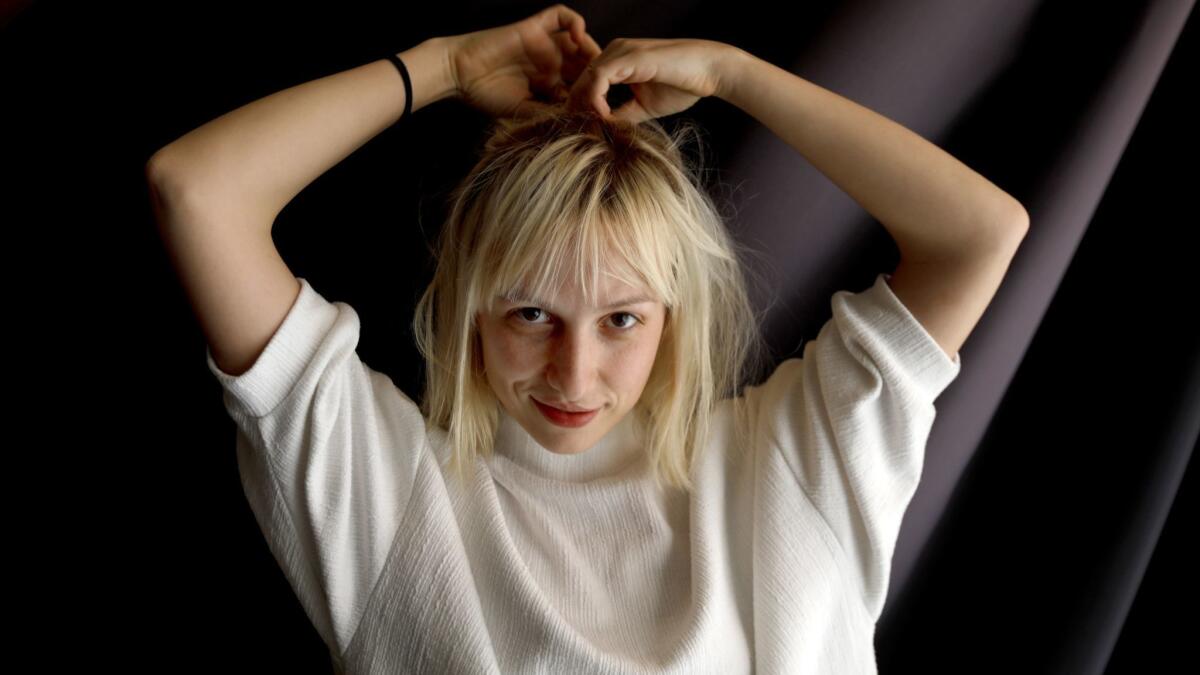 They also collaborated on building the Alternative Power 100, an annual list of 100 influential women, people of color and below-radar influencers on all sides of the music business.
It's meant to tweak the Billboard Power 100 list, which SheSaid.So organizers found as culling from the same roster of major-label executives, radio programmers and other jobs often filled by men. SheSaid.So's list has plenty of women in comparable positions, but also artists like Grace Jones and indie mavens such as Liz Garo of L.A.'s Spaceland Productions.
It serves as a reminder of the work women are already doing, and to imagine a different future for the business.
"In the Billboard 100, you see similar names in a pattern – you have to be [a senior VP] at a major label to be a power player," Magdalina said. "The Alt list celebrates people who contribute in a valuable way, but their voices aren't heard."
Of course, the recent issues around harassment and abuse in entertainment are never far from these discussions. Some members have certainly used SheSaid.So's platform for comparing notes on abusive colleagues, getting human resources advice or simply venting on how to handle difficult workplaces.
"As a young mixed race woman, it is important to me that all women and girls can see themselves represented and not just the distant, celebrity aspect of the #MeToo movement," Nwakodo said. "All types of people need to know that they can speak out when they need to, from junior and entry level to senior status, and no one should be derogated."
But Magdalina also wants a space for activism outside the call-out culture of recent media narratives, in part because music has proven disappointingly slow to begin a root-and-branch culture change. Women who do speak out often face unique repercussions (see Kesha's years-long fight to record new music after she claimed abuse at the hands of her former producer, Dr. Luke. who vehemently denied the accusations).
"Artists have been scared to come out about it, because then you're always stamped as an artist who experienced that. They're scared it'll mean fewer bookings and doors closing, and it will," Magdalina said. "Women suffer behind the scenes too."
As the entertainment business tries to get its house in order around both inclusion and fighting abusers, #MeToo and Time's Up still deservedly dominate the narrative. But part of fixing those wounds is to fill those roles with people who could create a different culture. And that often starts with a lead about a good new job opening and someone with the confidence to pursue it.
"Our approach is subtle but systemic," Magdalina said. "We want to remind women that we're here for them and hope it can impact those movements as well."
♦ ♦ ♦ ♦ ♦ ♦ ♦ ♦ ♦ ♦
SheSaid.So's SSSO* Sessions
Where: Ace Hotel 929 S. Broadway, L.A.
When: 2 p.m. Sat., April 7
Tickets: $10. restlessnites.com/sssosessions
For breaking music news, follow @augustbrown on Twitter.
Get our L.A. Goes Out newsletter, with the week's best events, to help you explore and experience our city.
You may occasionally receive promotional content from the Los Angeles Times.