Inside the factory powering Fox's R&B girl group drama 'Star'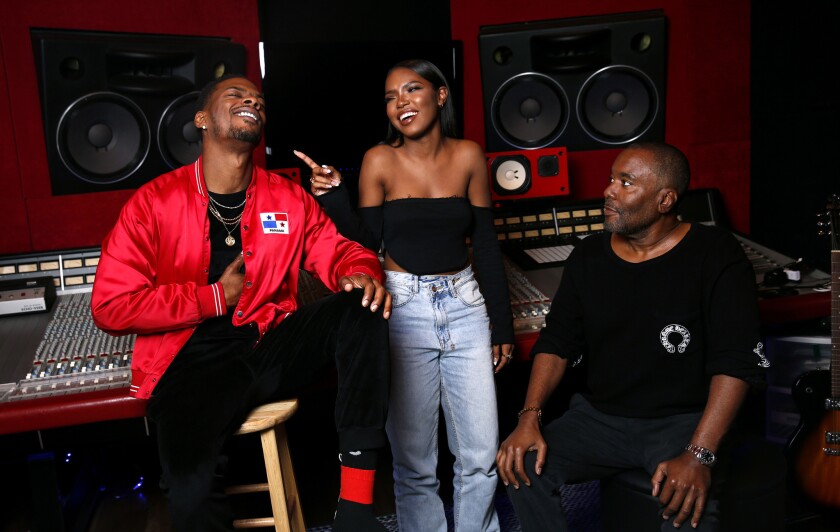 "Can you rap?" Lee Daniels asked Jude Demorest, one of the leads of his music drama "Star," over text message during a break from production.
What Daniels didn't know was that Demorest — who plays the series' titular character and has written smash hits for Fifth Harmony — once had ambitions of being a rapper.
"I was nervous about what to say," the 26-year-old recalled. "I rapped as a teenager — that's how I started writing music, doing raps and then learning how to write pop music. But rapping was a dream for my 15-year-old self."
Up for the challenge, Demorest dusted off those old skills, channeled her character and penned a sizzling diss track called "There For You."
The song capped the penultimate episode of "Star's" sophomore season earlier this year and became its first viral sensation, logging 20 million video streams in a month and setting the tone for the show's third season, currently airing on Fox.
"There were people online who hadn't seen the show and thought I was a new rapper,'" Demorest said with a laugh. "It's funny, and weird, that my childhood dream came true as this character with a song that's gotten 20 million streams."
"Star" continues the tradition of scripted shows like "Nashville" and "Empire," which embed records by known producers into a music-driven soap opera, but Fox's girl group saga is in a league of its own when it comes to the talent behind its soundtrack.
With a cast that has included Queen Latifah, Brandy, Luke James, Patti LaBelle, Tyrese, Keke Palmer, Elijah Kelley, Evan Ross, Quincy Brown and Lenny Kravitz and original songs from hitmakers behind records from Beyoncé, Rihanna and Cardi B, "Star" is one of few shows on-air showcasing a diverse cadre of black musicians performing contemporary R&B in real time.
"The show really is an opportunity to bring good R&B music to the screen through amazing characters that are also brilliant artists in real life," said Johntá Austin, the series' supervising music producer (he's crafted multiplatinum hits for Mariah Carey and Mary J. Blige). "So we intentionally set out to make records that you want to hear on the radio — that people want to go and buy."
Created by Daniels and playwright Tom Donaghy ("The Whole Truth"), the music-business drama follows the brazenly ambitious Star (Demorest), who launches girl group Take 3 with her sister, Simone (Brittany O'Grady), and their friend Alexandra (Ryan Destiny) under the guidance of their caregiver-turned-manager, Carlotta (Latifah).
Like Daniels' other hip-hop-influenced saga, "Empire," the series is heavy on go-for-broke camp, juicy melodrama and highly stylized musical numbers — naturally, there was a crossover episode of the two — but the comparisons stop there.
Amid the over-the-top plotlines, there's a gritty social realism to "Star" as the show set amid the backdrop of Atlanta's hip-hop and R&B scene has tackled sexual assault, illegally trafficked immigrants, abusive foster parents, sex workers, police brutality, gang violence, bottom surgery, mental illness, addiction, gender variance and homophobia.
The music is largely independent of the show's narrative (the aforementioned "There For You" being an exception), allowing the performance scenes to either weave into the action or play as big-budget music videos via fantasy sequences.
"It's 'Dreamgirls' with politics thrown in," said showrunner Karin Gist. "It has that great soapy feel. But at the same time, we use the stories and the music of the fantasy scenes to talk about things that matter — important conversations for society, for the community [and] for the world."
Adds Daniels: "There's a specificity to a particular African American that's on the street. People that understand and know the culture, and this world, appreciate it. Not to diss any other shows that are on the air, but these are real people on our show. It might be over some people's heads, but I'm OK with that."
RELATED: Ryan Destiny ready for the spotlight on her own »
Since the narrative of "Star" isn't entirely dependent upon its music, the producers approach the music the way many labels do when shaping an artist's album: "The best song wins — it doesn't matter where it comes from," as Daniels' mantra goes.
Records are culled by a mixture of leaning on the show's onscreen talent and a random assortment of "critics" Daniels assembled — be it friends, family members or industry players — to discuss and rate the records being churned out of the songwriting camps held throughout the season's production.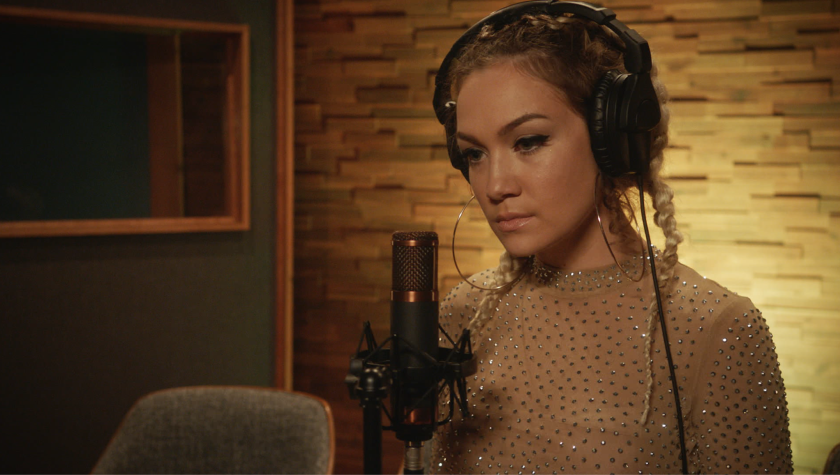 "It helps to have a cast of young, great artists who understand the climate of what's hot now," Austin said. "We're trying to combine a traditional R&B [sound] with what's poppin' ... and that's easy when you have a cast that gets it because they understand the culture."
Tapping into the current wave of R&B means the music of "Star" is as unpredictable as it is catchy. Episodes have featured bass-rattling trap bangers ("For Sure"), smoldering soul grooves ("Breathless," "Breathe"), bouncy R&B-pop ("My Type"), funky alternative soul and traditional gospel.
And a veritable who's who behind some of today's biggest R&B and hip-hop hits is making it happen behind the scenes. Hit-Boy, Stargate, Theron "Neff-U" Feemster, Ayo + Keyz, Bernard Harvey, Felisha & Fallon King, Swish, D.A. Doman, Sarah Aarons, Ester Dean and Kuk Harrell are just some of the credits behind the music featured on the show. If those names don't sound familar, check the liner notes for projects from Kendrick Lamar, Kanye West, Jay-Z, Britney Spears, Janet Jackson, Ne-Yo, Jennifer Lopez, Justin Bieber, Sia, Eminem, Demi Lovato, Camila Cabela, Maren Morris, Dua Lipa or Eminem.
Marcos "Kosine" Palacios — he's half of the multiplatinum, Grammy-nominated production duo Da Internz — is one of several hitmakers who have hosted camps of songwriters and producers to incubate music for the show, and he's also pulled double duty, appearing onscreen as a misogynist rapper who gets into a feud with the ladies of Take 3.
"As producers, we don't make songs to live on our laptops. You want them to come alive," said Marcos "Kosine" Palacios, who has seen half a dozen of his tracks land on the series, including a remake of his own 2014 single, "Out Here." "To have artists like Luke, Queen, Jude and the voices that are on there bring our art to life is a beautiful thing," Palacios offered.
Ultimately, there isn't a song that makes it onto the show without Daniels' approval, a level of control he doesn't have on "Empire." "Not dissing 'Empire' — we love its music — but with 'Empire,' songwriters are writing for very specific scenes. We've worked so hard on creating music that's for the culture," he noted.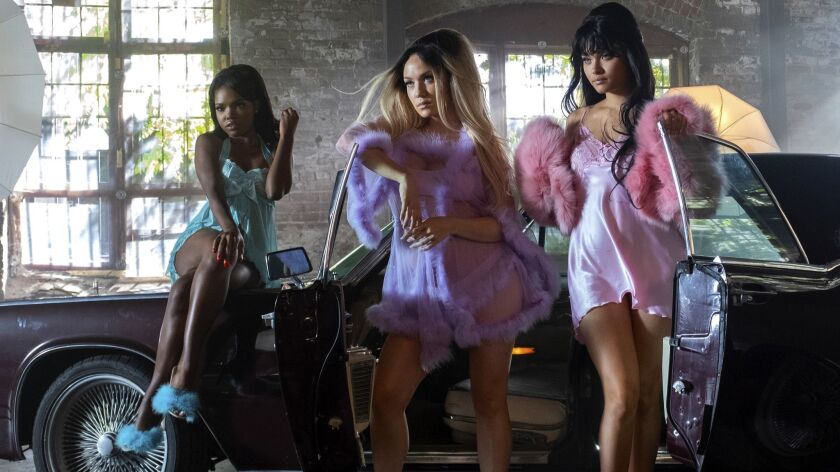 The show really is an opportunity to bring good R&B music to the screen through amazing characters that are also brilliant artists in real life.
Johntá Austin, supervising music producer of "Star"
Music from the series has clocked more than 162 million streams on digital music services, and the short-form videos the network releases weekly — be it extended cuts of performance scenes or the music videos — have garnered 119 million views, but "Star" has yet to become a crossover hit.
Since it premiered in 2016, the series has remained in the shadows of its more popular lead-in, "Empire," averaging around 5.3 million viewers a week after delayed viewing is accounted for.
And while its tracks have amassed impressive streaming numbers, its music hasn't captured the zeitgeist like "Glee," "Smash," "Nashville" and "Empire" — whose stars constantly promoted the shows with performances as their characters, something the leads of "Star" have no desire to do.
"Here's the difference. The girls were really clear that they did not want to tour as a group. They want to separate themselves and have their own identity as artists," Daniels said. "I think it hurts our show a little bit, but I'm good with that because I really want the artists to be happy."
But that doesn't mean "Star" can't translate to real life success. Earlier this year Latifah, LaBelle and Brandy hit the top 25 of Billboard's gospel chart with the stirring, organ-drenched ballad "Ohhh Lord," which they performed on an episode this season, and Destiny is prepping to release her debut EP (the first song she'd ever written was featured on a recent episode).
For those behind the scenes, the show's success is more about representation for a genre of music that doesn't often receive this type of mainstream exposure than it is about selling records.
"This isn't about the Billboard charts or your favorite A-list artist," Palacios said. "Here's this cool outlet where we can get fresh R&B on TV and people can eat it up like candy. These songs are hot off the press every week. Tune in and get you something fresh."
------------
'Star'
Where: Fox
When: 9 p.m. Wednesday
Rating: TV-14 (may be unsuitable for unsuitable for children under 14 years of age)
For more music news follow me on Twitter:@GerrickKennedy
---
Inside the business of entertainment
The Wide Shot brings you news, analysis and insights on everything from streaming wars to production — and what it all means for the future.
You may occasionally receive promotional content from the Los Angeles Times.