Review: Stevie Wonder and friends gather for 20th House Full of Toys holiday benefit
There's nothing inherently wrong with the idea of a jewelry exhibit focusing on items made of silver, ruby, emeralds and turquoise — unless the guy hosting the exhibit is sitting on a trove of gold, platinum and diamonds that he shares only in brief glimpses.
That was a bit the way the 20th-anniversary edition of Stevie Wonder's House Full of Toys holiday benefit show played out Friday at the Microsoft Theatre in Los Angeles.
The event's raison d'etre is to collect toys and other donations from concert-goers for distribution to underprivileged children and their families in the Southland.
House Full of Toys has raised more than $500,000 for the Junior Blind organization, according to a spokeswoman for the event, and has provided toys to more than 30,000 children over the years.
That makes the performance aspect almost secondary.
See the most-read stories in Entertainment this hour »
Wonder, 66, typically invites a slew of musician pals — veterans and newcomers alike — to take part.
Friday's slate included Queen Latifah, Lionel Richie, John Legend, rapper Anderson .Paak, Rachel Platten, Nita Whitaker, Jazmine Sullivan and three local R&B-gospel choirs, one of which turned Prince's "I Would Die 4 U" into a scintillating gospel shouter "Jesus Died 4 U."
Most guests received two or three spotlight numbers, usually one or two with Wonder, and another one or two on their own as Wonder repeatedly came on and off stage, each time sporting in a stylish new jacket.
In the name of variety, the audience was treated to Latifah showing off her jazz-blues vocal chops on the bluesy ballad "Georgia Rose," which she recorded with Wonder in 2007 on her "Trav'lin' Light" standards album.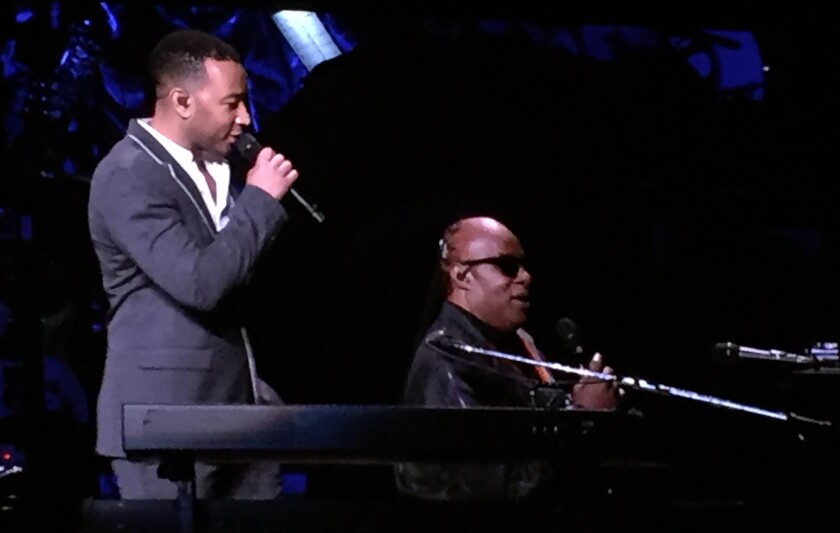 Legend was greeted by hearty cheers before singing "Ordinary People," with help from Wonder at his keyboard, as well as Donny Hathaway's modern-day holiday classic "This Christmas." Legend followed those on his own with his recent hits "Love Me Now" and "All of Me."
Platten served up her breakthrough hit "Fight," and Richie received rapturous squeals when he sneaked on stage early in the show and joined Wonder, first offering "Easy Like Sunday Morning" and "All Night Long."
He seemed somewhat surprised when Wonder played the opening notes of "We Are the World," but quickly fell in for what turned into a mass audience singalong of the 1985 charity pop hit.
All perfectly acceptable pop music equivalents of silver, rubies and emeralds.
Wonder himself, however, flashed snippets of the bona fide precious metals lurking in his monumental repertoire.
When .Paak came out, the recently minted Grammy nominee for best new artist got behind a drum kit at the back of the stage and started the opening beat of "Superstition," generating a jolt of excitement in the audience.
Wonder cut him off, however, asking him to do one of his songs. At other times, the show's host teased bits of "Higher Ground," "Don't You Worry 'Bout a Thing," "Living for the City" and others from his great artistic and commercial peak in the 1970s and '80s, only to abruptly stop and bring on another guest.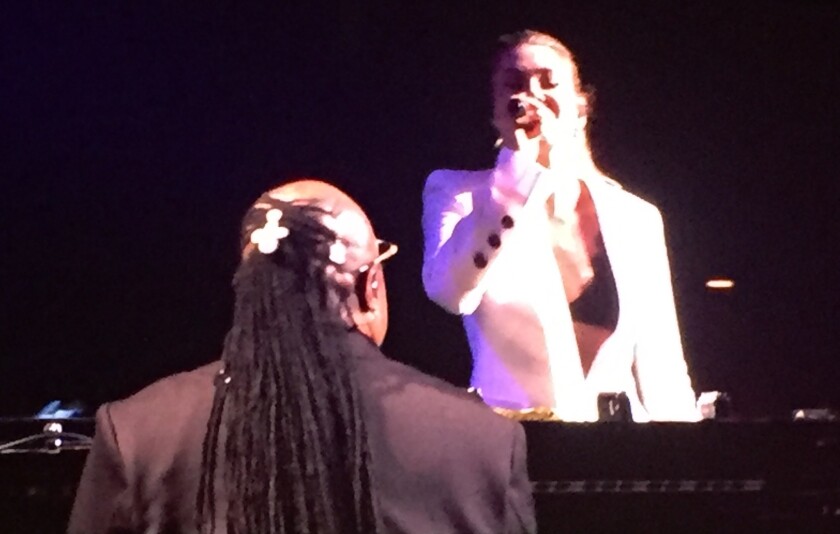 Admittedly, it's tough to follow some of the most recent House Full of Toys shows, in which he performed his stunning 1976 double album "Songs in the Key of Life" in its entirety. That brought a welcome musical and logistical focus to the event that historically has been a rather meandering and lengthy affair, and may be the reason Wonder took a hiatus last year and skipped the House Full of Toys show.
This year, it was back to business as usual. It wasn't until about 10 minutes before the 3 1/2-hour show was scheduled to end at 11:30 p.m. that Wonder took his turn leading the muscular and resourceful house band in a set of his own music, which required an extension of a curfew on the event.
With a segue from .Paak's riff on Wonder's "Boogie on Reggae Woman," for which he brought his toddler son out to show of some sharp dance moves, Wonder launched into "Master Blaster (Jammin')" then continued with "Higher Ground," "Sir Duke" and "I Wish," the latter fitting in beautifully with its seasonally appropriate opening ("Looking back on when I was a little nappy headed boy/Then my only worry was for Christmas what would be my toy."
Then he bade the capacity crowd good night, bringing an eminently worthy cause to an end on notes of pure gold.
Follow @RandyLewis2 on Twitter.com
For Classic Rock coverage, join us on Facebook
---
Your essential guide to the arts in L.A.
Get Carolina A. Miranda's weekly newsletter for what's happening, plus openings, critics' picks and more.
You may occasionally receive promotional content from the Los Angeles Times.