Grading Coachella, Made in America, FYF, Electric Daisy Carnival, more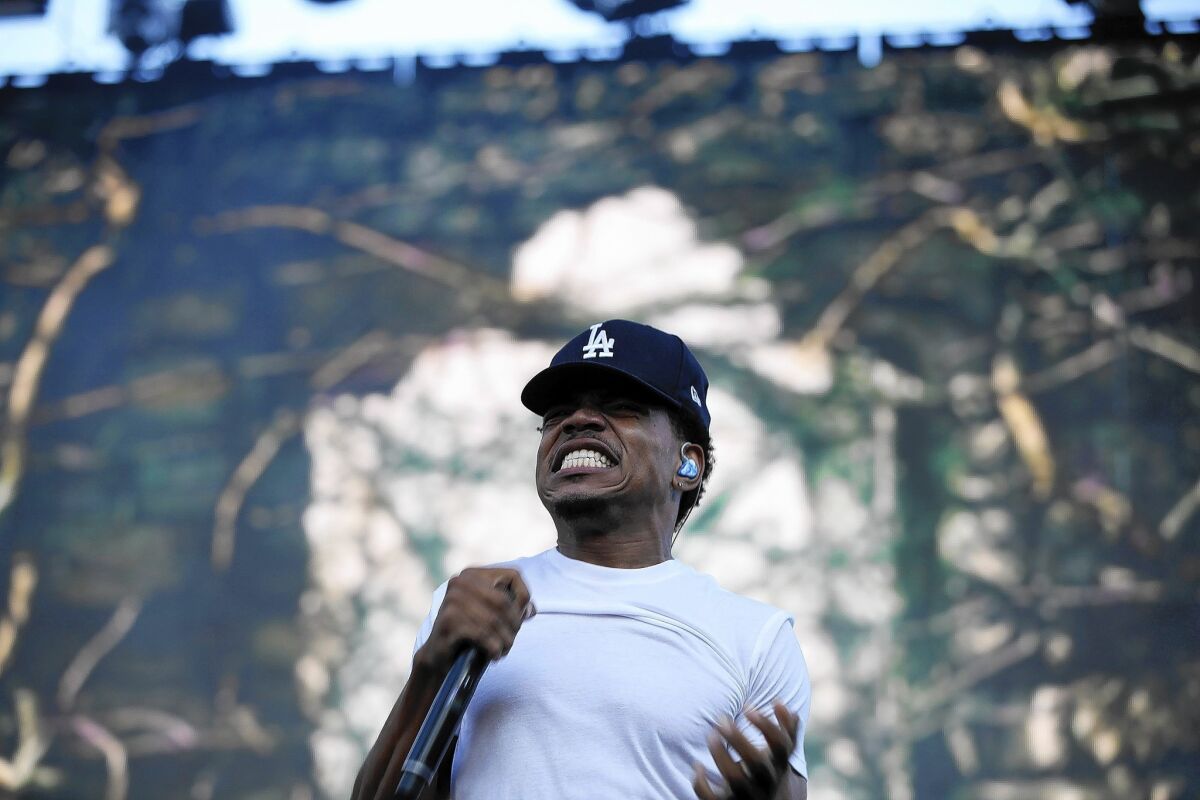 Labor Day isn't just the unofficial end of summer. When the lights went down on Kanye West's Made in America set in front of L.A. City Hall on Sunday night, another time of year came to a close: festival season.
There are some school-year stragglers, including the upcoming Sunset Strip Music Fest, but now that we've washed off all the sunscreen, it's time to grade what was a packed festival season.
Coachella Valley Music and Arts Festival: B
Coachella is a resort-like beast that's bigger (two weekends!), more expensive ($375!) and more upscale (four-course meals!) than most of its competitors. The long-standing fest in the desert city of Indio had some nice new touches this year, including more local food and beverage offerings as well as the first of many planned permanent toilets (plumbing!).
Yet more so than ever it felt like a tale of two festivals, what with increased VIP offerings and bloated, fenced-off areas near the stages reserved for celebs and artist pals (boo!). Additionally, audiences this year overwhelmingly leaned dance-centric and mainstream, which was good news for those who wanted to check out some of Coachella's more inspired bookings (the Replacements, Bryan Ferry, Neutral Milk Hotel), but it raises questions going forward. With most tickets sold before a lineup is announced, will promoter Goldenvoice cater to the party-first masses or continue to challenge them?
Stagecoach: B-
The emphasis at Stagecoach 2014 — the country cousin to Coachella, held yearly at the same polo field in Indio — was on the adolescent and barely post-adolescent, party-minded crowd through the booking of headliners Jason Aldean, Luke Bryan and Eric Church.
That resulted in a pretty homogenized sound and message wafting over the festival grounds through much of the weekend thanks to the Aldean-Bryan-Church clones and clones-of-clones, which made for a fairly uninspired parade of big stage performances.
Fortunately, anyone looking for greater diversity didn't have to venture too far to find such invigorating Americana and roots-country acts as Shovels & Rope, Jason Isbell, Shakey Graves, the Spirit Family Reunion, Hurray for the Riff Raff, the Howlin' Brothers, Sarah Jarosz, Shelby Lynne and the innovative Seldom Scene bluegrass band.
Now, about those headliners …
BET Experience: B
The BET Experience is ambitious. A multitiered offering built around the network's annual awards spectacle boasts comedy shows, celebrity panels, a fan expo, a film festival, live tapings of its popular countdown show and three nights of headliners across multiple venues at L.A. Live.
This year saw the return of R&B crooner Maxwell and a host of other A-list talent, including Jill Scott, a reunited OutKast, Rick Ross, Trey Songz and Mary J. Blige at Staples Center. The Roots and Future anchored late-night gigs at Club Nokia, and fans could catch just as much free action at the L.A. Convention Center. The free concerts remain one of BET's advantages. Also vital: It caters to an underserved audience.
FYF Fest: B-
This year FYF Fest had to pull an all-nighter to salvage its grade. The excellently curated festival, which included Run the Jewels, Ty Segall, Phoenix, Grimes and Darkside, stumbled on the first day of its inaugural staging at the L.A. Sports Arena and Exposition Park. Long lines begat frustration. The arena was shut down for a time. The fest footprint made for slogs between stages. People were bummed.
By Sunday, though, the lines had mostly vanished, and griping gave way to beautiful weather and inspired sets from Blood Orange, Kelela, Haim, Joanna Gruesome and Benjamin Booker. Demerits: The beer was pricey, the food was so-so and the main stage was on a hot asphalt parking lot. Positive: The bookings were as adventurous as ever.
Electric Daisy Carnival: B
At this mammoth EDM event, now America's biggest multi-day music festival, the sensory pleasures (music, visuals, ridiculous raver costumes) never let up.
As long as you skipped the traffic and hit the Las Vegas Motor Speedway after midnight, it was smooth sailing. The big headliners were bland meat-and-potatoes EDM fare (Calvin Harris, Tiesto), but there were smaller spaces to get lost in artier house and techno fare. EDM will fade, but the archaeologists of the distant future will have many theories about our weird bacchanals in the Nevada desert.
Budweiser Made in America: C+
It's easy to knock Budweiser Made in America. Few events are drenched in so much branding, and a water shortage on your first day is a major offense. But for the first-ever ticketed festival in downtown L.A.'s new-ish Grand Park, Made in America showed that City Hall most certainly works as a concert backdrop. Kudos, too, to Grand Park, which now more than ever seems capable of giving our sprawling city a sense of a center.
The lineup, however, was a mess. The presence of hip-hop was nice (Kanye West, Chance the Rapper and Kendrick Lamar were all terrific), but much of the roster was a Top 40 mishmash (John Mayer, Imagine Dragons and Steve Aoki). Normally, we have to watch the Grammy Awards to get this sort of whiplash.
---
Your essential guide to the arts in L.A.
Get Carolina A. Miranda's weekly newsletter for what's happening, plus openings, critics' picks and more.
You may occasionally receive promotional content from the Los Angeles Times.