SXSW asks where is music's #MeToo moment? Or did it happen and no one cared?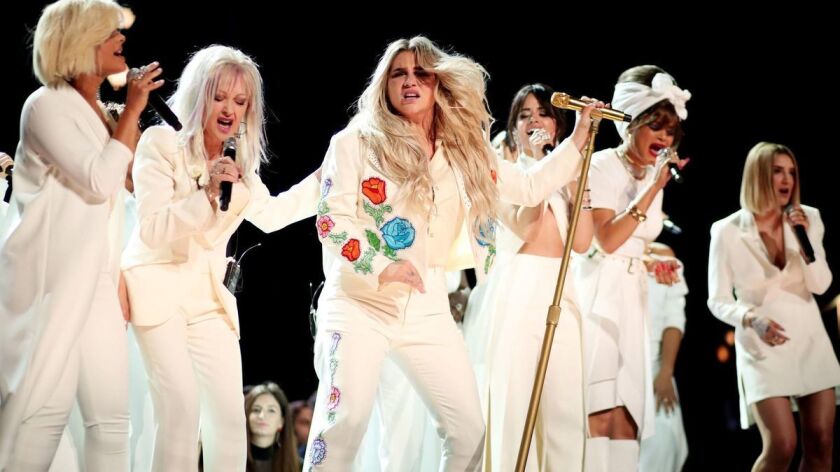 After the reckonings of the #MeToo and Time's Up movements, one fundamental question has dogged the music industry: Why not us?
In the film and TV industries, executives like Harvey Weinstein and entrepreneurial actors such as Louis C.K. and Kevin Spacey have suffered instantaneous career repercussions after allegations of longstanding sexual misconduct surfaced in the media. More recently, diversity initiatives such as "inclusion riders" have now become part of the pop-culture lexicon, indicating a desire to move the conversation beyond assault and into cultural advancement.
Yet the tide of change has come — at best — in fits and starts in the music business. Throughout South by Southwest, one of the largest gatherings of industry professionals, media and fans, several talks grappled with not only issues of sexual misconduct but how to fix longstanding gender biases in the business.
And while there have been inspiring moments, for every public instance of an artist such as Kesha performing the redemptive hit "Praying" at the Grammys, there seems to be two or three others where allegations of misconduct are either swiftly forgotten, treated with a shrug or left to the realm of "open secrets."
One Wednesday panel, "Women in Music: Break the Glass Ceiling," gave women practical advice for how to advocate for raises, benefits and advancement in the music industry. "When we talk about breaking that glass ceiling, why are women afraid to ask?" said Neeta Ragoowansi, the co-founder of the National Performing Rights Exchange.
"We understand our value, but why are we afraid? Is it nerves, fear, lack of confidence or fear of being penalized for asking what we want? How do we get over it? We have to work on the psychological factor of it."
Another Wednesday panel, "#TimesUp: Turning the Hashtag Into Action in a Structureless Music Industry," wrestled with how best to channel amorphous online activism into change on the ground.
But Thursday's panel, titled "Sexual Misconduct in the Music Industry," may have offered some darker answers as to where those fears and hesitations come from.
The panel gathered several journalists (including Noisey's Andrea Domanick, whose latest story on the topic came after two years of reporting) and industry pros to assess why music is proving a much more difficult field for reform.
"There are a lot of different factors at play. With music, it's complicated," Domanick said. "It's not just about having our Weinstein or any individual. We already had ours, R. Kelly." (Kelly has been accused of a range of sexual misconduct, much of it involving underage girls, spanning decades. He has denied the allegations).
Perhaps emblematic of the music industry's problem: Issues surrounding sexual harassment and misconduct are one of the greatest challenges facing not only the entertainment business but the culture at large. Yet the single most topical panel at SXSW, an event that attracts more than 70,000 registered attendees over its 10-day run, was relegated to one of the Austin Convention Center's smaller meeting rooms.
Additionally, the bevy of parties with free booze and afternoon performances proved a bigger draw, as the space was just half-full for the week's frankest and most revealing hour-long discussion, one that shifted the conversation away from singling out individual accusers to looking at long-ingrained industry practices in need of reform.
"What had long been enshrined as rock star behavior is now clearly sexual misconduct," Domanick stated. "People don't want to reckon with that because everyone will have some story. It's about accepting that we can change and evolve."
Panelists, for instance, wondered why Kesha's story didn't inspire widespread change. The pop singer has become not only a survivor but a social warrior, as she was nearly destroyed, professionally and personally, when she leveled sexual assault accusations against Dr. Luke, her powerful producer, in 2014. Dr. Luke, whose full name is Lukasz Sebastian Gottwald, vehemently denied the claims.
It was a moment that could have inspired Weinstein-level reckoning, yet it somehow failed to take deep root beyond a number of artists expressing support for Kesha via social media.
"Kesha is a complicated survivor. People hated the womanhood she represented," said Peggy Hogan, an artist and activist, who also serves as an A&R manager for Art Not Love Records, alluding to the fact that some of Kesha's initial hits emphasized partying and debauchery. "It speaks to misogyny in society, that we need a certain type of woman who is credible."
Additionally, Hogan theorized that R. Kelly has been allowed to continue to work due to intrinsic cultural impulses. Many, including some of Kelly's accusers, have theorized that black women are less likely to be taken seriously as victims, while powerful yet problematic black men can be excused for such behavior based on racist stereotypes.
"It was almost expected for black male artists to behave in this way," Hogan said. "It's a whole mess of why society… sucks."
The panel was moderated by Danger Village publicist Beth Martinez, whose own allegation of harassment from the influential former publicist Heathcliff Berru helped start the public reckoning around misconduct in music. Berru resigned in 2016 as chief executive of the company he founded in 2008, which handled publicity for numerous high-profile acts including D'Angelo, Odd Future and Kelela.
As streaming has concentrated power at a handful of major labels, and the concert industry is controlled by just a handful of players, perhaps young and vulnerable professionals feel they have less leverage or recourse than in the relatively more formal film and television industries.
"There's this attitude of 'this is only person who can do this job, so give them whatever they want to make them happy,' " Domanick said. "Misconduct is a labor issue, it's people feeling competition, financial pressure, how to pay the bills. Nobody knows where to go to deal with it, and there's not a music police or a president of music you can go to."
Social media have obviously upended this dynamic — instead of a human resource department, many accusers have turned to Facebook and Twitter as their sole means of speaking out. But "call out culture," cautioned Hogan, "can be toxic."
There are numerous complexities, panelists admitted, be it the potential to trigger other victims to feel PTSD or social media's quick-to-condemn tendencies, which can lack the necessary nuanced conversations that need to happen.
'We need to know who abusers are," Hogan stressed," but there's no real accountability, no parameters set."
She theorized that simply removing people from communities could "deepen cycles of abuse," and when allegations are nebulous people will forget.
"We need better systems of accountability, and yes, we need to support people being called out, too. You can't just eject people and expect them to reform themselves. If someone shows genuine change, we should welcome people back," Hogan said.
The panel also blamed things like a gutted music press, where, outside of trade publications, music business reporting has largely given way to less deeply researched work. Then there are pervasive nondisclosure agreements and the daily life of surviving in a precarious industry with the added burdens of trauma, post-traumatic stress and the vulnerability in what is largely a straight-white-men's club where much business occurs outside of office or structured settings (read: small clubs in late night hours).
In the end, no one had a single solution for fixing music's problems. But perhaps communication — and compassion — is a place to start.
"We need to talk to each other more," Domanick said. "We've had Weinsteins again and again, and that creates a social understanding that nothing happens. We tried, so what incentive does anyone have to change things? We need to break the preconception of 'this is the way things are in music."
For breaking music news, follow @augustbrown on Twitter.
---
Inside the business of entertainment
The Wide Shot brings you news, analysis and insights on everything from streaming wars to production — and what it all means for the future.
You may occasionally receive promotional content from the Los Angeles Times.