Taylor Swift celebrates Pride Month (and her catalog of hits) at Wango Tango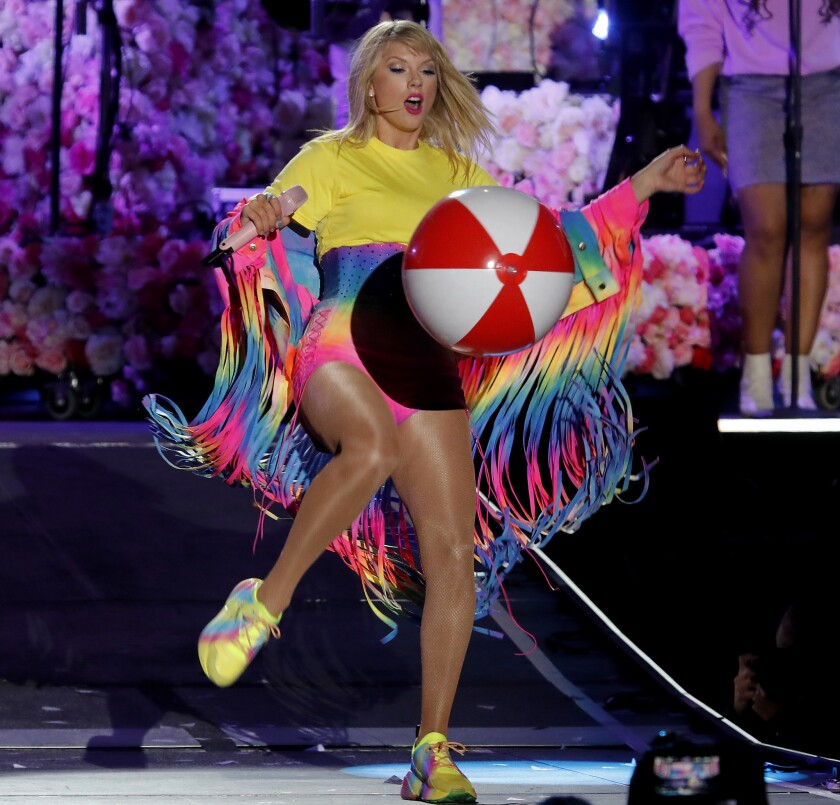 Pop Music Critic
Again and again Saturday night, Ryan Seacrest described Wango Tango — the annual all-star pop concert he was hosting as part of his gig with Los Angeles' powerhouse Top 40 radio station KIIS-FM (102.7) — as the kickoff to the next three months of summer.
But the artists he was bringing to the stage? As often as not, they were looking back, not ahead.
Headlining the sold-out show at Dignity Health Sports Park in Carson, Taylor Swift invited the crowd of thousands to take "a little trip down memory lane" before she performed her 2012 hit "I Knew You Were Trouble." Zedd alternated his own stadium-rave tracks with thumping remixes of oldies like "Rude" by Magic! (whose exclamation point has outlasted any excitement about the Canadian reggae-rock group).
And though the Jonas Brothers, back in action after a half-decade hiatus, were imagining the future in "Year 3000," the wholesome pop-punk tune from the trio's debut album was actually a pungent blast from the past.
"It's been 11 years since we shared the Wango Tango stage," Joe Jonas pointed out — easy to believe, given that "Year 3000" is narrated by a kid who's come home from school for lunch.
You could understand why they all had yesterday on their minds. Pop in the streaming age is moving quicker than it ever has, with new acts (and new sounds) ascending on what feels like a monthly basis. Gone are the days when an established superstar could safely expect to dominate Billboard's Hot 100, as Swift discovered last month when her latest single, "Me!," was blocked from No. 1 by "Old Town Road," Lil Nas X's viral country-trap smash; gone too are the days when one chart told the whole story.
For performers who've grown accustomed to always having their way, a changing environment can be unsettling. So of course they find comfort in recounting victories from a simpler, less diffuse time.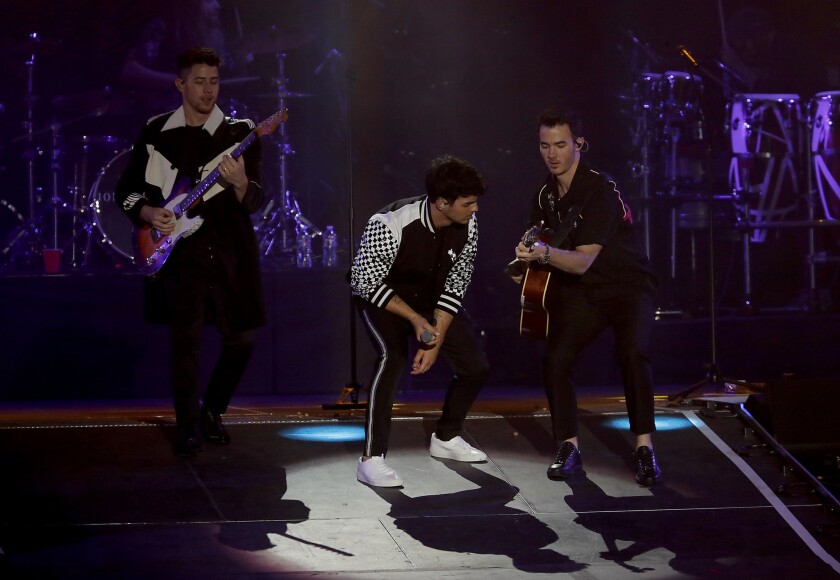 At least that was the impression you got from Swift, who played only one song, "Delicate," from her most recent album, the polarizing (if thrilling) "Reputation" — and remade it, no less, as a strummy acoustic number in the style of her early pop-country stuff.
On "Reputation," Swift was lashing out at the fickle nature of the celebrity-industrial complex, but here, on a stage set festooned with flowers, she was all smiles in friendly renditions of "Shake It Off," "Love Story" and "We Are Never Ever Getting Back Together." "Style," her sensual '80s-style jam about a lover with "that James Dean daydream look in your eye," was more effective: retro in sound yet eternal in feeling.
At one point, Swift, who wore a rainbow-colored get-up to mark the beginning of Pride month, asked people in the audience to sign an online petition urging the Senate to support the Equality Act designed to protect LGBTQ people from discrimination — one sign that she remains confident in her ability to shape the cultural conversation.
Yet the silly and saccharine "Me!," with which she closed the show (and for which she brought out the song's guest, Brendon Urie of Panic! at the Disco), felt driven by Swift's newfound uncertainty about how to evolve along with pop.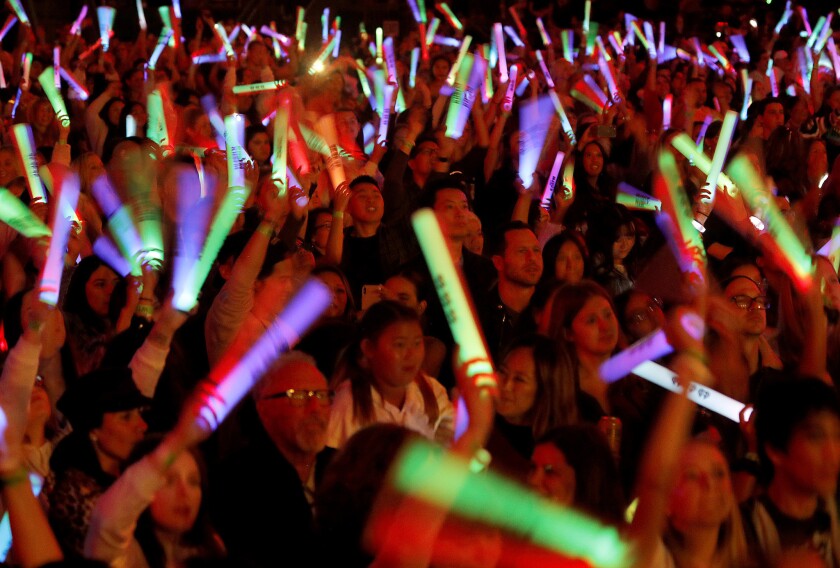 The Jonas Brothers avoided that sense of anxiety, perhaps because their recent comeback single, "Sucker," managed to reach No. 1 — for a week, anyway, after which Ariana Grande bumped them off.
But also nobody regards the Jonases with anything like the importance reserved for Swift; mostly, they just had to show up and look cute as they sauntered together down the lengthy runway jutting onto the stadium's floor.
Those good looks and the trio's throwback appeal will go only so far when they release their new album later this week. (It's called "Happiness Begins," which is definitely optimistic.) On Saturday, though, the Jonas Brothers' iTunes-era nostalgia overlapped neatly with the crowd's as they grinned their way through "Burnin' Up" and "Lovebug."
Wango Tango — which, as Seacrest was also eager to inform us, was proudly sponsored by the Juvéderm line of dermal fillers — did make some attempt to reflect pop as it's currently shaped.
Tomorrow X Together, a young K-pop boy band assembled by the same company that created BTS, provided a sampling of that scene's precise choreography and crisp electronic grooves. Ally Brooke of Fifth Harmony performed a lively solo set that included a song sung in Spanish and an affectionate tribute to the late Tejano star Selena. Brooke also brought out the only rapper at Wango Tango; unfortunately, it was Tyga, who after joining Brooke for their song "Low Key" stuck around to do his leering "Taste."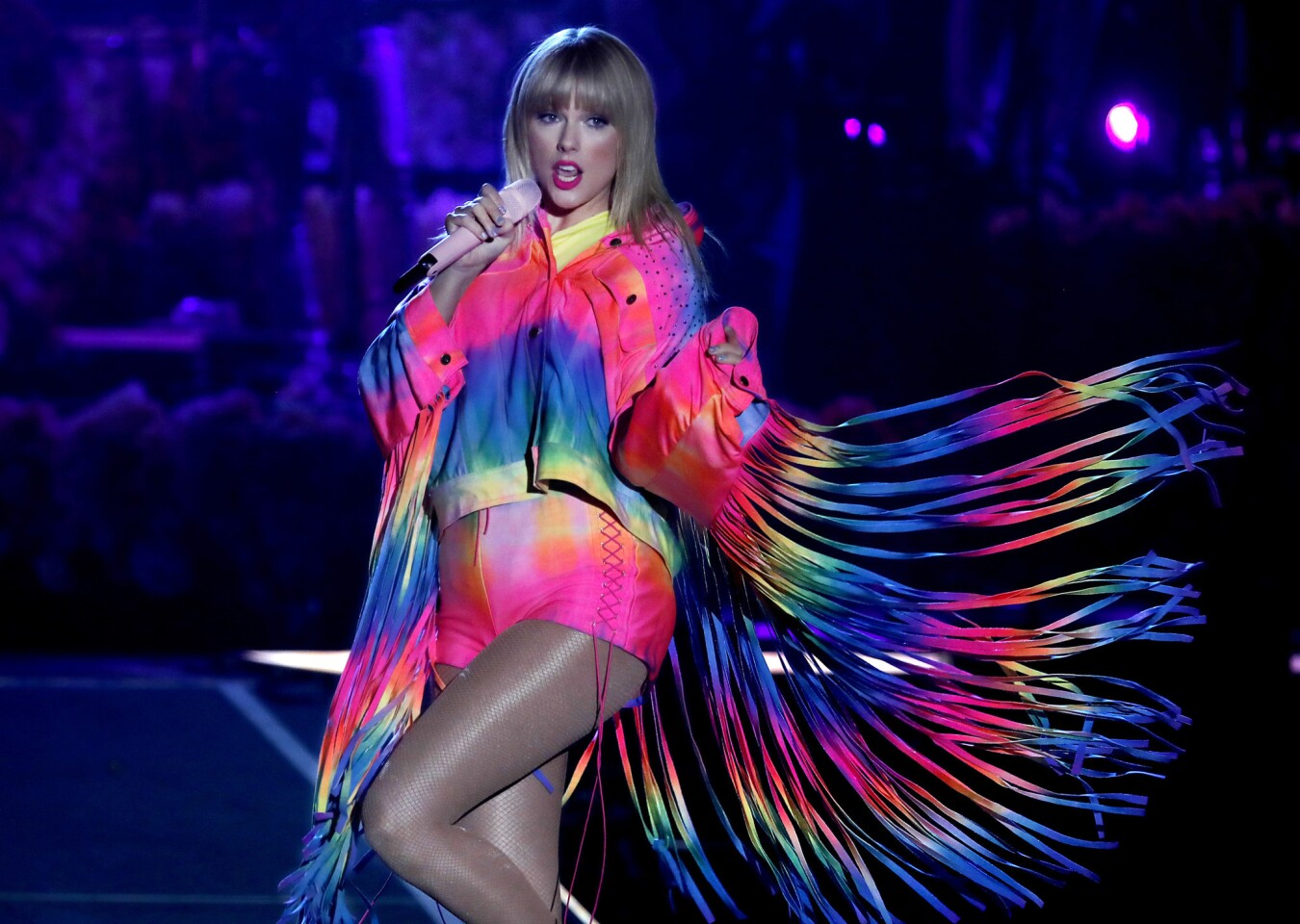 Taylor Swift performs at Wango Tango 2019 at the Dignity Health Sports Park in Carson on June 1, 2019.
(Luis Sinco/ Los Angles Times)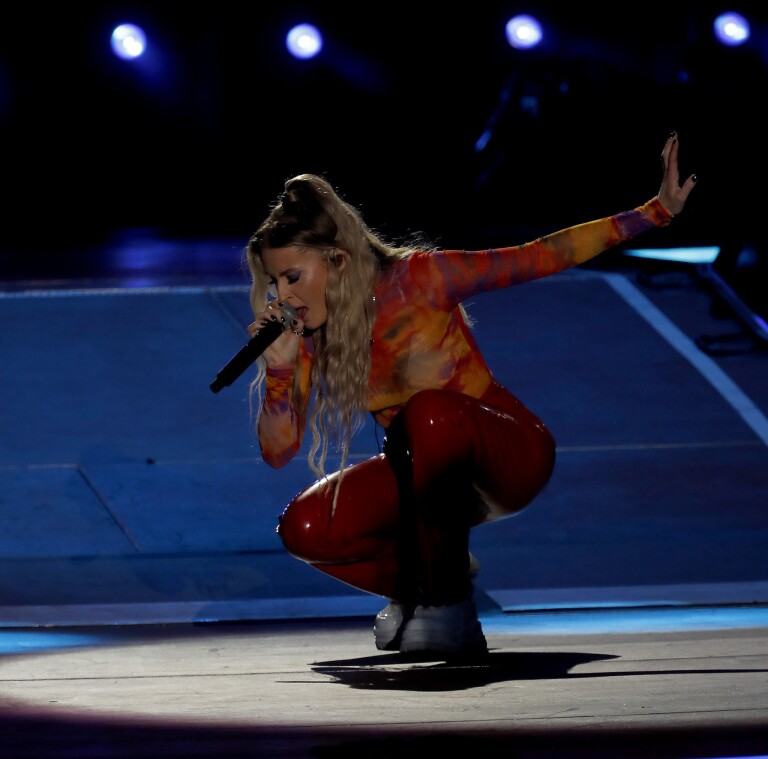 Fletcher
(Luis Sinco/ Los Angles Times)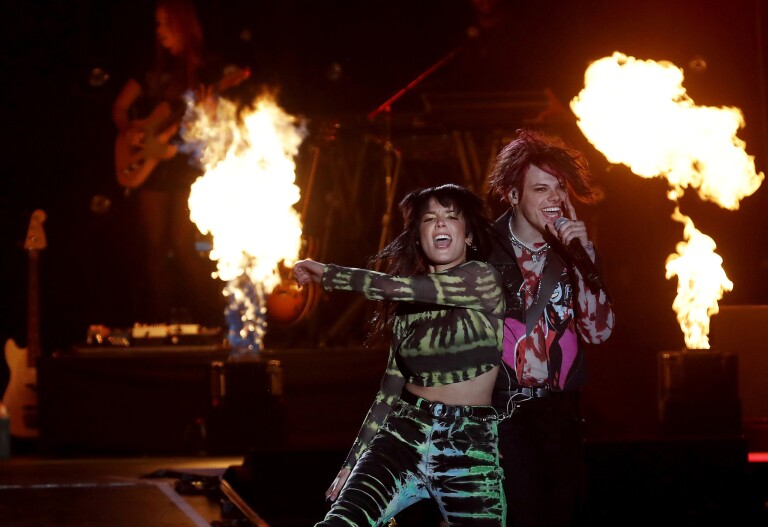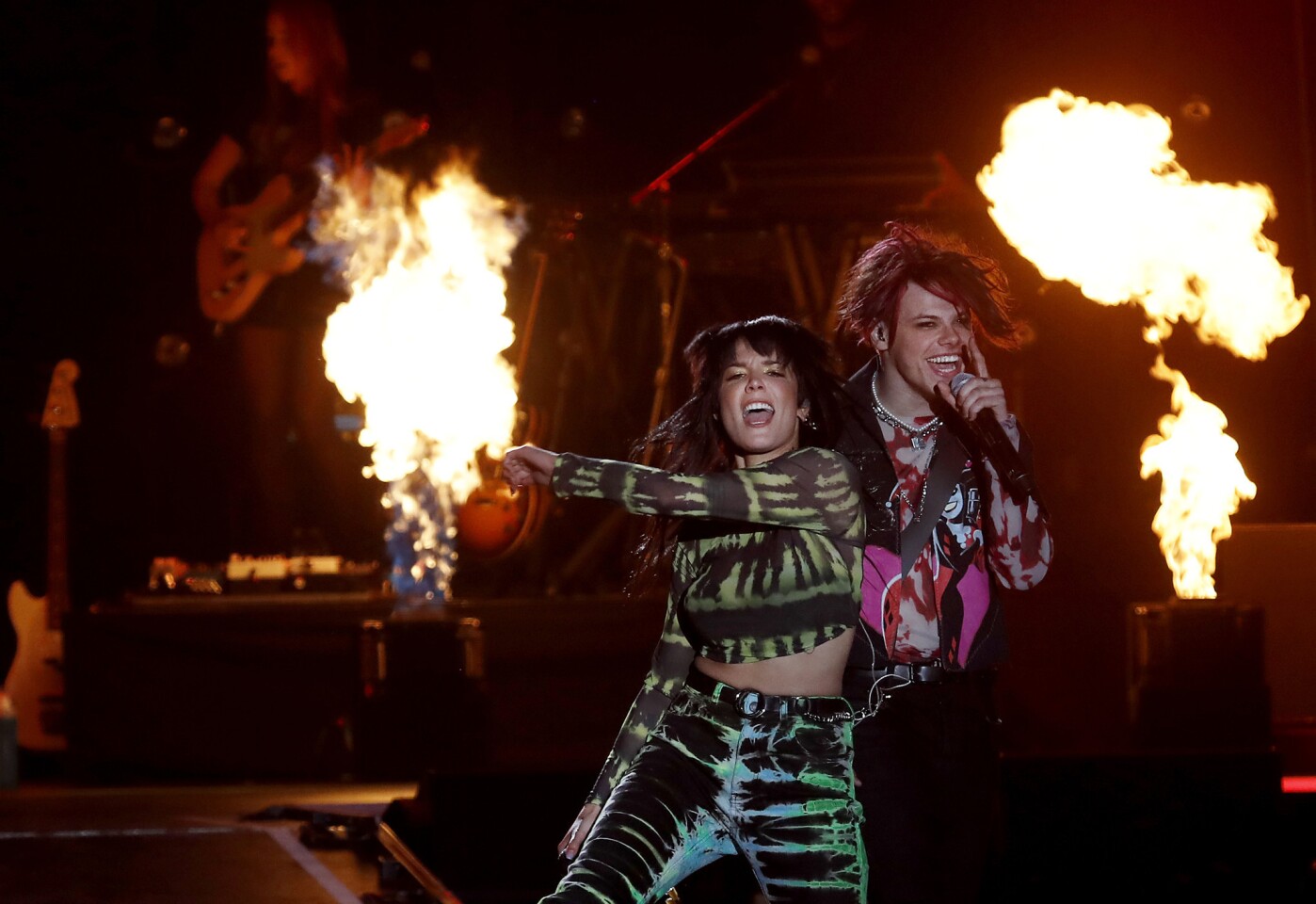 Halsey
(Luis Sinco/ Los Angles Times)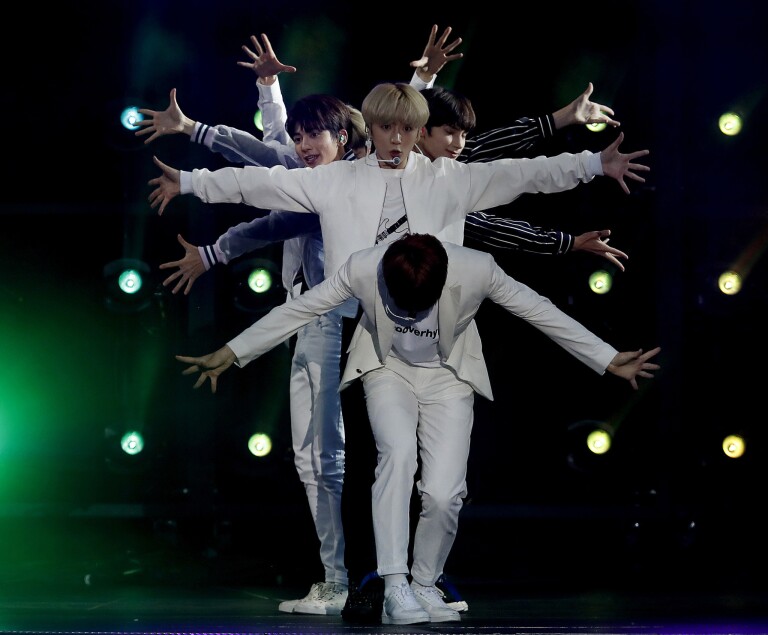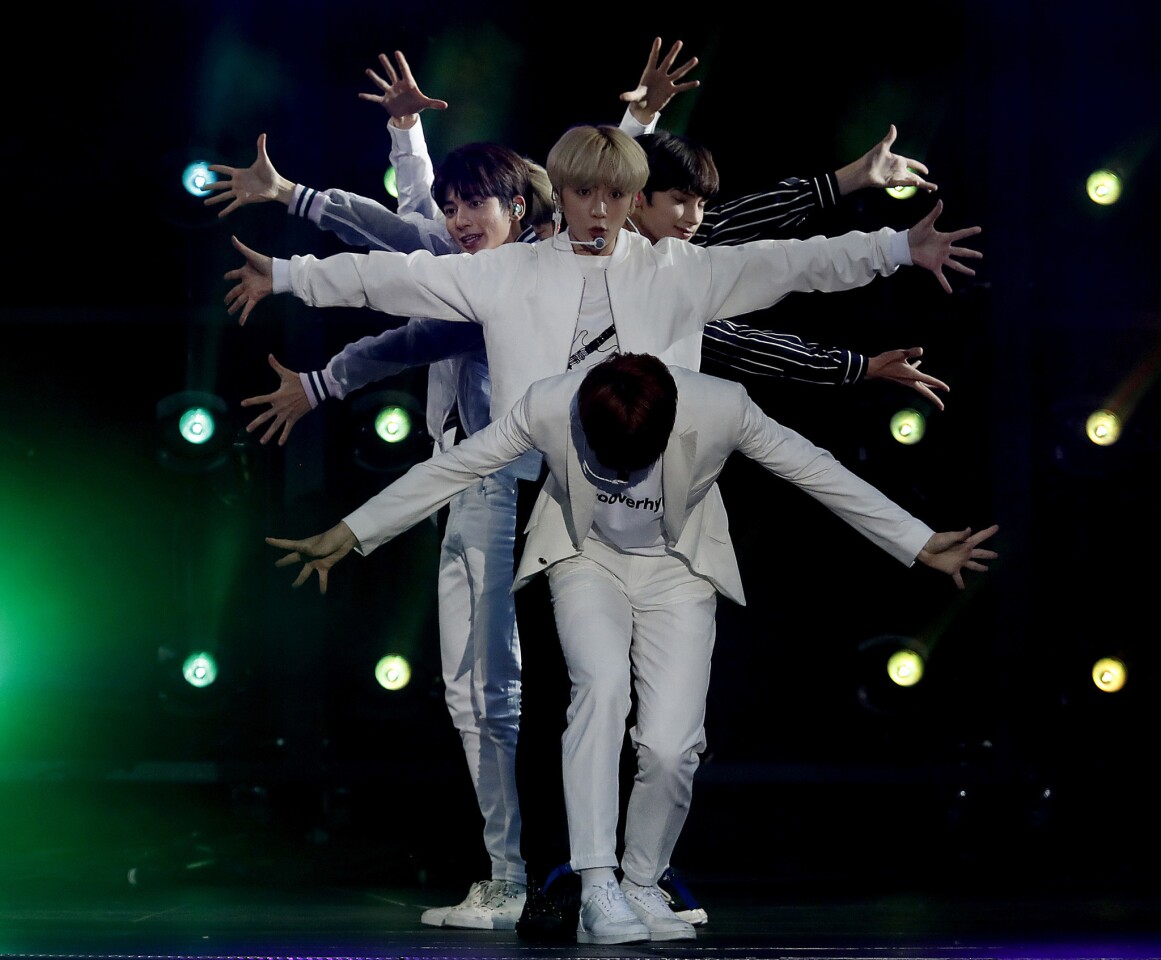 Tomorrow X Together
(Luis Sinco/ Los Angles Times)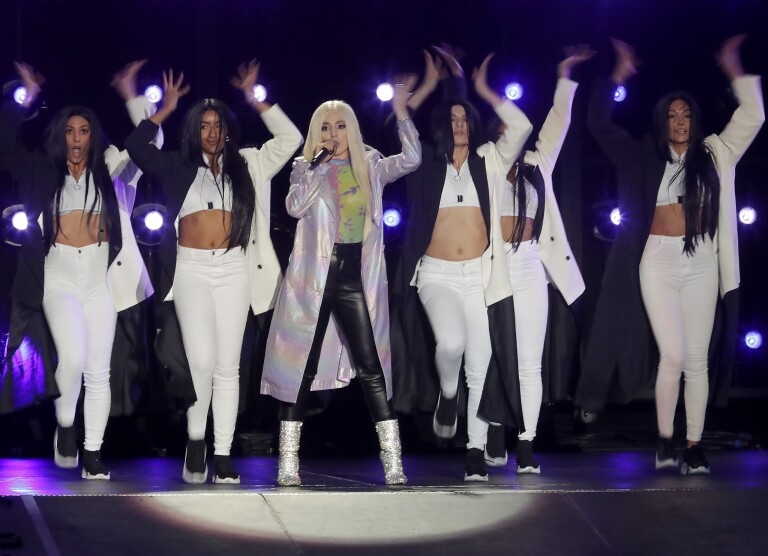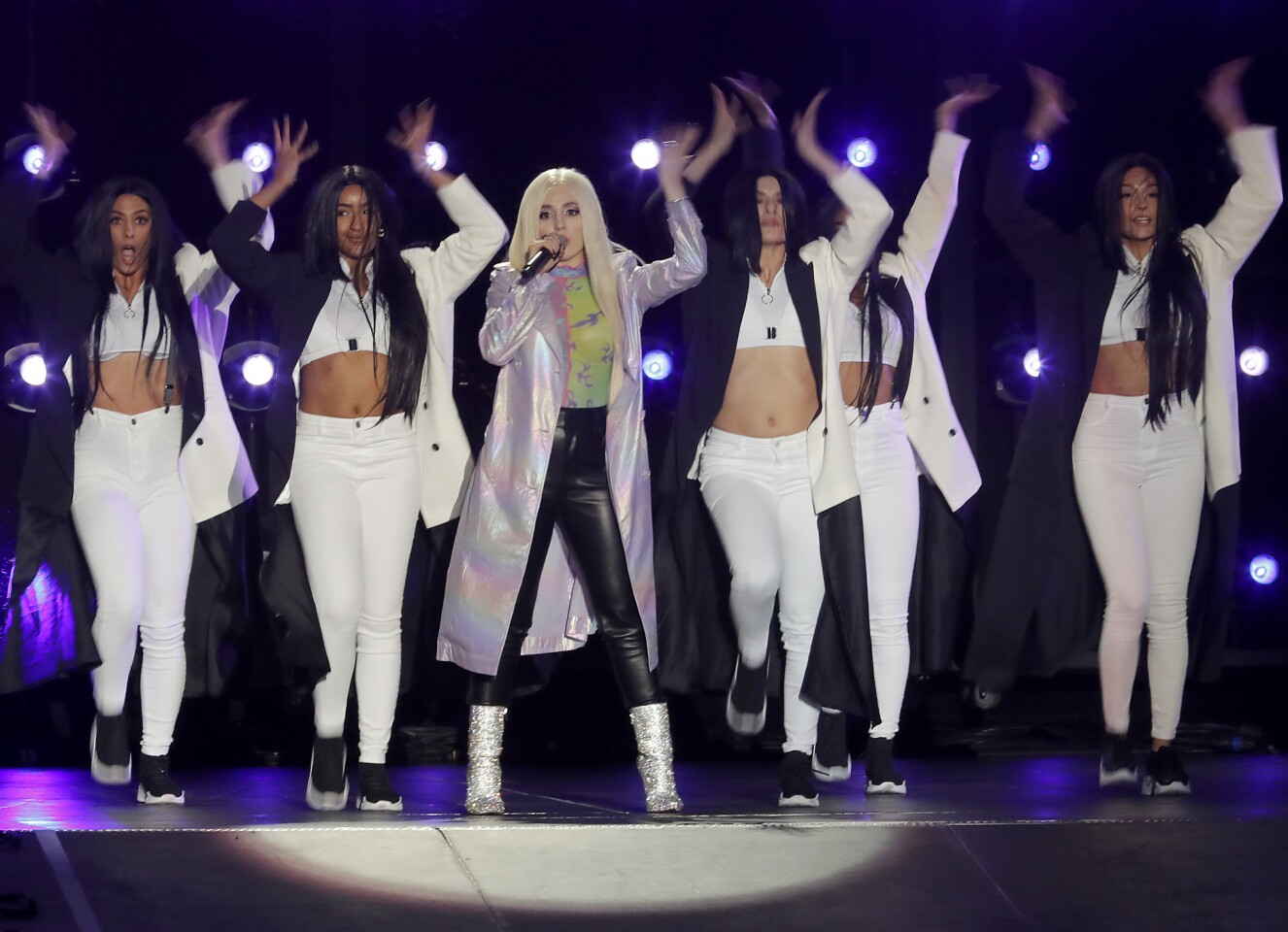 Ava Max
(Luis Sinco/ Los Angles Times)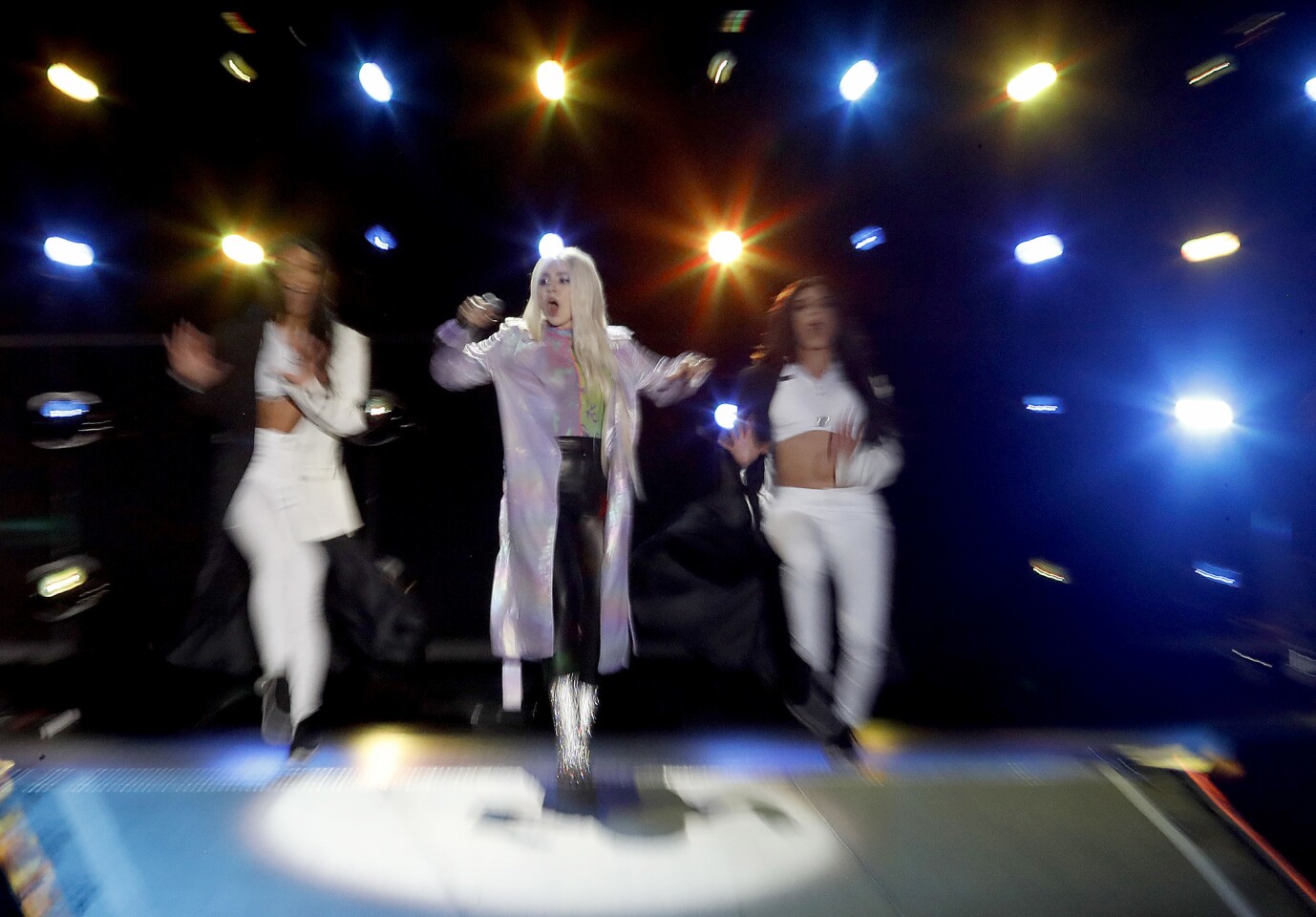 Ava Max
(Luis Sinco/ Los Angles Times)
Ally Brooke
(Luis Sinco/ Los Angles Times)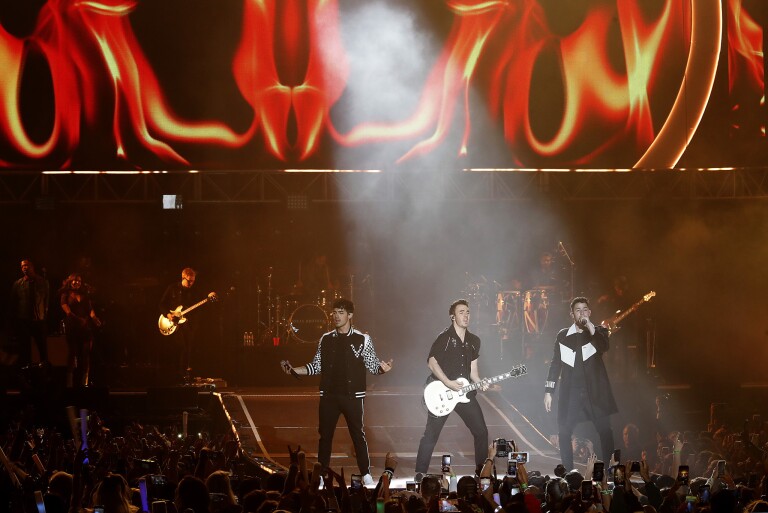 The Jonas Brothers
(Luis Sinco/ Los Angles Times)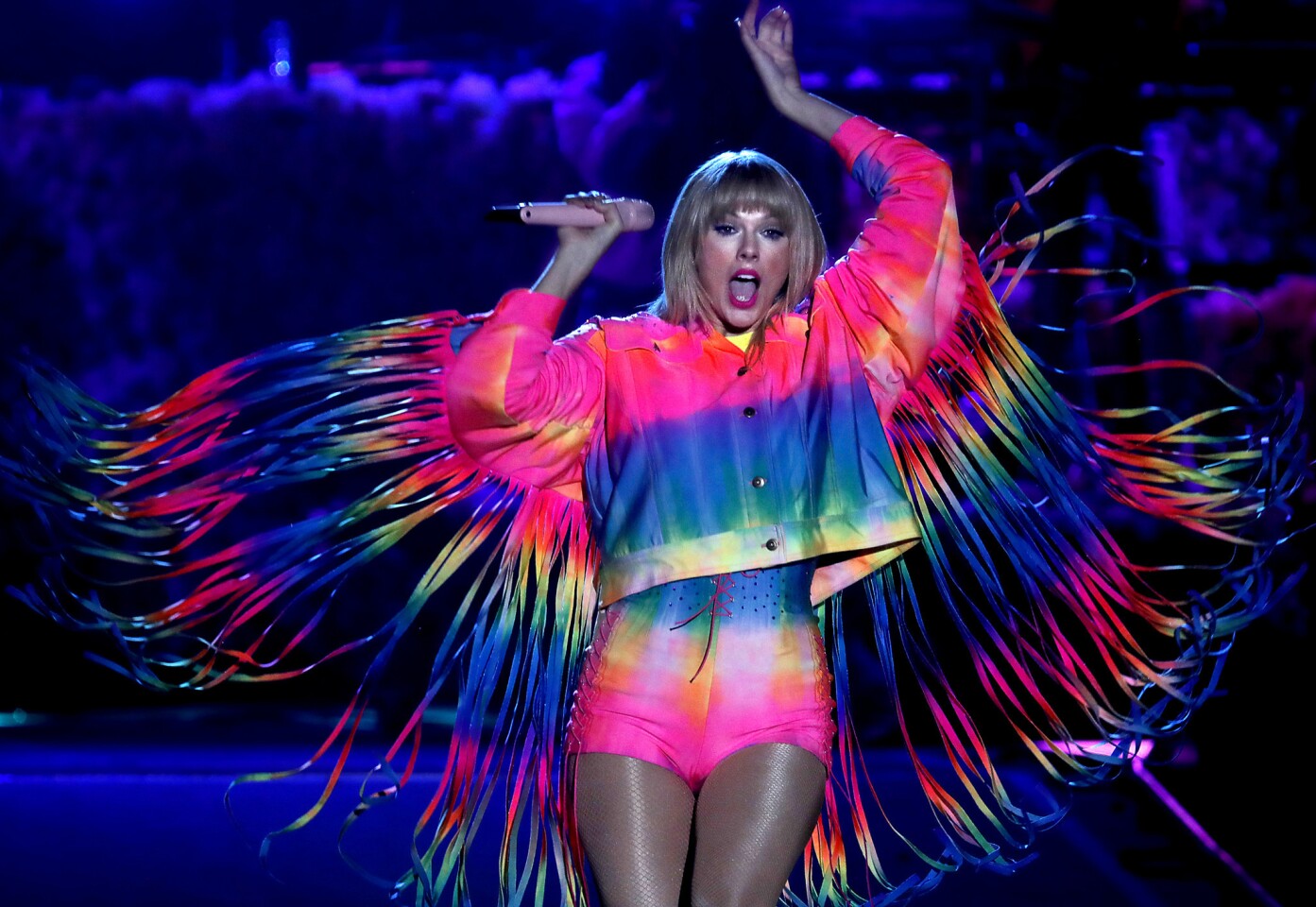 Taylor Swift
(Luis Sinco/ Los Angles Times)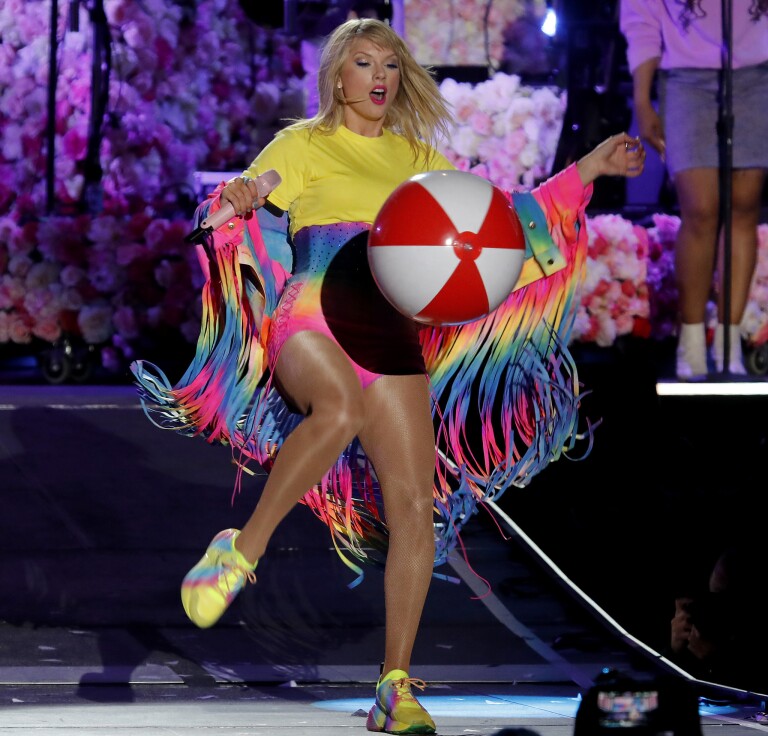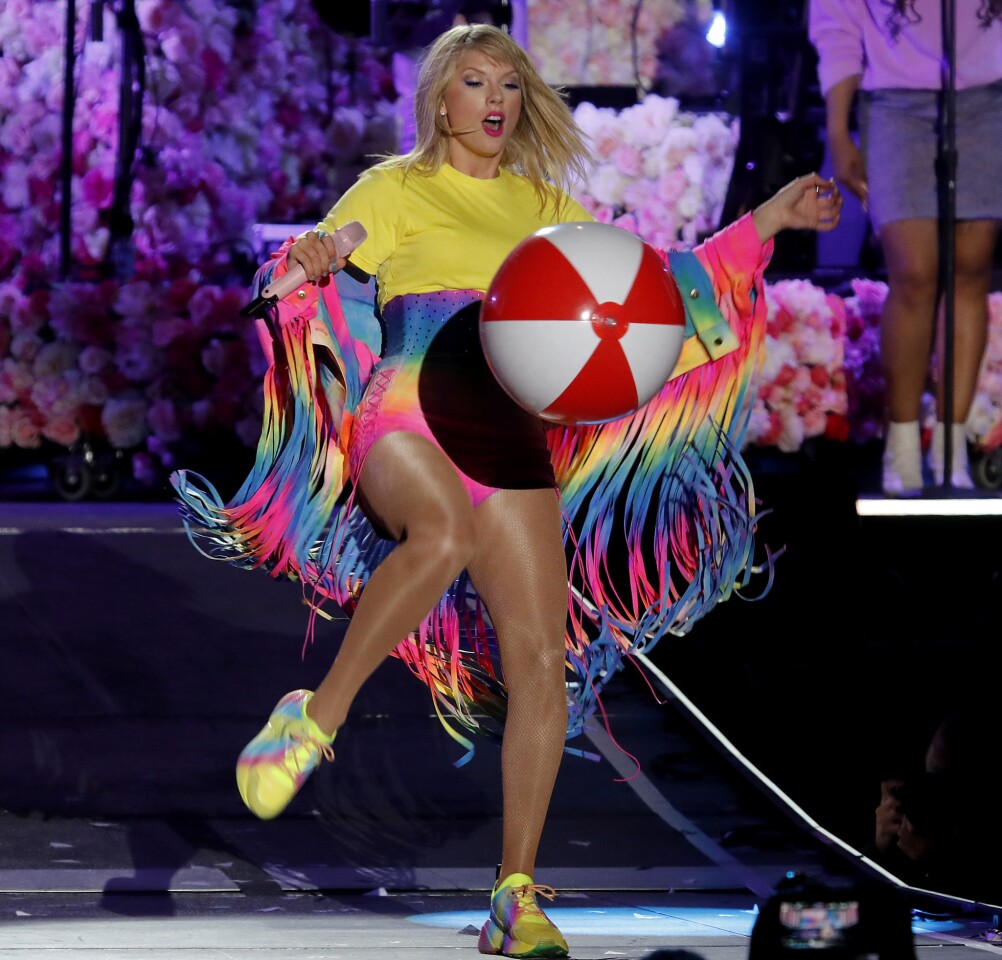 Taylor Swift kicks a beach ball
(Luis Sinco/ Los Angles Times)
And then there were a pair of singers, Ava Max and Fletcher, both doing what they can at the moment to export their success on Spotify to the world of terrestrial radio.
Ava Max, who did her throbbing "Sweet But Psycho," has clearly (and rightly) decided that Lady Gaga's going Hollywood left a spot for a dramatic club queen with wild hair and provocative thoughts on sex and violence.
Fletcher is aiming for a more relatable vibe; her breakout hit "Undrunk" is about wishing you could take back everything you did after leaving the bar. One of the reasons "Undrunk" stood out in the streaming world was because of the singer's unvarnished language, including her use of an F-bomb in the song's first six seconds.
But here Fletcher sang "Undrunk's" sanitized radio edit, and though you couldn't exactly blame her — this was KIIS-FM's house, after all — the change made you think of old-fashioned rules meant to be broken.
Twitter: @mikaelwood
---
The complete guide to home viewing
Get Screen Gab for weekly recommendations, analysis, interviews and irreverent discussion of the TV and streaming movies everyone's talking about.
You may occasionally receive promotional content from the Los Angeles Times.