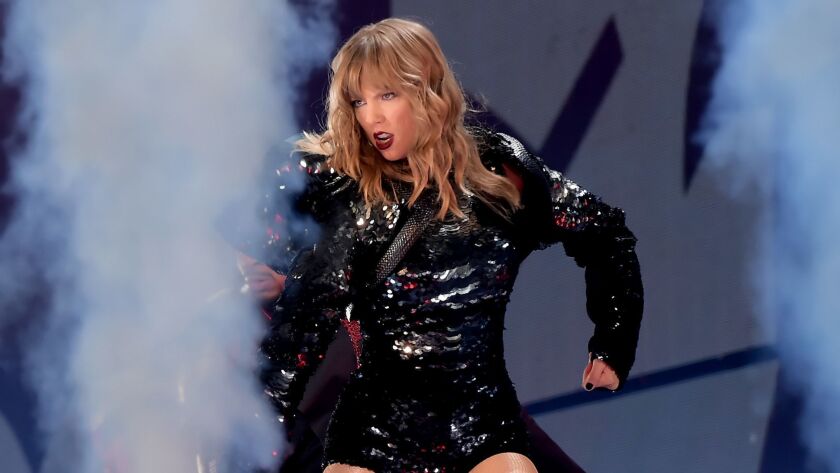 Pop Music Critic
Reporting from Glendale, Arizona —
She may have buried one hatchet. But Taylor Swift is still brandishing another.
Tuesday afternoon, several hours before the pop star launched her "Reputation" tour with a concert at the University of Phoenix Stadium here, Swift posted a short video on Instagram showing a package she'd evidently received from Katy Perry.
Swift and Perry have feuded in recent years — it's hard at this point to recall what they started fighting about — but here was what looked like a letter of apology, along with an actual olive branch, from Perry, which Swift eagerly accepted.
So: Bad blood? Not anymore, folks.
Then Swift got onstage.
In addition to Perry, Swift has battled lately with Kim Kardashian and Kanye West, and the singer's new show made it clear that, where that couple is concerned, peace is not on her mind.
Snake imagery played a central role in the production, a sly embrace of the animal that Kardashian compared Swift to after the singer … oh, like I said, it's hard to remember.
Giant inflatable snakes bobbed around her as she sang "Shake It Off." Video screens depicted a writhing mass of them during "King of My Heart." For "Bad Blood," widely understood to be about Perry, Swift climbed onto a kind of snake-shaped throne, remaking the jab to target her current enemies.
Near the end of the show, the singer explained that the snakes represented her determination to defend herself.
"If someone uses name-calling to bully you on social media — and even if a lot of people jump on board with it — that doesn't have to defeat you," she told the audience, presumably referring to Kardashian and her millions of followers. "It can strengthen you instead."
Yet Swift took plenty of her own opportunities to attack, as in "Look What You Made Me Do," which she performed while standing on an oversized seesaw that brought to life a lyric making fun of the "tilted stage" that West employed on his most recent tour.
All of this was working to extend the idea, first expressed on 2017's "Reputation" album, that America's one-time sweetheart has become a willing warrior in the celebrity death match that passes for pop stardom these days.
Like everyone else on the overheated Internet, she's presenting herself as someone who's taking a stand and won't back down — only her targets are personal rather than political.
Much of the music in Tuesday's two-hour concert was steely and harsh, with throbbing beats and sharp-edged synth textures, while the costumes came in black and gold and sported military accents — a far cry from the dreamy sonics and brightly colored outfits Swift employed a few years ago for her "1989" album and tour.
She started "…Ready for It?" wearing a sparkly hoodie that made her look like a boxer preparing for a bout. In "I Did Something Bad," dancers' bodies littered the stage as she sang about witches being burned. "King of My Heart" featured six shirtless taiko drummers whaling away on instruments bigger than they were.
These moving parts might've obscured a singer with less natural charisma than Swift. But she filled the space with strong vocals and an endless succession of scowls — and also with surprisingly intense moves that suggested this once-reluctant dancer had put in some serious time with a choreographer.
For all her commitment, it's not clear to what extent Swift's fans, and pop listeners in general, want her to play this role.
Though the scale of her success ensured that "Reputation" sold millions of copies, the album made far less of a commercial impact than her earlier, friendlier work; none of its singles are in the top 40 right now, perhaps because they're not as relatable as her old love songs.
And this tour has been dogged for weeks by reports of low ticket sales. (As far as I could tell, she was playing to a full house in Arizona.)
Swift made a point of using the word "stadium" several times in describing her excitement about kicking off the tour, as though she were reminding us of the level at which she's still operating.
But the declarations carried a whiff of desperation, especially when she said she wanted to reward the loyalty of those who'd come out by singing the plaintive "All Too Well," from her 2012 album "Red."
Maybe a sneaking uncertainty regarding her transformation — or about whether people outside Hollywood take sides in these superstar squabbles — is what led Swift to provide just a few glimpses of the old Taylor she'd insisted was dead in a key line from "Reputation." (Here she had Tiffany Haddish deliver that lyric in a comedic video bit — one way to walk back its sentiment without looking like a hypocrite.)
For "Long Live," from 2010, she sat at a piano, setting her armor aside to savor the song's heady romance; "New Year's Day" was equally tender, a portrait of reconciliation she knew we'd be hearing with memories of that Perry apology fresh in our heads.
But then came the concert's finale in the form of a mash-up of two of Swift's most gleefully combative tunes: "We Are Never Ever Getting Back Together" and "This Is Why We Can't Have Nice Things," both of which she performed in front of a mock-up of a sprawling mansion complete with working fountain.
During the latter, assumed by many to be a takedown of West, the mansion began falling apart, brick by brick, as the singer and her dancers splashed in the water in time to the song's lurching pop groove.
Swift was throwing bombs again, and she looked happier than she had all night.
Twitter: @mikaelwood
---