Taylor Swift's talent remains intact on 'Reputation,' her most focused, most cohesive album yet
Diary entries, as a rule, don't constitute art. Songs do.
That's what drew me in to Taylor Swift and her music upon the release of her 2006 debut album, "Taylor Swift," and that's what has kept me closely tracking the remarkable arc of her career since then, up to and including today's release of her sixth album, "Reputation."
From the beginning, Swift — then a precocious, uncommonly smart, gifted and ambitious teenager — has written deeply personal songs that often sound like they're ripped directly from the pages of a diary.
That hallmark of her songwriting has nurtured an especially close bond between Swift and her fans, along with her savvy use of social media from the outset. It's also given her detractors no shortage of ammunition with which to attack her for everything from a new hairdo to her choices of dates to the logistics of selling tickets to her concerts.
The double-edged sword of success — and the fame and fortune that have accompanied it to stratospheric levels for her — inform many of the songs on "Reputation," possibly the most anticipated album of the always-intensive fall season.
As one of a small handful of music writers offered an early listen to the new collection, I'll venture to call it her most focused, most cohesive album yet.
In large part that reflects her dramatic narrowing of collaborators compared with her previous two outings: Nine of the 15 new songs written and produced for the most part by Swift with superstar producers Max Martin and Shellback, the other six in tandem with indie band Bleachers frontman Jack Antonoff.
They conjure a sense of foreboding to illuminate her songs of betrayal, heartbreak and disappointment. There also are plenty of bright spots celebrating new love and new maturity in her outlook, most framed in dance-floor-conscious beats and employing inventive sonic textures that expand on or outright defy conventions of contemporary pop-R&B music production.
I'd also say that in many ways "Reputation" echoes one of Bob Dylan's greatest lines of the last two decades: "I used to care…but things have changed."
'Reputation' echoes one of Bob Dylan's greatest lines of the last two decades: 'I used to care…but things have changed.'
— -- Randy Lewis
I say that based on many hours I've spent with her since first traveling to Nashville to interview her early in 2007, not long after her debut album put her on the map in country music circles.
Case in point: "Reputation" is the first album for which she's given no interviews in advance. (I had sat down with her for extended talks about each of her previous four albums, "1989," "Red," "Speak Now" and "Fearless.")
Additionally, only a small handful of music critics were invited to hear this album in advance (The Times' pop music critic Mikael Wood was not).
She did once again hold several playback sessions for fans in recent months, as she did when "1989" was being readied for release three years ago. But no reporters were allowed to look in on those as a few did for "1989."
Things have changed, indeed.
What struck me initially about Swift's music was the refreshing viewpoint she brought to her songs, which sounded, for a change, like what real teenagers might think, feel and say.
That was a big part of what prompted me to single her out at the end of 2006 as one of the artists most worth watching in the year ahead, and to travel to Nashville a few months later to interview her about her ambitions.
So many other young pop and country acts spent most of their time attempting to pass themselves off as preternaturally mature, often singing of experiences well beyond their years.
That initially sparked my respect for her as a young artist—not just a pretty face and perky personality who'd been handed a batch of songs written by others and instructed by her handlers on what to say, how to dress and where to stand.
Clearly that resonated with a lot of listeners as well, and launched her on a meteoric rise: first in country music, and then to her place today as arguably the biggest pop star on the planet.
Along the way she has held tight to the innate understanding of social media platforms she expressed to me in 2008, shortly before her sophomore album, "Fearless," was released.
"Blogging has been really fun because I like to let people into my life as much as possible," she said back when MySpace was still the dominant social media outlet for most musicians, well before Twitter, Facebook and Instagram and, her new favorite outlet, Tumblr, took over. "I think it's important for the people who keep you going and support you and have your back out there in the world to know that you're thinking of them all the time."
She quickly learned, however, that it's not a big leap from having someone's back to stabbing it, a harsh reality Swift has faced through intensely public Twitter feuds in recent years with Katy Perry, Nicki Minaj, Kanye West and Kim Kardashian, among others.
Twitter, Instagram, Facebook and other social media platforms magnify vulnerability and hypersensitivity with snarky comments and images, making adolescence and young adulthood seem more perilous than ever.
She acknowledged the vipers in the room directly on her third album, "Speak Now," with "Mean," a song in which she transformed one blogger's nasty comments about her into a hit song. That's one tool with which she's avoided the "Don't get mad; get even" path of revenge, instead drawing illumination and creative inspiration out of the many barbs tossed her way.
Yet the more famous she's become, and the more followers she's cultivated, the more the world at large apparently feels entitled to pass judgment not only on her art but on her life, topics she takes on in several of the new songs on "Reputation."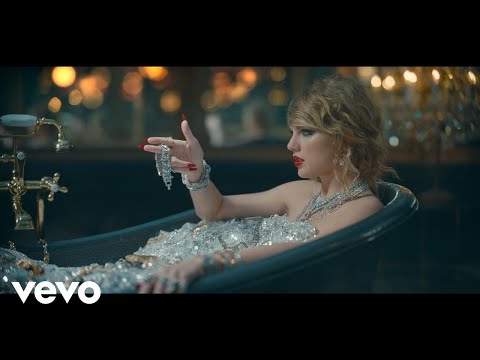 That's a fact of contemporary life Swift recognizes in "This Is Why We Can't Have Nice Things." In fact, it may well become an anthem for the Twitter generation, for whom every fleeting thought seems worthy of sharing with the world at large: "Did you think I wouldn't hear all the things you said about me? And here's to you… 'cause forgiveness is a nice thing to do/ (laughter) I can't even say it with straight face!"
I'll go as far as to suggest that the whole "Reputation" theme of the album isn't solely about Taylor Swift and her place in the world, but examines the extent to which most of us now live out our lives in public thanks to the omnipresence of social media, and the multiplicity of ways that plays out.
Indeed, in each of two elaborate 72-page magazines she has created for an exclusive deluxe edition of the album (available in the U.S. at Target stores), she includes an open letter noting, "This is the first generation that will be able to look back on their entire life story documented in pictures on the internet, and together we will all discover the after-effects of that."
Another facet of Swift's career that's impressed me is the way she has respected her place as a role model for young women in general, and other female musicians in particular.
Among the many ways that's manifested are her personal donation of $500,000 to disaster relief efforts when Nashville, and much of Tennessee, was flooded in 2010 — before she reached her 21st birthday. She ponied up an additional $1 million last year for flood victims in Louisiana after launching her "1989" tour there.
She wielded her industry clout to politely but firmly chastise Apple for initially placing some of the financial burden of a free trial period for its new streaming service in 2015 on songwriters with a plan that would have withheld their royalty payments — an idea the tech giant abandoned in response to her open letter.
Even when she briefly succumbed to the temptation to respond to a perceived diss from Nicki Minaj over yet another VMA Awards show in 2015, Swift quickly apologized and held out an olive branch rather than continuing to ratchet up a war of tweets.
As recently as August, she turned the tables on a lawsuit filed against her by a Denver radio host who claimed he was unfairly dismissed from his job after she complained that he had groped her during a post-concert meet-and-greet. She filed a countersuit in which she asked for, and won, a token $1 jury award after she took to the witness stand to speak out not only in her own defense, but on behalf of other sexual harassment victims.
Yet bloggers galore still seem determined to take her down for any number of issues, lately many of them revolving around the way she has set the stage for today's release of "Reputation."
A plan to create an incentive that would give priority for buying concert tickets to fans who most enthusiastically click away to watch her latest videos or place advance orders for the album was blasted as exploitative.
She's also come under fire for not being vocal enough about alt-right demonstrators who have attempted to co-opt her music into endorsements of their positions, reminiscent of Charles Manson's bizarre misinterpretation nearly 50 years ago of the Beatles' "Helter Skelter," which he insisted was a coded message to him to start a race war.
Then there was the much publicized dissing of her last year from Kanye West in his song "Famous" in which he rapped that she owed him sex because he made her famous by snatching the spotlight from her at the infamous MTV Video Music Awards in 2009 — despite the fact she had scored multiple hit singles and sold millions of albums well before that incident.
She kept a relatively low profile last year when West and his wife, Kim Kardashian, spoke and tweeted ad infinitum that she had given him her consent about the way he portrayed her in "Famous," offering only a terse denial that that had been the case.
When she released "Look What You Made Me Do" as the leadoff single from "Reputation," she took flak in many quarters for a perceived belated response and for keeping a feud going long past its natural shelf life.
But based on how I've watched her process other life events, what I hear in the song is a woman who recognizes the hurt an ugly life situation has thrust upon her, and who owns the consequences of how it that has played out for her, emotionally and psychologically.
"I don't trust nobody and nobody trusts me," is how the sadder-but-wiser Swift portrays herself in this scenario. "Look What You Made Me Do" isn't an exercise in the blame game; it's an acknowledgment of loss over defenses one has been forced to erect out of self-preservation.
In a broader sense, the payoff I'm after in "Reputation" has nothing to do with any shade she's throwing at West and Kardashian, or whether in other songs she's leaving any clues on her breakups with Tom Hiddleston or Calvin Harris.
Many eyes, of course, also will be focused on whether "Reputation" extends her streak of albums that have sold more than 1 million copies in the first week. She's the only artist to do so with three consecutive releases.
The only thing that matters in the long run is how she's evolving as a songwriter, a singer and a record producer.
Will anyone care in 10, 20 or 50 years — heck, in five, even — who the "him" is in "Getaway Car," when she confesses, "I wanted to leave him / I needed a reason"? What's much more likely to stand the test of time is the whip-smart form the song's expression of romantic betrayal delivers: "It was the best of times / The worst of crimes / The ties were black / the lies were white / In shades of gray and candlelight."
Her commitment to growth as an artist is something I sensed more than a decade ago, when we first met in the bunker-like basement of her then-fledgling record company, Big Machine.
And it's still why I fully expect to be as interested at what Swift writes at 37 and 47 as what she's delivered at 27. In my book, that's the only reputation that matters.
See the most-read stories in Entertainment this hour »
Follow @RandyLewis2 on Twitter.com
For Classic Rock coverage, join us on Facebook
ALSO
Is Taylor Swift trying to turn off her listeners?
New Taylor Swift song makes us wonder: What happened to the new, cold-blooded Swift?
Review: Bruno Mars wasn't perfect at the Forum — which may have been his point
Review: Katy Perry sheds the 'purposeful pop' thesis for a much-needed dose of optimism
Get our L.A. Goes Out newsletter, with the week's best events, to help you explore and experience our city.
You may occasionally receive promotional content from the Los Angeles Times.