Review: Bruno Mars wasn't perfect at the Forum — which may have been his point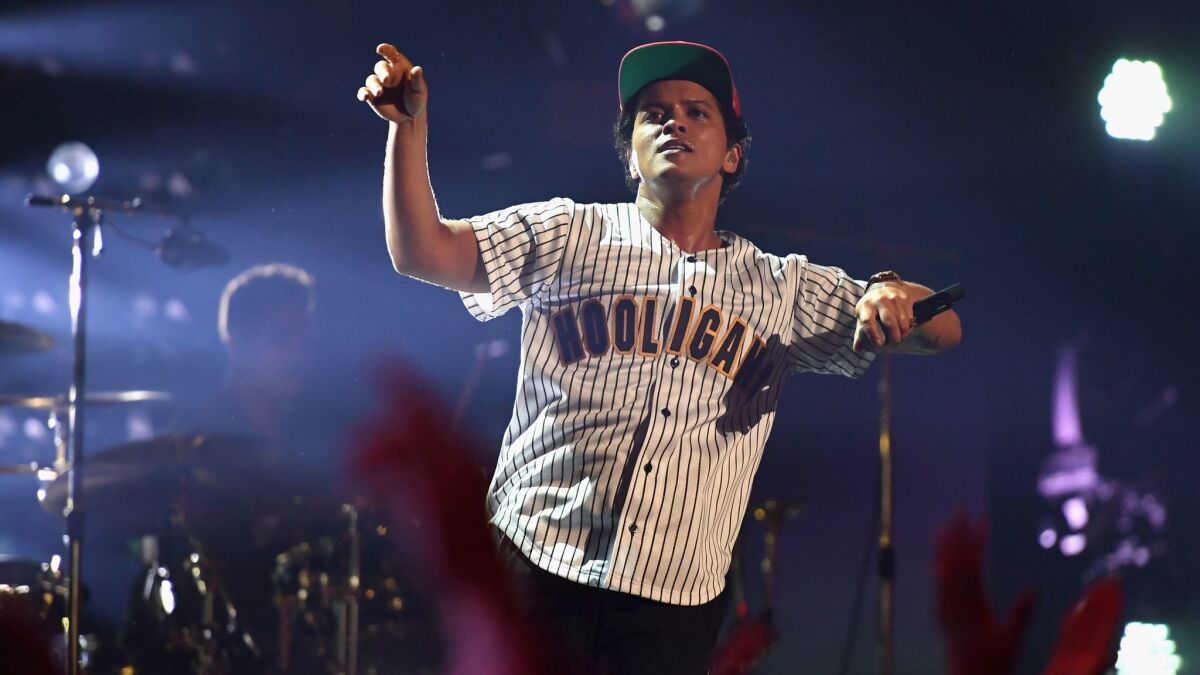 Pop Music Critic
Nobody opens a concert with a song called "Finesse" unless he's confident he can deliver proof of concept.
And, sure enough, that's what Bruno Mars did Tuesday night at the Forum in Inglewood, where the pop-soul superstar played the first of four gigs behind his most recent album, last year's double-platinum "24K Magic."
Leading the expert live band he's taken twice to the Super Bowl, Mars sang and danced with seemingly effortless precision as he performed nearly all of "24K Magic" along with some of the earlier hits that helped establish him as one of music's canniest mimics.
"That was just a warm-up," he said after "Finesse" — which was probably true for a group of players that typically starts out where many hope to end up.
Yet Tuesday's sold-out concert also had some less polished moments amid the high-grade razzle-dazzle, as when a breakneck rendition of "Marry You" threatened to come off the rails or when Mars' mates appeared caught off-guard by his moves during "Uptown Funk."
Perhaps the cracks were unintended. After all, this stay at the Forum, which continues through Saturday, concludes the current leg of a lengthy world tour that's been running since March.
And if Mars isn't exhausted, he may be under the weather: Last week he canceled a date in Denver thanks to a sinus infection.
But the touch of scrappiness didn't feel like an accident; it felt more purposeful — a kind of loosening of the bolts by a guy who's gotten so good onstage that he's begun looking for a thrill beyond perfection.
You could hear Mars reaching for that next level on "24K Magic," in a song like "Versace on the Floor," which comes so close to its historical inspiration (in this case the tender mid-'80s R&B balladry of New Edition) that it transcends mere nostalgia.
Instead of triggering memories of "Lost in Love," in other words, the song summons the same powerful emotions New Edition was summoning; its technical facility is a means, not an end.
At the Forum — where Mars got a big reaction with the line from "24K Magic's" title track about wearing "Inglewood's finest shoes" — the singer employed that musicianly know-how to tweak songs his fans have heard dozens or hundreds of times.
In "Versace on the Floor," he sang over new chords that gave the music a melancholy tug, while Mars and his horn section played with the rhythm and phrasing in "Treasure."
"Perm" received a quick injection of Outkast's "The Way You Move"; "Gorilla" worked up to a pretty piano outro that recalled "Layla" by Derek and the Dominos.
Were these ostensibly improvised bits actually rehearsed? No doubt about it.
During "Calling All My Lovelies," Mars did an extended gag related to voicemail that relied on the very careful timing of someone stationed at the mixing board.
Yet the impression Mars gave was of an artist eager to put some wrinkles into the gleaming surfaces for which he's known. (Speaking of gleaming surfaces, Mars didn't allow The Times to photograph Tuesday's show, which took place on a stage tricked out with nifty wraparound lights.)
Near the end he sang two of his signature ballads, "When I Was Your Man" and "Just the Way You Are," and in both he shook his usual vocal control to get at something slightly wilder.
"I used to live right down the street," he said before the latter, adding that he'd often pass by the Forum and tell himself that one day he'd sell the place out.
Now that he'd done it, it was as though he wanted to keep pushing.
Twitter: @mikaelwood
ALSO
Can the music world learn from Hollywood?
Why N.E.R.D.'s return felt like a cynical bait-and-switch
Country music used to tackle the issues. The CMA Awards can't shy away from them now
Get our L.A. Goes Out newsletter, with the week's best events, to help you explore and experience our city.
You may occasionally receive promotional content from the Los Angeles Times.