Why Tenacious D took its filthy new project to the wilds of YouTube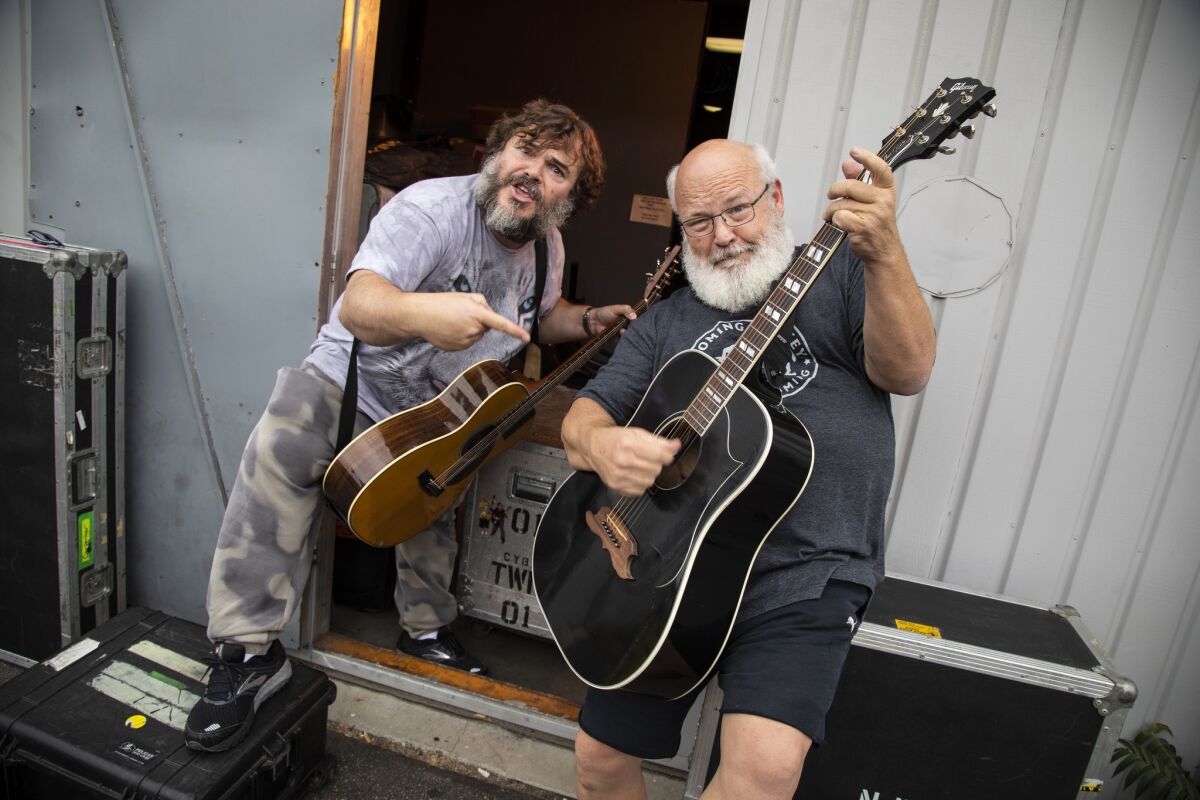 Pop Music Critic
Jack Black and Kyle Gass had been anticipating a slam dunk.
When the members of Tenacious D began pitching around their latest project — an animated series in which the comedy-rock duo would save the world (or what's left of it) following the detonation of an atomic bomb — they were sure that HBO and Netflix and every other front-line content provider would be forced to battle it out for ownership of such a brilliant concept.
"We were like, 'Let the bidding war commence!'" Black recalled the other day, slipping into the booming, mock-heroic voice that serves as one of his trademarks as a movie star.
But that's not quite what happened.
Netflix passed, according to Black, as did HBO, where Tenacious D developed a cult fan base in the late 1990s with a handful of short films that ran after episodes of "Mr. Show." Even Adult Swim said no, telling Black and Gass the idea sounded like a retread.
So instead they turned to — where else? — YouTube, which last week premiered the first 10-minute episode of what became the six-part "Post-Apocalypto." Hand-drawn by Black and voiced by him and Gass, the series will roll out on a weekly basis until Nov. 2, when Tenacious D is set to release a new album of the same name, its first since "Rize of the Fenix" in 2012.
On Saturday in San Bernardino, the band will provide a taste of the fresh material at Cal Jam, the second annual all-day rock festival masterminded by Foo Fighters' Dave Grohl (who plays drums on "Post-Apocalypto").
"You know what? I'm glad nobody put it on their stupid network," Black insisted as he sat next to Gass on a lumpy sofa at Tenacious D's rehearsal space in North Hollywood. The two had just finished practicing and were eating lunch before heading to Guitar Center to buy new instruments for Saturday's gig. "We wanted to put it out for free. It's for the people."
"Are we trailblazers? Yes," Gass said between bites of salad. "I mean, we can't say that.
"But I guess we just did."
The band mates were joking around, of course. For Tenacious D, pretty much everything is a joke except for the music itself, which has always reflected Black's and Gass' deep knowledge of (and abiding love for) the tropes of old-fashioned hard rock and heavy metal.
But in 2018 it's not especially surprising that a mainstream media company would turn down a show built around songs like Tenacious D's — even when sung by a bankable Hollywood veteran who helped push last year's "Jumanji" reboot to worldwide box-office sales of nearly $1 billion.
Rock, after all, is more or less missing from pop's center right now — one reason that Cal Jam has quickly become something of a beacon for survivors like Iggy Pop and Garbage, both of whom are on this year's bill along with Tenacious D and Foo Fighters.
And yet there's some truth to Black's claim that "Post-Apocalypto" might work better in the wilds of YouTube than it would have in a more tightly controlled venue. The humor is filthy, for one thing, with countless F-bombs and many, many crude drawings of penises.
It also goes in mercilessly on the Trump family in ways we'll leave unspecified so as to avoid spoiling episodes that haven't posted yet. (Suffice it to say that Donald Trump Jr. plays a pivotal role in Earth's destruction.)
Asked if Tenacious D had a substantial red-state following that the band might be worried about alienating, Gass nodded.
"We're gonna lose a lot of Nazi and KKK fans," he deadpanned. Then, adopting a seriously-though tone, he acknowledged that he'd paused before wading into politics.
"You're just immediately putting yourself up for the crazies, which I didn't really want to do," said the guitarist and actor, who's had roles on "Drunk History" and "Brooklyn Nine-Nine."
"But the times kind of demand it. I'm a cable-news junkie, but watching it from your couch is not gonna get it done. I think you have to get in there."
As for the "Post-Apocalypto" album, which Sony's Columbia Records will release, the men said it will include several tracks not featured in the animated series as well as some "narrative chunks" to give the music some context minus the visuals.
Are they surprised they're still signed to the major label that put out their 2001 debut?
"We make them lots of money," Gass joked. "Why would they get rid of us? Actually, our deal is so old that it's become a really good deal," he went on, alluding to the degradation of the recorded-music business over the last decade and a half.
"We're grandfathered in."
Indeed, Black said he and Gass have every intention of fulfilling Tenacious D's now-outdated seven-album deal.
"This is our fourth," he said. "So if we go at our current pace, which is one every six years …"
"I'll be 82," Gass cut in.
The two did the math and discovered that Gass would in fact be 76.
"'Seventy-Six Trombones'!" he shouted. "That's the song we can do."
Beyond Cal Jam, Tenacious D has concerts scheduled for November and December. But Black said the band had to delay plans for an elaborate 2019 tour thanks to his commitment to shoot "Jumanji 2."
Surely Black's other career has impeded Tenacious D's progress before.
"Never this egregiously," Black said. "This is just destroying the D's hopes and dreams.
"Maybe I'll pass," he said of the film. "I've never felt this amount of pressure, though, to do a movie without having even read the script. It's insane.
"But, dude, if I did pass, Josh Gad would be in there so fast, just eating my lunch."
"You know, this might be good for the goose," Gass piped up, joining in on the bit. "Third movie, what are you gonna do?
"'Juman-D,'" Gass said, pronouncing the title dramatically. "We're playing video golf and we get sucked into the game and have to find our way out!"
"I don't think it's a great idea," Black told him. "'Juman-D'? It's just confusing. But here's the thing …"
"You're saying a small role in this one?" Gass asked, elbowing his vastly more famous friend.
"You know that's always the director's call," Black replied in an exaggerated schmoozer's voice. "But I'm gonna be pulling for you, bro."
"I guess I'll be sitting at home," Gass said. "Just waiting."
Twitter: @mikaelwood
Get our L.A. Goes Out newsletter, with the week's best events, to help you explore and experience our city.
You may occasionally receive promotional content from the Los Angeles Times.