TLC's 'crazy, sexy, cool' comeback is just the beginning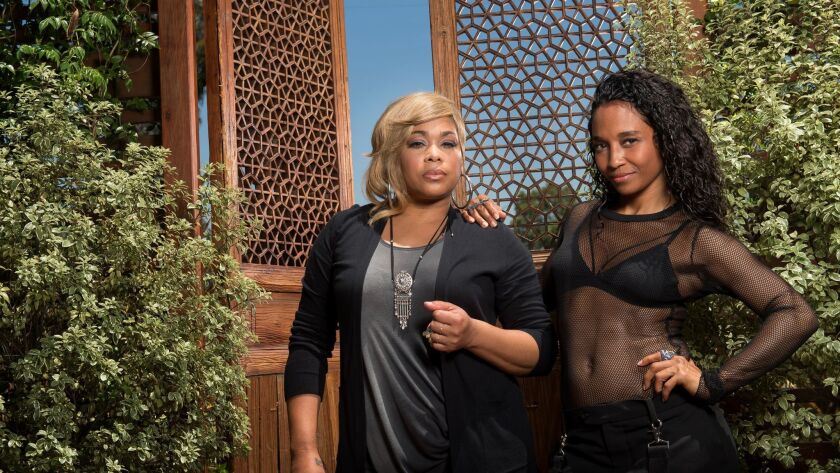 TLC's 'crazy, sexy, cool' comeback is just the beginning
Having provided the blueprint for girl groups throughout the '90s and the early 2000s, TLC's brand of slinky, hip-hop-infused R&B-pop can be traced through a current generation of R&B talents, including Tinashe, Sevyn Streeter, Kehlani and Ella Mai.
More than 25 years after its debut, TLC's influence can be witnessed in Rihanna's sexually liberated swagger, Beyoncé's feminist anthems and Lady Gaga's flamboyance. Even one of the year's biggest singles, Ed Sheeran's "Shape of You," owes a debt to TLC's snappy kiss-off "No Scrubs."
And TLC's lasting influence was evident when the group's surviving members, Tionne "T-Boz" Watkins and Rozonda "Chilli" Thomas, made their way through a quiet Studio City restaurant on a recent afternoon and a fan stopped them to profess his gratitude.
"Thank you for making my childhood so cool. Your music still inspires me," the man in his 20s said nervously, as Watkins and Thomas embraced him.
Yet in the days before the recent release of its self-titled album — the group's first since losing its core, the flamboyant Lisa "Left Eye" Lopes, in a 2002 accident — Watkins and Thomas were on edge.
"Coming out 15 years later with a studio album and having had so many sales on previous albums, people expect so much. It's a lot of pressure," Watkins, 47, confessed between bites of vegan nachos. "You just want them to like it — and accept where you are in life right then."
But the arrival of "TLC" is bittersweet.
Though it's the group's first independent release — following a Kickstarter campaign that was the crowdfunding site's fastest-funded project for a pop act — it is billed as TLC's final recording.
"It was kinda like, 'Let's do it one more time,'" Thomas, 46, explained. "But this isn't the last of TLC."
Indeed, the album's release late last month comes at a time when the duo is busier than ever with a summer headlining North American tour — including a date at the Greek Theatre on Friday — before venturing to Europe for the first time.
We have been really blessed. Its been 20-plus years and we've never broken up. We're never breaking up.

— TLC's Rozonda "Chilli" Thomas
Discovered in 1991 by Perri "Pebbles" Reid, TLC helped put Atlanta label LaFace — founded by famed R&B producers Antonio "L.A." Reid (Perri Reid's then-husband) and Kenneth "Babyface" Edmonds — on the map.
Vibrant videos and eye-popping tomboy fashions turned heads, but it was the group's knack for balancing political and social messaging (they famously promoted safe sex by tacking condoms to their clothes) with feisty, new jack swing tunes about black womanhood that really stuck.
But as the hits poured in, so did the drama.
The trio continuously deflected breakup rumors, Watkins was diagnosed with sickle cell anemia and Lopes torched her boyfriend's mansion and went to rehab. Label battles erupted, and TLC went bankrupt within a year of its breakout album, "CrazySexyCool."
The act came back strong with 1999's "Fanmail," but work on the next album was halted when Lopes was killed in a car accident doing missionary work in Honduras. TLC's last album, 2002's "3D," was completed using vocals from Lopes' limited-released solo effort, "Supernova."
The duo last made a comeback in 2013.
Then, a guest appearance on J. Cole's "Crooked Smile" netted TLC its first major hit in more than a dozen years, and the group produced a VH1 biopic, "CrazySexyCool: The TLC Story," that became the highest-rated film in the network's history.
"We have been really blessed," Thomas said. "Its been 20-plus years, and we've never broken up. We're never breaking up."
It was the excitement over the VH1 film that led Reid to sign the group to a single deal with Epic Records. The deal spawned "Meant to Be," its first single since 2003, but quickly soured and left TLC on its own again.
TLC was unsure if another label deal was in its future.
The group's longtime manager, Bill Diggins, tried to get Watkins and Thomas on board with launching a Kickstarter campaign, but they said no: "We didn't understand. We didn't want to seem like we were asking for money," Thomas said.
Diggins told them it would afford them what their recording career previously lacked: freedom.
"To record the way we want without the interruption from a label and extra opinions? We were really excited about that," Thomas said.
In early 2015, Watkins and Thomas launched a campaign to raise $150,000 in 30 days — they did it in about three — and ultimately collected more than $430,000, including donations from fans including New Kids on the Block and Katy Perry.
Executive produced by industry veteran Ron Fair, "TLC" conjures some of the group's old magic.
Songs like "Perfect Girls" and "Haters" offer messages of self-acceptance, and Watkins and Thomas show they haven't lost any of their "crazy, sexy, cool" spirit with sultry grooves like "Scandalous" and the breezy, throwback jam "Way Back."
It might be TLC's last new album, but the group hopes to do a remix album, is considering anniversary reissues and would like to play festivals. Additionally, the two are aggressively pursuing a residency in Las Vegas.
"We're blessed to have a body of music, so why would you not live off that and take it a step further?" Watkins said. "We've put in all this work for 25 years — it's time to work smarter, not harder."
See the most-read stories in Entertainment this hour »
For more music news follow me on Twitter:@GerrickKennedy
---
The complete guide to home viewing
Get Screen Gab for weekly recommendations, analysis, interviews and irreverent discussion of the TV and streaming movies everyone's talking about.
You may occasionally receive promotional content from the Los Angeles Times.