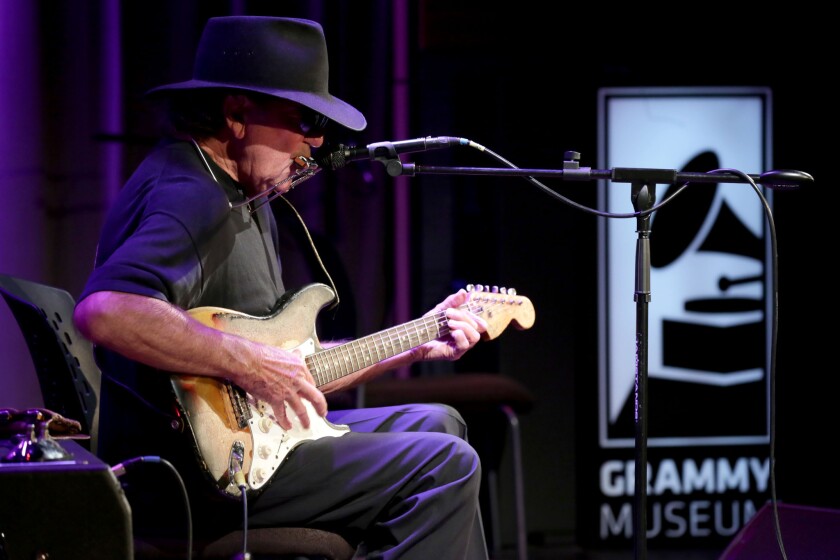 Singer, songwriter and mystical mood conjurer Tony Joe White brought his swamp-rooted music and mind-set to the Grammy Museum on Monday for a Q&A session and performance that ultimately turned into one of the rowdier events staged in the often sedate environs of the museum's Clive Davis Theater.
White was there to discuss the recent release of his album "Rain Crow" with interviewer Scott Goldman, vice president of the Recording Academy's MusiCares Foundation.
"Rain Crow" is another strong entry in the recent string of albums White has recorded at his home studio in Nashville with his son, Jody, as his producer, engineer and collaborator.
White told the audience that he'd had one nearly inseparable companion across more than half a century of songwriting.
"I would say 98% of all songs through the years I've written by a fire," said White, who had celebrated his 73rd birthday two days earlier. "I take a guitar and a bottle of wine or water down and light up a fire and wait to see what happens."
See the most-read stories in Entertainment this hour »
Asked whether he often reworks, re-records or refines songs once he's initially recorded them, White offered a characteristically concise "No," saying he nearly always takes just one or two passes at a song in the studio and then moves on to the next one.
He's returned time and again to themes and moods drawn from life growing up in rural Louisiana, colorful situations and characters that first came out in the tunes he revealed were among his first attempts at songwriting: his own 1969 hit "Polk Salad Annie" and "Rainy Night in Georgia," which R&B-soul singer Brook Benton charted in 1970.
White related several enlightening anecdotes about his life, including one about the first time he met Tina Turner when she had chosen to record four of his songs, including the title track, for her 1989 album "Foreign Affair."
"I walked into her dressing room, and she was putting on her makeup, and she looked into the mirror and just started laughing," White said, with a deadpan delivery. "It went on for quite a long time. Finally she said, 'And all this time, I thought you were black!' "
Following the hour-long Q&A session, White and drummer Fleetwood Cadillac (a.k.a. Bryan Owings) performed a handful of songs, including three from "Rain Crow" and the evening's climax, "Polk Salad Annie," for which White cranked his Fender Stratocaster through his Fender Super Reverb amp, which poured forth distortion-drenched chords, fills and leads from White's finger-picked accompaniment.
It was a sterling demonstration of the guiding principle of his life in songwriting that he had outlined just a few minutes earlier when he said, "It has to be real, man. It has to be real, or don't even take the guitar out of the case."
randy.lewis@latimes.com
Follow @RandyLewis2 on Twitter.com
For Classic Rock coverage, join us on Facebook
MORE FROM ENTERTAINMENT
Fox News may have just opened itself up to more lawsuits with Roger Ailes' resignation
'The Late Show's' Stephen Colbert tries (and tries and tries) to storm the stage at the DNC
Toronto International Film Festival will spotlight female directors and people of color at this year's gathering
---