Tropicália in its second year shows the enduring reach of Latin pop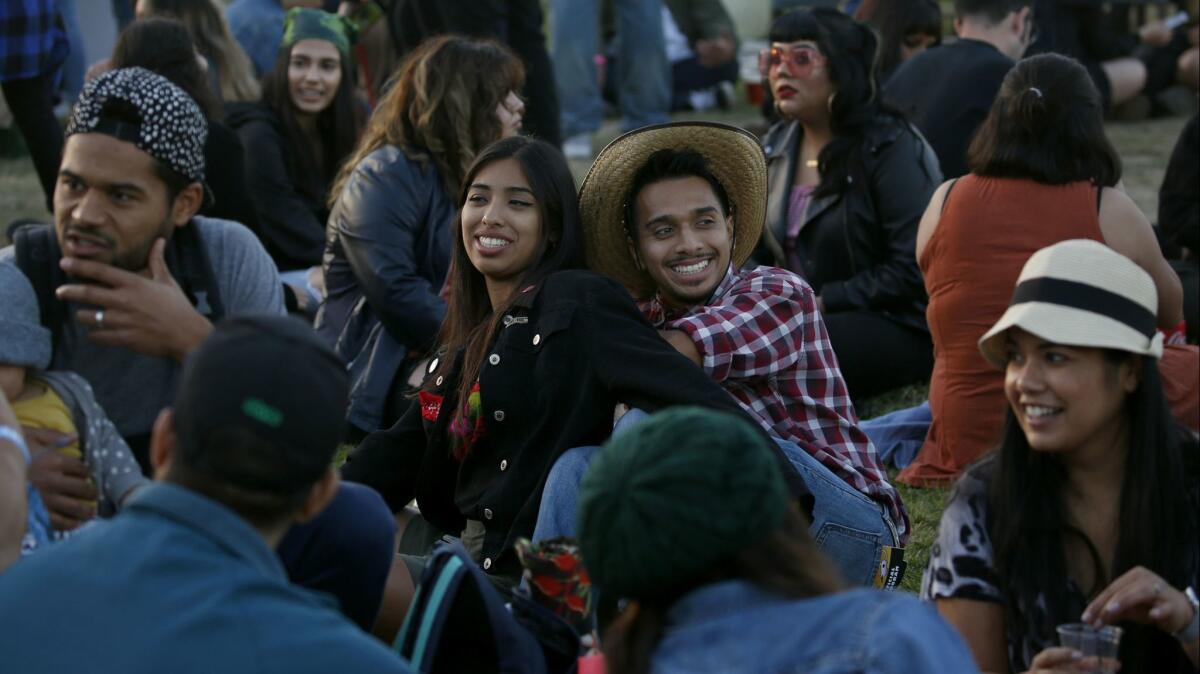 Aside from being notably feisty in the media, Morrissey and Cardi B don't appear to have too much in common. One is the vegan crown prince of miserableism in rock, the other is arguably America's most entertaining new rapper.
But there is one other crucial thing they share: they are both beloved by a huge swath of young, savvy Latin music fans in Southern California, who never drew lines between sock-hop oldies, hipster rock and hard-kicking club music.
That's the crowd that local promoter Goldenvoice is after with its Tropicália Music & Taco Fest, which this weekend hits the Queen Mary grounds in Long Beach for its second year. It's based less around a genre than a cultural framework: the bilingual, infinitely malleable musical experience growing up here, where the Ronettes, Mazzy Star and Kali Uchis are equal staples on long drives around the Southland.
"[Tropicália] was spawned from the love of going to Mexican nightclubs, backyard parties and all-ages punk shows at community centers," said the fest's lead talent buyer, Jeff Shuman, who also oversees the Observatory in Santa Ana. "It's La Sonora Dinamita blasting at midnight at the family party next door. It's Mazzy Star's 'Fade Into You' in a smoke-filled room in your teenage years. It's Cardi B bumping in a random car on the streets of your neighborhood."
And as Goldenvoice plots the future of its festivals in a post-FYF world, it may prove to be an especially important model.
At its debut last year, Tropicália turned ears for tapping into a sensibility unlike any other in American musical life. The L.A.-area fans they were after had a sense of history and omnivorousness in their tastes that led down some fascinating paths. Art Laboe on drives to school jostling with a cool older sister's 4AD Records goth albums; Nina Sky and Latin trap for late nights partying, and Los Angeles Azules for neighborhood barbecues the morning after.
L.A. has obviously had plenty of Latin music events since, well, the city's inception. But until Tropicália, it didn't quite have one that captured this genre-crossing, internet-saturated and yet history-steeped perspective. It's one that feels totally natural to anyone who has lived here, but might still be a little hard to explain elsewhere.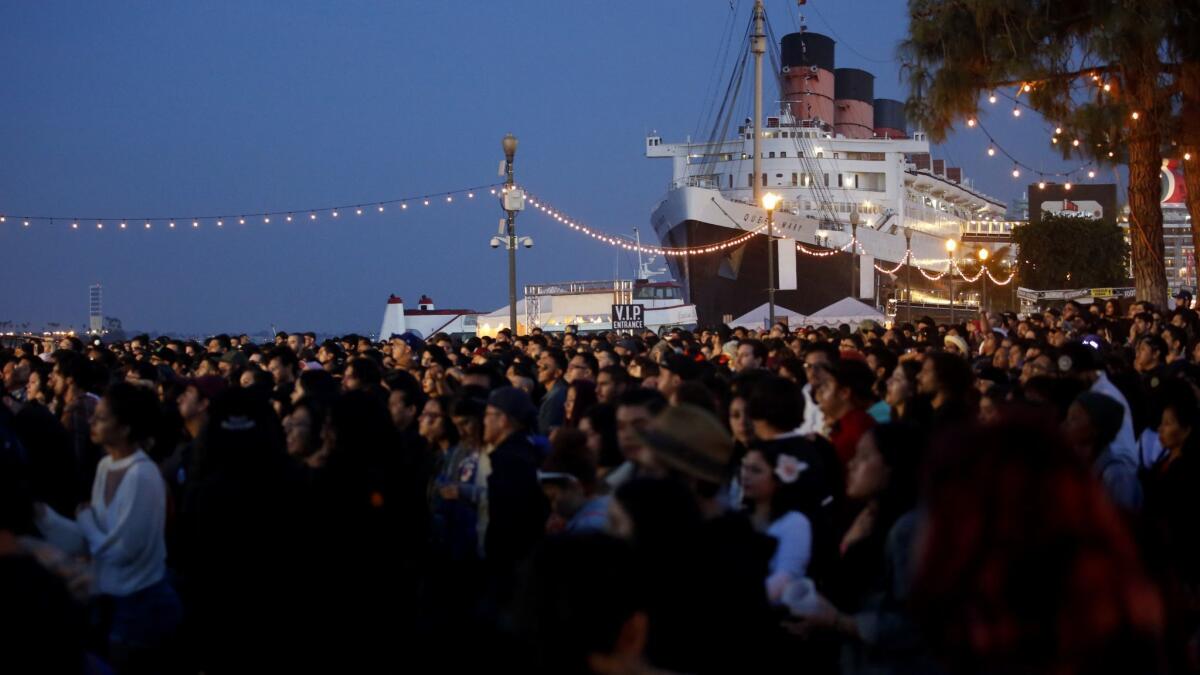 "It definitely comes from local culture, you can see that in the lineup," said Paul Billings, Goldenvoice's senior VP. "If you look at the comments we get, it's all 'How did you get these artists to play together?"
That is a pretty good question, actually.
For a 15,000-capacity festival in its second year, with a fairly nuanced cultural concept at its backbone and a venue off the beaten path of central L.A., landing the likes of Morrissey and Cardi B is a considerable vouch. For artists performing at Tropicália, the fest is a rare acknowledgement of something they've known all along: contemporary Latin music culture in L.A. includes a whole lot of sounds and styles that are light years away from "Despacito," sometimes made by people with considerably different backgrounds from the fans attending.
Tropicália is more than proof of concept for a musical worldview, however. It's also a glimpse at how Goldenvoice is plotting its festivals going forward.
The Coachella Valley Music and Arts Festival is, of course, Goldenvoice's north star event. FYF Fest had been next in line, the late-summer addendum that turned into one of its marquee events, sometimes drawing from the same batch of headliners from year to year.
After the latter went under due to reportedly slow ticket sales, Goldenvoice retrenched into a different model: "micro-fests" that are after a particular subculture rather than generalist events that could scale up but also flame out. On the weekend of Nov. 10, Goldenvoice will stage the Tyler, the Creator-curated Camp Flog Gnaw on the Dodger Stadium grounds, this year's bill recognized for its adventurous approach to hip-hop and R&B.
Plenty of other fests are onto the idea, like the psych-driven Desert Daze and fellow Long Beach staple Music Tastes Good. Tropicália has acts from all over the genre spectrum, and could grow much bigger (Morrissey alone has filled arenas here for decades).
But for now, Goldenvoice seems content to let the niche find its own way.
"What we're doing here is to keep [fests] smaller and not continually grow them," Billings said. "The festival market is so saturated, and these micro-fests succeed because they go more specific. You can't create generic events, they've got to be culturally relevant."
With Tropicália, that might extended beyond the usual demographics of fest-goers. By tapping into a local musical history that includes throwback soul and oldies, the fest has an intriguing intergenerational appeal.
That was true last year when Los Tigres Del Norte played a headline set on the Long Beach waterfront to multiple generations of fans offstage and artists on them. If Tropicália can keep that up, they'll have done something not even Desert Trip could do — get kids, parents and grandparents out for one fest they all came to for their own reasons.
"It's so distinct from anything else we do. Everyone who goes connects to the show, it's so culturally relevant," Billings said. "The age demographic Is younger but It's intergenerational, and you don't see that at festivals that often."
Tropicália
With Cardi B, Morrissey, Kali Uchis, Mac DeMarco and Mazzy Star.
Where: Queen Mary, 1126 Queens Highway, Long Beach.
When: 11 a.m. Sat.-Sun.
Price: $150-$350.
Info: tropicaliafest.com.
For breaking music news, follow @augustbrown on Twitter.
Get our L.A. Goes Out newsletter, with the week's best events, to help you explore and experience our city.
You may occasionally receive promotional content from the Los Angeles Times.