Ty Segall, keeping rock alive at Coachella, on the lost art of the live album
Ty Segall and Freedom Band talk about the fun and fear of recording their new live album, "Deforming Lobes."
After playing gigs with his Freedom Band for years and participating in shape-shifting collective epiphanies, the rock 'n' roll guitarist, songwriter and bandleader Ty Segall made a plan to carve the work into stone with a live album.
So like the Who, the Rolling Stones, Motorhead, Cheap Trick and countless other bands before him, Segall — who will perform with frequent collaborator White Fence (Tim Presley) at the Coachella Valley Music and Arts Festival in Indio on Saturday — booked a venue, practiced with the quartet of rock musicians who make up the Freedom Band, hired a recording engineer (Steve Albini) and rented a studio on wheels.
Then, after an energy-focusing pre-concert scrum and pep talk from their longtime sound guy, Segall and his mates stepped onto the Teragram Ballroom's stage, picked up their instruments and got to work. The end result, called "Deforming Lobes," recently came out via Drag City Records.
All hail the live album, a transparent display of musical truth in a world of Pro Tools-enabled fictions. A statement of purpose. A challenge. A leap into the unknown. And a rarity in 2019.
"We get to places live that we don't get to in the studio," Segall recently said during a conversation at his Eagle Rock house, adding that it's not for lack of trying. "But there's something that happens when you tour something for years: It just becomes a different animal."
Segall is telling the "Deforming Lobes" story while flanked on both sides of a curved sofa by the Freedom Band — Mikal Cronin (bass), Emmett Kelly (guitar), Charles Moothart (drums), Ben Boye (keyboards).
Segall had suggested that since "Deforming Lobes" was a group effort, it would be instructive to discuss the record as a unit too.
Dense with distorted riffs, wicked time signature shifts, dueling guitar solos, chant-along bridges and feedback-driven energy that draws on punk, garage, proto-metal, grunge and sludge rock, the eight wham-and-bam songs on "Deforming Lobes" extend about the length of an opening band's set — 40 minutes — but contain a universe of improvised moments.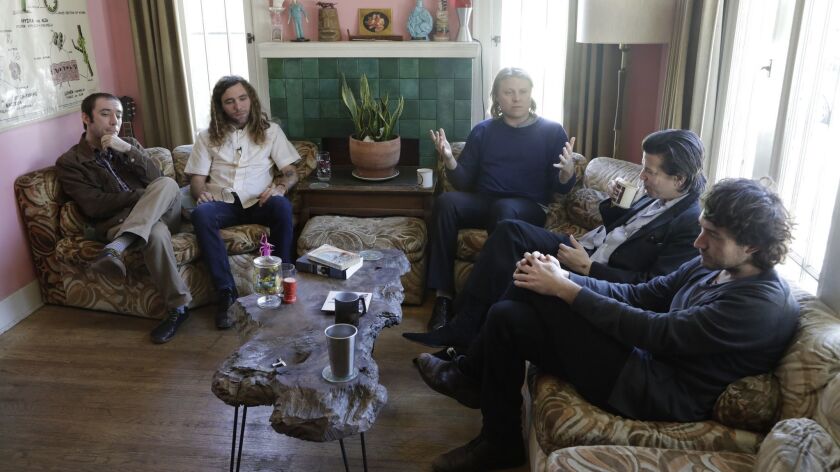 Boye explains one reason: "We all trust each other so much, musically and personally, just to make beautiful and interesting choices and moves." This is true, he adds with a chuckle, "on and off stage."
Segall, 31, knows of bands. Since he first started releasing records in 2008, he's performed with or been a member of the Muggers, the Sleeper Band, Fuzz, GØGGS, the CIA and Broken Bat.
Some of those acts have also featured expert players Cronin and Moothart, both of whom met Segall while all were attending Laguna Beach High School. A noted solo artist in his own right, Cronin will issue his fourth album later this year on Merge Records; multi-instrumentalist Moothart has released two albums as CFM, and also plays with Segall in Fuzz and GØGGS.
Guitarist Kelly, who leads his own band called the Cairo Gang, earned early attention as part of songwriter-actor Will Oldham's backing group where, alongside acclaimed singer Angel Olsen, he met the Freedom Band's Boye. (Kelly is also co-founder of the Zen-rock band the Double.)
Segall and the quartet have been playing together so long that they've developed that magical chemistry connecting musicians, one that aligns competing frequencies into a forward-marching, universal yowl.
"I felt like it would be a shame if we didn't document the era of the band in some way," Segall said.
So he decided to replicate 1970s methods, when live albums such as "Frampton Comes Alive" and "Cheap Trick Live at Budokan" could go platinum and prompt further sellouts, and rented a "mobile unit truck in the back with the tape machine."
One of the band's main inspirations was "Live at Leeds," the 1970 live album by the Who. Featuring expanded and adapted performances of hits such as "I Can't Explain," "Substitute" and "A Quick One/While He's Away," the album redefined the Who after the British Invasion had faded, and set the stage for arena rock.
"I can cite 'Live at Leeds' as one of my favorite albums ever," Segall says. "It's just raw — and it's cool because you get to hear no studio tricks, no nothing. It's just the band."
Ditto the Rolling Stones' "Get Yer Ya Ya's Out," which Segall calls "a really good example of blemishes-and-all — but in the best possible way. It's just such a nasty record, and it has such a good swing to it."
He cops to "Deforming Lobes" having its own set of problems, what he calls "blemishes on the album — specifically vocally for me. I feel like I screwed up a handful of times on the album, for sure."
With that, his collaborators smile. "You can't really make mistakes," Kelly says, "because there isn't any. It's just choices."
Those choices aim to lock into history a fleeting moment. For members of the Freedom Band, the moment always arrives after a pre-show huddle that unifies them after tough days touring.
Says Moothart: "We have a little ritual where Matt Littlejohn, who is our sound engineer, would bring us in and everyone would take a knee and he would give us a little pep talk."
Cronin calls their sound guy "a spiritual leader" in those moments. Segall describes the ritual as "like going into battle."
"We chant 'Littlejohn!' as he exits the room," Kelly adds.
Mimicking the moment, Segall assumes the leader's voice: "It's been a long drive today. You go out there — you show them what you're made of!"
For tips, records, snapshots and stories on Los Angeles music culture, follow Randall Roberts on Twitter and Instagram: @liledit. Email: randall.roberts@latimes.com.
---
The complete guide to home viewing
Get Screen Gab for weekly recommendations, analysis, interviews and irreverent discussion of the TV and streaming movies everyone's talking about.
You may occasionally receive promotional content from the Los Angeles Times.