Review: U2 reaches for optimism — and pop success — on 'Songs of Experience'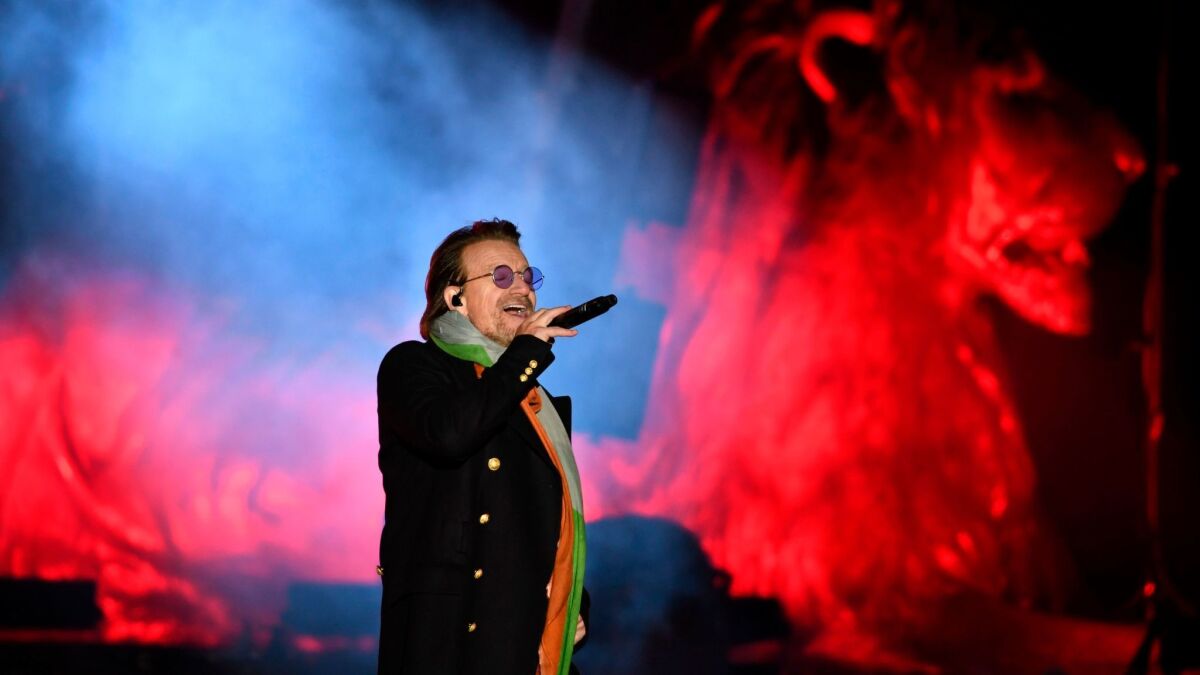 Pop Music Critic
U2 isn't kidding about the adventures and ordeals hinted at in the title of its new album.
Originally conceived as a quick follow-up to 2014's "Songs of Innocence," the repeatedly delayed "Songs of Experience" attempts to reflect three years full of surprising events, starting with the rocky reception "Innocence" got when the veteran Irish group dropped the record unbidden into the iTunes libraries of millions of Apple customers around the globe.
After that came a bicycle accident in which Bono suffered serious injuries, and a stripped-down arena tour meant to reassert the band's humility. Then there was the Brexit vote in the United Kingdom, followed by Donald Trump's election here, both of which Bono said required his lyrical attention.
Finally, U2 hit the road again this summer to celebrate the 30th anniversary of its landmark album "The Joshua Tree" — a successful nostalgia trip that clearly left the band hankering for the kind of mass audience it played to when "The Joshua Tree" was fresh.
Yet on "Songs of Experience," due Friday, U2 responds to all this not with pointed specifics (like those it employed on the highly detailed "Songs of Innocence") but by going cheerfully universal; its answer to the suspicions and anxieties roiling 2017 is big, dumb optimism served up with immediacy to spare.
"Nothing to stop this being the best day ever," Bono sings to open the album in the twinkling "Love Is All We Have Left." Later, over the stomping march beat of "American Soul," he tells a skeptic, "Could be too late, but we still gotta try."
Singalong-ready and set to tempos determined not to leave anyone behind, the record marks an explicit return to the spirit of U2's ultra-earnest mid-'80s work, and also to that era's eager commercial ambition.
No fewer than nine producers are credited on "Songs of Experience," including Ryan Tedder of OneRepublic, Danger Mouse and U2's old collaborator Steve Lillywhite. You can hear all of their high-priced labor, too, in polished, carefully arranged tunes that gather bits of sonic sparkle as they ascend to explosive Roman-candle choruses.
Lady Gaga and the sisters of Haim contribute backing vocals at various points, and in "Love Is Bigger Than Anything in Its Way," one of the Chainsmokers even shows up to play keyboards.
Though the album's sheen makes it easy to miss the daring textures of "Achtung Baby" and 2009's underrated "No Line on the Horizon," U2 can do high-gloss pop without sacrificing a sense of human personality.
The Edge's guitar sounds great reverberating over a sleek disco groove in "Get Out of Your Own Way," while "Summer of Love" has a swaggering electro-R&B vibe. In the stately "The Little Things That Give You Away," Bono's voice hits notes you might've assumed he'd lost access to.
And rather than finish in full blaze, as you'd expect, the record closes instead with the smoldering "13 (There Is a Light)," a pretty, hymn-like reimagining of "Song for Someone" from "Songs of Innocence."
But if Bono's crowd-pleasing instinct still serves him as a singer and composer, his windblown sermonizing suggests he's lost touch with the language of real uplift.
"One more push and I'll be born again," he sings in "Lights of Home," just one of many cringe-worthy lines here, along with "Nothing's stopping you except what's inside" (from "Get Out of Your Own Way") and "You've seen enough to know it's children who teach" (from "You're the Best Thing About Me").
The worst, though, has to be the part in "American Soul" where he gets going on the importance of a home for the world's unwanted: "For refugees like you and me / A country to receive us / Will you be my sanctuary? / Refu-Jesus!"
A pop star once capable of evoking brightness in dark times, Bono's been through too much lately — we all have — for him to lay that claptrap on us.
♦ ♦ ♦ ♦ ♦ ♦ ♦ ♦ ♦ ♦
U2
"Songs of Experience"
(Interscope)
Release date: Friday
Twitter: @mikaelwood
ALSO
Giving thanks for the music that (almost) redeemed 2017
'It's all gone haywire': Mavis Staples on her 'angry' new album
Grammys shut out white men in album of the year category for the first time
---
Get our L.A. Goes Out newsletter, with the week's best events, to help you explore and experience our city.
You may occasionally receive promotional content from the Los Angeles Times.