U2 wants to avoid the 'esoteric' on new album, win an Oscar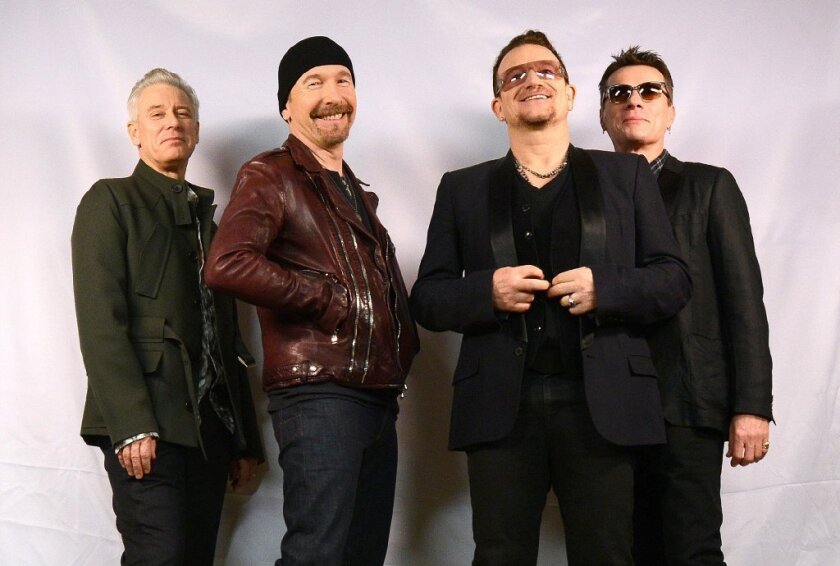 U2 is a band that is used to big statements, political activism and rallying behind a cause. This past weekend, however, the band's larger-than-life frontman Bono was talking about the band's late-career efforts to simplify. Well, that and also his desire to get his hands on the "little gold" that is an Academy Awards statuette.
Speaking by phone early Saturday from Washington, D.C., Bono described the band's 2009 effort "No Line on the Horizon" as "esoteric," and talked up the more human aspects of the group's Oscar-nominated song, "Ordinary Love." The latter, of course, was the occasion for the call, as with Oscar voting ending on Tuesday at 5 p.m. PST, the singer was in full campaign mode.
"Pharrell is an exceptional talent, then you have a Disney phenom and Karen O is just mesmerizing," said Bono as he surveyed his Academy Awards competition.
PHOTOS: Oscars 2014 top nominees | Nominee reactions | Snubs and surprises
"Ordinary Love," featured in The Weinstein Co.'s biopic "Mandela: Long Walk to Freedom," will compete for the original song Oscar with Pharrell Williams' retro-soul "Happy" from "Despicable Me 2," the grand "Let it Go" from Disney's "Frozen" and Karen O's quiet and lonesome "The Moon Song" from "Her."
Though U2 is one of rock 'n' roll's elite names, "Ordinary Love" faces rather stiff Oscar opponents. It arrives at the end of "Mandela: Long Walk to Freedom" and plays over a photo montage, not having the benefit of, say, an animated centerpiece in a movie musical sung to the impressive construction of a palatial ice palace.
"All I can say is that we didn't phone this one in," Bono said. "A whole lot of our life is wrapped up in this song."
To fans, "Ordinary Love" signaled an early glimpse at the Irish quartet's direction for a new album, one that is currently being worked on with electronic-focused producer Brian Burton, better known by his Danger Mouse stage name. For U2, a band that early on supported Nelson Mandela's anti-apartheid stance, it was a chance to echo the less-public aspects of the long imprisoned former South African president shown by Justin Chadwick's film.
"We don't know Nelson Mandela the father, the friend, the lover, the husband," said Bono. "I think that's where Justin succeeded. Early on in the film, you see him being physically violent to his girlfriend. You gasp. 'This is Nelson Mandela?' That's what makes his transformation so important."
MORE: Complete list of nominees | Play-at-home ballot
As a song, "Ordinary Love" builds slowly, opening with a glimmer of sounds that briefly hint at a gospel choir and then fade into more wistful digital atmospheres. A ray of hope arrives in the form of a keyboard melody close to the 90-second mark. The full band eventually joins in, and Edge's guitar work provides the final emotional uplift after a soulful chorus.
The tone wouldn't have been out of place among the more spacious songs of "No Line on the Horizon." Bono said early drafts of the song were more literal in referencing Mandela's freedom from prison. Ultimately, however, he wanted the lyrical content to be more emotional and universal, which he decided after reading the love letters traded in prison between Mandela and his wife Winnie.
"The love letters from prison are very touching," Bono said. "They're very heartbreaking. They gave me a clue as to the kind of language to use in the song. The melancholy was in there. The song has a gospel feeling, but it adds dimension. Like a lot of my favorite gospel songs, there's an ache to it. There's got to be a bit of blues for me."
While the Academy Awards are big business to Hollywood, for U2, who will perform on Sunday's show, the Oscar appearance is a very brief break from working on a new album, scheduled for release sometime in 2014. Like the upcoming album, U2 worked on "Ordinary Love" with Burton, who is credited as a producer and a contributor to the song's arrangement.
Bono spoke of Burton as someone who is helping U2 streamline, both in content and in sound, and is encouraging the singer to avoid the big emotional payoff in his vocals and to instead stick closer to the melody.
PHOTOS: Oscars 2014 presenters and performers by The Times
"I have things I can do as a singer," said Bono. "I have a lot of things I can't do, but I have a few things I can. There's certain notes I can hit, which have an effect on people. Brian Burton is extremely suspicious of those notes. He's looking for melodies that are eternal rather than ones you feel in the moment. That's the most profound impact on us."
As an example, Bono spoke of the title track for "No Line on the Horizon." a song marked by its relatively vague lyrics, heavily processed rhythmic effects and somber snyths that whir in and out. Bono sings through gritted teeth, cutting right to the front of the adventurous arrangement.
Don't, Bono said, expect the new album to sound like that song.
"The last album, I enjoyed it, but in ways it was quite esoteric," said Bono. "There were a lot of subjects. Writing a song about infinity? It's great that a band like U2 can get away with that, but I remember enough of being a teenager. The reason we joined U2 was to not go too far on the self-indulgent front. We had one foot in punk rock."
And that footing will be represented on the new work, but it won't, of course, be the album's sole influence. Bono referenced giants of punk rock and electronic music when talking up the as-yet-untitled album.
"The Ramones are part of who we are, as well as Kraftwerk. On this album, we're trying to have a clarity of thought, of purpose, of melody to folks. It's about discipline," he said.
VIDEO: Key scenes from Oscar acting nominees
One song, Bono said, even owed a little bit to the Clash circa 1977. The forebears of British punk, the Clash in that year were a mix of bravado and sincerity. The band's lyrics referenced the news of the day, and vocalist Joe Strummer was a charismatic force who manically worked the stage in an effort to preach to the unconverted.
"There's a song that I think will be on this album that's called 'This Is Where You Can Reach Me,' and we as a band went in 1977 to see the Clash and it turned our life upside down," said Bono. "I went home that night, and part of me never came home. The Clash were this extraordinary sight, the most extraordinary sound. It was an audio-visual assault and we were 16, 17 years old.
"There's awful progressive rock lurking around, but I have enough of a memory of 1977 to not surrender to it," Bono continued. "There were incredibly pure thoughts in music then. You knew what the song was about. You knew the melody. You knew the hook. We're going for a bit of that on the new album."
Just don't expect it anytime soon.
Those who saw U2 on its last stadium tour, the 360 Tour, may remember that some of the "No Line on the Horizon" songs drastically shifted in their live presentation. One such number was a techno-infused "I'll Go Crazy if I Don't Go Crazy Tonight," a song that's essentially a ballad on record.
"That always should have been a dance track," Bono said. "It worked great on the 360 Tour. Some songs turn into something different live, and that's one of the reasons for the delays on this recent U2 album."
Bono said the band has changed its studio approach and is trying every new song in multiple keys, different tempos and altered arrangements. If "I'll Go Crazy if I Don't Go Crazy Tonight" was vastly improved by being road-tested, Bono doesn't want that to happen again.
"We're trying to discover the thing you would find out after six months on the road. We want to get those changes in before we release the album."
ALSO:
Pharrell Williams, a 'Happy' and busy guy
Pink latest addition to pop-heavy lineup for Oscar telecast
The best Oscar-worthy songs thwarted by 'Alone Yet Not Alone'
---
From the Emmys to the Oscars.
Get our revamped Envelope newsletter, sent twice a week, for exclusive awards season coverage, behind-the-scenes insights and columnist Glenn Whipp's commentary.
You may occasionally receive promotional content from the Los Angeles Times.