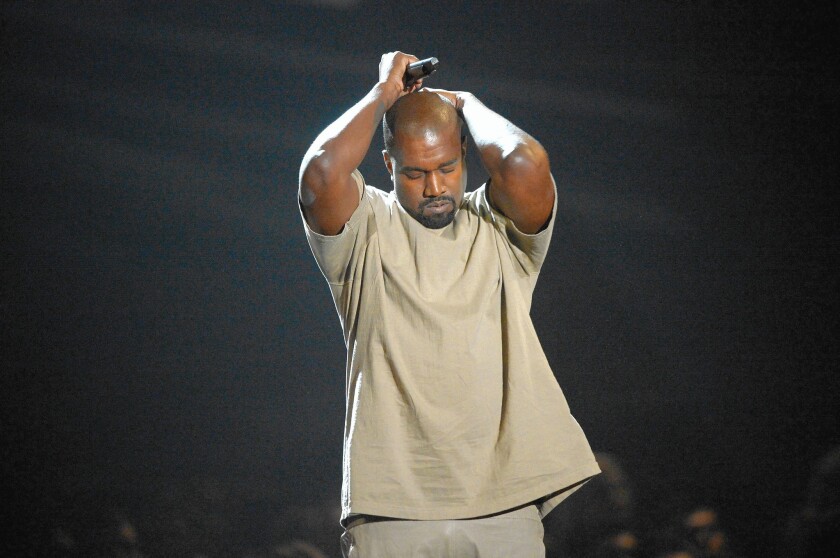 Turns out it wasn't Miley we needed to worry about.
Virtually all the chatter heading into Sunday's MTV Video Music Awards had to do with what kind of ruckus Miley Cyrus might raise as the show's host. Two years ago, remember, it was Cyrus — the Disney Channel star turned twerk-happy enfant terrible — who scandalized a nation with her super-raunchy performance alongside Robin Thicke on the VMAs. Then, in 2014, Cyrus didn't perform, and viewership dropped 18%.
So MTV spared no opportunity hyping Cyrus' gig as emcee for this year's event, broadcast live from the Microsoft Theater in downtown Los Angeles.
FULL COVERAGE: 2015 MTV Video Music Awards
But apart from her flummoxed response to a show-stopping accusation by Nicki Minaj, it wasn't Cyrus who provided Sunday's thrills. Indeed, compared to Minaj's vitriol toward the host and a mercurial speech by Kanye West, the host seemed downright tame as she introduced performers and acted in a series of painfully unfunny sketches lampooning her reputation as a pop-culture troublemaker.
"This show hasn't had a host for the last two years," she said in her opening monologue, before bragging that the network will probably return to that setup next year.
Yeah, probably.
MTV prides itself on the VMAs' air of unpredictability — the special sauce that distinguishes the show from more buttoned-up affairs like the Grammys — and Sunday its first taste came when Minaj accepted her award for best hip-hop video. (Other winners, which matter here even less than they do on other performance-heavy awards shows, included Taylor Swift for video of the year with "Bad Blood," Fetty Wap for artist to watch, and Big Sean for video with a social message for "One Man Can Change the World.")
After thanking her pastor, Minaj turned her laser-like gaze to Cyrus and basically asked her if she cared to repeat the disparaging comments she'd made about Minaj last week in an interview. Cyrus replied that her words had been twisted but seemed genuinely rattled.
Was it all an act? Perhaps. (OK, almost definitely.) But the moment provided the undeniable charge we'd tuned in for.
The VMAs' other jolt was also an acceptance speech, this one by West, recipient of the Video Vanguard lifetime achievement award. Recent winners of that prize, including Justin Timberlake and Beyoncé, have given elaborate performances as part of their coronations.
West didn't sing or rap, but his long, evidently improvised speech — which followed a tribute from Swift, whom he famously interrupted at the 2009 VMAs — felt like a performance anyway as he held forth on his checkered history with Swift and his conviction that "art ain't always gonna be polite."
Then he announced that he planned to run for president in 2020, a declaration that feels just right in the age of Donald Trump.
Actual performances? Oh, yeah — the VMAs had a few of those too, most notably from the Weeknd, who oozed new-superstar charisma in his summer smash "Can't Feel My Face," and Justin Bieber, who used MTV's stage to continue his comeback campaign with a take on his new single "What Do You Mean?"
Tori Kelly flexed the night's most impressive vocal chops in a deeply felt rendition of her song "Should've Been Us." And Minaj was reliably dynamic in "Trini Dem Girls" and "The Night Is Still Young," the latter of which featured a hatchet-burying appearance by Swift, with whom she clashed in the run-up to the VMAs. (The less said about shaky, unfocused performances by Demi Lovato, Macklemore & Ryan Lewis and Pharrell Williams, the better.)
Cyrus also closed the show with a new song about how she smokes pot and loves peace but isn't a hippie. Like the rest of her disappointing antics though, the tune felt like an empty provocation.
Here's to President West as host in 2020.
MORE:
MTV VMAs: Best and worst dressed
MTV Video Music Awards: Most memorable moments
MTV VMAs 2015: Five things you probably missed on the red carpet
'America's Best Dance Crew: Road to the VMAs': On a Quest for the show's future
Why do so many celebrities strip down to dress up on the red carpet? Blame the VMAs
---