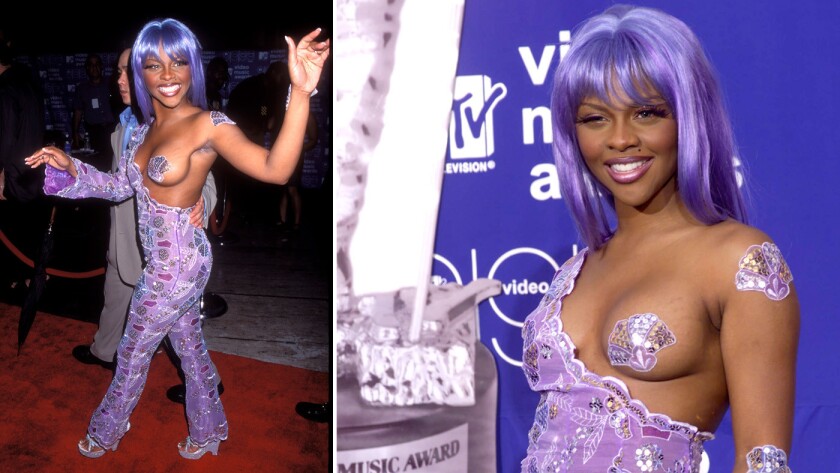 The MTV Video Music Awards are coming up Sunday night in Los Angeles. And with exhibitionist extraordinaire Miley Cyrus as the evening's host and enfant terrible Jeremy Scott as the unofficial designer muse and Moonman trophy retoucher, the fashion should not disappoint.
Predictably, Cyrus and many other women will probably strip down to dress up. Nowadays, near-nudity on stage and on the red carpet has become so commonplace (see this year's Met Gala) that it hardly raises an eyebrow anymore.
FULL COVERAGE: 2015 MTV Video Music Awards
But before Miley, Rihanna and Kim Kardashian were doing it, Rose McGowan started it all at the 1998 MTV Video Music Awards, letting her bum and bits hang out in a mesh chain number that managed to steal the spotlight from her then-beau (and frequent butt-barer), goth rocker Marilyn Manson.
The next year, at the 1999 VMAs, Lil Kim first unleashed the nipple-pasties-as-formalwear look on the world, wearing a godawful lavender lace, one-sleeved jumpsuit cut to reveal a single, pastied breast. During the show, presenter Diana Ross greeted Kim onstage by giving her exposed breast a little jiggle. (Who would have thought then that the pasties look would go from stripper pole to red carpet to high fashion runways, as seen in Tom Ford's spring 2015 collection, then back again?)
Thanks to the VMAs red carpet, by the dawn of the new millennium, how-bare-can-you-go had become a group dare in Hollywood -- and not just at cable TV awards shows either. In 2000, Jennifer Lopez seemed to defy gravity at no less than the Grammys when she wore a leafy green, plunging Versace gown cut so low you could see her belly button.
From then on, the race was on to see who could dress less to impress on the red carpet. Rihanna seemed to drop the mic in 2014 at the CFDA Awards, when she wore an entirely sheer crystal mesh dress by Adam Selman. And yet the trend has showed no signs of stopping, and it would not surprise me one bit to see someone pulling a full-on Lady Godiva one of these days. (The only question is, would anyone care?)
Cyrus has already given us quite a fashion peep show in the lead-up to Sunday's big event.
In a promo video released Aug. 4, she was nearly topless, wearing just a hot pink suspender thong and green nipple pasties, and flashing a big smile and that famous tongue.
And on Wednesday night's "Jimmy Kimmel Live!", she wore pink sequin heart-shaped nipple pasties purchased on Hollywood Boulevard (along with a sparkly rainbow cape, skirt and some plastic raver hair toys and dreads) and seemed to relish Kimmel's discomfort. Cyrus said that wearing as little as possible has helped alleviate her social anxiety because seeing people squirm is "a nice convo ice breaker."
We'll see what the convo is all about Sunday night. I plan to be Tweeting my opinion @Booth and blogging here.
The MTV Video Music Awards airs Sunday at 9 p.m. PDT.

ALSO:
Justin Bieber will perform at MTV Video Music Awards
Caitlyn Jenner Halloween costumes blasted as 'transphobic'
What Jane Lynch and Marianne Williamson have in common
---