Meet Wallows, a young rock band worth your time in 2019
Pop Music Critic
Dylan Minnette knew he was opening himself up to some brutal headlines.
"I mean, it's called 'Nothing Happens,' " he said of the debut album by his Los Angeles-based rock band, Wallows. "Obviously somebody's going to be like, 'You got that right.' "
Why so pessimistic?
Because Minnette makes for that easiest of targets: the actor moonlighting as a musician.
Known to millions of young viewers as the star of the hit Netflix series "13 Reasons Why," this 22-year-old singer and guitarist understands that his other job will lead many to think of Wallows as a mere hobby — or, worse, a cynical attempt to capitalize on his fans' devotion.
Wallows is especially ripe for skepticism given that the band includes a second actor in co-frontman Braeden Lemasters, a familiar face from his work in TV shows such as "Men of a Certain Age" and "Betrayal."
Yet "Nothing Happens" turns out to be — get this — a great little record. Released Friday, it's full of tender and funny songs about how young romance works (or doesn't) in a world where too much communication means that nobody knows how to talk to anybody anymore.
Which is a surprise not just because of the band's background, but also because who looks for greatness from a new rock band in 2019?
The genre is sufficiently diminished these days that when you hear about a couple of Hollywood dudes making music on the side, you picture something EDM-related, maybe an embarrassing hip-hop project.
But Wallows, which also includes drummer Cole Preston, is doing it the old-fashioned way, with fuzzy guitars, harmony vocals, the whole bit. In "Sidelines," Lemasters worries about his girlfriend's wandering eye over a shuffling groove, while "Scrawny" boosts the tempo for a punky jam about Minnette's many anxieties.
"Nothing Happens" isn't a total throwback; it's got squiggly synth sounds and a cameo from Clairo, the clever laptop-pop auteur whose stuff is more representative of musicians born in the late 1990s. (Wallows made the album with the producer John Congleton, known for his work with other adventurous rock acts like St. Vincent and Sharon Van Etten.)
The feeling you come away with, though, is the members' earnest belief that what the Strokes did — not to mention the Ramones and the Rolling Stones before them — is still worth doing.
And that feeling is resonating: Next month Wallows is booked to play the Coachella festival in Indio, after which the band will head out on a North American tour with some dates already sold out.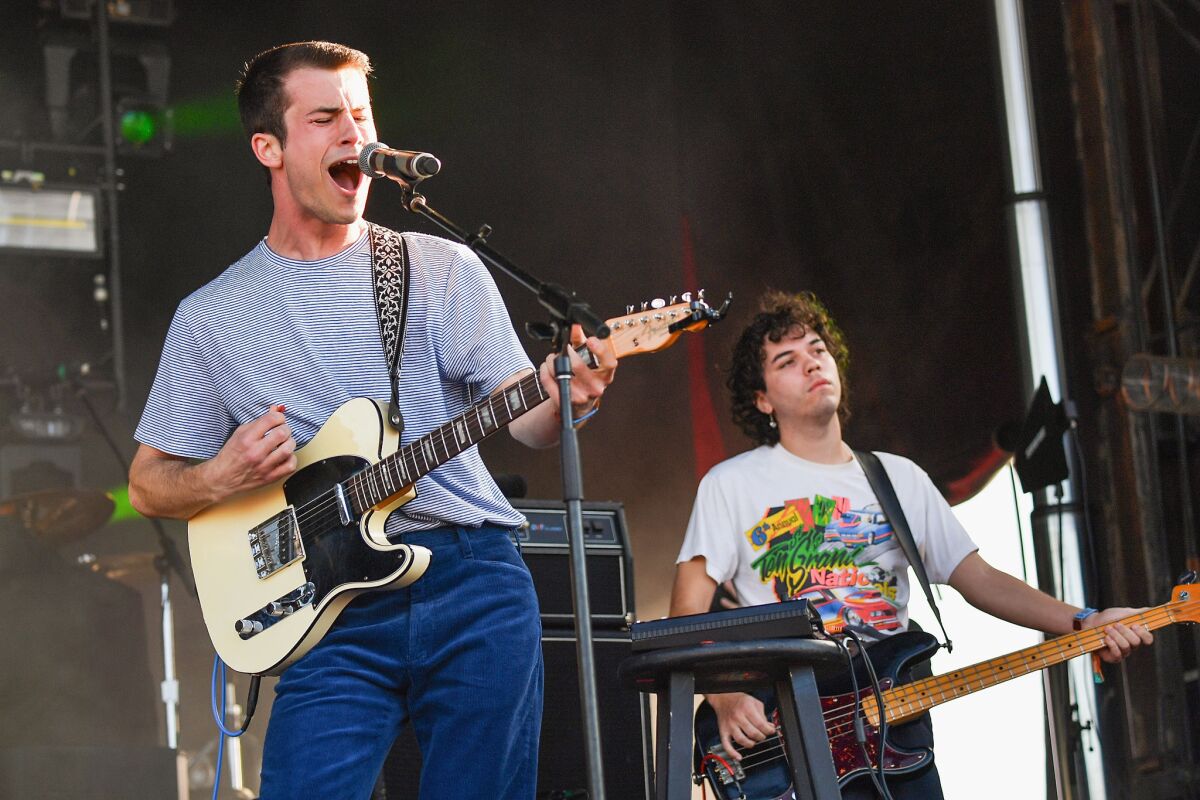 "People around me used to say, 'Do the music thing but remember that you have a career in acting — and that's where the money is,' " Minnette said on a recent afternoon, squeezed into a booth with his bandmates at the 101 Coffee Shop. "Now I think they're starting to see how serious we are and how well we're doing for ourselves."
Asked if he thought a young woman who'd just approached him for a photo was a Wallows fan, Minnette shook his head. "She was very much focused on me," he said — meaning the guy on "13 Reasons Why."
"But," he added happily, "sometimes the three of us get it when we're out together."
The trio have been playing together since they were kids; Minnette and Lemasters, both of whom moved to L.A. with their families to pursue acting, met Preston in a "School of Rock"-style program called Join the Band.
They cycled through various names before landing on Wallows, which Lemasters took from a famous Honolulu skateboarding spot featured in the video game "Tony Hawk's Underground."
The band played its first show at the Roxy in May 2017, followed a week later by one at the Troubadour; both drew capacity crowds, thanks at least in part to the viral success of "13 Reasons Why," which had premiered not long before. (The Netflix series, about a teen suicide, is expected to return for a third season this year.)
"Nothing Happens" comes after a string of singles and EPs that gathered steam online. Yet the musicians say they wanted their debut album to feel special — "a complete experience," as Lemasters put it, modeled on beloved albums by the Beatles and Weezer and Arcade Fire.
Do young people still listen that way?
"We do," said Preston, who described the "intimate relationship" he formed with music at the tail end of the CD era.
"Buying albums when I was 13 or 14 and listening front to back — that's how I learned to love music," he said.
And now that Wallows has had its crack at the format, the band is excited to hit the road — though its proposed regimen of healthy eating and daily workouts may represent this group's biggest break from rock 'n' roll tradition.
"Yeah, you can party every night, but then it's show six on the tour and you can't sing anymore," Minnette said. "I feel a responsibility to make sure that our fans get the best show possible."
Told that sounded like the former child actor in him talking, Minnette nodded.
"I learned how to be professional when I was 8 years old," he said. "And so I very much look at acting as work. But it's not really a creative outlet for me.
"Music — that's the creative outlet."
Something happens on Wallows' impressive debut to make you believe it.
Twitter: @mikaelwood
---
Get our L.A. Goes Out newsletter, with the week's best events, to help you explore and experience our city.
You may occasionally receive promotional content from the Los Angeles Times.