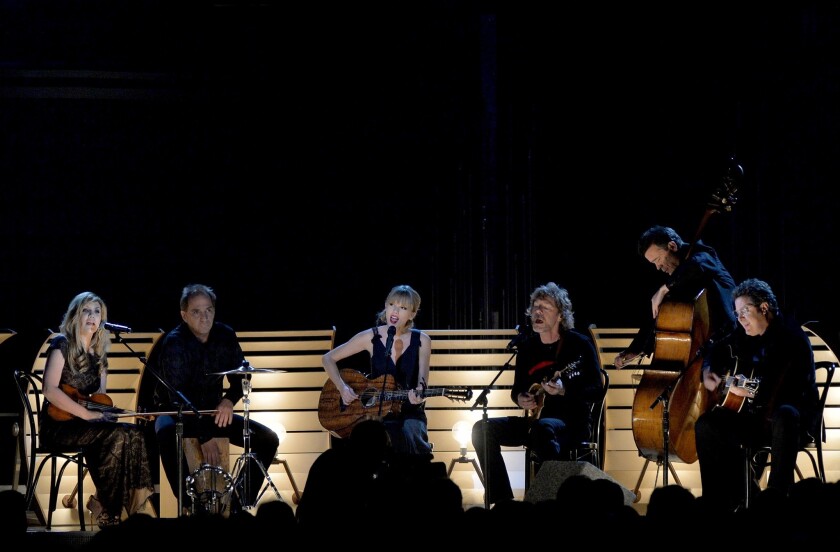 As big a star as you'll find clutching a microphone, Taylor Swift long outgrew the country genre in which she began.
But the singer reclaimed her roots at Wednesday's CMA Awards in a pretty, stripped-down performance of her song "Red" with a handful of country elders including Vince Gill, Alison Krauss and the mandolin expert Sam Bush.
The song is the title track from the quadruple-platinum 2012 album on which Swift dabbled in dubstep, synth-pop and alternative rock -- all of which she dialed down for this hushed rendition of the tune.
PHOTOS: 2013 Country Music Awards | Show Highlights | Arrivals
In spite of her profile, Swift lost out on most of the awards she was nominated for at the CMAs, broadcast live from Nashville's Bridgestone Arena. Miranda Lambert took home the female vocalist prize, while George Strait was named entertainer of the year.
But perhaps the Country Music Assn. was just spreading the glory. On Wednesday Swift was presented with the prestigious Pinnacle Award, a kind of career-achievement trophy that only Garth Brooks had previously won.
Watch Swift's performance of "Red" below.
ALSO:
CMA Awards: George Strait nabs 18th entertainer of the year honor
CMA Awards: Tim McGraw, Taylor Swift, Keith Urban take early awards
CMA Awards: Blake Shelton's 'Based on a True Story...' wins top album award
Twitter: @mikaelwood

---