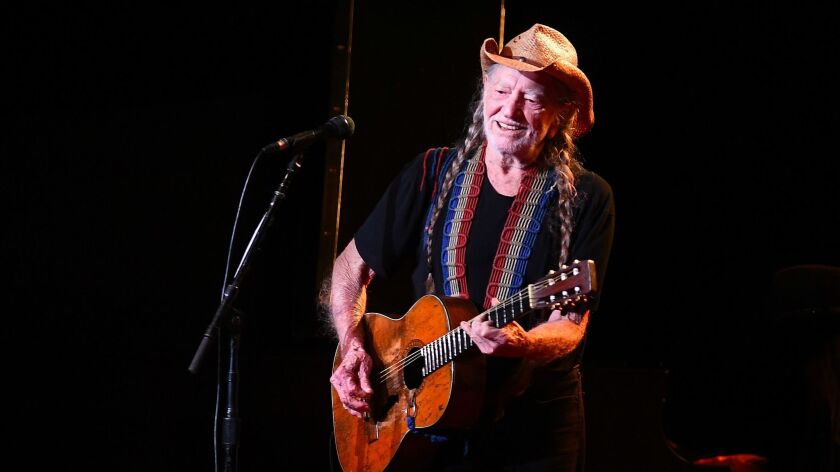 Pop Music Critic
At some point there will come a day — and lately it's felt uncomfortably close — when Willie Nelson is no longer available to shuffle onstage with his five-piece band, pick up the battered acoustic guitar he calls Trigger and rip into "Whiskey River" with his proprietary blend of wisdom and intensity.
Thank God we're not there yet.
The above is precisely what Nelson did Thursday night at the Shrine Auditorium, where the 84-year-old country-music legend brought his functionally never-ending tour for a show as good as — or maybe better than — any I've ever seen him play.
Going in, though, it wasn't certain that's what was in store.
This week Nelson inspired nervous headlines when he halted a gig in Salt Lake City, reportedly due to breathing trouble. The singer later tweeted that the altitude had simply gotten to him, but the health scare followed a string of canceled shows in recent months — never a welcome development for a veteran artist.
The Salt Lake incident also came in the wake of "God's Problem Child," Nelson's latest studio album. Released in April, this deeply moving collection finds Nelson contemplating the end in a way he never really has before in tunes like "Old Timer" and "He Won't Ever Be Gone," the latter a tribute to his lifelong friend and collaborator Merle Haggard, who died last year.
"God's Problem Child" is too finely made — and often too funny — to suggest that Nelson has finally run out of steam. (It's one of about a dozen albums he's put out in the last decade.) But its preoccupations lead you to wonder if he knows something we don't.
Or at least they did until Thursday night.
At the Shrine, where he shared the bill with Kacey Musgraves, Nelson exuded the casual determination of a man who intends to keep doing this forever — and isn't interested in being bored.
The repertoire was familiar to anyone who's caught Nelson in recent years, with a mix of his classics (including "Crazy" and "On the Road Again"), durable roots-music standards ("Hey Good Lookin'," "Georgia on My Mind") and tunes he's more or less claimed as his own ("Always on My Mind").
Near the end of his hourlong set, he invited Musgraves and an unannounced Kris Kristofferson onstage to do a rambling medley of "Will the Circle Be Unbroken?," "I'll Fly Away" and "I Saw the Light."
Yet Nelson's singing and guitar playing were so idiosyncratic, with such wild, unpredictable phrasing, that the music felt infinitely renewable; the noisy solo he played in "Mamas Don't Let Your Babies Grow Up to Be Cowboys" totally undercut any sense that the song represented a bit of down-home shtick.
It's not right to say that Nelson was defying age here. Indeed, what made the concert a thrill was that he was happily embracing his advanced position, emphasizing the grain in his voice and the internal logic of his slippery rhythm.
Don't-give-a-damn can be a tough attitude to bring one's audience along with, especially when the artist in question appears to have reason to start phoning it in. But Nelson somehow made it feel like a strategy for endurance.
Let us hope it works.
Twitter: @mikaelwood
ALSO
'It's part of our DNA': How California shaped the music of L.A.'s Haim
What Sam Hunt had to say about cultural integration at the Greek Theatre
From sex bomb to philosopher: How Neil Diamond celebrated 50 years in show business
---