Reporter's Notebook: Locals X, now feted by the city, the Dodgers and the Grammy Museum, are still doing it for 'the punk rock team'
I'm probably not the only one who may find it a bit disconcerting — albeit thoroughly engaging — to wander through the Grammy Museum's newest exhibition, which is devoted to the 40-year career of L.A. punk band X.
I've seen the group in all manner of dive clubs over the years and have been a long admirer of songs that question many forms of institutional conformity.
That lends a surreal aspect to the idea of encountering John Doe's thrashed Fender P-bass guitar, singer Exene Cervenka's collection of punk rock buttons, drummer DJ Bonebrake's pounded nearly into submission drum kit and guitarist Billy Zoom's silver spray-painted leather jacket meticulously mounted in glass display cases for "X: 40 Years of Punk in Los Angeles," which will run through next spring.
As it turns out, I'm not alone.
"Being in a museum is odd," Doe, 64, said in the institution's green room, sitting next to Cervenka for a few interviews before descending one floor to tour the exhibit at Thursday's press preview. "It's other people that are in museums. You don't get to be in a museum. But after 40 years, you think, 'OK, I guess that's what happens.'"
Cervenka also had a qualm or two, but more to do with her personal experience with previous exhibitions.
"The museum thing is weird," she said. "I've had art shows and my books and journals in museums and art galleries, and what I love about that is no one knows it's you. You can be standing right next to someone and they'll go, 'Look at that horrible piece of art!' or 'Look at that amazing piece of art!' You can come down here on an afternoon and walk around and watch people go, 'Who is this band?' 'Who'd wear that shirt?'"
The last remark referenced a black mesh nylon shirt in the display case devoted to Doe's collection of his X memorabilia.
"It's the closest thing I got to an embarrassing haircut," Doe said. "The miracle fabric of nylon is why that mesh shirt still exists. It will be around after we're long gone, like the cockroaches after the apocalypse."
Along with such immortal sartorial artifacts, the show gathers hand-drawn vintage posters and fliers that were part-and-parcel of the DIY punk-rock ethic of the mid-1970s when the L.A. scene began to sprout in clubs such as the Masque.
One of the cases also features the freshly minted proclamation from the city of Los Angeles formally recognizing the group for its "long-lasting influence on the art and music culture of Los Angeles."
Yet it wasn't all finger sandwiches and goblets of chilled Chardonnay at Friday's formal opening of the exhibit. The group took to the roof of the Grammy Museum for a rare public performance in that space.
Cervenka, Doe, Bonebrake and Zoom ripped through an hour's worth of their signature songs, including "Los Angeles," "White Girl," "The Hungry Wolf," "Johnny Hit and Run Pauline," "Come Back to Me" and their sideways rendition of the Doors' "Soul Kitchen" — for an audience of a couple hundred museum members, friends, relations and journalists.
More than sheer celebration, the set illustrated that X's passion for expression isn't ready to be locked away in a museum case just yet.
Thus, the more fascinating elements of the exhibit are the ones dedicated to craft. There are, for instance, the journals Doe and Cervenka kept with their song ideas and other writings.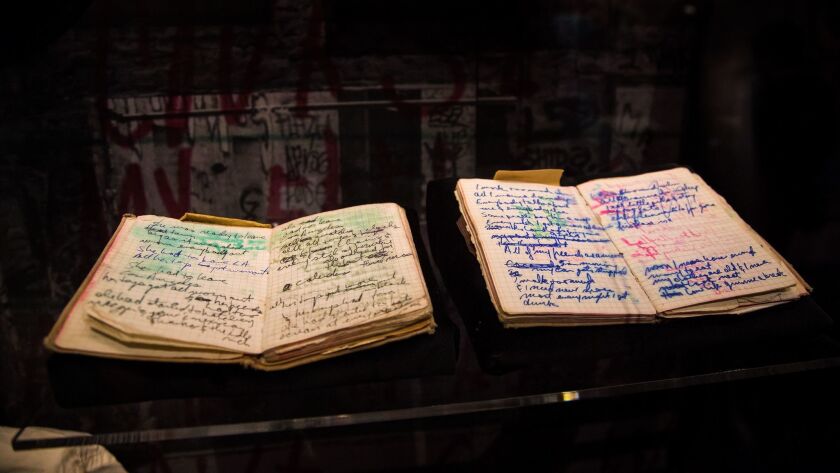 They are testament to one aspect of X's music — a deep commitment to songwriting — that set the quartet apart from many other fly-by-the-seat-of-their-pants punk bands.
"I had a book in my back pocket at all times," Doe said. "Exene, the same thing. We wrote all the time.
"I think it was good fortune," he said of the journals' survival, adding "and we're pretty grateful that once that [first] book was full, I thought it was worth something, so I put it in another place and got a different book.
"It's rewarding to be able to show the first time that I wrote down, 'She had to leave Los Angeles,'" he said, quoting his opening line from the song "Los Angeles," the title track from the band's 1980 debut album that unflinchingly documented a city in upheaval.
Likewise, one of Cervenka's journals is open to the page with her song "White Girl," which became a punk anthem.
All the establishment approval heaped on X this year is a far cry from the battles the group and other punk bands fought to exist early on, when civic authorities viewed the genre as a threat and frequently disrupted performances.
Four decades later, X was feted in August with "X Night at Dodger Stadium," where Doe sang the national anthem and Cervenka — accurately — threw out the ceremonial first pitch.
"For the Dodger Stadium thing, I was a little conflicted with all the stuff that's going on now with the national anthem," Doe said.
"But I did feel like I was singing it for everybody in our scene who's not around, who couldn't be there, who never got that far as we have. I did feel like I was doing it for the team — the punk rock team."
And for Cervenka, long considered the queen of L.A. punk, the accolades are a source of real gratitude: "At a certain point, you have to realize you're celebrating not just for yourself, but for everyone."
There may not be many who will find parallels between the Grammy Museum show and a wedding, but Cervenka picked up on the analogy in an effort to help longtime punk devotees still trying to wrap their heads around the idea of a museum showcasing X.
"Everyone wants to go to a wedding and be happy for the people who are getting married, because that day there's nothing else that matters," she said. "Same thing with this: Let's just enjoy it, because it's really, really nice and we realize that life does not always have these really nice moments, right? So I think it's wonderful."
♦ ♦ ♦ ♦ ♦ ♦ ♦ ♦ ♦ ♦
'X: 40 Years of Punk in Los Angeles'
Where: The Grammy Museum, 800 W. Olympic Blvd.
When: 10:30 a.m. to 6 p.m. Monday to Friday, 10 a.m. to 6 p.m. Saturday and Sunday. Through March.
Cost: Adults, $12.95; students and seniors, $11.95; youth (ages 6 to 17) and military, $10.95
Info: www.grammymuseum.org
Follow @RandyLewis2 on Twitter.com
For Classic Rock coverage, join us on Facebook
---
The complete guide to home viewing
Get Screen Gab for weekly recommendations, analysis, interviews and irreverent discussion of the TV and streaming movies everyone's talking about.
You may occasionally receive promotional content from the Los Angeles Times.