Review: Showtime's flimsy 'George Michael: Freedom' isn't worthy of its subject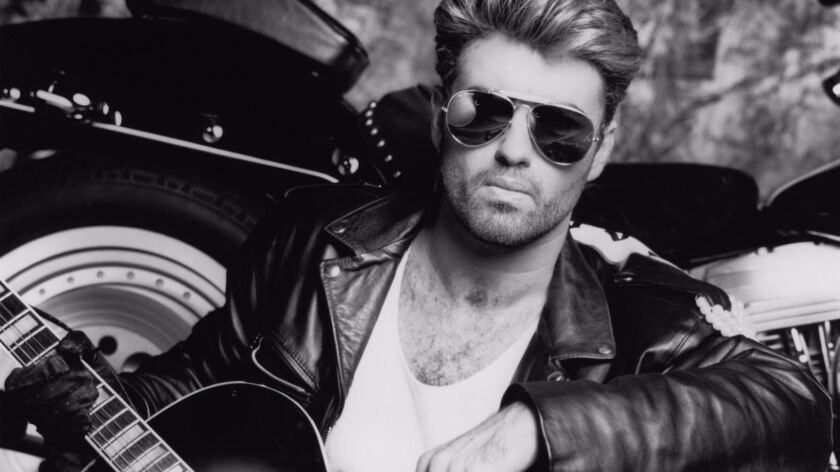 Pop Music Critic
Anyone with eyes could see that George Michael was something to look at: a perfectly stubbled face, a wonderful dresser (and undresser), a body that could move both sensually and with total, unembarrassed abandon.
And anyone with ears could hear that Michael was something to listen to: a breathy balladeer, a master of the ad lib, a pair of lungs up to the task of duetting with Aretha Franklin.
But only those paying extra-close attention might've known that one of the biggest pop stars of the 1980s was also one of that decade's canniest operators behind the scenes: a gifted producer and songwriter, second only perhaps to Prince, who masterminded his own records, including his smash solo debut, "Faith," which came out when he was all of 24.
So maybe it's not unreasonable to believe that Michael had it in him to make a great documentary about himself.
Unfortunately, that's not what he have in "George Michael: Freedom," a flimsy, depthless new film set to premiere Saturday night on Showtime, 10 months after the singer died last Christmas at the absurdly young age of 53.
Directed, the credits tell us, by Michael and his "manager and friend" David Austin, "Freedom" was the project Michael was focusing on at the time of his death. The model Kate Moss, who appears onscreen to introduce the movie, describes it as "his final work."
But to think of it that way establishes expectations that "Freedom" is woefully unequipped to meet. Essentially a glorified sizzle reel stringing together interviews and TV performances any serious fan is likely to have already seen, the documentary does little to deepen our understanding of Michael or his music; it sheds no fresh light on why he made the artistic choices he did or how he carried them out.
The opening half-hour or so, which traces his initial ascent with the British duo Wham!, feels especially hasty. But if the movie is in a hurry to get to more important events — Michael's relationship with his first serious romantic partner and a later legal battle with Sony — "Freedom" handles that stuff just as carelessly.
The singer's voice-over reiterates familiar points, while talking-head testimonials from admirers like Stevie Wonder, Elton John and Mark Ronson offer bland generalities that could be easily swapped into a film about Freddie Mercury or Amy Winehouse. (Two welcome exceptions are Ricky Gervais and the artist Tracey Emin, both tender and funny.)
Because Michael was so electric onstage and so sharp when talking to reporters, "Freedom" isn't a complete loss. It's still a thrill to see footage of him crushing Queen's "Somebody to Love" at the concert tribute to Mercury that took place at London's Wembley Stadium in 1992.
And nobody who's spent any time reading (or conducting) mealy mouthed celebrity interviews will fail to marvel anew at how clearly Michael could express himself, as in an archival clip in which he discusses why he came out as a gay man later than some would've liked.
"It's very hard to be proud of your own sexuality when it hasn't brought you any joy," he says, as pithy as could be.
Of course, Michael's demonstrated ability to communicate is precisely what makes "Freedom" so frustrating. At a moment when powerful, revealing music documentaries are flourishing — think of "Gaga: Five Foot Two" or "Miss Sharon Jones!" — a film as shallow as this one doesn't deserve anyone's time.
Would the movie have been better if Michael had lived to finish it as he saw fit? It's possible, sure — though a deeply hacky framing device that has him sitting at a typewriter, pecking out heavy words like "change," makes you wonder.
More likely, Michael simply wasn't the man to take on an effort that requires its own distinct skill set.
He owed himself better.
'George Michael: Freedom'
Where: Showtime
When: 9 p.m. Saturday
Rating: TV-MA (may be unsuitable for children under age 17)
Twitter: @mikaelwood
ALSO
Pink on her new album, Billy Joel and why she's over pop-star feuds
What Michael Jackson's 'Thriller' has to do with the vivid new album from Beck
All that hate for Arcade Fire's new album? Win Butler finds it 'tremendously exciting'
---
From the Emmys to the Oscars.
Get our revamped Envelope newsletter, sent twice a week, for exclusive awards season coverage, behind-the-scenes insights and columnist Glenn Whipp's commentary.
You may occasionally receive promotional content from the Los Angeles Times.