All that hate for Arcade Fire's new album? Win Butler finds it 'tremendously exciting'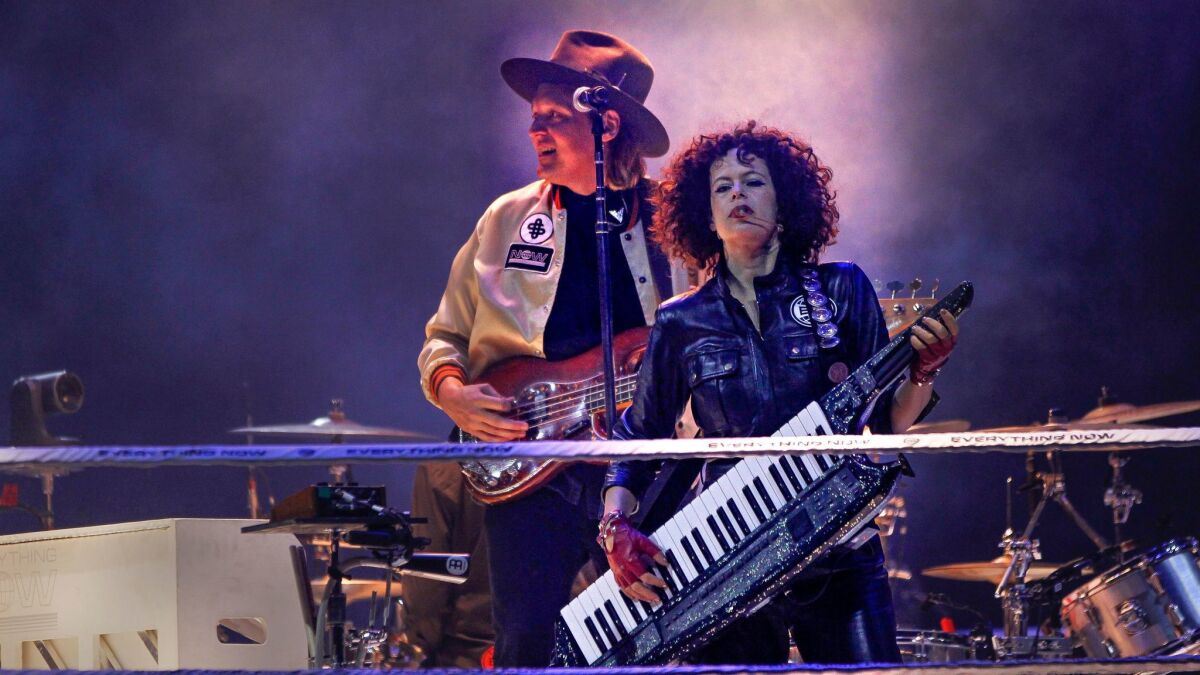 Pop Music Critic
Reporting from San Diego —
Before Win Butler and Régine Chassagne were married — and before their band, Arcade Fire, became one of the most passionately beloved young rock groups in the world — they took a trip to visit Butler's parents in his hometown of Houston, where folks pride themselves, according to the frontman, on how aggressively they crank their air conditioning.
"I remember you were talking to a family friend and they asked you what you were into," Butler recalled with Chassagne this week. "You said you liked gardening, and they were like, 'Gardening? You mean, like, outside? Ugh.'
"They couldn't even contain their disgust."
It was perhaps the only negative feedback any member of Arcade Fire would hear for the next decade and change.
Until last summer, that is.
Formed in the early 2000s in Montreal, where Butler moved to attend McGill University, Arcade Fire earned countless fawning reviews with its debut album, "Funeral." In 2007, Bruce Springsteen invited Butler and Chassagne to perform one of their songs with him at a concert in Ottawa. The group's third full-length, 2010's "The Suburbs," won the Grammy Award for album of the year.
Yet the parade of praise came to a screeching halt with July's release of "Everything Now," for which Arcade Fire shook up its signature sound; it's slicker and more groove-minded than the band's rawer early work, and it looks beyond personal turmoil (like the deaths of several family members addressed on "Funeral") to critique — and simultaneously embody — the information overload of the internet era.
Though the record debuted atop Billboard's album chart, it was widely denounced by critics, including those at the very online outlets (such as Pitchfork and Stereogum) that had boosted the band to stardom. Reviewers complained about its cynicism and half-baked philosophizing; many were turned off by a marketing campaign that involved elaborate parody websites dispensing fake news.
For Arcade Fire, the reception initially registered as an unwelcome surprise. But now, a couple of months after the album came out, Butler insists he's no longer bothered by it.
"It's actually tremendously exciting to get a bunch of bad reviews. It's like, 'Yes, finally!'" he said Wednesday evening at the Viejas Arena here. In a few hours, Arcade Fire was due onstage as part of its Infinite Content tour, which will stop at the Forum on Friday. For the moment, though, he and Chassagne, who have a 4-year-old son, were nestled next to each other on a sofa in a small dressing room.
"I mean, I don't know any artists that haven't made things that have been extremely panned," the frontman went on. Asked if the reaction made him think differently about the album, he looked as though the idea were crazy.
"I think it's probably our best record," he said, and he may be right.
While the snarky marketing stuff was indeed a bummer — bitter and defensive, with nowhere near the necessary amount of humor — "Everything Now" is smarter and funnier, and also more moving, than it might have appeared at first.
You guys played the title track from "Everything Now" this week on "Ellen," and I was struck by how deeply into it the studio audience seemed to be — people who probably aren't all that familiar with your band. It made me think about how joyful the song is, and whether people who do know the band are getting that.
Win Butler: We see it every night, and people seem to be pretty clear about it. It's hard to look at people in the abstract. The people we're in touch with every night — they definitely get the joy.
It's an up moment in your show.
Butler: Oh, absolutely. It's euphoric. The first time we played that song, we were playing at a festival in Barcelona in a field, and we started the song and it was like magic. People didn't even know the song — it wasn't out yet.
And yet that joy is carrying dark thoughts, as are a lot of the songs on "Everything Now." When you were making the album, did that seem like a fine line to walk?
Régine Chassagne: I feel like we always do that.
Butler: "Wake Up" [from "Funeral"] is like this sad euphoric song. We're basically a Motown covers band doing "What Becomes of the Brokenhearted." That's my favorite song of all time — this exact meeting point of two things at once.
Right, OK. But this time there's a form-and-function thing happening: shiny pop songs suspicious of the idea of shiny pop songs.
Butler: I don't know if you listen to much pop music, but our music does not sound very much like that. It's so chaotic! The amount of detuned things — things that most people hear and think, "This is broken" — it's kind of an essential aspect of how our band sounds.
I think the new songs are closer to Top 40 than you think.
Butler: Depends what year you're talking about. It is Top 40, but it's not Top 40 now. Look at the Top 40 — it's Future and the Weeknd. I don't think too many humans were in a room for any of those; it's all programmed music, other than the singer, which is also Auto-Tuned. I can't remember the last time I heard a set of drums in a song on the radio, you know? But maybe I'm not listening to the right Top 40.
Maybe he's not.
Butler is definitely correct in saying that "Everything Now," which Arcade Fire made with producers including Thomas Bangalter of the French duo Daft Punk, draws more on live instrumentation than much current pop.
But songs like "Creature Comfort" and "Electric Blue" summon a kind of anxious sensuality that feels right in line with the Weeknd (who's also worked extensively with Daft Punk).
And though the band's performance in San Diego emphasized the chaos Butler described — with the touring group's nine members throwing themselves around a stage decorated to resemble a boxing ring — the new music shows off a level of craftsmanship that feels fresh for Arcade Fire: a knack for texture and hooks and structure not unrelated to what you hear in great pop songs by everyone from Katy Perry and Nirvana back to ABBA and the Beatles.
The question the band seems to be asking on "Everything Now" is whether today's great pop songs will stick around as the old ones did — or if they'll simply disappear in a throwaway culture.
"I think people really don't listen to records anymore," Butler said. "Just the way we get music now, on your phone, there's like a billion other things you could be doing. It's rare to even watch a whole YouTube video. When I was a kid, I listened to records hundreds and hundreds of times.
"But there's not a lot of kids currently listening to 'Sandinista!,'" the Clash's famously expansive triple album from 1980.
Certainly not.
Butler: But that's only now, dude. It'll be different in five years.
Chassagne: I love medieval music — music that was written 500 years ago, 600 years ago, a thousand years ago. I listen to it again and again and again and again. And half of it's anonymous; I'll never know who wrote it. But I'm so glad the person wrote it anyway. It's still around, and somebody will listen to it. I found it.
Were you thinking about that as you made "Everything Now"?
Butler: Did you ever listen to it in the kitchen? That's how I listen to records. I'm not asking anything of them — like, "Hey, record, make me a different person." I put on a record and I cook dinner and play with my son and swim in a pool and do life.
I think a lot of Arcade Fire fans have asked your records to make them different people. There's a lot of profound investment in your band, which I think is why this new album rubbed folks the wrong way — because it moved away from the intensely personal quality of the first few records.
Butler: I don't know. A song like "Tunnels" [from "Funeral"] is essentially a science-fiction song, a fake dystopia — it's not about anything that happened to anyone in the band. I think "Tunnels" and "Everything Now" are kind of the same exact type of song. "Infinite Content" is the red herring on the record — something that's about disposability that is disposable itself.
But to my ears, the lightness of that song pervades the entire album. The music feels newly unburdened.
Butler: We're older. I mean, you change a lot. I always loved the Smiths, but I thought every song was essentially comedic. I'd listen to them and just laugh. "There's a Light That Never Goes Out" — I thought that was a funny song!
Morrissey is vastly underestimated as a comedian.
Butler: It's really sad. But then I feel like that misunderstanding informs his music too.
If Arcade Fire was misunderstood this time, will that experience inform your next record?
Butler: You can't really take things that people write on the internet to be rooted in any kind of meaning. I noticed it from afar when the new Taylor Swift song came out, and the story was about people saying negative things while simultaneously it was the most listened-to song in the history of music.
So it's too early to say what post-backlash Arcade Fire will sound like.
Butler: The good news is we have no idea — not even a little bit. Which is a good place to be.
Twitter: @mikaelwood
ALSO
Pink on her new album, Billy Joel and why she's over pop-star feuds
St. Vincent's new album is brilliant. But what about her concert to unveil it?
What Michael Jackson's 'Thriller' has to do with the vivid new album from Beck
---
Your essential guide to the arts in L.A.
Get Carolina A. Miranda's weekly newsletter for what's happening, plus openings, critics' picks and more.
You may occasionally receive promotional content from the Los Angeles Times.