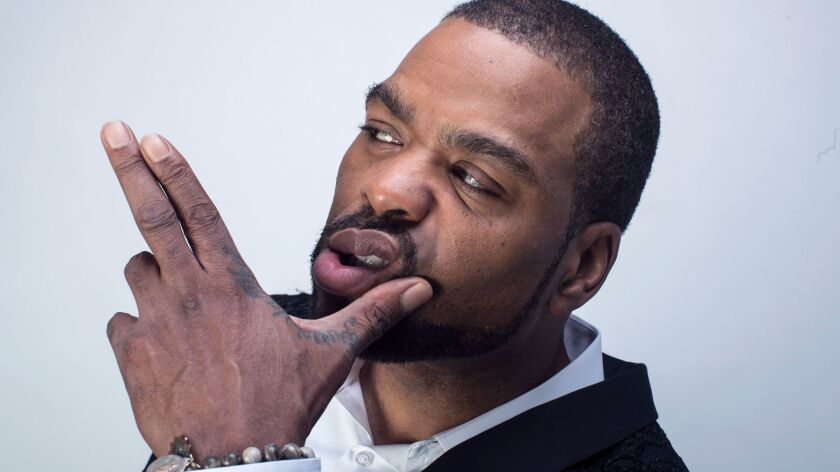 Roughneck rapper. Sitcom star. Pretty pimp. Congenial game show host.
If career hopscotch were a sport, Method Man would be its world champion.
The performer, who rose to fame as a member of '90s New York rap collective the Wu-Tang Clan, has played gangsters, stoners and gangster/stoners in feature films, starred in his own wacky Fox sitcom "Method & Red" and been one of the few fortunate actors to land recurring roles in three critically lauded HBO series, including "Oz" and "The Wire."
Over the next few weeks alone, Method Man (given name, Clifford Smith) will wrap up his first season as "the pretty pimp" Rodney on David Simon and George Pelicano's HBO series "The Deuce," debut as host of TBS' new competition "Drop the Mic," and drop a new album with his old crew, the Wu-Tang Clan.
"I've always been game for anything that has to do with entertaining. I think it all started when I decided I wanted to be Ricky Schroder, you know, from 'Silver Spoons,'" said Smith, half-joking/half-not, about his wide-ranging passion for performing. "If you saw what I watch at home, you'd be shocked." In three words: "Danny Kaye musicals."
I've always been game for anything that has to do with entertaining. I think it all started when I decided I wanted to be Ricky Schroder.
Method Man aka Clifford Smith
It's hard to picture the 6 foot 3 Smith, who used to deliver unprintable lyrics and come with a parental warning sticker when he performed alongside Ole Dirty Bastard, whistling along to "Hans Christian Andersen."
If there's anything predictable about the 46-year-old — who showed up to a recent photo shoot in Los Angeles wearing a crisp white, button-down shirt and black designer blazer while carrying a change of clothes in a crumpled-up Trader Joe's bag, it's that he's willing to try anything.
As Rodney of "The Deuce," Smith is unrecognizable. He's transformed into a 1970s-era "pretty pimp" who likes to keep his shoes as shiny as his silky, shoulder-length hair. Smith's modern-day swagger, perfected over years in the hip-hop business, is all but gone and replaced by a slick demeanor more akin to the seedy streets of Times Square circa 1972, when the series takes place.
"It's definitely not me," Smith said after a photo shoot in L.A., his large frame barely wedged into an average-sized director's chair. "I am a totally different person. But I'm familiar with those sorts of guys, from growing up around pimps, or people who thought they were pimps."
Smith's referring to a rough part of Long Island and the "Killa Hill" area of Staten Island where he grew up. He claims to have dealt dope for a living before finding a career in hip-hop.
It's a grim reality that Smith has ended up replaying again and again in song and on screen in roles such as Melvin "Cheese" Wagstaff of "The Wire."
If "The Deuce" has received any criticism, it's for reviving a blaxploitation film stereotype of black men as flamboyant yet vicious pimps.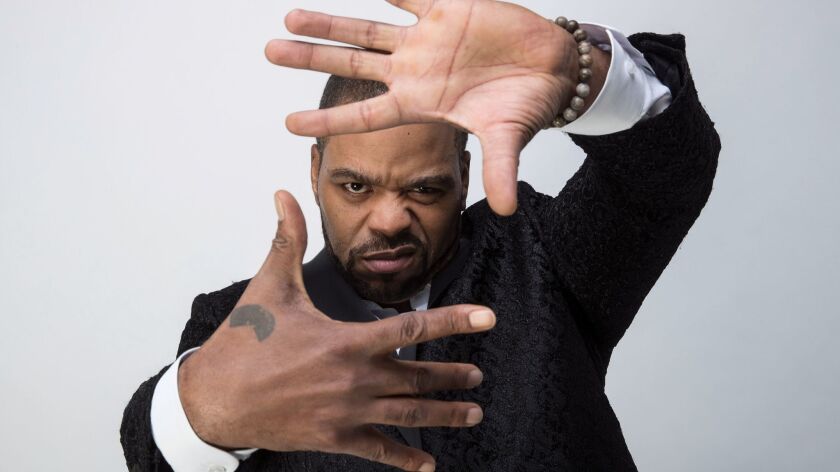 I want to see positive things about black people on TV. There was a time when all that was out there was hood movies, and that was a problem.
Method Man aka Clifford Smith
"Trust me, I get why some people are upset," Smith said. "I want to see positive things about black people on TV. There was a time when all that was out there was hood movies, and that was a problem. That's all you saw. But in this day and age that's not the only side of us out there. We have shows now like 'black-ish.'"
And a slew of game shows that feature African American hosts (LL Cool J, Steve Harvey, Jamie Foxx) in positions formerly reserved for men who looked like Monty Hall or Pat Sajak.
Rapper Snoop Dog and Smith are the newest arrivals on the scene. The TBS reboot of "The Joker's Wild" starring Snoop will air back-to-back with "Drop the Mic" on Oct. 24.
"Drop the Mic," which is co-hosted by Hailey Baldwin, is as much a comedy as a competition. Celebrities such as Rascal Flatts and Gina Rodriguez compete with one another to see who does a better job covering popular rap songs. The show was spun out of a popular segment from "The Late Late Show With James Corden." (Corden is producing.)
"It's not like James and those guys [behind the show] are reinventing the wheel," Smith said. "They're just putting a nice, shiny new rim on it."
Smith, who has platinum records, a Grammy and one of the more successful careers among all his hip-hop peers, said he never pictured himself as a game-show host.
"From that description right there, I didn't see me," he admitted. "I pictured a lot of others: Snoop was my first thought — he'd be perfect. A few guys who are a little more off the radar but have personalities that are ridiculous would also be perfect for it — Action Bronson, ASAP [Rocky]. Even guys from the [rap] battle world who could hold it down."
After TBS reached out to Smith, though, he discovered has "a knack" for this new sort of rap game.
Yet when he's reminded of the way rap used to be viewed by mainstream America — scary, threatening — he smiles. "Oh yeah, I kind of liked it that way."
Yet even as he reunites with RZA and company on "Wu-Tang: The Saga Continues," due out this week, Smith has changed the way he approaches the medium where he got his start.
"I stopped using swear words in the verses," he said. "If you don't read about it, you might not even notice it listening to the music. It started out as me just challenging myself to see if I could do it. I was writing a song for someone and they asked for no curse words and I was getting frustrated. Then I started thinking, 'Why am I frustrated?' I'm a lyricist, I should be able to write anything, any way, any how. As soon as I challenged myself, I got better, so I continue to challenge myself. I still haven't cursed in my music, no "n" words, nothing."
It's one part of a larger evolution that finds Smith moving between worlds with an ease and consistency that once seemed unimaginable for a rapper who was too raw for radio and MTV.
Smith admits even he sometimes is amazed by the journey. "When I met Mel Gibson I [couldn't hold back] 'Yo! I've been a fan forever! 'Mad Max!' 'Braveheart,' Love when you yelled 'Freedom!' and then they chopped your head off!' Another time I was in a hotel room and Jay-Z was there, Ja Rule was there, DMX was there, Redman, all in the same room, kickin' it. I was like, how many people would love to be in this one freaking room right now?'"
https://twitter.com/lorraineali
ALSO
---